Here's our ultimate guide to how to make steak (and steak types)!
Looking for Beef Steak recipes? Click here! 
Looking for Organic Grass Fed Beef Steak Information? Read on!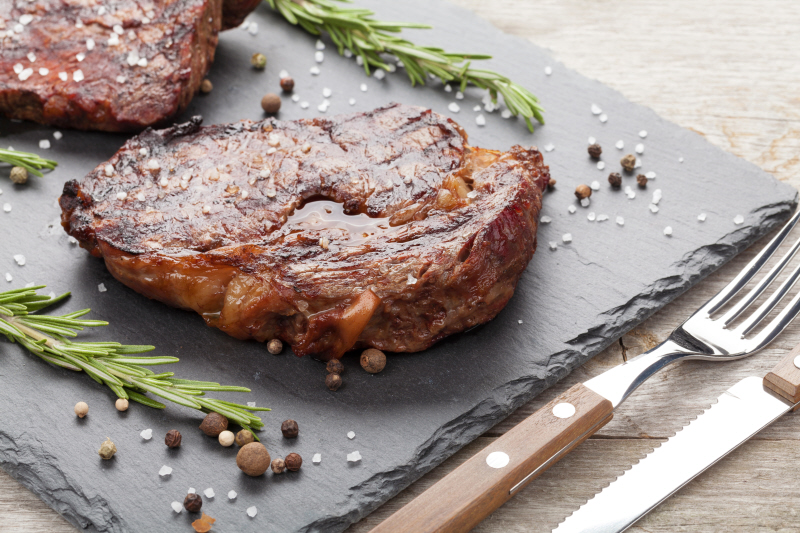 Ever wondered how to make steak with grass fed meat? Because grass fed is a little leaner than grain fed, there's a whole different cooking technique involved. Here are our tips and tricks to the perfect steak (don't forget to look at the steak chart at the bottom)!
Grilling
Grilling a Ribeye, Tenderloin, New York, Porterhouse, T-bone, Flat Iron, or Sirloin steak.
You'll find the taste of our grass fed premium steaks a wonderful surprise compared to what is often tasteless conventionally-produced beef. They are tender and flavorful without any marinade, especially if you like your steak like Glenn does: just past rare. He likes to use a probe-type thermometer for grilling—it lets him know what is going on in the meat without hovering over it. Here's his process on how to make steak on a grill:
He sears the first side until deep brown grill lines appear, then turns it, never to be turned again. The key is not to lose the meat juices and dry out the lean meat. You can avoid drying by turning only once, taking care not to pierce the seared surface (use tongs to turn rather than a fork), and waiting to salt until just before you eat.
When internal temperature reaches 140 degrees F (dark brown grill lines on the other side) the steak is off the grill and on the plate.  (If you have a steak thinner than 1 ¼ inches, set your thermometer for 138 degrees F; the internal temperature is increasing quickly, and by the time you get the plate under the steak, the temp has risen another few degrees.)
Let the steak sit for 5 minutes to allow juice to set. We believe our beef is best on the grill, but pan frying or even the George Foreman grill works well. Again, the key is to keep the steak from drying out from overcooking.  With thin steaks (1 ½ inches thick or less), high temperatures and short -duration cooking accomplishes this best.
Thicker steak types should be seared first at high heat and then cooked under more moderate temperatures to avoid overcooking the outside before the inside reaches the correct temperature.  Remember that grass fed steaks will cook about 25-30% faster than grain finished beef.
Internal Temps: Rare=135-140 degrees F, Medium rare=141-146 degrees F, Medium=147-150 degrees F.
If you like your steaks medium well to well-done, you will need to increase the moisture and oil content of the meat through marinating and basting while cooking.   Or try it a little less "well" done. I always wanted my steaks well done, partly because I worried about the safety of supermarket beef, but now I enjoy them just past rare with no worries when eating our chemical-free, 100% grass fed organic beef.
Where to Find: You can find any of these superior steak types on our webstore. Click here for our grass fed organic beef steaks.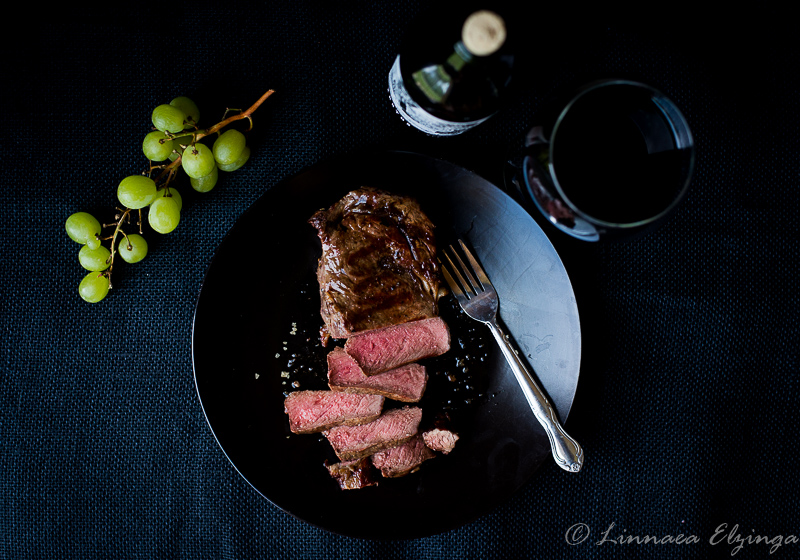 Above: simple grilled Ribeye steak. To see our ultimate Ribeye recipe, click the image above. 
Grilling other steak types (less tender or less fatty):
You can also grill lesser cuts from the chuck and the round if they are marinated first.  They also benefit from basting while grilling.  Essentially, you are braising on the grill.  One of our favorite cuts to grill is a brisket, thought to be the greatest challenge to the griller, but fantastically flavorful if marinated first and grilled very slowly. We've served grilled London broil (a lean cut) to rave reviews. Other common "lesser steak types" include the sirloin tip, skirt steak, flank steak, and blade/flap steak.
Here's how I grill lesser steaks: 
Marinate with your favorite recipe (or use one of ours): several hours before grilling, pierce the meat with a fork all over, place in a shallow glass pan (or use a ziplock bag), pour over marinade.  Let sit covered in the refrigerator until shortly before using.
Place meat on a rack and let marinade drain.  Catch juices and marinade for later use. Note on reusing marinades: keep in mind that the marinade includes raw meat juice, so be sure to cook it well, cover & refrigerate until use, and use it within a day.
Dip meat in olive oil, melted butter, or avocado oil in a shallow dish
Sear meat on the grill on both sides at high heat.  Do not pierce the meat-use tongs.
Reduce heat on grill to about 275 degrees F.  Brush marinade on up-turned side of steak; grill about 4 minutes; turn.
Pour or brush marinade over other up-turned side of steak.  Grill about 5 minutes more.  Turn, and check for doneness. Note that cooking time depends on steak size and thickness! A thin skirt steak will grill faster than a thicker sirloin tip or London broil!
If "eye-balling" doneness, remove the meat to a platter before you think it is ready and let sit covered for 5 minutes.  Grass fed beef continues cooking after you remove it from the grill.  Use a meat thermometer to improve your timing. Rare=135-140 degrees F, Medium rare=141-146 degrees F, Medium=147-150 degrees F.
Just because it is a "steak," however, doesn't mean you have to grill it.  While the challenge is fun, for family fare braising (simmering in sauce or liquid) or moist roasting is easy and delicious.
Approximate grilling times over a moderate grill (or broiler 4-5 inches away)

Steak
Thickness
Rare
Medium Rare
Medium
Tenderloin
1 inch
2 inches

6 min
12 min

8 min
14 min

10 min
18 min

Top loin
1 inch
2 inches

6 min
16 min

8 min
18 min

10 min
20 min

T-bone, porterhouse, rib, sirloin
1 inch
2 inches

10 min
18 min

12 min
20 min

16 min
24 min

flank, skirt
3/4 inch
5 min
7 min
9 min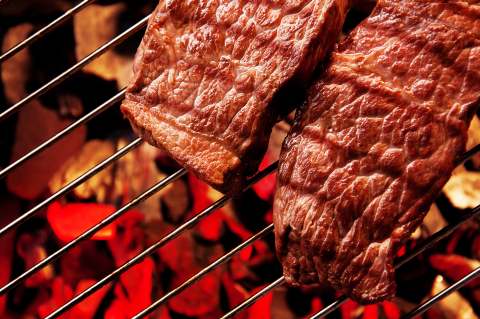 How to Fry a Steak in a Pan
Next in our guide of how to make steak is pan broiling. Pan broiling is most suited for tender steak types that have not been marinated, but lesser cuts can be prepared in this manner if the meat is cooked to no more than medium rare and has been marinated.  The original "London broil" referred to a pan broiled flank steak.  This method works well with very thin steak types that would otherwise dry out on the grill.  It creates a wonderful crisp crust, and the crusty bits (impress your friends with the French chef term, "fond") that remain in the skillet can form the base of excellent sauces.  The main disadvantage is that it is messy, with much smoke and spattering.  Use the fan and have a spatter guard handy.
Here's how to fry a steak:
Use a well-seasoned cast iron skillet, or a non-stick heavy fry pan.
Pat the meat dry.
Use a rub if desired.
Lightly coat the pan with oil (or, if marinated with oil in the marinade, skip this step).
Have the pan very hot; the meat should sizzle instantly when it hits the pan.
Sear well and fast on both sides, turning with tongs.
Reduce heat and continue cooking until steak reaches target internal temperature.
Temperatures: Rare=135-140 degrees F, Medium rare=141-146 degrees F, Medium=147-150 degrees F.
Above: pan-fried London Broil steak. Despite being quite lean, this steak was marinated for several hours in a pomegranate marinade for tenderness and flavor. Click here for the recipe. 
How to Broil a Steak
Broiling is similar to grilling except the heat is generally from the top.  This allows for the basting sauce to be directly exposed to heat when broiling less tender cuts.  A bit of sugar in a rub or sauce will char just a bit for great flavor.  Tender cuts can be broiled without prior marinating or basting.
Sauteing a Steak
To saute is to fry over moderate heat in a bit of oil or butter.  It works wonderfully for tender, lean steak types like tenderloins or strip loins, producing steaks with a thin brown crust.  The pan juices and bits of browned meat that stick to the pan are the base for a variety of sauces.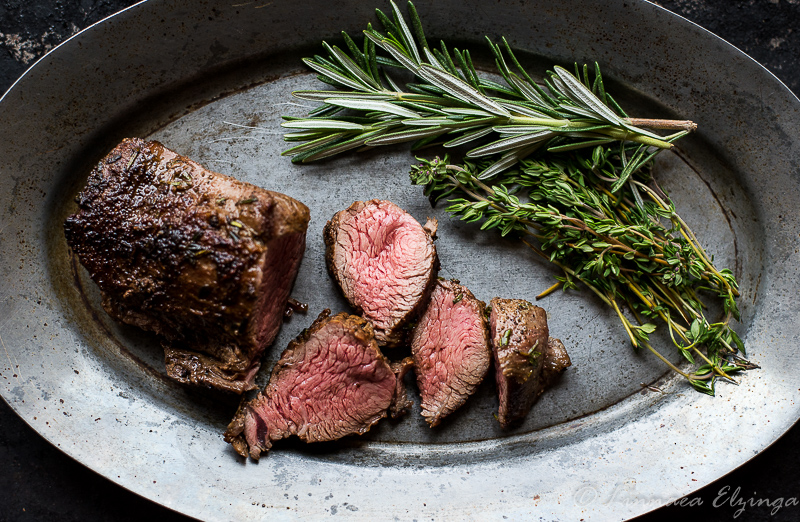 Above: sauted petite shoulder tender steak with garlic. Click image for recipe! 
Braising a Steak
Braising is simmering gently in a liquid on the stovetop.  An excellent way to cook the less tender steaks from the chuck and round is to cut into serving-size pieces, dredge in seasoned flour, brown in a bit of oil, and then add a sauce and simmer for up to 2 hours.  The browning and flour add flavor and thickening, and the long simmer tenderizes the meat.
Steak Types Table
These steak types are all suitable for dry heat cooking in the skillet in a small amount of oil or butter, or on the grill. Marinate for only short periods (less than an hour). Longer marinade soaks can result in "mushy" meat. Temperature is critical. Take special care not to overcook the meat. Investment in a $10-$15 instant-read meat thermometer will pay you back with wonderful steaks for years.
Rare: 135-140 degrees F
Medium rare: 141-146 degrees F
Medium: 147-150 degrees F
Where to find? Good news: we ship our exceptional grass fed, certified organic beef steaks nationwide. We have nearly every cut referenced in the table below available on our webstore. Click here to visit our online store. 
Here are the main steak types and information on how to make steak with different cuts:
| SOURCE | ACCEPTED NAME | OTHER NAMES | COMMENTS | COOKING |
| --- | --- | --- | --- | --- |
| Loin | Tenderloin | Filet mignon | The most tender cut of all; only 2 on a beef. | skillet, grill, saute |
| Loin | Top Loin | New York strip, Kansas City, strip loin, boneless top loin | Nearly as tender as the tenderloin, but with a bit more body and flavor | skillet, grill, saute |
| Loin | Porterhouse/ T-bone | None | Combines the tenderloin and the top loin and the bone that separates them; the porterhouse is from the larger end of the muscle and contains a larger tenderloin compared to the T-bone | skillet, grill, saute |
| Rib | Ribeye | Delmonico, market, Spencer | Very tender and flavorful; our favorite steak | skillet, grill, saute |
| Sirloin | Top Sirloin | sirloin butt | Consistently quite tender, although less tender and flavorful than the ribeye; extra tender cresent-shaped portion along the edge is called the "coulette" | skillet, grill, saute |
| Chuck | Chuck Top Blade/Flatiron | flat iron, book, petite, butler, blade, London broil* | This steak is amazingly tender, considering it comes from the chuck. Second only to the tenderloin for tenderness, and much richer in flavor. Has a strip of gristle right down the middle. | You can cut two filets on either side of this strip, like you would fillet a fish. Some cooks recommend marinating this cut before grilling, but we've had success grilling to medium rare without marinade. skillet, grill, saute |
| Sirloin | Tri tip | triangle | Not a very tender cut, but good flavor and adequately tender if marinated and grilled to medium or rarer | marinate and grill; braise |
| Round | Eye of round | full-cut round, round | Medium -grained and consistent, but not very tender. Can be successfully grilled if marinated first and cooked to medium rare; better roasted as a whole roast and fine sliced. | braise; marinate and grill |
| Chuck | Chuck shoulder | English, London broil; clod | Excellent flavor, but best if cooked slow in crock pot, or simmered; our butcher typically does not make this cut, but retains it in the chuck roast | braise |
| Chuck . | Cross Rib | None | Excellent flavor and fairly tender, even without a marinade | braise or grill. |
| Chuck | Shoulder Tender | boneless chuck fillet, chuck tender | Excellent flavor and fairly tender, this section of the cross rib is, along with the flatiron, the hidden surprise of the chuck. | grill with or without marinade; pan fry; braise |
| Round | Top Round Steak | London broil* | Often cut into serving-sized pieces, browned, and then simmered in a sauce | marinate and grill or broil; braise; when cut thick for London broil suitable for roasting (dry) or pot roasting (with added liquid) |
| Plate | Skirt Steak | Fajita meat, Philadelphia, hanging tenderloin, butcher's | Has excellent flavor and takes well to marinade; one of the fattiest cuts, lending to long, slow grilling. Cut thin at a slant after cooking; Bon Appettit says, "there is but one per side, and it's often the cut the butcher keeps for himself." | marinate and grill; braise |
| Flank | Flank Steak | London broil* | A long, lean, very flavorful steak; with a marinade, can use dry heat methods if keep below medium | marinate and grill, broil or roast or pot roast; braise |
*London broil   This is the name of a finished dish, not a cut of meat, but butchers sometimes assign the name "London broil" to the following cuts:  flank steak, top round steak, or top blade steak.  Each would work well in a London broil recipe.
Pin this guide to how to make steak so you can refer to it later!