Most often, ribeyes and filet mignon come to mind when we talk about steak. These steaks, while incredibly delicious, can also be very expensive for a weeknight dinner. There are a variety lesser-known steak cuts that, when prepared with a great recipe, can be beautifully tender and full of flavor. Sirloin steaks (like sirloin tip steaks and top sirloin steaks) are so good, whether you cook them up on the grill, pan-fry them over the stove in your favorite cast iron skillet, or throw them in your Instant Pot on busy days. The following recipes, carefully curated from talented food bloggers and recipe developers around the web, can elevate that steak in your freezer to a special dinner. No one has to know how easy the steak was to prepare!
---
Kristen Mccaffrey at Slender Kitchen provided us with a super simple, super delicious recipe for the perfectly grilled sirloin. The steak is paired with a beautiful, bright chimichurri sauce made with parsley, cilantro, basil, garlic, salt and pepper!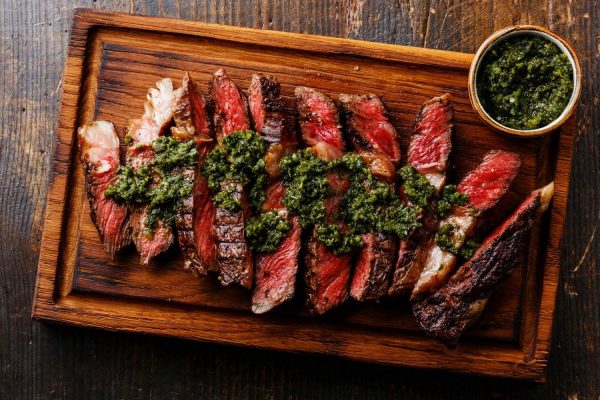 ---
These colorful fajita steak roll-ups by Rachel Maser at Clean Food Crush are a super fun way to change up the dinner menu!  These steak roll-ups are filled with bell peppers, onions and topped with a small handful of fresh parsley or chopped cilantro; they can be served on top of a big fajita style salad with fresh lime & guacamole or served with a side of brown rice, fresh salsa and sliced avocado!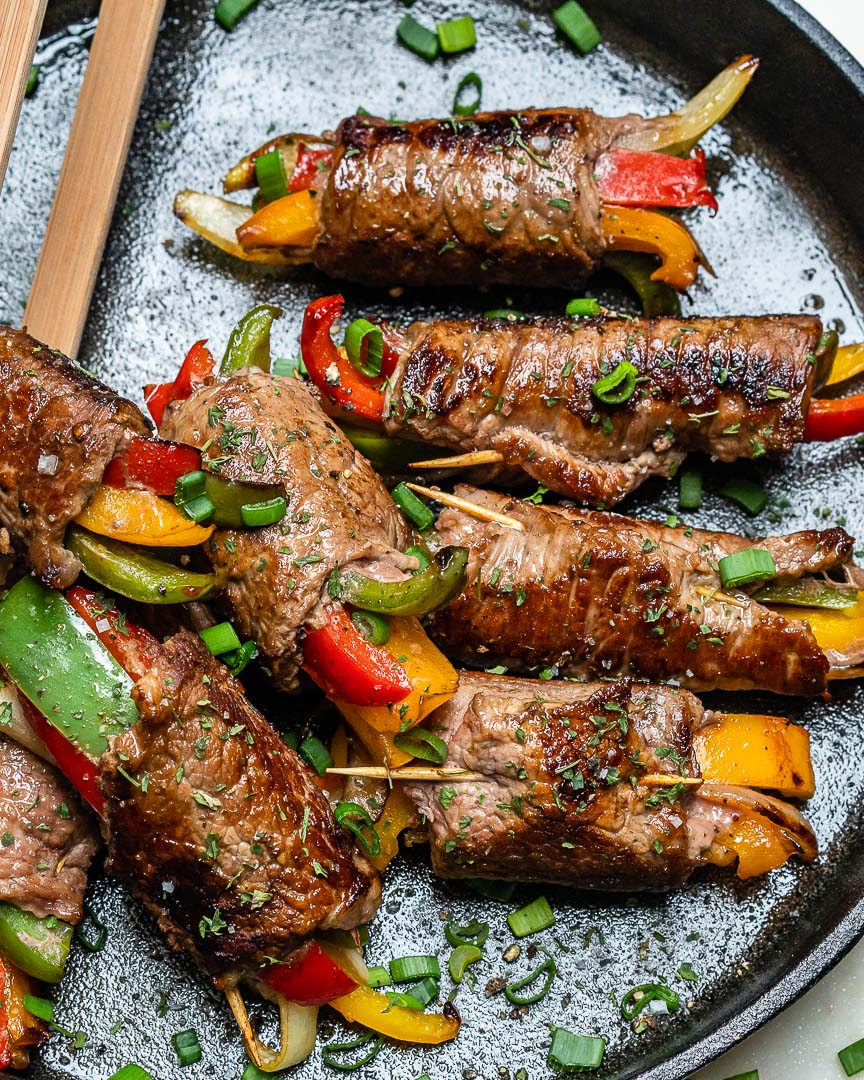 ---
This incredibly delicious steak sauce recipe by Jessica Segarra at The Novice Chef is a secret family recipe for the best flavored buttery steak sauce! It's gluten free, low carb, and keto approved!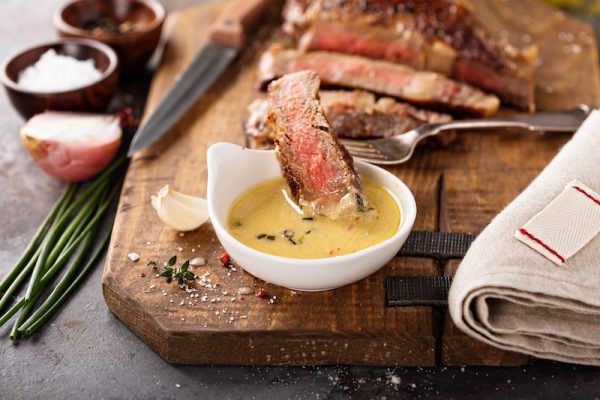 ---
In the fall and winter months, a warm, hearty, traditional bowl of steak chili hits the spot! Courtney at Neighbor Food Blog utilizes the magic of the slow cooker for this "no frills" chili recipe made with a rich tomato base, two kinds of beans, green chilies, onions, green peppers and hunks of ultra tender sirloin steak. Seasoned with a homemade blend of smoked paprika, chili powder, cumin and oregano, this recipe can definitely feed (and please) a crowd!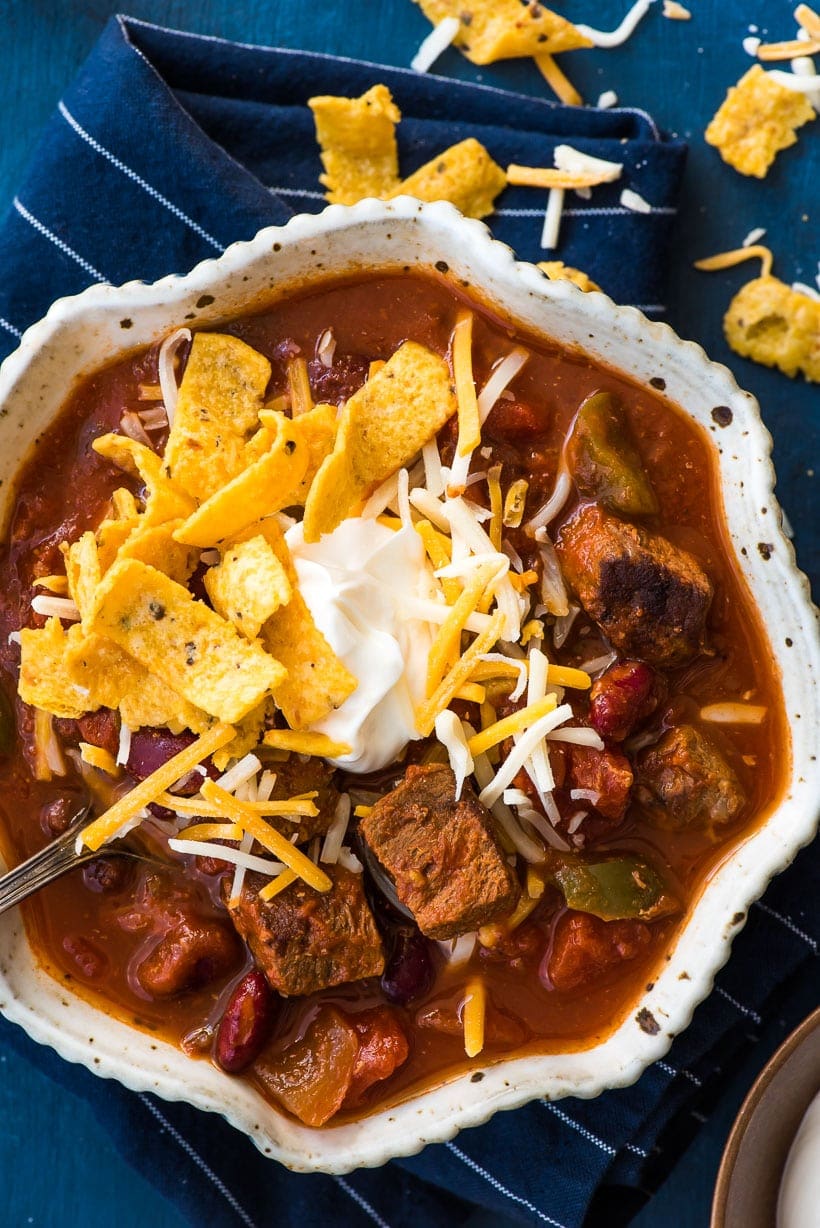 ---
Here is an absolutely fun and exciting dinner recipe from ChihYu Smith at I Heart Umami that you have to try!  This crispy sesame beef recipe is Asian-inspired, Paleo, Whole30, and Keto friendly. Thinly sliced sirloin steak is pan fried to golden crispy perfection, tossed in a delicious, gluten-free sauce, garnished with sesame seeds and paired with light refreshing veggies.  Be sure to check out the helpful 1 minute video tutorial!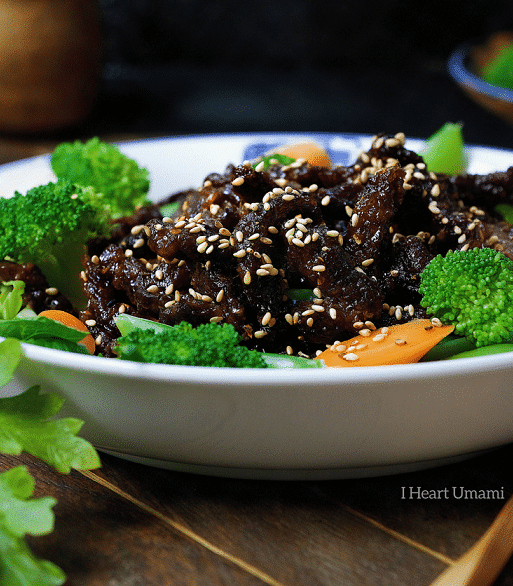 ---
This recipe by Danielle at Delightful Mom Food will teach you how to grill the perfect top sirloin steak with a buttery, crisp exterior and juicy, tender flavor! Serve this steak alongside zesty cauliflower rice made with grated carrot, lime zest and garnished with fresh cilantro and red pepper flakes.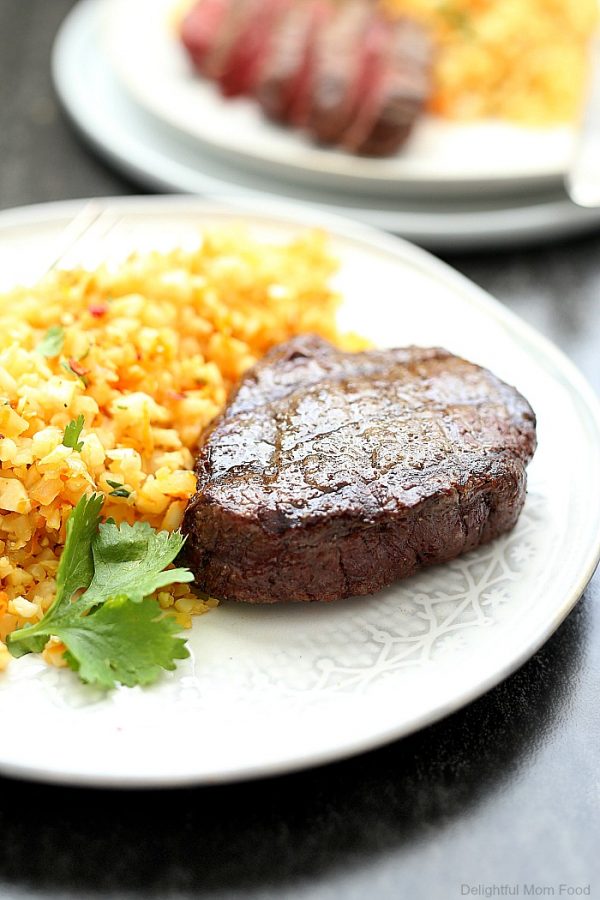 ---
Heather Harris at Easy Keto Dishes provides the perfect steak recipe with rosemary and butter; be certain to use a cast iron pan as it creates a beautiful crispy crust that keeps the juices inside!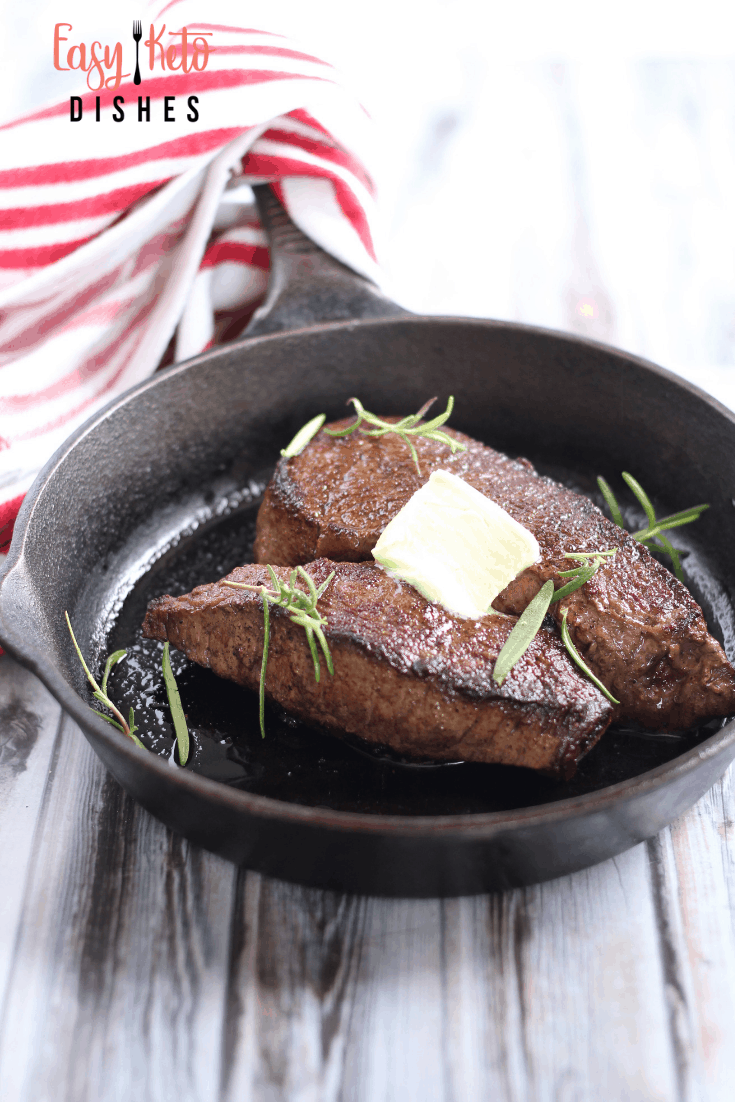 ---
Here's a home cooked version of broccoli beef by Kristin at Iowa Girl Eats that will trump your takeout recipe!  It's gluten-free, easy to whip up and a healthy alternative to restaurant takeout. Savory, sweet and tangy, this meal is made of thinly sliced steak and crispy-tender broccoli florets smothered in a luscious stir-fry sauce.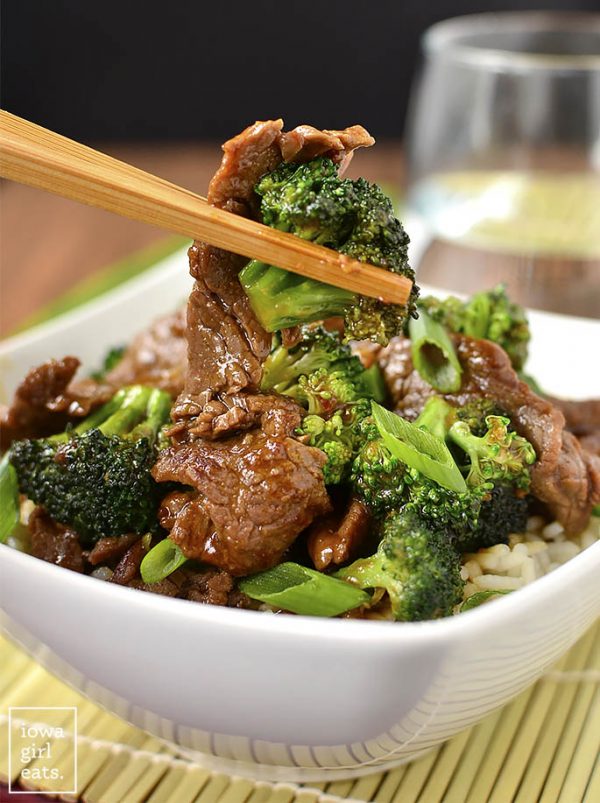 ---
This savory Instant Pot recipe is by Chrystal at Gluten-Free Palate. The sirloin tip steak pieces are perfectly seasoned with a little garlic power, cracked pepper and sea salt for a delectable, busy weeknight meal.  In this recipe, beef sirloin tip steak (or sirloin steak cut into smaller pieces) are cooked with sliced mushrooms, chopped onion and a little sherry in the Instant Pot. The leftover sauce makes an amazing gravy! Serve with a side of sautéed zucchini, squash and gluten free cornbread! If you don't own an Instant Pot, there is also a slow cooker version to this recipe.
---
This garlic butter steak bite recipe is brought to you by Jessica Randhawa at The Forked Spoon. The sirloin steak pieces are cooked in a delicious garlic butter sauce for tender, bite size pieces of juicy steak!
---
This sirloin tip steak recipe is by Lisa Marcaurele at Low Carb Yum. The steak pieces are browned and then slow cooked with sliced mushrooms, onions, broth and gluten free Worcestershire sauce for a flavorful, low carb/keto-friendly, healthy meal!
---
Sometimes simple is the best.  Here is an easy recipe for pan seared steak by Sara Lundberg at Budget Savvy Diva.  All you need is a cast iron skillet, 2 sirloin steaks and few basic ingredients for this "so simple but so good" recipe!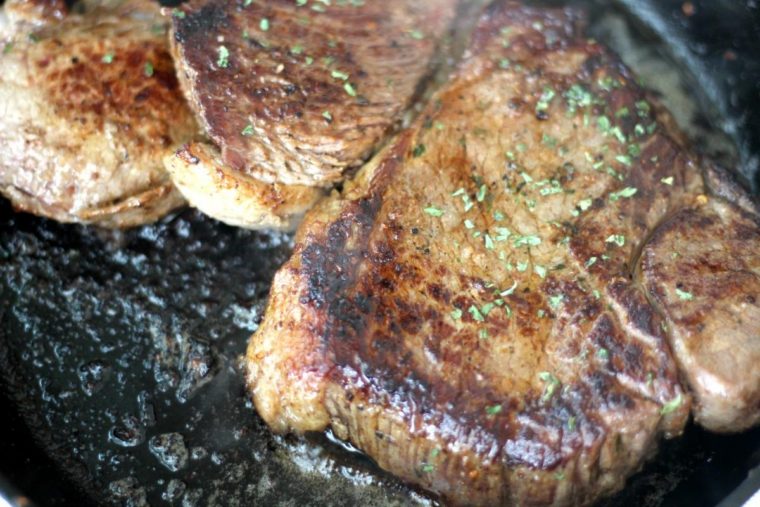 ---
Thanks for taking a look at this sirloin steak recipe roundup! Still searching for a sirloin steak recipe to cook up for dinner? Give this showstopping recipe for garlic top sirloin steak with sweet potato fries a try! And drop us a comment below with your ideas for future roundups or recipes you would like to see on the blog!