While pork chops can be delicious and relatively affordable, many people have had a bad experience with dried out, tough pork chops served along some boring sides. The following pork chop recipes have been carefully selected from the kitchens of food bloggers and recipe bloggers around the web. These recipes will help you prepare a flavorful and tender pork chop dinner that will nourish and satisfy your whole family.
---
This beautiful pork chop recipe is brought to you by Tara at Lace and Grace. This pork chop dinner can be made in one pan and requires fewer than 30 minutes to prepare. The author elevates the simple pork chop with savory fresh herbs and a bracing balsamic vinegar marinade. Brussels sprouts are served in the same pan so they can take on the flavors of herbs and marinade.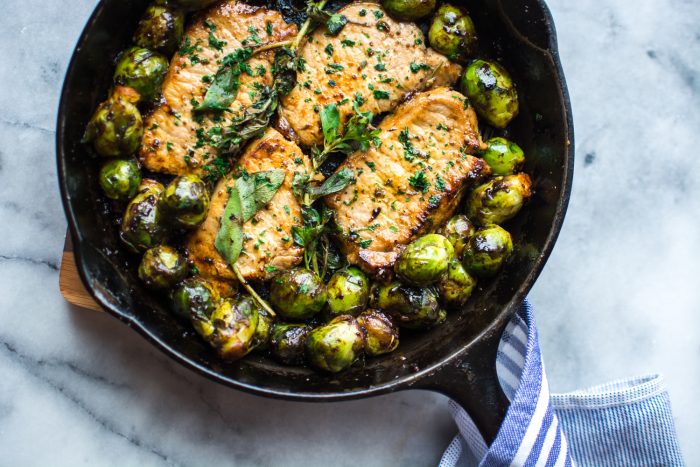 ---
This one skillet pork chop recipe is by Chelsea at Do You Even Paleo. This sweet and savory pork chop dish requires only 30 minutes of cook time and an easy clean up! Yellow onions, sliced apple wedges and pork chops seasoned with thyme create a cozy, rustic dinner!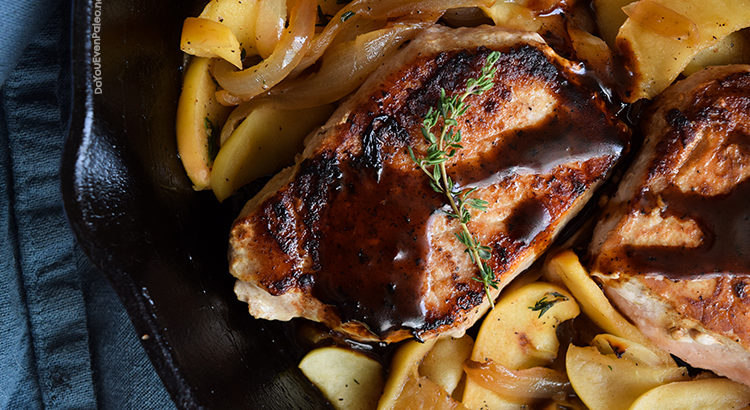 ---
Annie over at Worthy Pause provides us with a paleo, gluten free, Whole30 friendly basic pork chop recipe. Her post is filled with simple tips and tricks for making the PERFECT pork chops!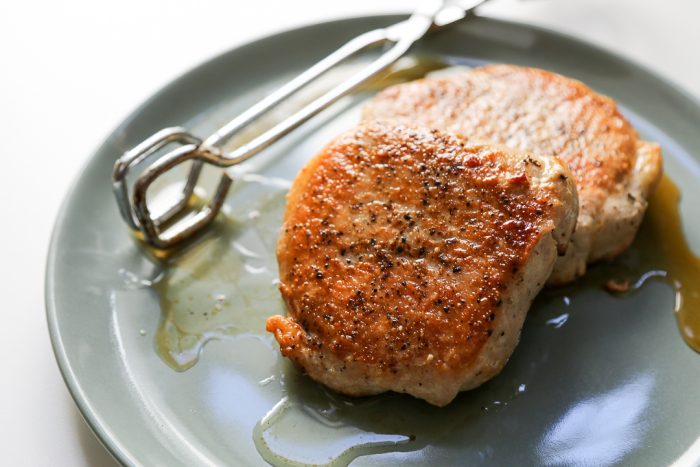 ---
Simplicity is key when it comes to the holidays. This skillet pork chop dish by Joanna at Fed and Fulfilled is easy to cook but so flavorful! Apples, cranberries, cabbage and onions are sautéed in a cast iron skillet, releasing a savory base for the pork chop to soak in. Be sure to keep this AIP/Paleo-friendly pork chop recipe handy during the busy holidays!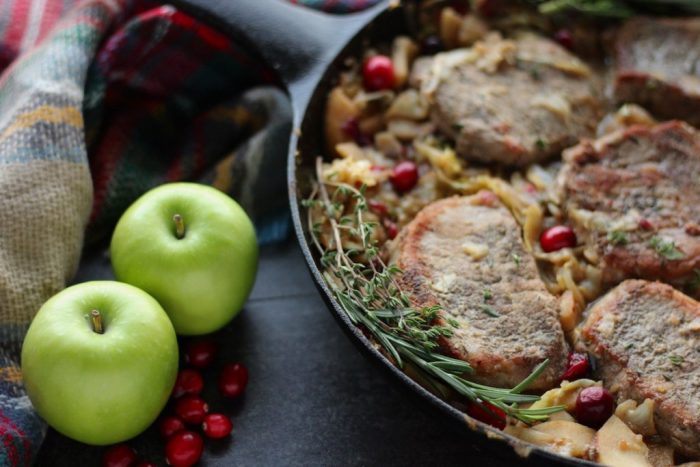 ---
This Chinese five-spice skillet pork chop recipe by Annie at Worthy Pause is paleo, Whole30, and gluten free. Onions and garlic are caramelized in the skillet while chops are sprinkled with ginger, salt and the warm, slightly sweet, magical blend of five-spice powder!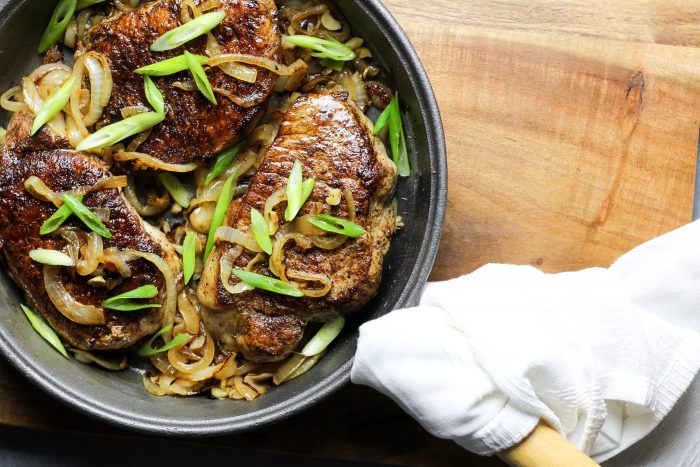 ---
This delicious low carb pork chop recipe comes from Carolyn at All Day I Dream About Food. The author recommends using pasture-raised pork chops for the best flavor and tenderness. The onions and the pork chops are both caramelized in the fat left over from pan-frying the bacon, resulting in a savory and unctuous dinner that will satisfy and nourish!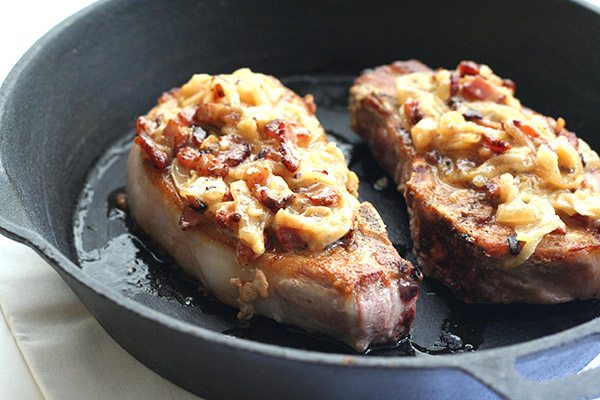 ---
Healthy food does not have to be boring! This blueberry pork chop recipe by Dr. Erin Carter at Pure and Simple Nourishment are made with only 4 ingredients and ready in less than 10 minutes! Super easy, healthy and tasty, these chops are perfect for busy evenings. If you have kiddos—they will probably think it is really fun to eat "blue meat" for dinner thanks to the change of color from the blueberries!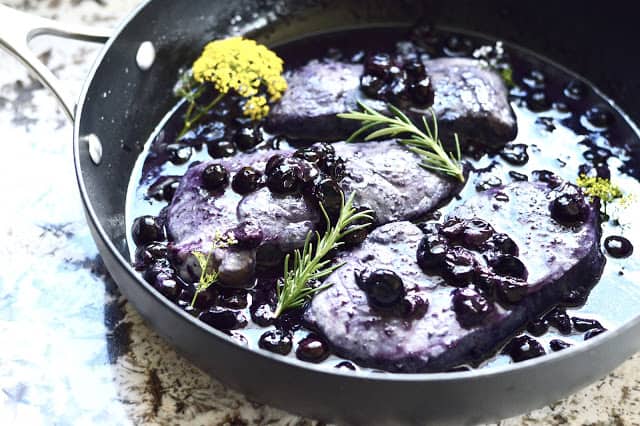 ---
This AIP breaded pork chop recipe by Whitney at Rooted in Healing is coated in a crispy coconut flour, quickly cooked up in a cast iron skillet and served alongside your favorite veggie!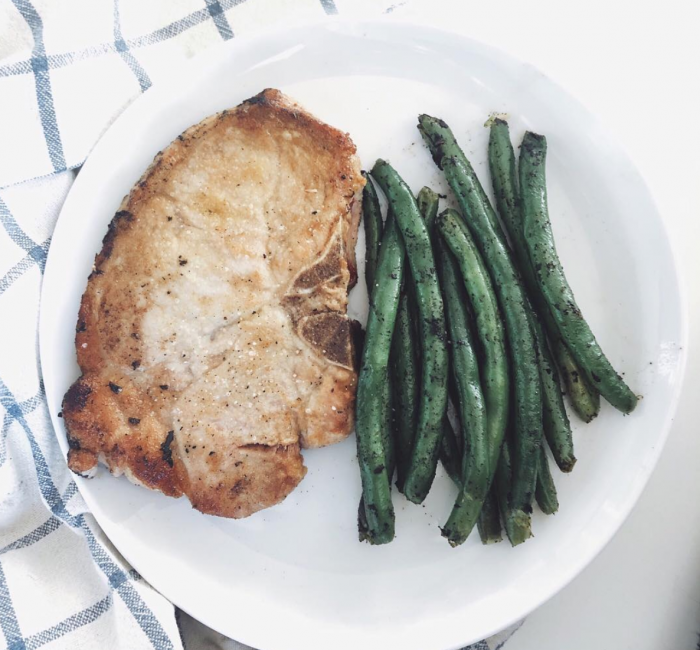 ---
This pork chop recipe is a wonderful spin-off the classic "Pork Chops and Applesauce" by Andrea at Forest & Fauna! This recipe is simple enough to cook up during a busy work week but special enough to feature for the holidays; the flavor combination of rosemary + apple welcomes the crisp autumn! While organic chops are pan seared with rosemary, diced apples are sautéed in melted coconut oil and seasoned with cinnamon, allspice, cardamom and nutmeg (with an alternative recipe for AIP).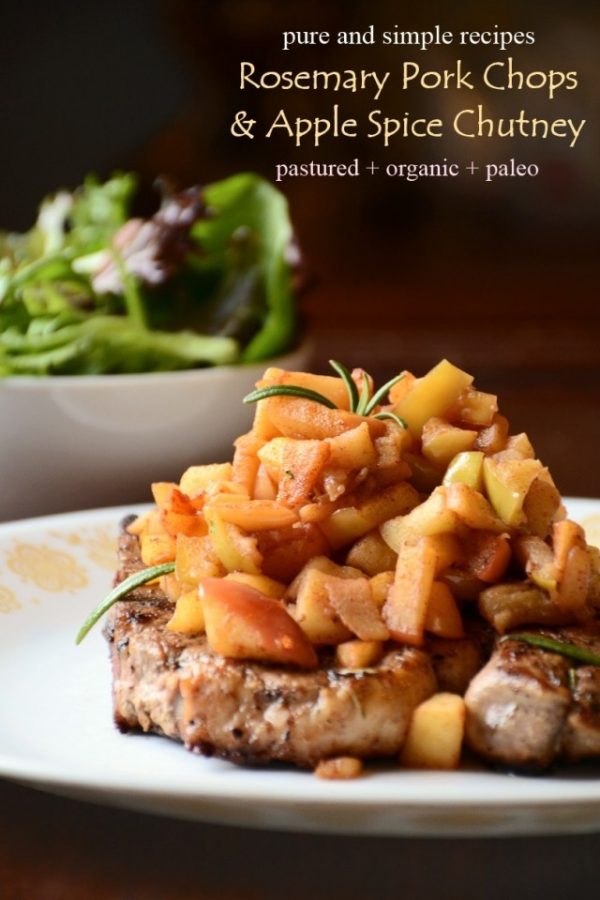 ---
Thanks for checking out this pork chop recipe roundup! Looking for a recipe for those pork baby back ribs in your freezer instead? Take a look at this recipe for pork baby back ribs. And drop us a comment below with your ideas for future roundups or recipes you would like to see on the blog!