In this post Glenn shares his favorite techniques for grilling ribeye steak to perfection. The perfect ribeye is all in the method and the quality of the steak, not in the seasonings. This recipe is simple: just salt, pepper, and a good Alderspring steak. The basic seasonings put the robust flavor of the steak in the spotlight.
(Gluten Free, Dairy Free, Paleo, GAPs, Soy Free, Nut Free, AIP, Low FODMAP, Whole30, Refined Sugar Free, Egg Free, Grain Free)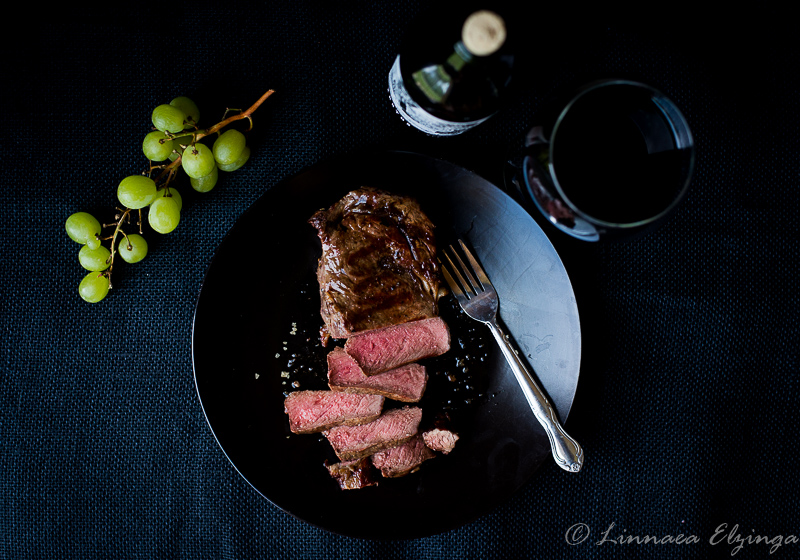 Want to buy incredible Organic Grass Fed Ribeye Steaks? View Ribeye Steaks in our store here.
Note: This technique also works well for a New York Strip Steak.
What You'll Need:
A grill with fuel (either gas or charcoal works)
1 high quality grass fed ribeye steak
About 2 teaspoon freshly ground coarse black pepper
3+ teaspoons very coarse mineral salt
Notes on salt: Salt is a big component of the flavor and cooking of your steak here. For a grilling ribeye steaks, you want coarse salt (see the picture of the salted steak below). We prefer to use mined rock salt rather than sea salt mainly because sea salt is sadly not as pure as it once was. With the current human-caused state of the oceans, sea salt may be contaminated with heavy metals or even microplastics. Instead use salt that is mined from the ground out of ancient sea beds. In this recipe we used Redmond rock salt mined from a sea bed in Utah. Coarse Pink Himalayan sea salt is also an option–just make sure it's real Pink Himalayan salt.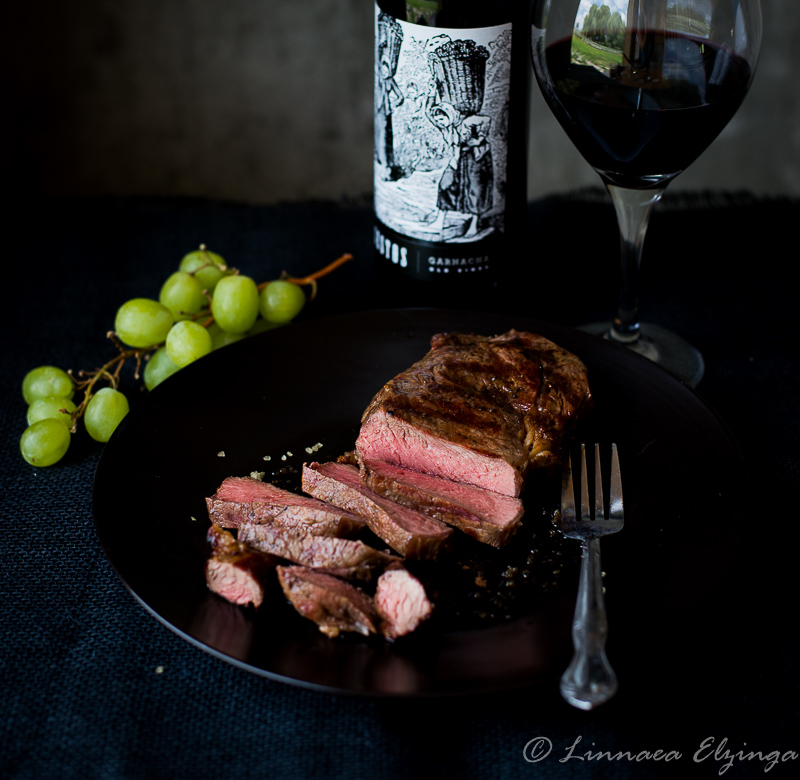 Grilling Ribeye:
Place the steak on the counter at room temperature about 1 hour before you're ready to begin cooking. This will temper the steak by bringing the center of the steak to room temperature, allowing for more even cooking throughout the steak. Tempering the steak will help you avoid well done outer edges with a raw interior.
While you're waiting for your steak to temper, you can get your grill going. If you're using a gas grill, this is just simply turning the grill to high and lighting it. If you're using a charcoal grill, get the charcoal hot first. Don't use lighter fluid, and use mesquite or hickory based charcoal. We prefer to use a charcoal chimney igniter to speed the process. Your charcoal is ready when you have white patina. Dump it out of your chimney and spread it evenly across the bottom of your grill kettle.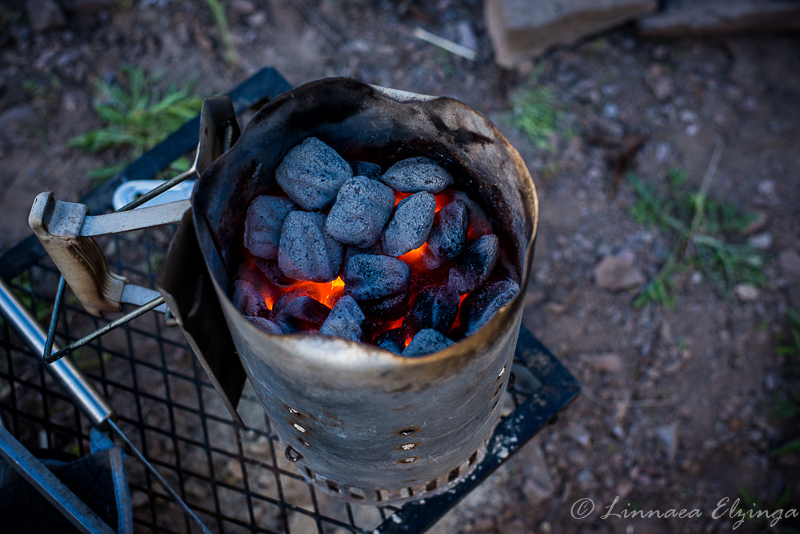 When your grill is hot and ready to go it's time to start messing with meat. First, pat the steak dry with a paper towel. Removing excess moisture prevents the outside of the steak from "boiling" and allows proper caramelization.
Next, drop your steak on a plate, and sprinkle salt (see notes on salt above) and pepper over the steak (I use a lot). I mean, I just throw a whole bunch of salt down from my hand, and pat seasonings gently to make the salt and pepper stick to the steak. Flip the steak over and do the same on the other side. It may look like a lot of this rocky salt stuff crusting your nice ribeye, but much of it pops off on the grill. "No worries, Mate," as the Aussies say.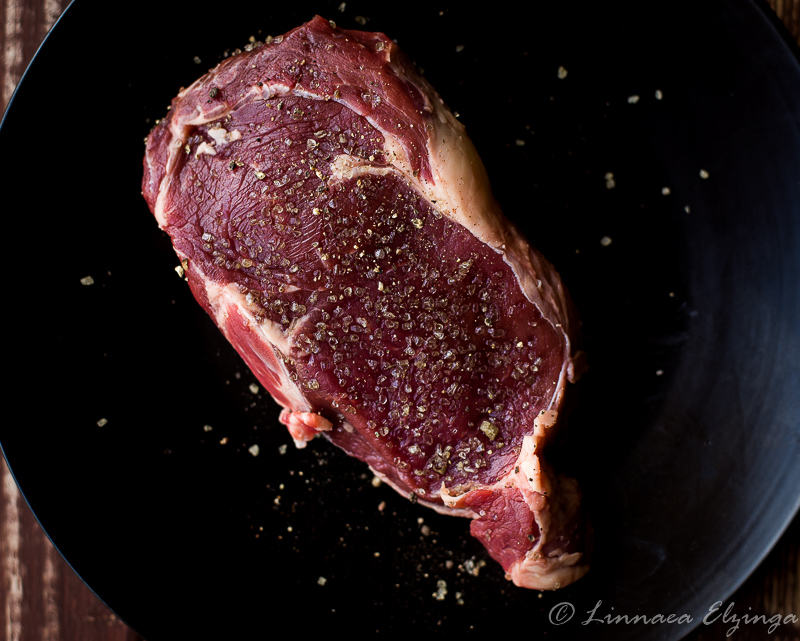 Grilling ribeye time! Place the steak on the heated grill and grill for about 3 minutes on one side. Flip, grill for three minutes on the other side, then flip again to grill for three minutes on the first side. When you do the second turn, position the steak so that it has nice crisscrossed grill marks. Flip one more time to cook for three more minutes on the other side, again positioning for grill marks. You'll cook for a total of about 6 minutes per side, but this might vary depending upon the heat of your grill. Don't use a spatula to turn because you're going to knock off most of your salt. And don't even think of using a fork (puncturing the sear and losing precious juice).
On that doneness…poke the surface of the steak with your index finger. The steak should start to feel firm and not jellowy underneath for medium rare. If you'd like rare, you are looking for a solid sear feel on the surface with jello underneath (this does not by any means advocate the eating of Jello by the way). The finger test method just takes practice, but eventually you can develop a feel for a done steak vs a still raw steak.
If, however, you haven't yet perfected your grill chef senses, there's nothing wrong with a good old fashioned thermometer. Just put the thermometer into the center of the steak. The temp should read about 130 or below for rare, 135 for medium rare, and 140 or greater for well done (say it ain't so).
When your steak is cooked, remove from the grill and let rest for 5 minutes. Eat steak. Yes. Invite me over…well, actually, you should have already done that. Now, we pour wine, get knives and fork ready, plate, and enjoy.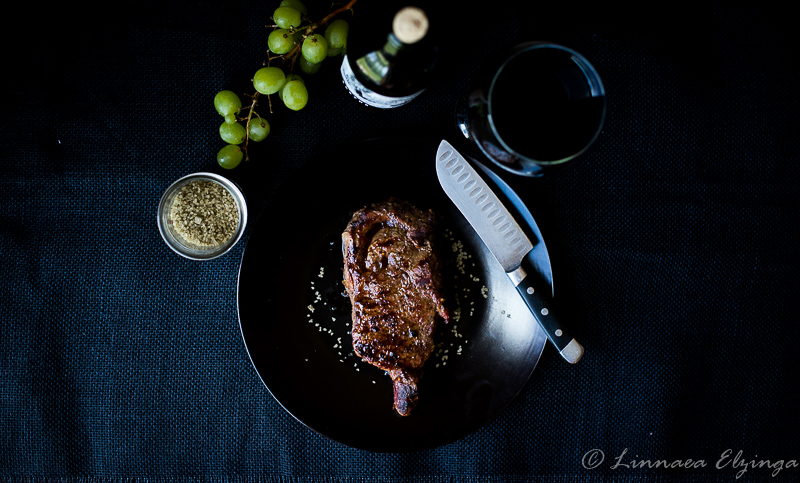 Want to share and save this grilling ribeye steaks recipe? Use the pinnable image below!