Looking for Marinades, Rubs, and Sauces recipes? Click here.
Looking for Marinades, Rubs, and Sauces Information? Read on!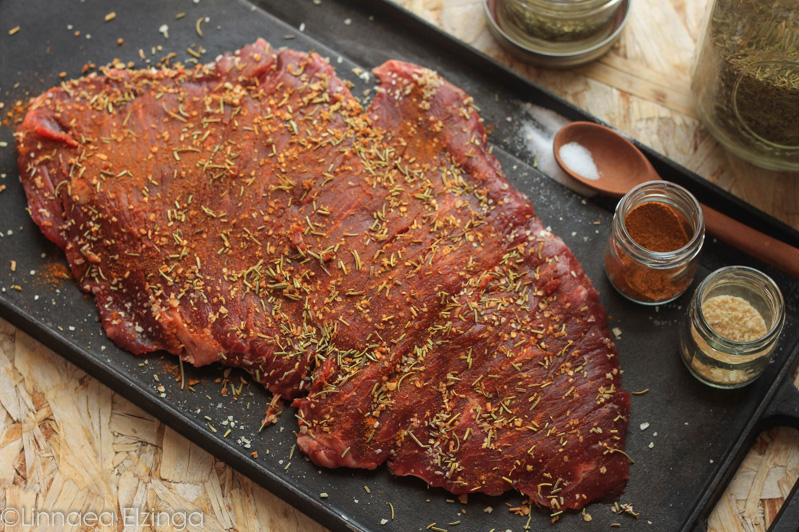 Marinades and rubs are useful for:
Adding flavor for a change of pace (unlike much commercial beef, the taste of Alderspring Grass Fed Beef can stand alone with a bit of salt and pepper, but a marinade can add a special zing)
Tenderizing cuts that are deeply flavorful, but may be tough
Maintaining moisture in tender cuts that will be cooked past medium
Marinades
Marinades can be mixed 2-3 days before they are to be used.  A proper marinade should contain an acidic ingredient such as vinegar or wine, oil such as olive oil, and seasonings such as herbs and spices. Citrus fruit juices may be used in place of the vinegar or wine to provide the acidic ingredient that is necessary to soften the tissues of the meat.  Ginger is also an excellent tenderizer.  Have fun creating your own marinades; you really can't go wrong if you include the basic ingredients.  I've given you some below as a jumpstart to your creativity.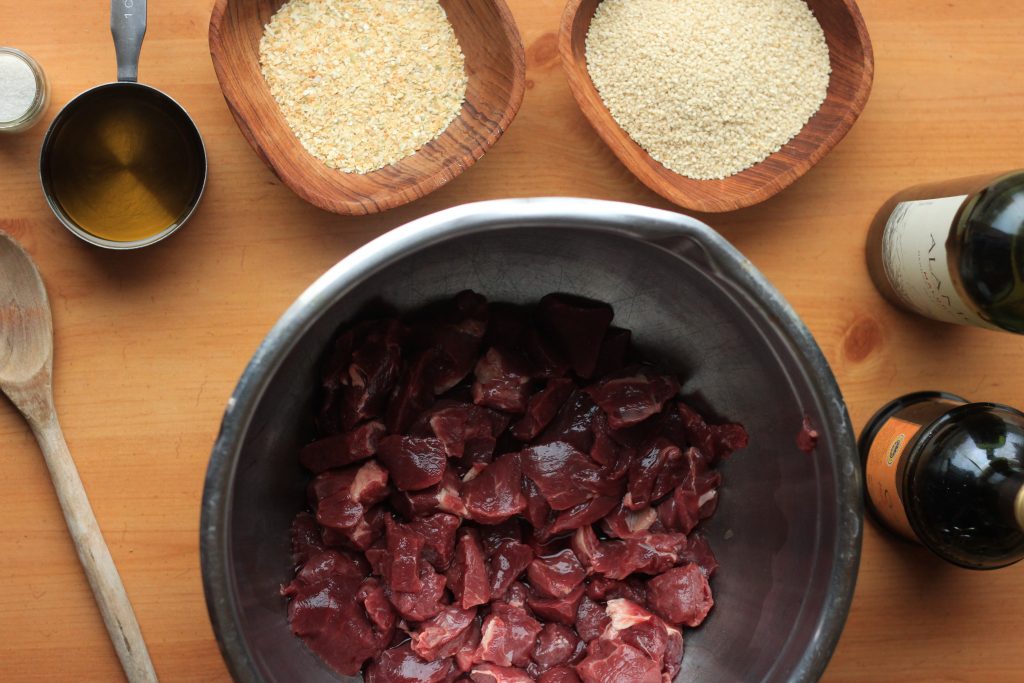 There are several important points to remember when using a marinade:
Fork the meat all over before adding marinade (and even after adding).
Marinade should totally cover the meat.
When using tender cuts of beef, marinate 1 hour or less (or up to 2 hours if you intend to cook to well-done).  Marinating for longer periods risks "mushy" meat.  The purpose of the marinade for these cuts is primarily for flavor.
Tougher cuts should be marinated 6-18 hours.  Don't go over 24 hours; the meat tends to get mushy.
Always marinate beef in the refrigerator.
Use non-reactive containers such as glass or plastic, or plastic freezer bags that can be sealed.  Metal containers will react with the acidic ingredients found in most marinades.  Avoid aluminum foil at all costs.
Don't reuse the marinade.  While some recipes call for reheating the marinade in which the meat has soaked for use as a sauce, I prefer to make extra to set aside for later use.  I may make an exception with marinade that has been used to soak tender cuts for less than 2 hours, but only if it will be well cooked to boiling temperatures.
Rubs
A rub is an alternative technique to tenderize and/or flavor beef. A rub is a dry mix of herbs and spices that is applied to the raw beef and allowed to permeate and flavor the meat over a period of time, usually overnight in the refrigerator. An endless variety of rubs can be prepared for beef depending on the types of flavors that you want to add to the meat. The delightful aspect of rubs is that they usually produce an intensely flavored "crust" on the outside of the beef, especially after searing. You can purchase pre-made rubs, but it is easy to make your own. If you find or create a recipe you really like, you can make a large batch and store it in the freezer for up to 6 months.
Some hints for rubs:
Mix all the rub ingredients together.
Brush olive oil on all sides of the meat.
Sprinkle evenly on all sides. Although the term "rub" implies that you vigorously press the seasonings into the meat, a more gentle approach is required if you want to avoid pressing out juices and creating a sticky mess that adheres to your hands.
Almost any seasoning mix will work. Experiment. Typical ingredients that may be used for a dry rub include black pepper, cumin, chili powder, crushed red pepper, celery seed, garlic powder or fresh crushed or minced garlic, salt, and brown sugar.
A small amount of liquid may be added to the mixture in order to create a dry paste, which may be preferred in some cases. Some of the liquids that are often used are vinegar, cider vinegar, wine, or fruit juice.
Use sugar or honey sparingly because it will melt and burn when grilling or broiling. You can use more for cuts that will be roasted with a small amount of liquid.
Some Recipes for Marinades, Sauces, and Rubs
Glenn's Apricot Marinade
(dairy free, nut free)
1 cup olive oil
1 cup red wine vinegar
1 tsp ginger
1 cup apricot preserves (can sub peach or plum)
¾ cup honey (can sub brown sugar)
¼ cup soy sauce
2 cloves minced garlic
coarse ground pepper to taste
Tangy Marinade
(dairy free, nut free)
1 cup olive oil
1 cup cider vinegar
2 tbsp Worchestershire sauce
¼ cup lime juice
1 tbsp brown sugar
1 tsp ginger
Garlicky Marinade
(dairy free, nut free)
1 cup soy sauce
¼ cup sherry or red wine
2 cloves garlic; crushed
2 tsp sugar
Tangy Mustard Marinade
(dairy free, nut free)
¼ cup lemon juice
½ cup olive oil
¾ cup soy sauce
¼ cup Worcestershire sauce
2 tbsp dry mustard
2 ½ tsp salt
1 tbsp coarse black or white pepper
½ cup wine vinegar
3 cloves garlic; crushed
2 tsp chopped cilantro
2 tbsp ground cloves or ginger
Italian Beer Marinade
(dairy free, nut free)
12 oz beer
½ cup Italian salad dressing
5 cloves garlic, minced
2 tbsp lemon or lime juice
1 tbsp sugar
Salt and pepper
2 tbsp ground cloves
¼ cup Worchestershire sauce
2 tbsp vinegar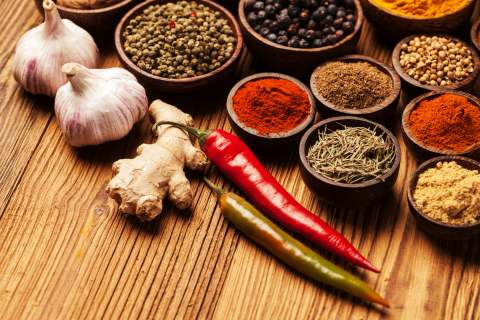 Hot and Spicy Marinade
(dairy free, nut free)
½ cup olive oil
1 dash Tabasco sauce
¼ cup lemon juice
2 tbsp vinegar
1 tbsp paprika
2 tsp salt
2 tbsp Worcestershire sauce
2 cloves garlic, crushed
Fat-Free Marinade
(dairy free, nut free) 
1 cup dry red wine
1½ tbsp soy sauce
¼ tsp oregano
¼ tsp marjoram
¼ tsp pepper
Asian Sweet/Sour Marinade
(dairy free, nut free) 
1 cup lemon juice
1 cup olive oil
½ cup honey
½ cup soy sauce
1 tbsp ginger, ground
1 tsp minced garlic
1 tsp salt
1 tsp basil
½ tsp marjoram
Rub recipes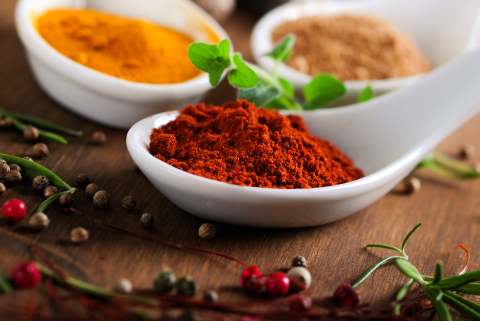 Spicy Hot Rub
(gluten free, dairy free, nut free, soy free) 
¾ cup paprika
¼ cup ground black pepper
¼ cup brown sugar
2 tbsp chili powder
2 tbsp garlic powder
2 tbsp onion powder
2 tsp cayenne (reduce or increase to taste)
Combine and store in the refrigerator. Makes enough for about 4 lbs.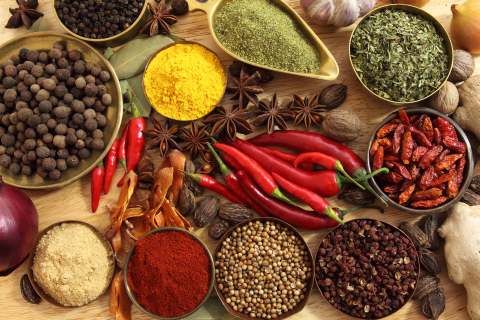 Pepper Rub
(gluten free, paleo, GAPS friendly, dairy free, nut free, soy free, processed sugar free)
1 tbsp paprika
1 tsp garlic powder
1 tsp cayenne pepper
½ tsp onion powder
½ tsp freshly ground peppercorns (use a mix of black, white, green and pink)
½ tsp dried thyme
½ tsp dried oregano
2 tsp grated lemon zest.
6 tbsp olive oil
Combine dry ingredients. Just before use add lemon zest and oil.  Makes enough for about 2 lbs. 
Barbecue Rub
(dairy free, soy free, nut free)
8 tsp chili powder
4 tsp paprika
4 tsp dried cilantro
4 tsp brown sugar, firmly packed
2 tsp flour
2 tsp powdered garlic
1 tsp ground cinnamon
1 tsp ground allspice
1 tsp coarse ground pepper
Can store in freezer. Makes enough for about 5lbs of meat.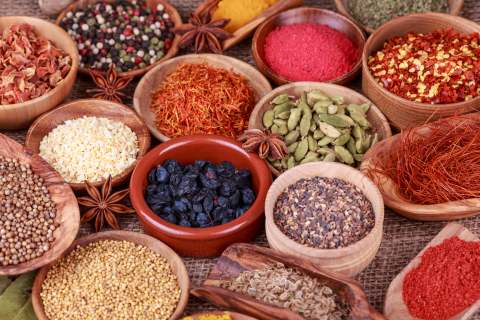 Curry Rub
(gluten free, paleo, GAPS friendly, dairy free, soy free, nut free, processed sugar freee)
¼ cup chili powder
1 tsp onion powder
1 tbsp curry powder
1 tsp garlic powder
1 tsp dry mustard
1 tsp white pepper
1 tsp oregano
2 tsp celery salt
1 tsp parsley flakes
Makes enough for about 2lbs of meat.
Jamaican Jerk Rub
(gluten free, dairy free, soy free, nut free)
6 tbsp minced garlic
6 tbsp finely minced onion
6 tbsp dried minced onion
2 tbsp allspice
1 tbsp dried ground chipotle pepper
2 tbsp Hungarian paprika
2 tbsp brown sugar
4 ½ tsp fresh thyme — minced
4 ½ tsp cinnamon
1 ½ tsp nutmeg
½ tsp ground habanera
2 lemons — zest
Can store for 2 days in the refrigerator.  Makes enough for 8lbs of meat.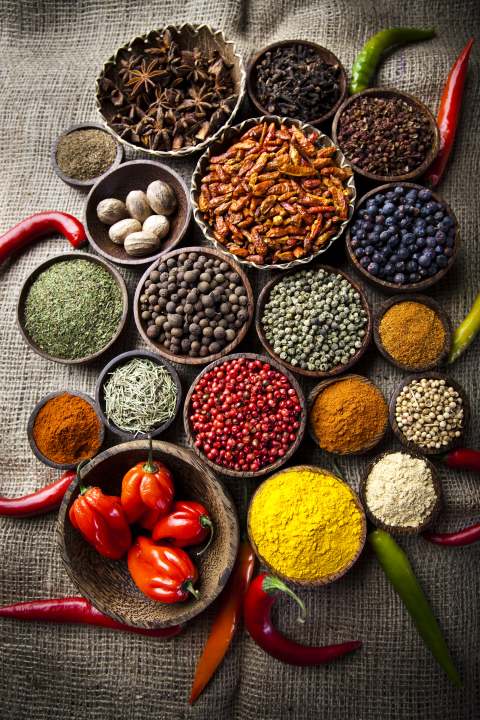 Some recipes for sauces to top the steak off:
Tangy steak sauce
1 3/4 c ketchup
1 1/2 c orange juice
3/4 c raisins
1/4 c honey or firmly packed brown sugar
1/4 c Worcestershire
3 Tb rice wine vinegar
2 Tb soy sauce
2 Tb minced peeled fresh ginger
2 Tb minced garlic
1 Tb onion powder
1 Tb lime juice (can sub lemon in a pinch)
1 ts molassess
2 ts red chili sauce
Bring to simmer, then turn down to low simmer and cook, stirring occasionally, for 1.5-2 hours, until thick, shiny and dark brown.  Pulse in a blender.  Can store refrigerated for 3 weeks.
2 rinsed and stemmed jalapeño chili
2 peeled clove garlic
4 ts chopped fresh cilantro
4 Tb chopped parsley
2 Tb fresh oregano leaves
2 ts ground dried ancho chilies or chili powder
1/2 c olive oil
1/4 c lime juice
1 ts salt.
Whirl until thick and almost smooth in a blender or food processor. Use, or cover and chill up to 2 days; shake or stir before using.