Want to share this post or follow us?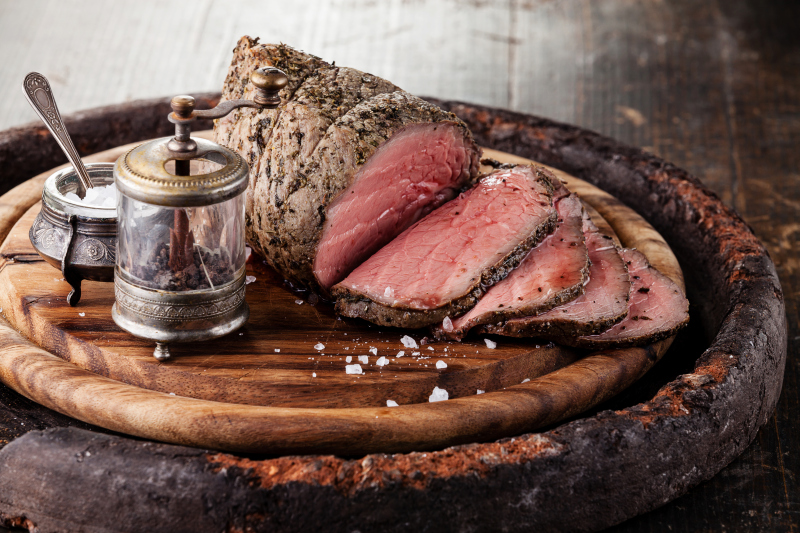 The eye of round roast. This roast, because of its uniform texture, lends itself well to dry roasting to medium rare. The wonderful thing about an eye of round is that because of its cylindrical shape, there is a lot of surface area compared to the interior. Put a zesty rub on the outside of this roast, roast it medium rare, and then slice it thin, and the result is these small medallions of roast surrounded by a wonderful crust.
These roasts are lean. If pot roasted, they tend to dry out just like a rump roast, and should be served with a gravy made of the lean pan drippings.
Because of the uniform texture of these they can be cut into steaks and braised, or cut into cubes for stew meat.
Looking for recipes for grass fed eye of round roasts? Scroll down!
Latest Grass Fed Eye of Round Recipes from the Ranch
Here's an easy eye of round recipe for a flavorful garlic roast. Just four ingredients, quick cooking time, and awesome flavor! This is perfect simply sliced for dinner or on sandwiches the next day.  (Gluten Free, Paleo, AIP, Dairy Free, Nut Free, GAPs, Low FODMAP, Soy Free, Whole30, Refined Sugar Free) The eye of round…
Want to share this post or follow us?