Cooking rump roast, chuck roast, or brisket? If so, try this easy garlic herb beef roast and get your fall cooking started off right!
(GAPs, Paleo, AIP, Gluten Free, Dairy Free, Soy Free, Refined Sugar Free, Nut Free)
---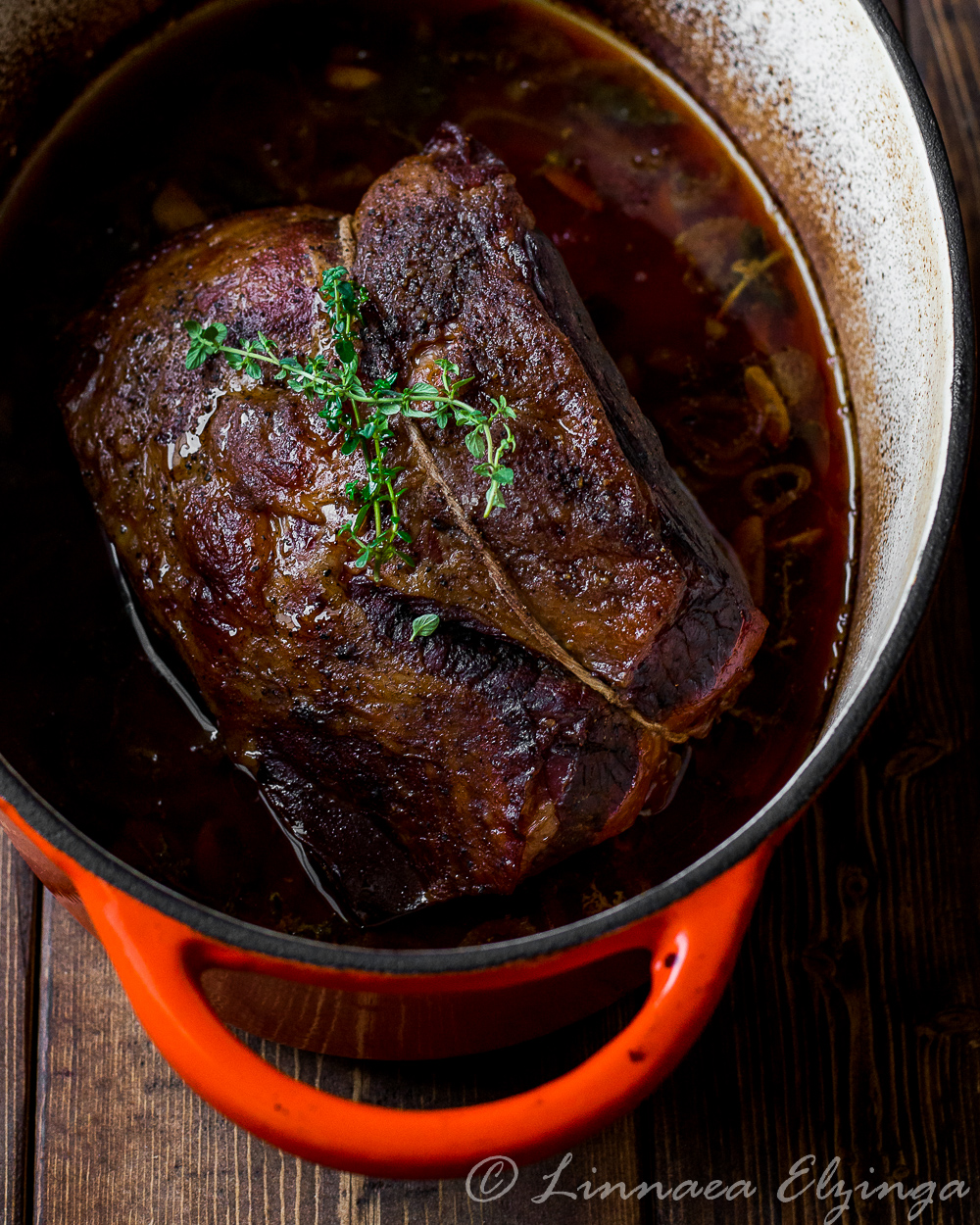 Finally, fall is back. Sometimes it comes on slowly and you hardly notice, but this year it came very suddenly: one day this week we woke up to a new crispness in the air, leaves starting to fall, and rainstorms and snow in the mountains. It's a pleasant relief from the stifling heat of summer, and it gives us an opportunity to break out some of the roasts we've been wanting to cook.
There's something pretty amazing about the warm, rich smell of roasting beef filling your kitchen when it's cold outside. The other big bonus of roasts is that they're big enough to feed even our family for a few meals (and a normal family for several days). And the third benefit of beef roasts is that they're really easy to make. Cooking rump roast, chuck roast, or brisket is a simple matter of putting it in the oven, roaster, or slow cooker and taking it out hot and juicy a few hours later.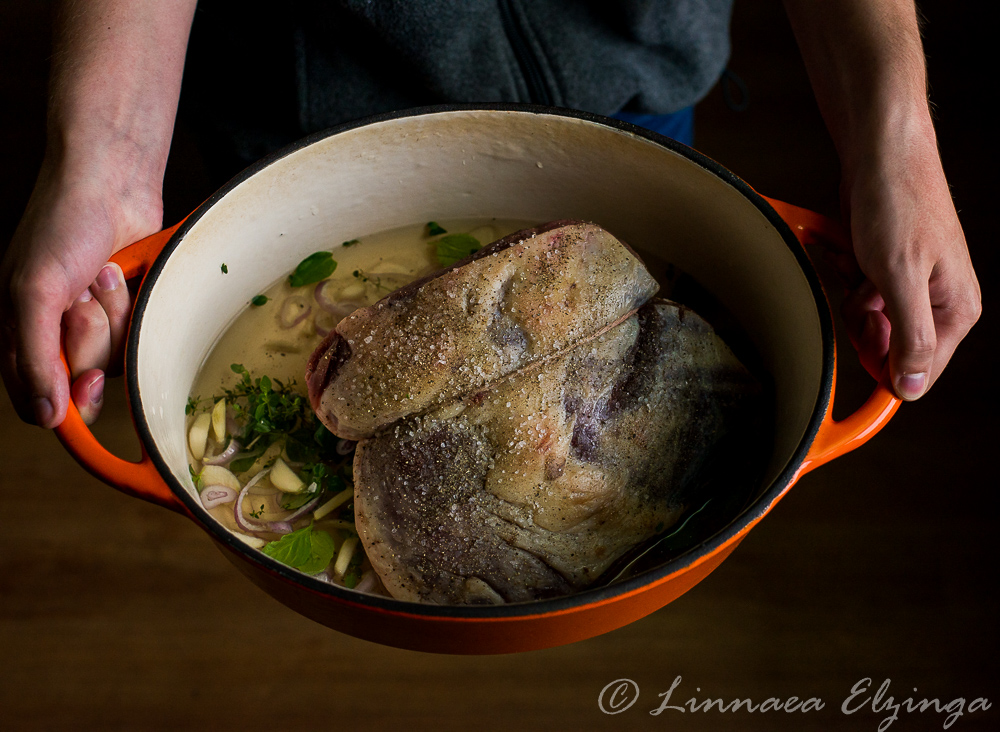 This is a great way to make that beef roast. We've still got some fresh herbs that grew in the summer weather. Add some garlic, salt and pepper, and onions and you've got a very easy, flavorful garlic herb beef roast. You don't need more seasonings than that! Let the flavor of the meat take center stage.
And if you have leftover roast, there's no end to what you can do with it: add it to a stew, serve on sandwiches, reheat and eat with vegetables, or add your favorite curry sauce blend and serve over rice.
Note: this method works for a rump roast, brisket, or chuck roast. If you're making an eye of round roast, check out this recipe. If a tri tip, see this recipe.
Note 2: if you're not sure where to find a roast, you can find our certified organic, 100% grass fed beef roasts on our website here.
Simple Garlic Herb Rump Roast, Chuck Roast, or Brisket
1 3-7 lb rump roast, ( chuck roast, or brisket (don't worry, cooking time doesn't vary much with weight))
About 1 tablespoon coarse salt
About 2 teaspoons coarse pepper
A few sprigs fresh thyme
A few sprigs fresh rosemary
A few sprigs fresh oregano
5 cloves garlic (peeled and chopped into quarters)
1 shallot onion (peeled and sliced)
2-4 cups water (as needed)
Thaw your roast completely.
Preheat the oven to 400 degrees F.
Select a pan: you can cook in a dutch oven in the oven, in a roaster, or in a slow cooker. If you're using a slow cooker or a roaster, you'll first brown the roast in the oven. For this, you can use a large cast iron frying pan or a glass baking pan (if you use a glass baking pan, warm it slightly before putting in the hot oven).
Remove roast from package and quickly rinse. Don't overdo the rinsing.
Place in your pan. Gently pat the roast dry with a paper towel.
Sprinkle the roast with salt and pepper and rub seasonings over the entire surface of the roast.
Add the thyme, rosemary, oregano, garlic, onion, and about 1 cup water to the pan around the roast (don't put on the roast as these ingredients will only burn).
The amount of water you'll use depends upon how big your pan is. The general rule is to have about 3/4 of an inch of water in the bottom of the pan. If you're browning the roast then slow cooking/roasting, do about 1/2 an inch.
Place the roast in the oven. Bake at 400 degrees, uncovered, for about 1 hour. You may need to add more water during this time: just be sure to keep the water level at or above 1/2 an inch.
After the roast has browned, check water level and cover the roast, then turn the oven temperature down to around 225 degrees F. If you're using a roaster or slow cooker, transfer roast, water, and herb/garlic/onion mixture to the slow cooker or roaster. Make sure the water level is around 3/4 of an inch, then cover and turn the temp to around 225 degrees F.
Cook low and slow for 6-8 hours, checking water occasionally and adding more if needed. For a really large roast, be sure to cook the full 8 hours. If you want to cook overnight without checking, that's fine: just leave the water at about 1 1/2 inches before you go to bed. Also if you're cooking overnight, make sure your roaster/slow cooker is away from the wall and any flammable objects.
When the roast is done, cut strings (if there are any) and use a knife and fork to strip roast apart. Serve with vegetables or salad on the side!
Want to make this recipe for cooking rump roast, brisket, or chuck roast? Save it for later with the pinterest-friendly image below!