Want to share this post or follow us?
This osso buco stew recipe makes for a delicious fall or winter dinner. Osso bucos (also known as beef shanks) are a great source of healthy fats and gelatin and give this soup its rich beef flavor. All you have to do is let them simmer on the slow cooker for a while with some flavorful fresh herbs and chopped vegetables. Serve with a slice of warm homemade bread and you're set! 
(Gluten Free, Dairy Free, Paleo, GAPs friendly, Soy Free, Refined Sugar Free, Nut Free, Grain Free)
Click here to skip to the recipe!
---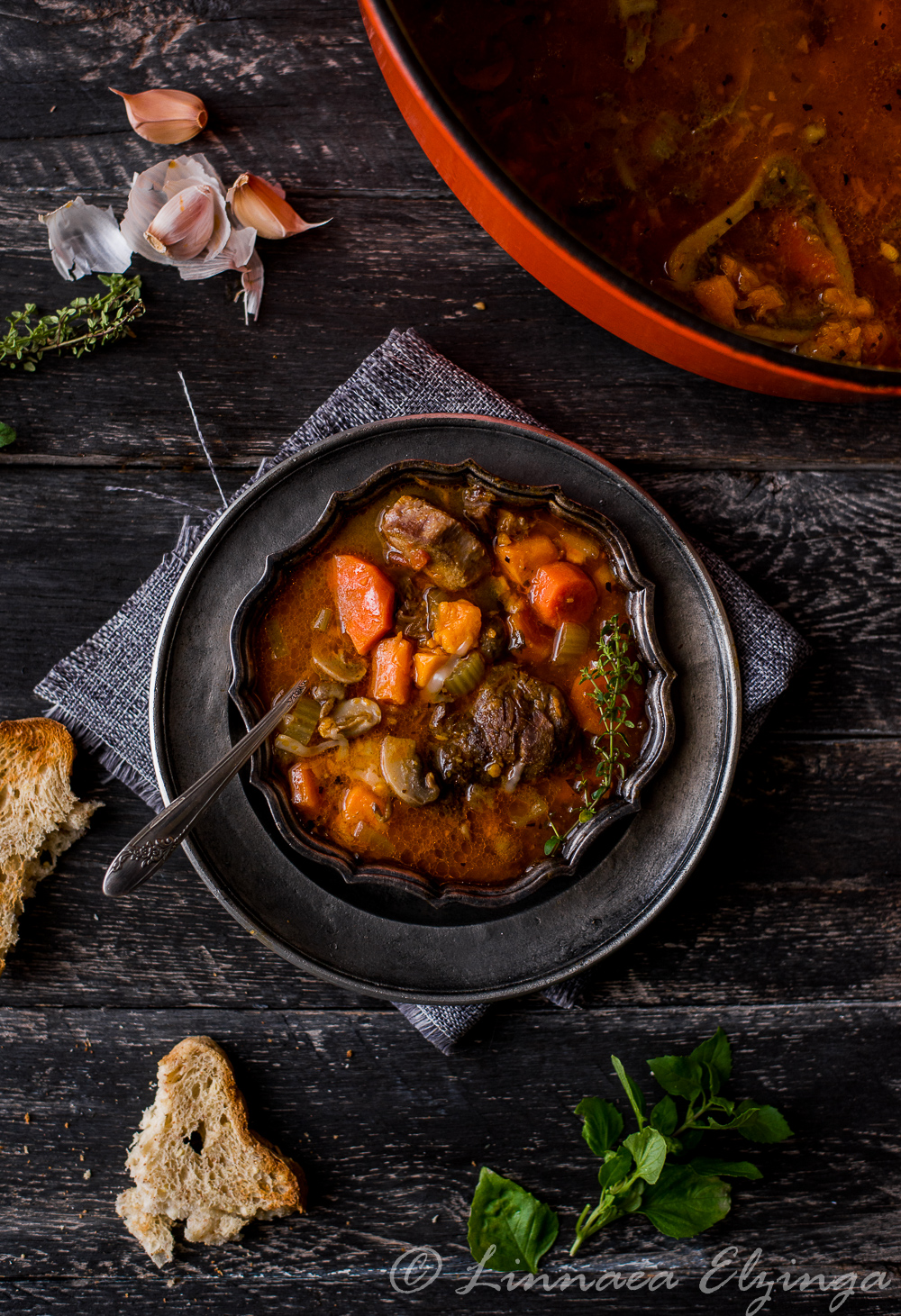 I really love osso bucos (or beef shank). They are wonderfully flavorful and rich, and they bring flavor dimension to this stew that a steak or some regular stew beef couldn't possibly create. It may seem strange at first: these bone-in cuts don't necessarily seem like they could taste so delicious. And when you first look at them it certainly doesn't look like beef shanks could ever be tender. But simmer this osso buco stew for several hours and you'll see what I'm talking about. The beef shanks break down into chunks during cooking, falling off the bone while flavoring the stew. The beauty is that you don't even need to chop up the meat! Just take the bones out of the stew when you're done cooking and serve!
Also in this recipe is a slightly unusual spice mix of fresh herbs like basil, oregano, and thyme as well as a hint of cumin and masala. This mix creates a complexity that is different but not overwhelming. Definitely not your run-of-the-mill beef stew!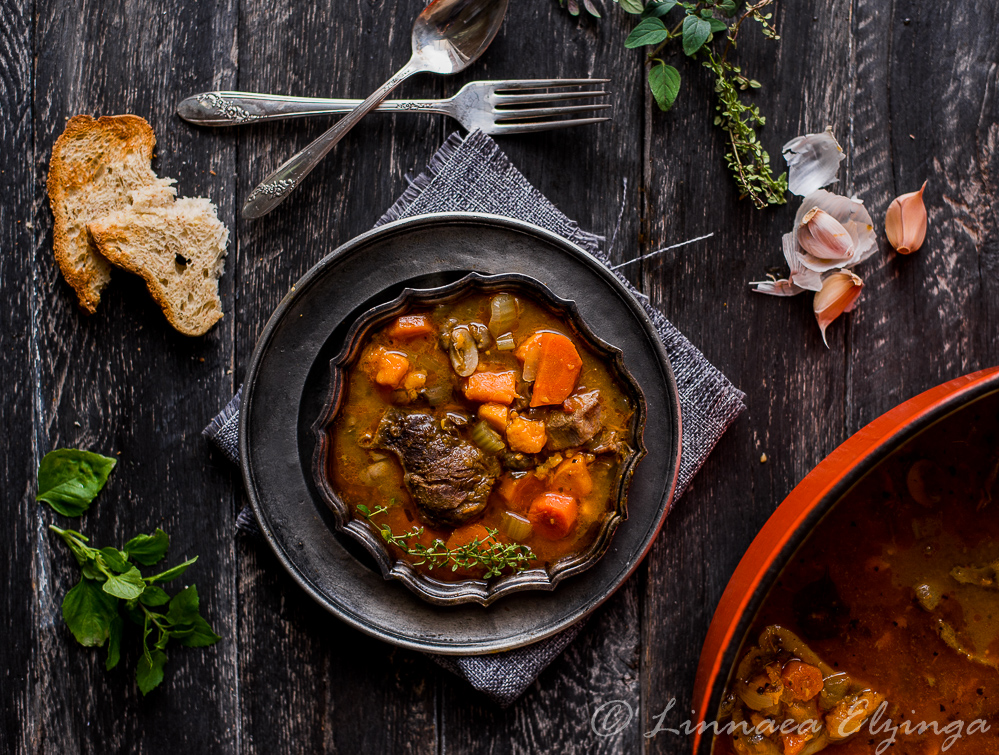 And if you happen to have leftovers, watch for another osso bucco recipe in a few days on turning leftover beef stew into some amazing beef pot pies! It's high time to get your fall cooking game on.
Update: You can find the promised Beef Stew Pot Pie Recipe here!
Osso Buco Recipe for Easy Beef Stew
Ingredients
1

teaspoon

salt

1/2

teaspoon

pepper

2

tablespoons

butter

olive oil, or avocado oil

4

cloves

fresh garlic

crushed and chopped

1/4

cup

canned tomato sauce or pureed fresh tomatoes

4

cups

water

plus more as needed

1

onion

chopped

1

tablespoon

squeezed lemon juice

one or two fresh sprigs thyme

fresh basil

chopped

sprig of fresh oregano

1/2

teaspoon

chili powder

dash masala powder

1/2

teaspoon

cumin

2

carrots

2

sweet potatoes or about 3 regular potatoes

about 3 short sticks celery
Instructions
Preheat the oven to 350 degrees F.

Remove the osso bucos from the packaging and coat lightly with melted butter or oil. Add remaining oil to a cast iron skillet, sheet pan, or dutch oven. Put the osso bucos over the oil.

Bake for 15 minutes at 350, until nicely browned. During the last five minutes, throw in the chopped garlic.

NOTE: I usually bake because I make this stew in big batches and pan frying is inconvenient. However, if you'd like, you can pan-fry the ossos in a little butter on the stovetop at medium heat just until they caramelize and turn light brown on both sides.

Remove from oven. If you're using a dutch oven that can work on the stovetop, don't worry about moving the beef to another pan. Otherwise, remove the beef from the pan and place in a crock pot (for slow cooker method) or a large stock pot (for stovetop). Add about a cup of water to the frying pan or the pan you browned in and swish it around to pick up the oils and garlic, then pour in with the osso bucos. Add remaining water, tomato sauce, onion, lemon juice, and herbs. Don't worry about the stems on the herbs–you can remove these later, after all the leaves have boiled off and flavored the soup. Next, sprinkle in the spices.

NOTE on water: the water measurement isn't exact. You should add enough to about half cover the osso bucos, so the water quantity just depends on the size of your pan or crock pot.

Place on the stovetop or in the slow cooker and turn to medium low heat. Cover and allow to simmer for about 2 hours. Add water as needed. The osso bucos should always be about halfway covered in water.

After cooking 2 hours, chop the carrots, sweet potatoes, and celery and add to the soup. Turn up heat to medium-high and boil gently about 30 minutes (it may take longer in a slow cooker) until vegetables are tender.

Remove bones from soup (or leave them in there and just eat around them). The osso bucos should be quite well broken-down by now, but you may want to remove them to break them into smaller chunks if you prefer, then add back to the soup.

This soup can be refrigerated and reheated for several days, or you can freeze it in an airtight plastic container for a few weeks (I wouldn't recommend longer than that because it might affect the flavor). You can also boil away most of the liquid and make pot pies with any leftovers.
Want to share this post or follow us?