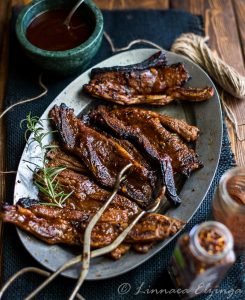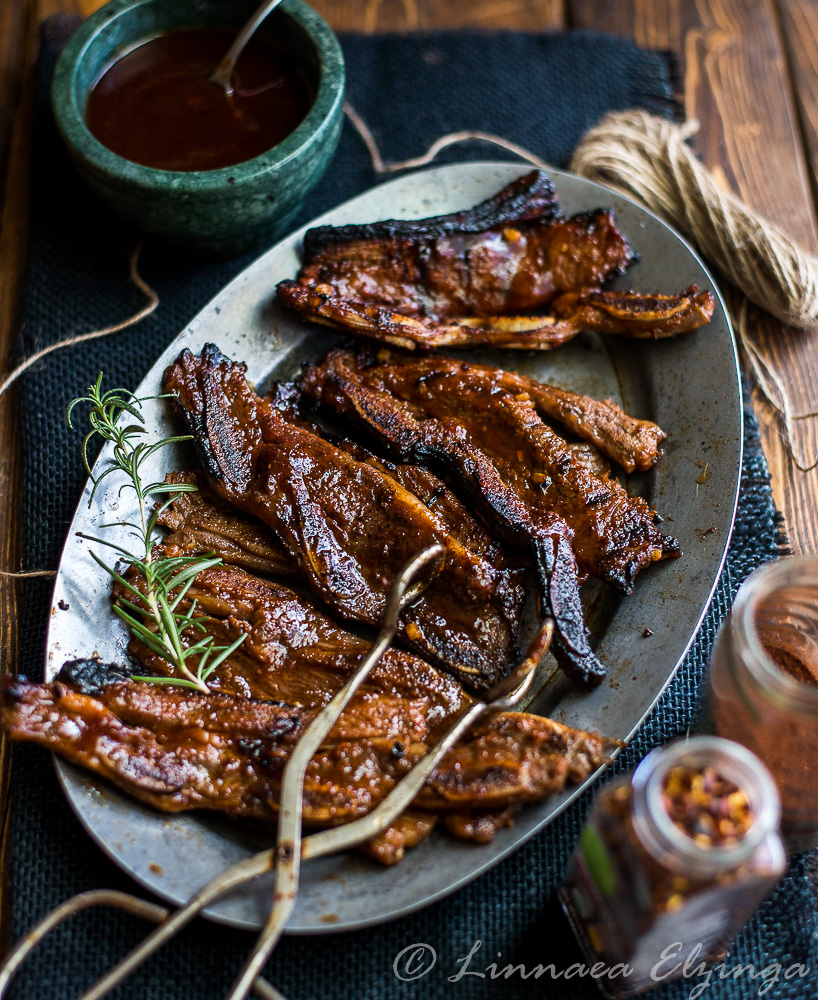 Marinated BBQ Flanken Ribs Recipe
Yield 3 -5 servings
These easy barbecue flanken ribs are marinated until tender, then grilled quickly and basted in barbecue sauce for a delicious sweet and smoky flavor!
Ingredients
2 lbs korean style (flanken) short ribs (feel free to double the recipe if you have 4 lbs)
1/4 cup pineapple juice (or, if you don't have juice, about 1/3 cup 1/4 inch chopped pineapple chunks and 1/4 cup water)
2 tablespoons lemon or lime juice
1/8 cup soy sauce, tamari, or coconut aminos
1 tablespoon apple cider vinegar
1/4 cup honey or brown sugar
1/8 cup olive oil
1/2 tsp smoked paprika
1 tablespoon minced garlic
1 tablespoon molasses
Salt as needed (see instructions)
About 1 cup barbecue sauce (see above for paleo bbq sauce recipe)
Instructions
Thaw the ribs completely, separate, rinse quickly to remove any small bone fragments, and place in a ziploc bag (it's okay if they're still a little wet from rinsing).
Pour the pineapple juice into a small saucepan or add the pineapple chunks and water.
Add the lime/lemon juice, soy sauce, vinegar, honey/brown sugar, olive oil, smoked paprika, garlic, and molasses.
If you are using coconut aminos, add a pinch of salt (it's not as salty as soy sauce or tamari).
Bring the mixture in the saucepan to a boil, stirring occasionally as it heats up.
Remove from heat. Cool for about 10 minutes.
Once the marinade is somewhat cooled, pour into ziploc bag over ribs. Close bag and shake it around until the ribs are thoroughly coated.
Refrigerate 2-4 hours but no longer (the thinly sliced ribs will start to come apart and will be very hard to cook on the grill! Flip the bag over occasionally to make sure all the ribs get coated.
When ready to cook, heat your grill to high heat.
Grill the ribs on high heat for about 5 minutes per side. You want them to get very crisp and crunchy (like bacon) on the outside, so don't worry too much about overcooking--they won't get tough. 
Serve with rice, mashed potatoes, salad, or anything you want. Have bbq sauce on the side to spread over ribs if desired!
Recipe by Meathacker at https://www.alderspring.com/meathacker/bbq-flanken-ribs-recipe/