Want to share this post or follow us?
This easy marinated BBQ flanken ribs recipe calls for Korean style short ribs, which are sliced more thinly than regular short ribs (see the picture for what your ribs should look like). Marinated until tender and then grilled quickly with barbecue sauce on the grill, they are an amazing summer meal. Perfect for your next BBQ grillfest!
Gluten Free, Soy Free, Paleo Friendly, Refined Sugar Free Friendly, Dairy Free, Nut Free
Click here to skip to the recipe!
---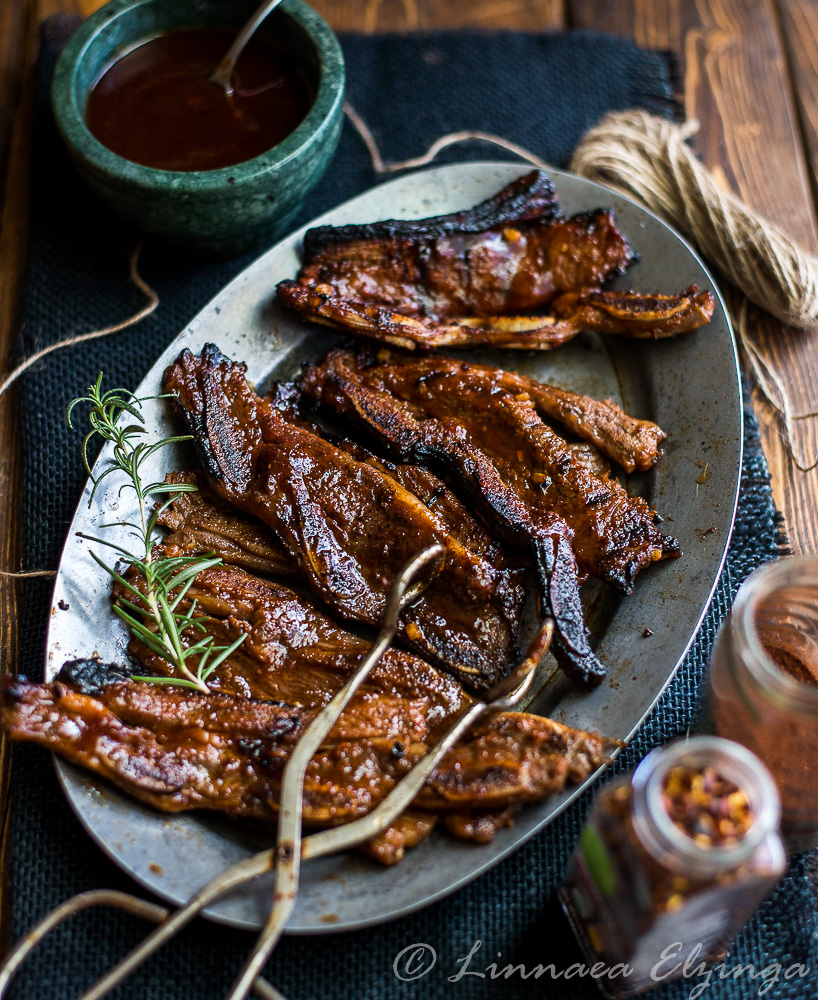 When you see the above picture, you probably imagine it was taken just before the entire Alderspring Ranch crew sat down to a delicious dinner of barbecue flanken ribs (or Korean style short ribs, as we call them) with, oh, I don't know, some mashed potatoes and a big salad on the side.
Actually, the picture was taken as I perched precariously on top of a tall stool in my college apartment, leaning so far over the whole arrangement that once or twice I nearly fell through the window. Meanwhile, my roommates chortled in the background. One of them even had the gall to say, "Yeah, you're definitely the weird roommate."
No short ribs for her, then.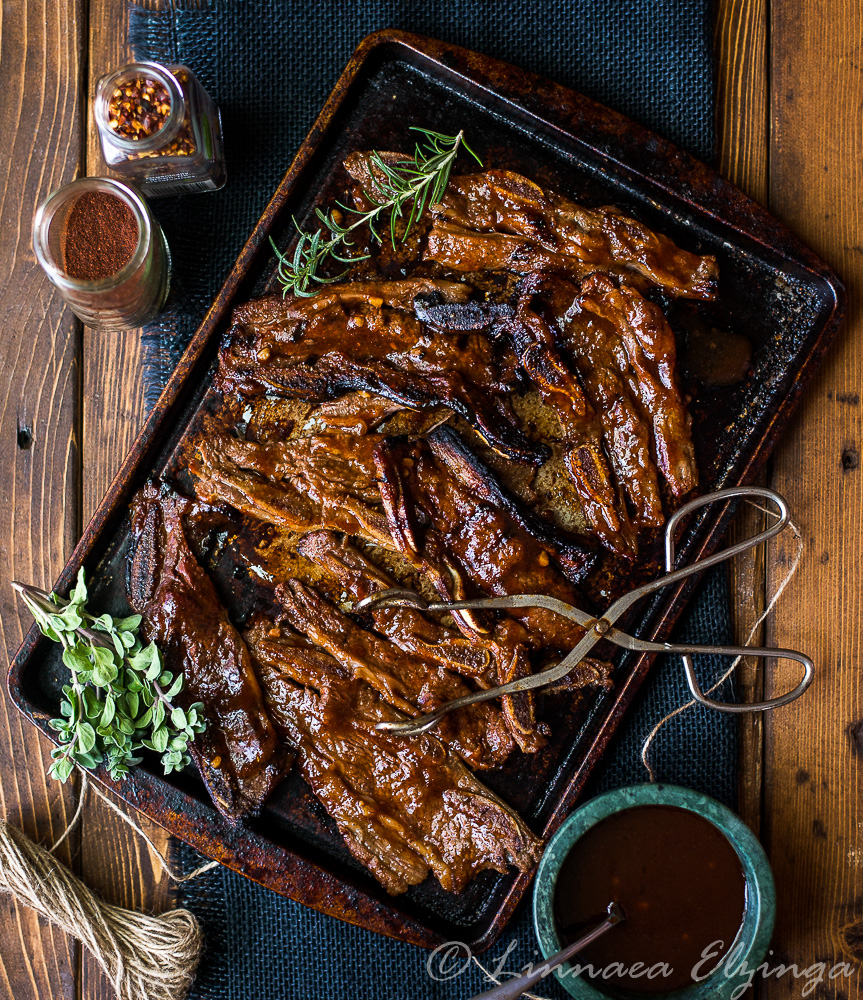 But maybe I am the weird roommate. I occasionally get a little dreamy-eyed at the thought of getting out of this city and going back to a ranch in the middle of nowhere for the summer. I cook things like these BBQ flanken ribs. I go on food rants ("Did you know that a lot of supposedly "U.S." beef actually comes from Australia?" "HA! You think those "cage free" chickens are living happily on beautiful pastures? Chances are they're still living indoors in overcrowded, unhealthy conditions"). And then there's the illegal grill. Though we have a nice balcony to cook on, I'm not really supposed to have a grill in campus housing. But technically, the fire safety regulations don't specifically say "no grills allowed." It's more of an assumption, really. And it's such a little grill. So I just hide it under my bed during fire safety checks (don't tell anyone).
But anyway, let's get on to the recipe. Since I'm far from the ranch and the Alderspring Crew, I have only my roommates to share these ribs with. But you, however, can have a rib party. It's almost April. Time to crank up that grill and get barbecuing.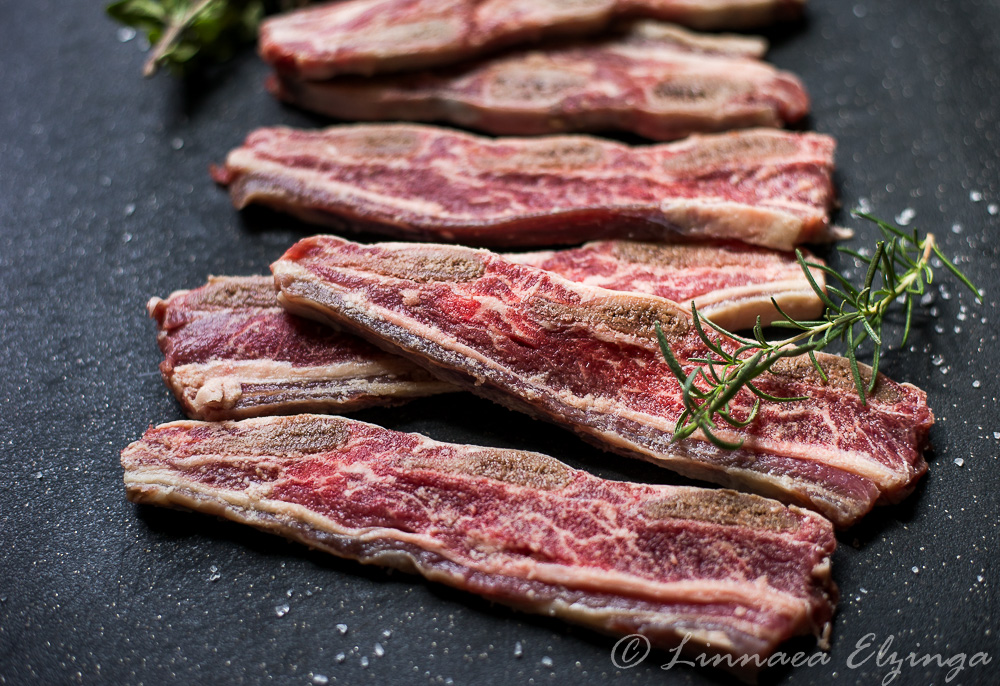 Oh, and see those raw ribs above? That's what Korean style short ribs, or flanken ribs, look like. And sadly, the recipe really won't work with regular short ribs. So make sure you've got thin sliced ribs like the ones above! You can find Korean style short ribs on the Alderspring store here.
Last but not least, if you're paleo/gluten free/health nerdish like me, try this paleo barbecue sauce on these little BBQ flanken ribs!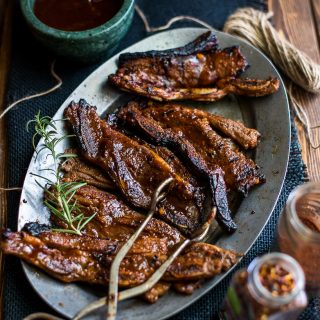 Marinated BBQ Flanken Ribs Recipe
These easy barbecue flanken ribs are marinated until tender, then grilled quickly and basted in barbecue sauce for a delicious sweet and smoky flavor!
Ingredients
2

lbs

Korean style

flanken short ribs (feel free to double the recipe if you have 4 lbs)

1/4

cup

pineapple juice

or, if you don't have juice, about 1/3 cup 1/4 inch chopped pineapple chunks and 1/4 cup water

2

tablespoons

lemon or lime juice

1/8

cup

soy sauce

tamari, or coconut aminos

1

tablespoon

apple cider vinegar

1/4

cup

honey or brown sugar

1/8

cup

olive oil

1/2

tsp

smoked paprika

1

tablespoon

minced garlic

1

tablespoon

molasses

Salt as needed

see instructions

About 1 cup barbecue sauce

see above for paleo bbq sauce recipe
Instructions
Thaw the ribs completely, separate, rinse quickly to remove any small bone fragments, and place in a ziploc bag (it's okay if they're still a little wet from rinsing).

Pour the pineapple juice into a small saucepan or add the pineapple chunks and water.

Add the lime/lemon juice, soy sauce, vinegar, honey/brown sugar, olive oil, smoked paprika, garlic, and molasses.

If you are using coconut aminos, add a pinch of salt (it's not as salty as soy sauce or tamari).

Bring the mixture in the saucepan to a boil, stirring occasionally as it heats up.

Remove from heat. Cool for about 10 minutes.

Once the marinade is somewhat cooled, pour into ziploc bag over ribs. Close bag and shake it around until the ribs are thoroughly coated.

Refrigerate 2-4 hours but no longer (the thinly sliced ribs will start to come apart and will be very hard to cook on the grill! Flip the bag over occasionally to make sure all the ribs get coated.

When ready to cook, heat your grill to high heat.

Grill the ribs on high heat for about 5 minutes per side. You want them to get very crisp and crunchy (like bacon) on the outside, so don't worry too much about overcooking–they won't get tough. 

Serve with rice, mashed potatoes, salad, or anything you want. Have bbq sauce on the side to spread over ribs if desired!
Want to share this post or follow us?