This easy recipe for grilled tri tip roast makes for a smoky, flavorful, and tender roast. Its unusual shape can make it a bit challenging to cook evenly, but done right and cooked to medium rare (not slow roasted), tri tip roast can be absolutely incredible.
Paleo, Dairy Free, Egg Free, GAPs Friendly, Gluten Free, Grain Free, Nut Free, Refined Sugar Free, Soy Free.
---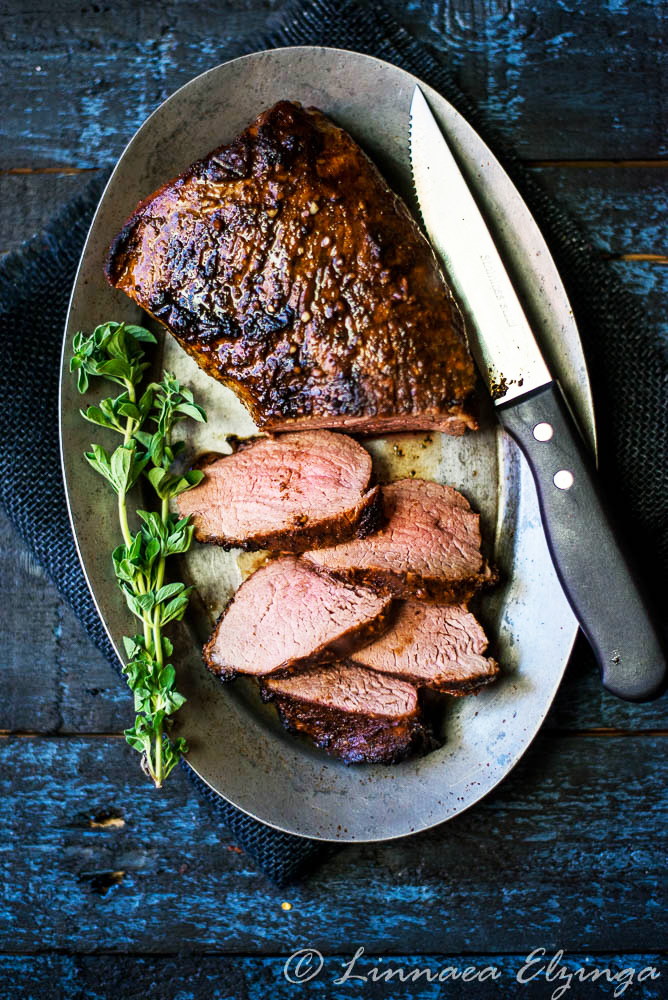 Yesterday was Monday, meaning packing day for most of the Alderspring Crew. Packing Day is the day we send you all your beef. Glenn braves the below zero temps in our walk-in freezer to put each order together, then the order is passed on to me or Josh, who check it to make sure everything is inside. After that, it gets passed down to the packers (aka my sisters), who foam wrap valuable cuts and hand the box to Ethan, who adds ice and puts in the labels and paperwork that Caryl prints out. And finally, those boxes go on the UPS truck and all over the United States.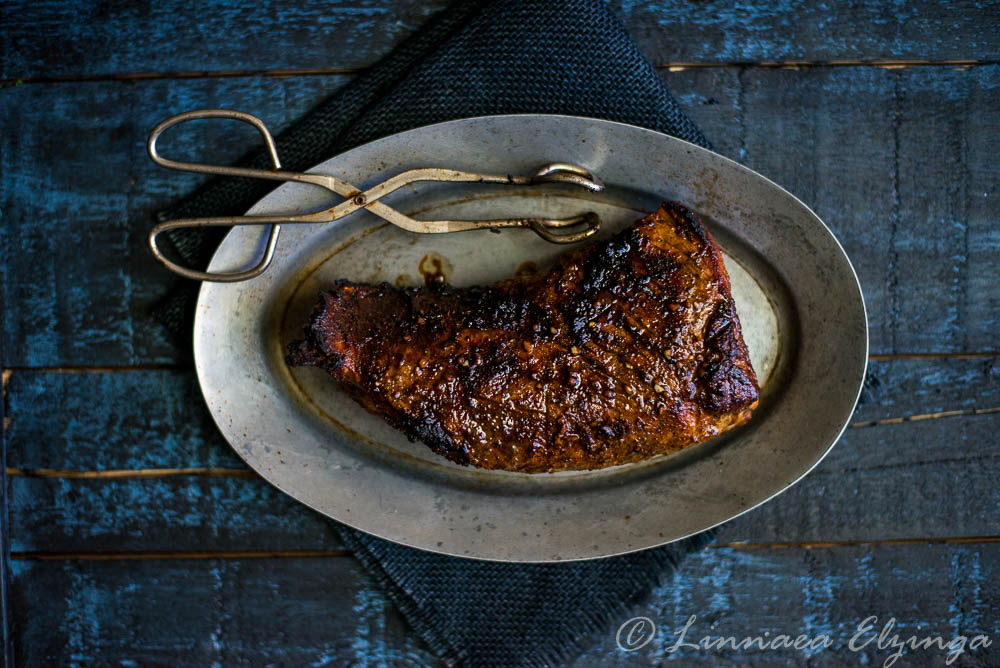 As Checker yesterday, almost sixty orders passed through my hands. I actually enjoy the job; I like seeing the different cuts people order. I'm always happy for people who order flatirons and shoulder tenders, since those two steaks are some of the best-kept secrets of Alderspring. One person ordered over ten eye of round roasts, which made me wonder if they were having some kind of roast barbecue or if they just really enjoy eye of rounds. And of course there were a few tri tip roasts going into those boxes yesterday. Those eye of rounds and tri tips do make me a bit jealous, they're popular enough that we don't get to eat them very often.
Sometimes, though, those roast orders make me worried. I wonder, "Will they slow roast it? Please tell me they won't slow roast it!" Control freak that I am, I want to put a little note in the box begging them not to slow roast it. The sad truth is that tri tips and eye of rounds are often cooked just like other roasts such as chuck roasts or briskets. In other words: long, low, and slow. The result? Shoe leather. And yes, I learned this the hard way.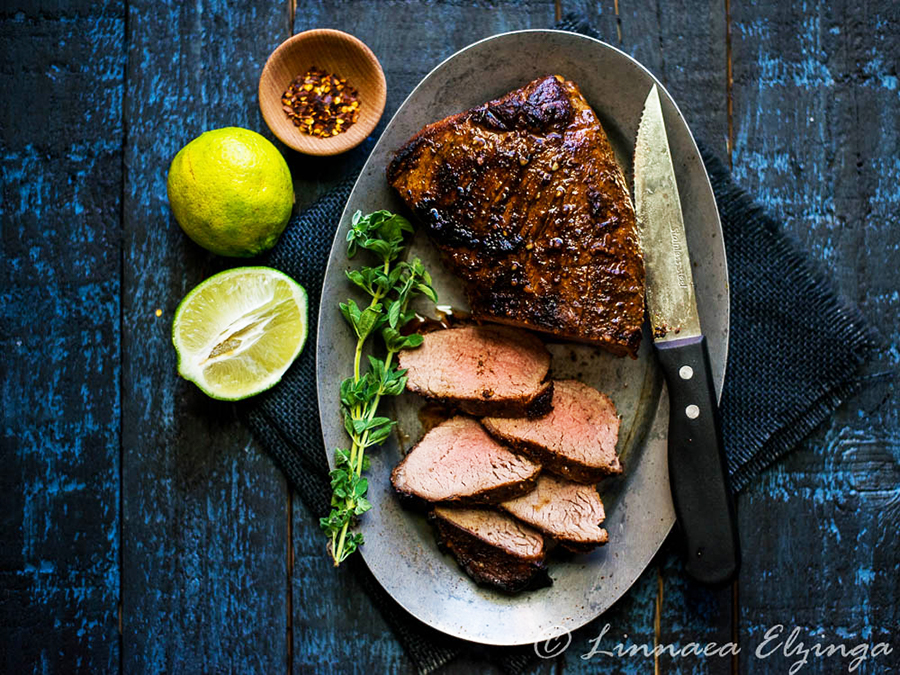 Hence, this recipe for grilled tri tip roast. Eye of rounds are a little harder to grill because they're so thick (which is why you should check out this recipe for eye of round "snakes"). But tri tips come out beautifully on the grill or cooked hot in the oven. The key is to keep them medium rare on the inside and to arrange the roast on the grill for more even grilling. After that, it's pretty straightforward and really no harder than grilling a steak. So pull out your grill, and I'll try and rest easy when I put those tri tips in boxes.
Recipe for Grilling Tri Tip Roast
This grilled tri tip recipe makes a delicious and tender roast with a slightly smokey flavor. Allergy friendly (see above).
1 2-3 lb tri tip roast
FOR RUB
1 tablespoon coarse salt
1 tablespoon black pepper
2 teaspoon garlic powder
1 1/2 teaspoons paprika
1 teaspoon onion powder
1 teaspoon ground rosemary
1/2 teaspoon chili powder
FOR BASTING
1/4 cup balsamic vinegar
1/4 cup olive oil
4 cloves crushed chopped garlic
2 tablespoons fresh squeezed lemon juice
Thaw the roast.
Combine the rub ingredients, then rub over the roast until covered. Cover and set at room temperature for 30 minutes to bring roast to room temp and allow rub to absorb.
In a small saucepan, combine the basting ingredients and cook on medium heat until hot (this will just allow the flavors to blend). Remove from heat.
Heat the grill to medium high heat (or prepare with charcoal), then place the roast on the grill. You'll want to put the roast on so that the thickest part is on the hottest part of the grill and the smaller tip is on the cooler end to ensure more even cooking throughout. Grill the roast for about four minutes. Flip, then baste. Allow to cook for another 4 minutes, then flip and baste again. Repeat every 4 minutes for about 20-30 minutes (time varies based on grill temp and roast size).
To see if the roast is done, check the thickest part with a thermometer (should be 130 for rare, 135 for medium rare, and 140 for well done). I wouldn't recommend cooking to 140 because due to the shape of a tri tip roast, the narrow tip will be well done even as the thick part is still medium rare.
The roast will be dark outside but should not be burnt (flipping frequently should prevent burning). If you notice that the roast is browning a lot within the first ten minutes of cooking, move to the cooler part of the grill so it receives indirect heat.
When the roast is fully cooked and the temp seems right, remove from heat, cover, and allow to rest for ten minutes before slicing.
SUBSTITUTIONS: 1. For a simpler AIP roast, you can use just coarse salt and pepper. 2. You can substitute the basting sauce above with barbecue sauce.