If you're looking for a delicious pastured poultry recipe, look no further than this easy chicken tikka masala. This recipe uses ingredients you already have and has dairy free and make-ahead options. It's a great hearty and filling meal as fall approaches!
Need another recipe for the chicken in your freezer? Here are some great options!
---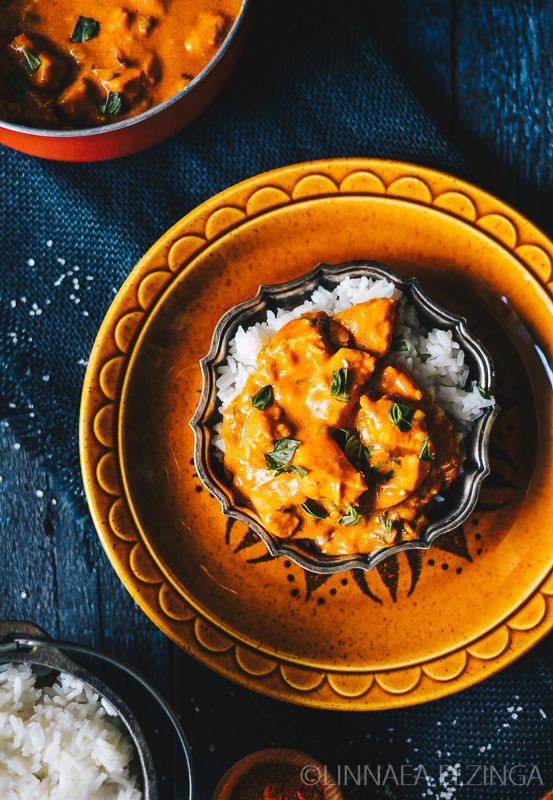 The first time I ever ate Indian food was at a restaurant in Wellington, New Zealand called Great India. We'd mainly gone there because it was cheap, but we went back twice more because it was amazing. Their butter chicken was so tender and creamy. Sure, it was very spicy and made us all sweaty and red in the face, but it was worth it.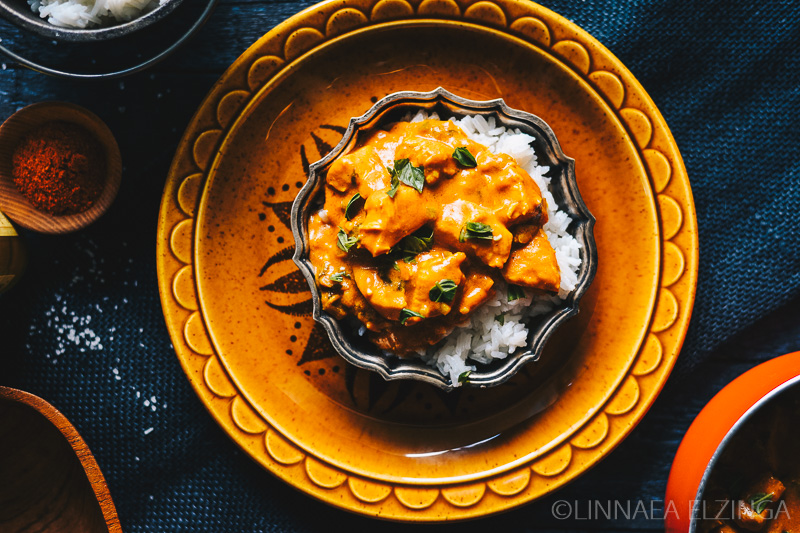 Ever since then, I've been trying to replicate the food at Great India. I've failed. Whatever magical spice they put into their chicken, I haven't found it yet, so if you're ever in Wellington please ask them for me. However, I have managed to create a more user friendly (read: ingredients available in your local grocery store) version of their tikka masala. It's spicy (but not too spicy), flavorful, and probably a bit easier than the one they make at Great India.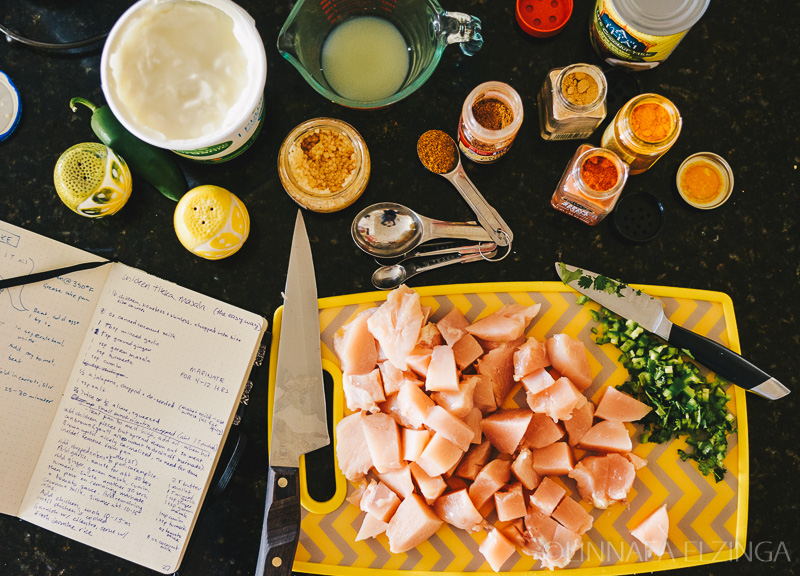 Pro tip: though this pastured poultry recipe is best when fresh (what food isn't?), I've found that it reheats really well one to even four days after making it. It's actually a great lunch to bring to work/class if you have access to a microwave. Just store the rice and masala separately in refrigerated airtight plastic containers until the day you're going to eat it. Then put the rice in a plastic container, add a layer of sauce, don't stir, sprinkle on some fresh cilantro, and snap on a lid. Later, microwave for about 1 1/2 minutes for a great hot lunch. And of course you can always reheat on the stove top at home as well!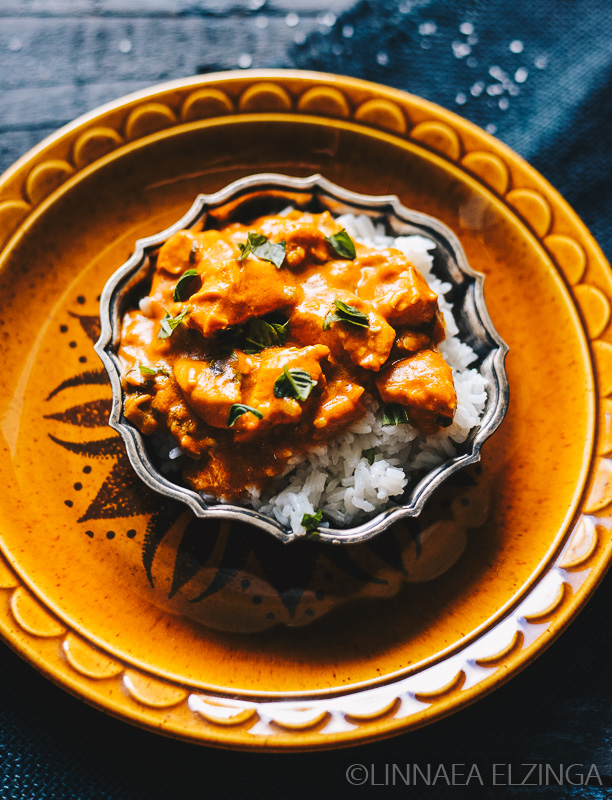 Pastured Poultry Chicken Tikka Masala (with ingredients you already have)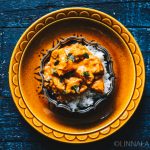 If you're looking for a delicious pastured poultry recipe, look no further than this easy Chicken Tikka Masala. This recipe uses ingredients you already have and has dairy free and make-ahead options. It's a great hearty and filling meal as fall approaches!
Marinade
1 lb pastured poultry chicken breasts ( or can also use thighs or tenders (just some kind of boneless chicken). Doesn't have to be exactly 1 lb, just therabouts)
1 cup whole milk plain yogurt (none of that lowfat stuff OR 1 cup canned coconut milk for dairy free)
1 tablespoon minced garlic
1 tsp ground ginger
1 tsp garam masala (should be at your local grocery store)
1  tsp turmeric
1  tsp cumin
1/2 a jalapeno (chopped and de-seeded (makes a fairly mild masala–for spicy, use a whole jalapeno))
1 tsp salt
juice of 1/2 a lime (squeezed)
about half a bunch of cilantro (chopped)
Sauce Ingredients
2 tablespoons butter
1 medium sized shallot onion
1 tablespoon minced garlic
1 tsp garam masala
1/2 tsp cumin 
1/2 tsp turmeric
1 tsp ground or fresh grated ginger
8 oz tomato sauce (regular pureed canned sauce works)
8 oz canned coconut milk (I use a 13 oz can and use the creamy part on top for the masala, then use the rest to replace some of the water in the rice–adds a nice flavor)
Rice
1 1/2 cups jasmine or basmati rice
3 cups water (can replace some of the water with any leftover coconut milk)
Okay, don't let the long ingredients list scare you! This is easy! 
First, chop the chicken. I like to chop mine when it's partially frozen–it's way easier. 
Place the chopped chicken in a ziploc bag or bowl and add all the marinade ingredients. Don't forget to chop up your cilantro before adding. 
Close the bag and massage to mix all ingredients thoroughly. You can also stir with a spoon if you're using a bowl, then cover the bowl. 


Place in the fridge. If the chicken is partially frozen, marinade on the counter until chicken is thawed before transferring to the fridge. 
Marinate for 4-12 hours. 
Before cooking the chicken, start the rice. Bring the water and any coconut milk you won't need to a boil in a medium-sized saucepan, then add the rice. Return to a boil, then reduce heat to low. Cover (but make sure the air can vent, or your rice will boil over!) and allow to simmer for about twenty minutes until all liquid is gone and rice is fluffy. 
When ready to cook, heat a frying pan on medium high heat and grease well with olive oil. Pour about half of the marinade and chicken onto the pan, then cook, stirring frequently, until chicken is almost completely cooked through. Occasionally pour off excess marinade into a saucepan. As you're cooking, chop up the shallot and garlic in the sauce ingredients, but keep the two separated. 
Transfer the chicken to the saucepan, then cook the other half of the chicken and marinade in the frying pan. Transfer that to the saucepan as well, but don't turn the saucepan on yet! 
Now, with the frying pan still on medium-high, melt the two tablespoons of butter. Add the onions and caramelize for about a minute, then add the garlic and continue to cook until lightly browned. Add the seasonings and stir. Pour the tomato sauce in with the onions and garlic and allow to return to a simmer in order to absorb the flavors on the bottom of the pan. Pour the tomato sauce/onion mixture into the saucepan. Add the coconut milk. 
Stir everything together until thoroughly combined, then place the saucepan on the burner on medium heat. Allow the mixture to come to a simmer, stirring frequently. Reduce to medium-low and simmer, stirring, for about 30 minutes. 
When rice and masala are done, remove both from heat and spoon the rice into a bowl. Coat with masala (but don't stir) and garnish with cilantro before serving! 
Substitutions: 
You can substitute fresh grated ginger for ground (it'll taste great!)
You can substitute store-bought lime juice for fresh in a pinch. 
You can substitute regular masala for garam masala. You'll get slightly different results, but still good!
You can substitute coconut milk for yogurt in the marinade, and cream for coconut milk in the sauce
You can substitute a similar amount of any other fresh pepper for the jalapenos. 
You can use a small regular onion instead of a shallot. 
Make-Ahead Tips: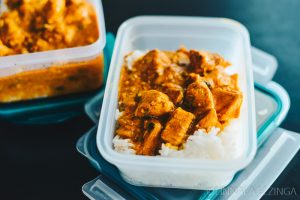 You can prepare the marinade in a ziploc ahead of time and freeze for 1-7 days. Just thaw completely, then cook without marinading any longer (too long a marinade time, and the chicken starts to lose substance). 
I like to prepare both the rice and masala ahead of time, then store separately in plastic containers in the fridge. Since I have to leave for classes early in the morning and like to bring lunch with me, the night before I leave I spoon a serving of rice into a plastic container and spoon the masala over it. I add a little cilantro as garnish, then the next day just microwave for a minute or so. It's an easy and delicious lunch!