Want to share this post or follow us?
These easy Indian-style ground beef meatballs with masala sauce make a quick and easy meal. Though beef isn't traditionally used in Indian cooking, spices like garam masala and turmeric actually pair very well with some simple ground beef. Serve over rice or quinoa! 
Looking for more recipes using ground beef? Check this recipe roundup out!
Gluten Free, Dairy Free Option, Paleo Option, Refined Sugar Free, Grain Free, Nut Free, Soy Free.
Click to Skip to the Recipe!
---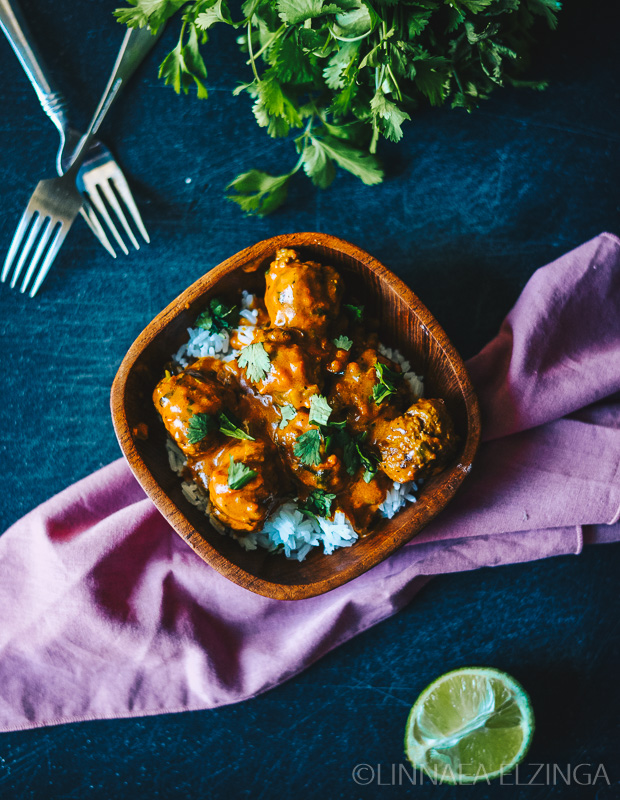 Yes, I know meatballs are traditionally made with breadcrumbs.
I also know that Indian food is not traditionally made with beef.
But I'm not really one to play by the rules with cooking. Ever since my family started eating gluten-free, we haven't included breadcrumbs in our meatballs. I've found that they hold together just fine without breadcrumbs at that the texture, though different, is still good. As for using Indian spices, while I certainly wouldn't call this an Indian recipe or traditional in any sense, I think that spices like turmeric, garam masala, and ginger work well in these simple ground beef meatballs.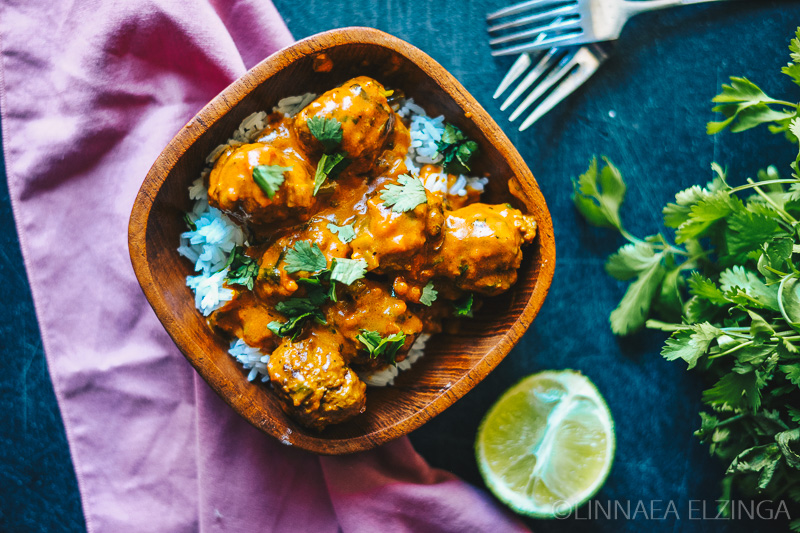 You'll see in the recipe below that there is an option for making this meal dairy free. Just sub in coconut milk instead of cream, which I think adds some great flavor anyway! Ground lamb would also work well in this recipe instead of ground beef.
Indian Style Meatballs with Masala Sauce
Ingredients
1

lb

ground beef

1

teaspoon

turmeric

1

teaspoon

cumin

1

teaspoon

garam masala

½

teaspoon

red pepper flakes

½

teaspoon

salt

½

teaspoon

ground ginger

2

teaspoons

minced garlic

1

tablespoon

lime juice

About 5 green onions

chopped

About ¼ cup chopped cilantro
Sauce:
1

teaspoon

minced garlic

8

oz

tomato sauce

½

cup

heavy cream or canned coconut milk for dairy free

½

teaspoon

turmeric

1

teaspoon

garam masala

½

teaspoon

cumin

½

teaspoon

ginger

2

tablespoons

lime juice

¼

chopped cilantro
Instructions
Place the thawed ground beef in a bowl, then add remaining meatball ingredients. Use your hands to gently massage ingredients together.

Heat a cast iron frying pan to medium-high heat and add a tablespoon of olive oil.

Shape ground beef into 1 ¼ inch balls and place on a hot frying pan. Fry for about 15 minutes, turning meatballs to brown evenly on all sides. Remove the cooked meatballs from heat but leave the pan running.

Add the garlic to the pan and fry for about a minute, stirring. Add the tomato sauce and cream/coconut milk. Add all the seasonings and stir. Bring to a boil, then reduce heat to low and simmer until sauce thickens, about 2-3 minutes.

Add the meatballs to the sauce and stir until coated. Serve over freshly cooked rice or quinoa and garnish with fresh cilantro.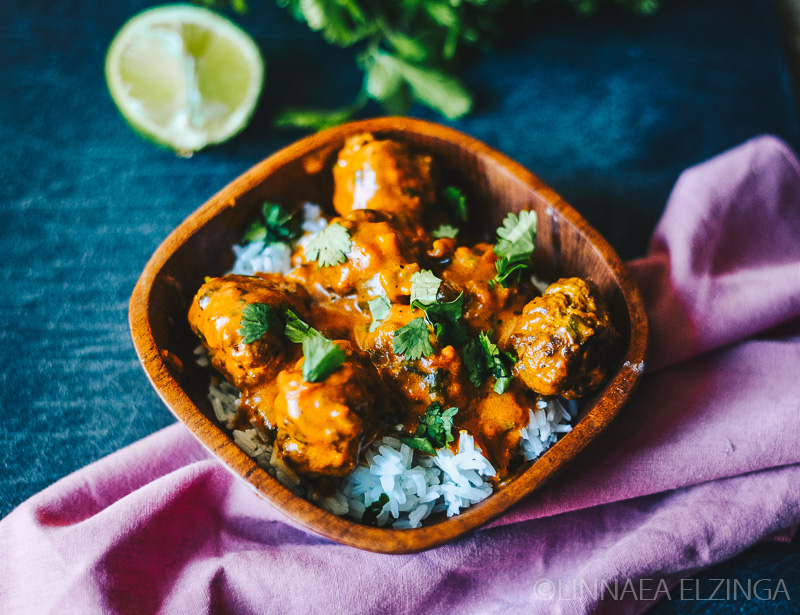 Want to share this post or follow us?