Here's the ultimate guide to beef bones–what to do with each type, recipes, and where to buy!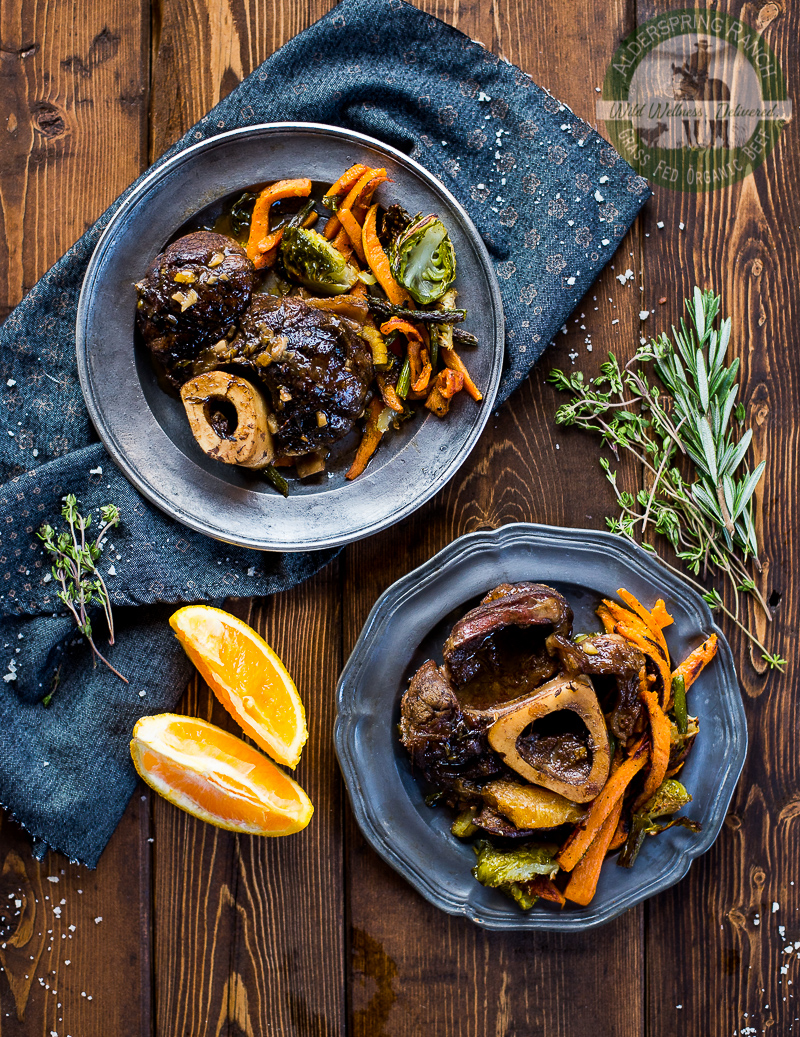 Above: beef shank with orange and thyme. Get the recipe here. 
What you should know about buying beef bones/ribs:
The important thing to know about beef bones and ribs is that you should always try to buy 100% grass fed and organic beef bones. Why? Because during its lifetime, a cow's body will store toxins in bones in order to protect the cow. When you cook your bones, all those toxins come out and end up in your body. This can include things like weed spray the cow ate, heavy metals, insecticides, and more nasty stuff that you definitely don't want to be eating. Here are things to note before deciding where to buy bones for bone broth or where to buy beef shank:
Make sure the cow was 100% grass fed. Labelers can get a bit tricky by labeling just "grass fed," but this means that the cow may have only eaten grass for part of its life. 100% grass fed means the cow has eaten grass it's entire life (since it was weaned, anyway).
But be careful even if the label says 100% grass fed, because things like GMO beet or potato pulp are legally considered grass-fed. A cow could have lived in a feedlot and eaten beet pulp and still be called grass-fed. Feedlots are full of toxins that could be in your bones. The other problem is the GMO vegetable pulp, because that was likely also sprayed with glyphosate (a super fun and toxic weed spray that you don't want to be eating).
And, while we're on the subject of glyphosate, make sure that weed sprays were NOT used on the grass your cow ate. Ask your farmer how he handles weeds on his property. If he says that he goes out there with a hoe and manually grubs weeds or that he uses animal management to keep weeds down, Farmer John checks out. Your last check is to ask him where he gets his hay: if it's not from his farm, find out where it does come from and what they do about weed spray.
One way to ensure that your bones are going to be chemical and toxin-free is to buy certified organic. The organic certification requires that there are no chemicals, GMOs, weed sprays, antibiotics, hormones, or insecticides involved. However, the organic certification does not guarantee 100% grass fed, so both 100% grass fed and certified organic is a good combination.
Ribs
Ribs are bones, but unlike the soup bones you'll find below, beef back ribs and short ribs have thin bones with lots of meat attached. The meat, when cooked down, is very flavorful and tender but without the strong (though not always bad) "beefy" flavor of the marrow bones (more on those later). Short ribs and back ribs are famously good with Texas-style barbecue sauce.
Short Rib of Beef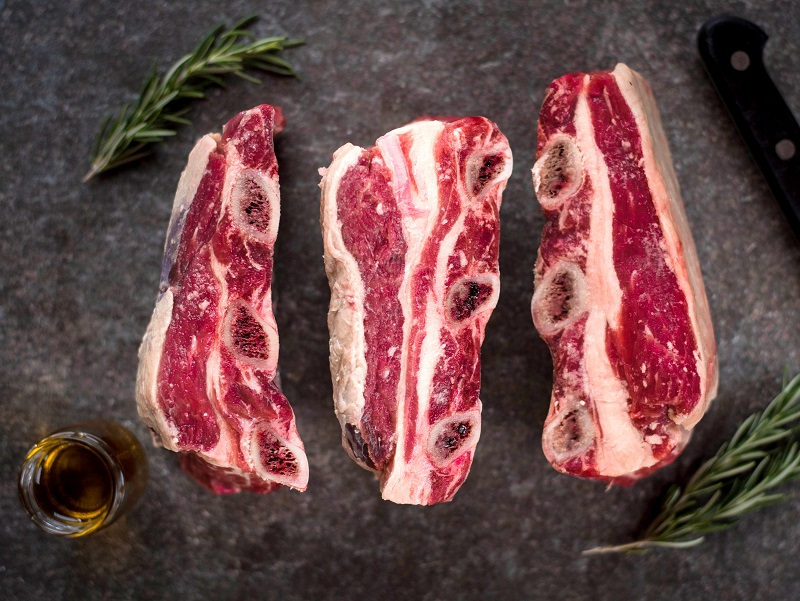 The rundown: Meatier than the back rib, short ribs are a delicious cut packed with flavor. Short ribs come from the lower rib cage of the cow called the "short plate."
How to cook: short ribs are incredibly easy to make. They should be cooked long and slow to tenderize the tough meat around the bone, but this is simple when you just put them in the slow cooker at about 200 degrees F for around 8 hours. Another cooking method that's a little more involved is to smoke them (also long and slow) in your smoker. Don't forget barbecue sauce!
Short ribs, however, aren't just restricted to barbecue sauce. You can make delicious short ribs with citrus fruits, wine, or Asian sauces.
Where to buy short rib of beef:  you can find our certified organic, 100% grass fed beef short ribs on our website here.
Beef Back Ribs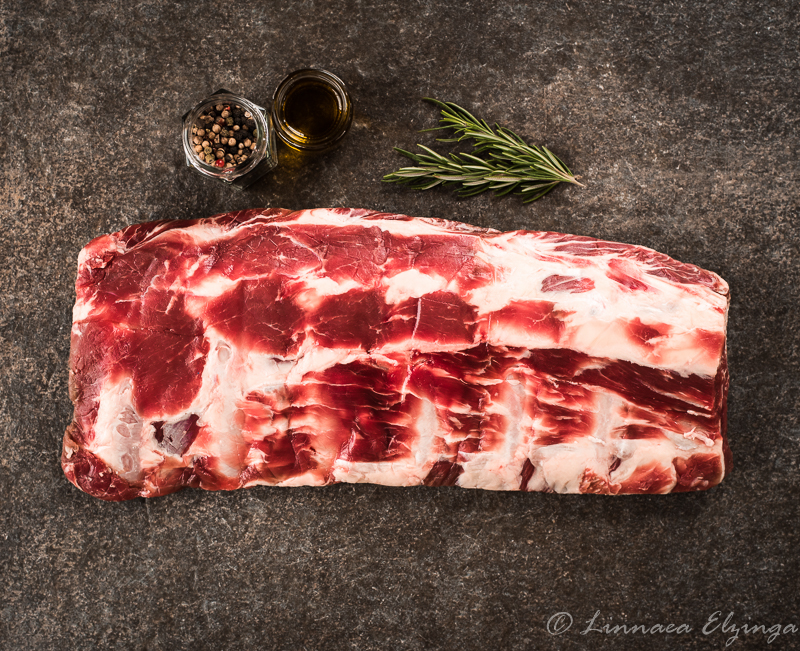 The rundown: as said earlier, beef back ribs have a bit less meat on them than short ribs. They also traditionally come in "racks" as pictured above, but if you don't have room in your crock pot or need a smaller size, you can cut between the bones where there is just meat. This is also how you serve beef back ribs when they are cooked. Back ribs come from, well, the back of the cow and from the same area as the ribeye, or prime rib (hence the delicious flavor)! Beef back ribs may also be referred to as just "ribs."
How to cook: back ribs can be cooked much like short ribs, though they perform even better on the smoker than short ribs do. Just remember these key words: low and slow. And with barbecue sauce. Lots of barbecue sauce. Here's a recipe and video on how we like to smoke our back ribs. 
For the slow cooker, the process is much the same as short ribs: make sure there's plenty of sauce (any sauce that compliments the meaty flavor of back ribs works) and cook at around 200 degrees F for about 8 hours for delicious back ribs.
Where to buy beef ribs: you can find our certified organic, 100% grass fed beef back ribs on our webstore here. 
Bones
Unlike beef ribs, beef bones have more marrow, gelatin, and all the great health benefits that go with. They also have a more intense beef flavor, though it isn't unpleasant. The broth and meat from beef bones can be absolutely incredible in stews or eaten plain for health reasons. People have been making and eating bone broth for thousands of years. Since humanity has survived this long, they must have been doing something right.
Beef Shank/Ossobuco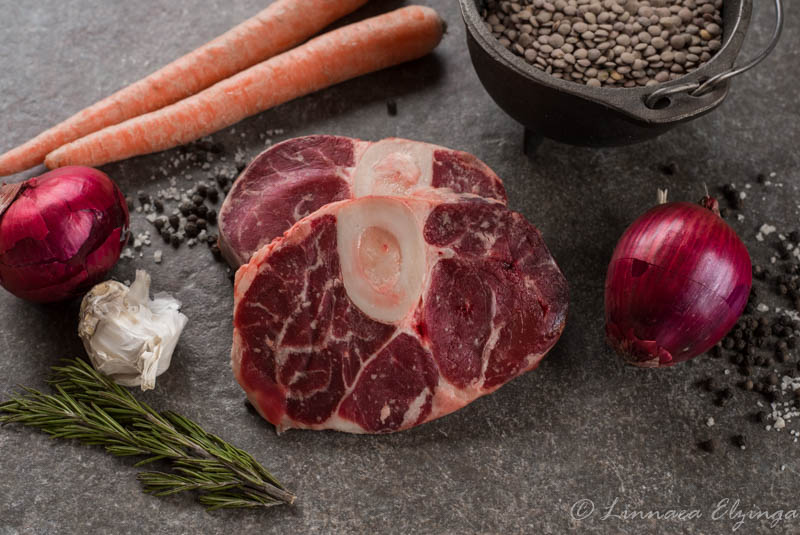 The rundown: I'm actually pretty passionate about beef shanks. They have incredible flavor: it's rich and meaty, but it's not overpowering as bone broth can occasionally be. The bone in the beef shank also adds to the flavor and is full of all those bone health benefits you've heard about: marrow, gelatin, the works.
Cooking beef shank: beef shank can make incredible beef bone soup because of the marrow and meaty flavor of the shank. Not to mention that shanks/ossobuco provide the meat for you, so you don't have to add stew beef or anything. Beef shanks can make some of the most flavorful and satisfying stews and soups you've ever eaten. Here's a favorite for beef bone soup with beef shanks and lentils. 
Another way to cook beef shank is in the slow cooker (there's something magical about slow cookers, I'm telling you). For a successful slow cooker supper, you just need to remember the two principles we talked about above: low and slow, and make sure there's plenty of liquid. For beef shanks, you're probably going to want them half-covered in liquid so they can also brown. See the beef shank recipe at the very top of this page to see what I mean!
Where to buy beef shank: you can find grass fed, certified organic beef shanks (called osso bucco on our store) right here. 
Beef Bones for Broth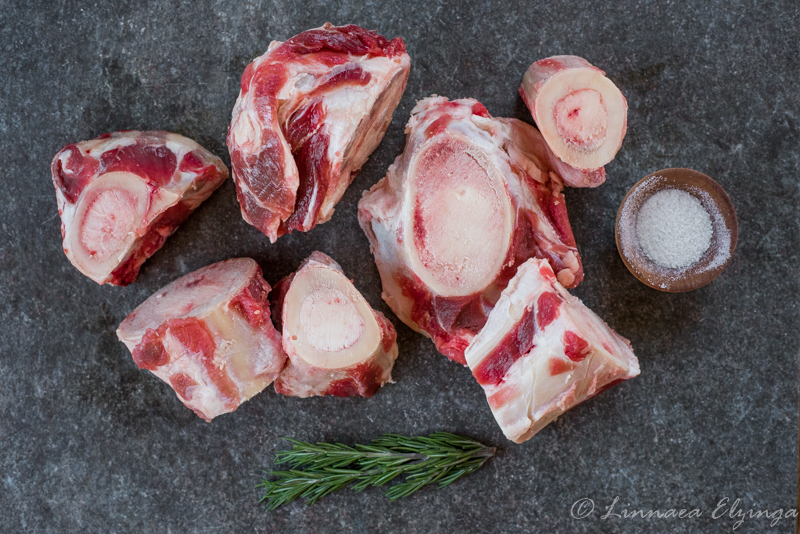 The rundown: first off, there are tons of bone broth benefits that you can read all about here. Bone broth does have a very strong flavor which some people find distasteful. Others complain of wonky undertones, but if you buy quality 100% grass fed bones, you shouldn't have any weird flavors. If you don't like plain bone broth, at least make it for the added richness, flavor, and health benefits in beef bone soup, stews, and the like. Some people even substitute it for water in recipes like rice or coffee. Okay, I'm kidding on the coffee.
Making bone broth: it's pretty simple. Our method is this: brown the bones at around 350 degrees in the oven in a baking pan. Once lightly brown, put the bones in a large soup pan, then rinse the pan with water to pick up all the fat and juices and pour that into the soup pan as well. Then fill the pan enough to cover the bones and then some. Bring to a boil, then simmer for 12-24 hours. Don't forget, however, to add more water from time to time so it doesn't simmer away! For a full recipe with directions and ingredients, click here.
Where to get bones for bone broth: you can find our grass fed, certified organic bones for bone broth here.
Beef Neck Bones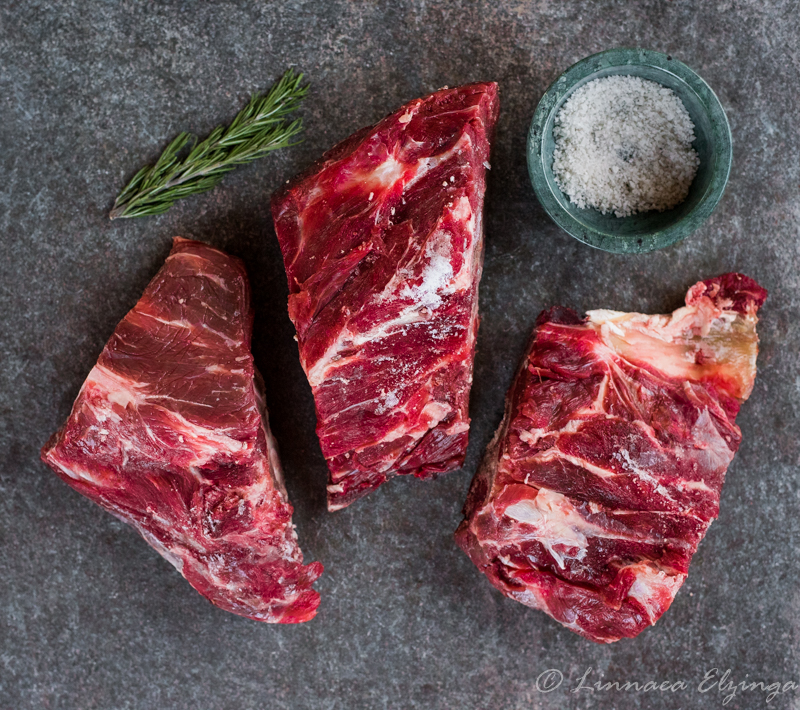 The rundown: beef neck bones aren't quite like your traditional marrow bones, though you can use them for bone broth. They are quite a bit meatier than marrow bones, so you'll get more flavor in your bone broth.
Cooking neck bones: You can cook neck bones like marrow bones above. However, if the bones simmer long enough, the meat will fall of the bones. You can strain the broth for a pure (but very meaty) bone broth, or you can use neck bones for a stew similar to osso bucco stew above.
You can also cook neck bones like osso buccos: low and slow, lots of sauce, and for around 8 hours at 200 degrees F. They make good taco meat or just the main meat dish for your dinner!
Where to get bones for bone broth:  you can find our grass fed, certified organic neck bones here. 
Want to save this guide to ribs and bones for later? Pin the image below to save!