The title kinda sums it all up, but this easy Asian steak stir fry recipe can be made with a flank steak, a flatiron steak, a skirt steak, a flap steak, a London broil steak, or a sirloin tip steak. And besides being versatile like that, it's also flavorful, re-heatable, and a great quick meal!
Click here to skip to the Asian Beef Stir Fry Recipe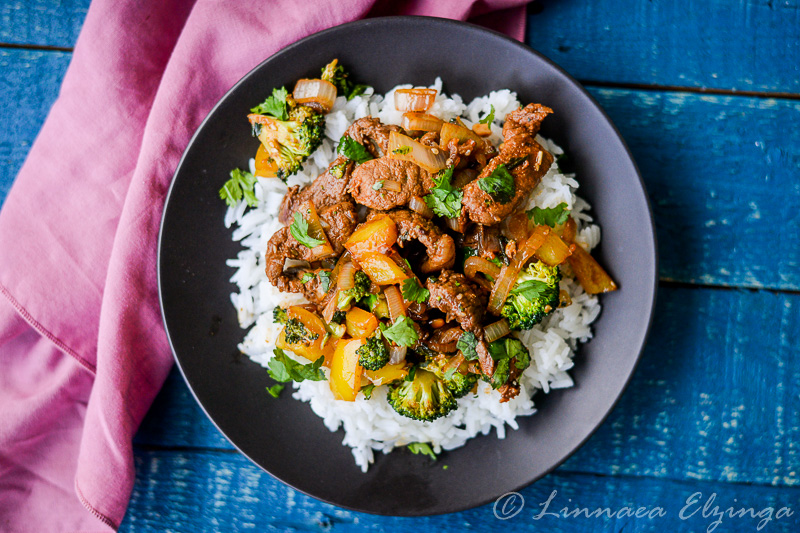 I don't know about you, but this time of year I really start to crave vegetables.
Even broccoli.
Even broccoli.
Now, don't get me wrong, broccoli is good for you and all, but it doesn't always taste like much. However, it's green, and green is really tempting when everything outside is cold and grim and cloudy. Enter this beef steak stir fry recipe that makes broccoli taste like more than mere broccoli and also contains a healthy dose of tender steak.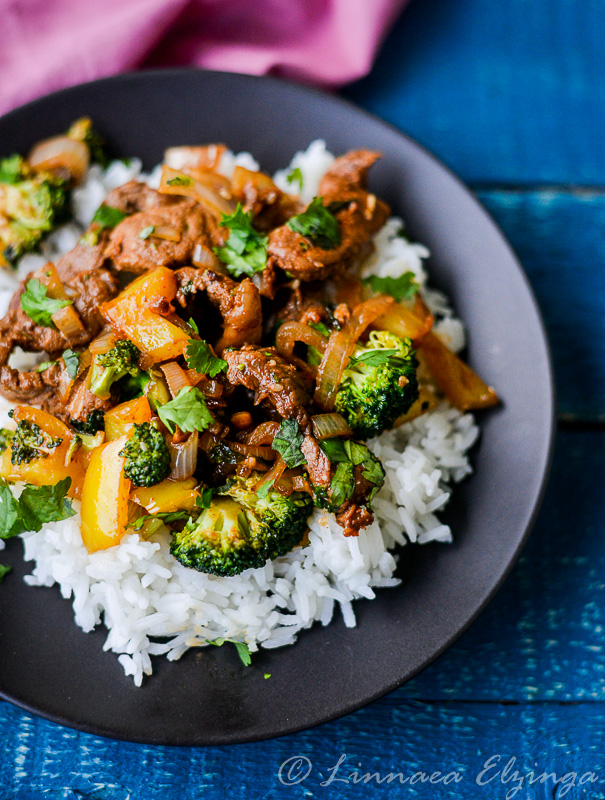 This recipe also reheats very well, so you can even make a double batch at the beginning of the week and reheat as needed for an instant dinner. Or bring it to work in a tupperware and reheat it there.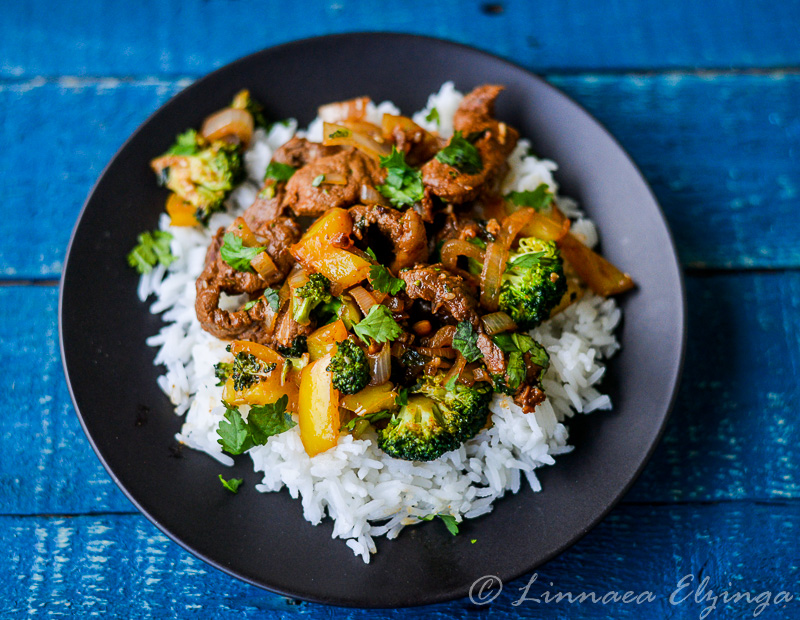 Quick notes:
Substitutions: Besides being able to substitute in practically any steak, you can also switch out the veggies. Still not a fan of broccoli? Feel free to use Brussels sprouts, cabbage, or leafy greens (just add later since they need a shorter cooking time). Also, I made the carrots optional since some people really hate stir-fried carrots, but you can also substitute carrots with something else.
Marinating: You don't have to marinate at all, especially if you're using a pretty tender steak. In that case just throw it in the pan right away with all the marinade ingredients.
Slicing: Be sure to slice against the grain! Some of the steaks you can use have different grain directions, so you want to be sure you cut the right way or it's going to be really tough. The grain is just the direction that all the lines in the steak are going in. Here's a picture for reference on slicing against the grain on a skirt steak (most steak grains go the other direction). Obviously you're going to end up with pretty long strips, so you can definitely cut those strips into shorter strips.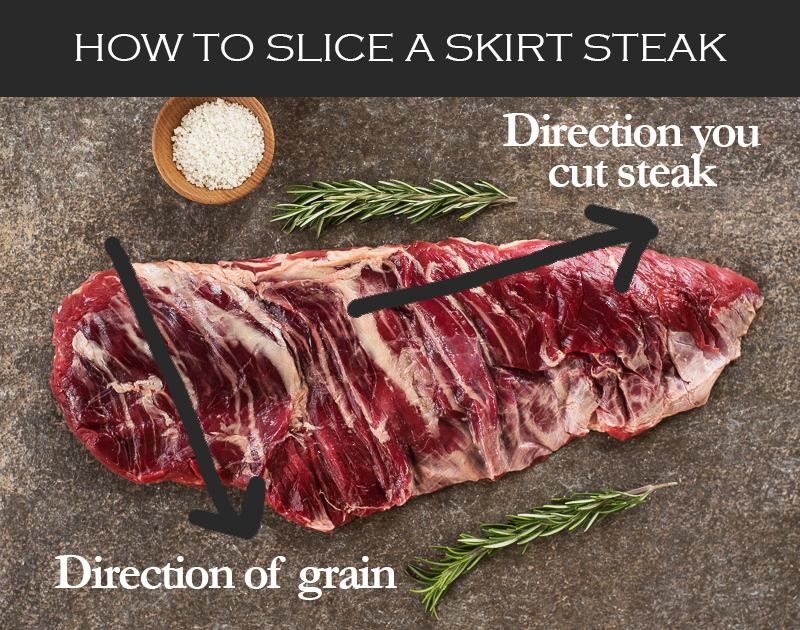 Easy Asian Beef Stir Fry with Rice (Works with Most Different Steaks)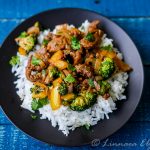 The title kinda sums it all up, but this easy Asian beef stir fry recipe can be made with a flank steak, a flatiron steak, a skirt steak, a flap steak, a London broil steak, or a sirloin tip steak. And besides being versatile like that, it's also flavorful, reheatable, and a great quick meal!
1-2 lbs beef skirt steak, ( flank steak, flap steak, flatiron steak, london broil, or sirloin tip steak)
1 tablespoon sesame oil
1/4 cup soy sauce or coconut aminos for soy free
About 1/4 cup chopped fresh cilantro
1 tablespoon ground ginger
2 cloves finely minced garlic
1/2 teaspoon chili powder
2 teaspoons Thai Red Curry Paste (optional, adds good flavor)
juice of half a lime
olive oil (as needed for cooking)
1 carrot (optional)
2 shallot onions
1 medium-sized head of broccoli
1 large red (green, or yellow bell pepper)
2 teaspoons peanut butter (creamy or crunchy is fine)
2 teaspoons sesame seeds
Thaw your steak and then slice thinly against the grain. I prefer to mostly thaw the steak but not completely before cutting, since it's easier to slice still partially frozen.
Cut each of the long slices in half so that they're more bite-sized.
Place the steak in a ziploc bag along with the sesame oil. Add half of the coconut aminos (you'll add the rest later). In a small bowl, combine the minced cilantro, ginger, garlic, and chili powder. Add half of this mixture to the steak in the bag and withhold the other half to add later. Then add the red curry paste (all of it) and lime juice (all of it) to the steak. Close the bag and massage it to get the steak well-coated with the ingredients, then marinate for 2 hours. If your meat wasn't entirely thawed when you cut it, feel free to marinate on the counter. And if you don't have time to marinate, that's fine! Just move right on to the cooking stage. The steak won't be as tender or absorb the flavors as well, but I often skip the marinating when I'm busy.
When you're ready to cook, turn a frying pan (I prefer cast iron) to just above medium heat and allow it to warm up. While it does, start chopping the veggies. Chop the carrot and onion first because you'll add them soonest, and be sure to chop the carrots very thinly!
Once the pan is hot, sprinkle in about 1 tablespoon of olive oil and use a spatula to spread it over the surface. Then add the meat and begin browning.


Once the meat is well-browned on one side, stir, then immediately add the onions and carrots but don't stir. This will allow the meat to finish browning on that side and the vegetables to start to warm. Cook for about three minutes so the meat can brown, then stir (and while this is happening, chop up your broccoli and bell pepper). Add the seasonings you set aside earlier and the peanut butter, along with the broccoli and bell pepper, then stir to combine. Cook for about 5-10 minutes until the vegetables are all soft (you may have to add more olive oil if the ingredients start to stick). In the last three minutes of cooking time, add the remaining coconut aminos and the 2 teaspoons of sesame seeds.




Remove from heat and serve over quinoa or basmati/jasmine rice. You can also bring this to work as an easy reheatable lunch!