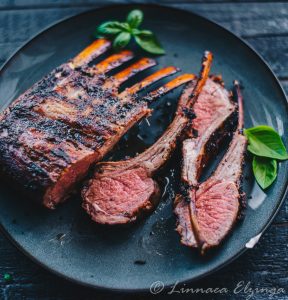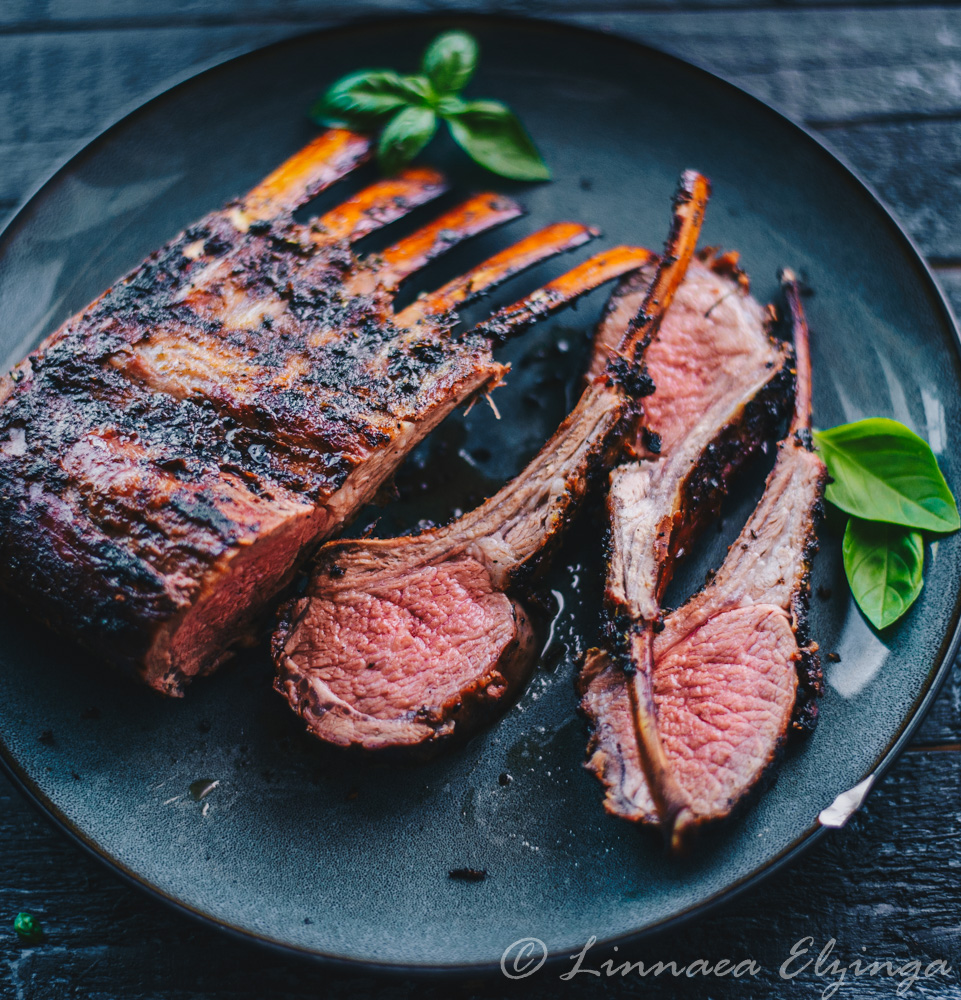 Simple Grilled Rack of Lamb Recipe
Yield 4-6 Servings
This simple grilled rack of lamb recipe is easy to make even if you're not normally a grill guru. Just a few basic ingredients, and this melt-in-your-mouth, flavorful meal is ready in about 30 minutes. 
(Gluten Free, Nut Free, Soy Free, Refined Sugar Free, Dairy Free. Paleo, AIP, and GAPs Friendly). 
Ingredients
1 2-3 lb rack of lamb
1 tablespoon coarse salt
1 teaspoon freshly ground black pepper
1 sprig fresh rosemary
1 teaspoon dried rubbed sage
6 tablespoons butter, melted, or olive oil for paleo
Instructions
Thaw the rack of lamb completely and bring to room temperature. Remove from the package and allow excess juices to drain off. Pat dry very lightly with paper towel.
Sprinkle on about half the salt and pepper and rub into the rack. Flip the rack over and rub in the remaining salt and pepper.
Heat your grill to high heat using charcoal or gas.
Place the rack on the grill, positioning so that the ribs are pointing towards the cooler side of the grill and the thickest part of the rack is over the hottest part of the grill. Place the rack fat cap up.
As the rack is grilling, chop up the rosemary, then mix the rosemary, sage, and butter/oil together.
After 5-10 minutes, flip the rack and baste with the rosemary/butter mixture (to baste, just dip a basting brush in the mixture and brush over rack. If you don't have a brush, spooning then spreading with a rubber spatula works). When you flip depends on how hot your grill is, but you want to flip once the rack is a golden brown color on the bottom.
Grill the other side, then flip again and baste again. Repeat, grilling for about five minutes and then flipping and basting, about twice more. Flip frequently enough that it isn't burning on either side but is still browning well.
To check for done, insert a thermometer in the very center of the rack. It should read 138 for medium rare and 142 for well done (I highly recommend medium rare instead of well done).
Remove from heat and allow to rest, lightly covered but not sealed, for about 10 minutes before slicing. To slice, simply use a sharp knife to cut in between each rib.
Courses Dinner
Recipe by Meathacker at https://www.alderspring.com/meathacker/simple-grilled-rack-of-lamb-recipe/