Want to share this post or follow us?
This is an easy ground beef taco recipe for a delicious taco buffet, Chipotle style. It's perfect for a party with friends! Just lay out all your toppings in bowls and let people choose their own. Also in this recipe you'll learn how to make taco shells from soft corn tortillas!
(Gluten Free (use GF tortillas), Refined Sugar Free, Nut Free, Soy Free). 
Click here to skip to the recipe for guacamole!
---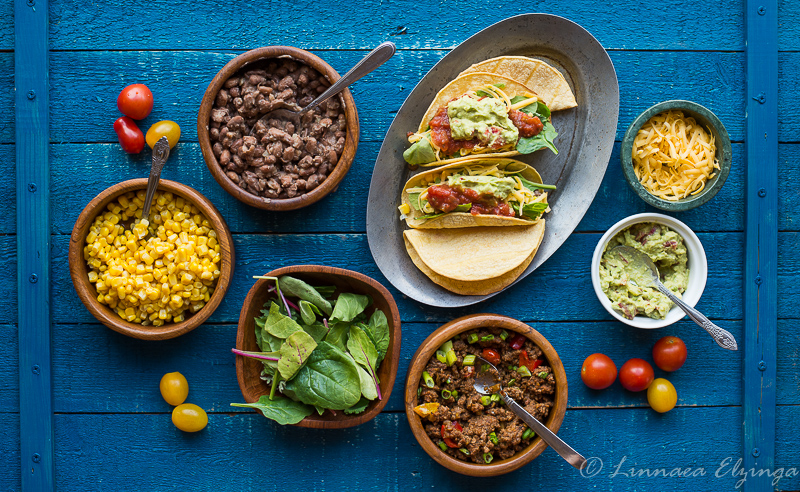 This is pretty much the best (and simplest!) party idea out there. These taco toppings take only thirty minutes to whip up. Then all you have to do is arrange all your toppings in nice bowls and let people serve themselves. You could mix things up a little with different types of lettuce, spicy and mild guacamole, and different kinds of cheese. And don't stop with just making a ground beef taco recipe–make different kinds of taco meat such as barbacoa and chicken (Chipotle-style). Don't forget to add some salsa to your ground beef taco recipe buffet!
Also, scroll to the very bottom of the recipe for a quick tutorial on how to make taco shells from soft corn tortillas.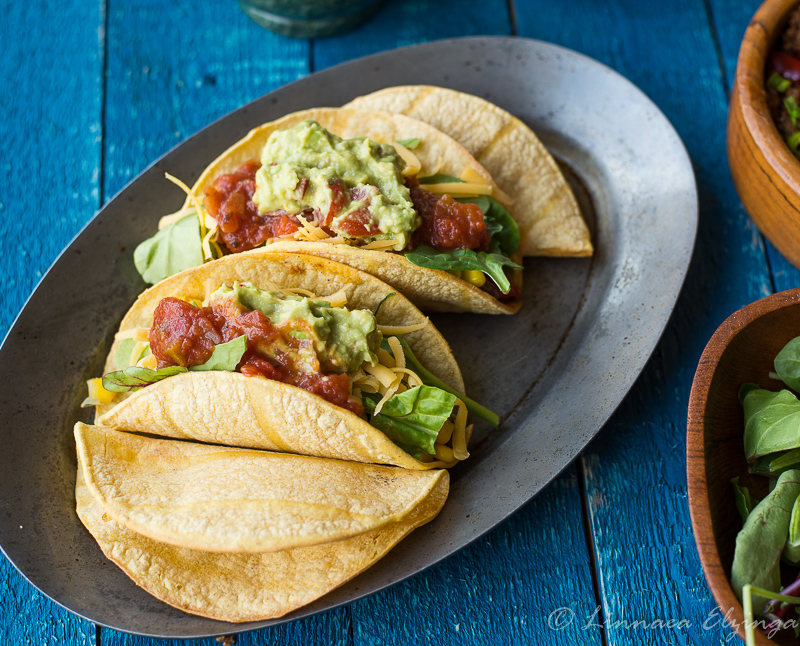 Ground Beef Taco Recipe Ingredients
Hard shell corn tortillas, or your favorite flour tortillas if you're making burritos (for gluten-free, we like Mission tortillas).
Ground beef taco meat (Taco Beef Recipe Here) and other taco meats of choice.
Black beans or pinto beans (preferably certified organic, canned beans work fine. If you're really dedicated you can make your own beans from scratch).
Sweet corn (we prefer to use certified organic).
Iceberg lettuce, spinach, butter lettuce, or pretty much any other lettuce of choice.
Cheddar, mozzarella, or pepper jack cheese.
Your favorite salsa (homemade or store-bought)
Guacamole (recipe below).
Taco Guacamole Recipe
This guacamole is super easy, healthy, and as spicy or not-spicy as you want it to be! (Gluten free, dairy free, soy free, refined sugar free, nut free, egg free, paleo, primal, GAPs friendly)
Ingredients
3

avocados

1/2

cup

fresh-squeezed lime juice

2

small tomatoes

chopped finely

2

cloves

garlic

chopped finely

1

mini red bell pepper or 1 jalapeno for spicy

finely chopped

Salt to taste

Pepper to taste
Instructions
Slice the avocadoes in half, remove the stone, and spoon out the filling into a bowl.

Add the lime juice and mash with a fork to desired consistency.

Stir in the chopped tomatoes, garlic, red bell pepper, salt, and pepper.

Refrigerate until use. Store in an airtight container.
How to Make Taco Shells From Soft Corn Tortillas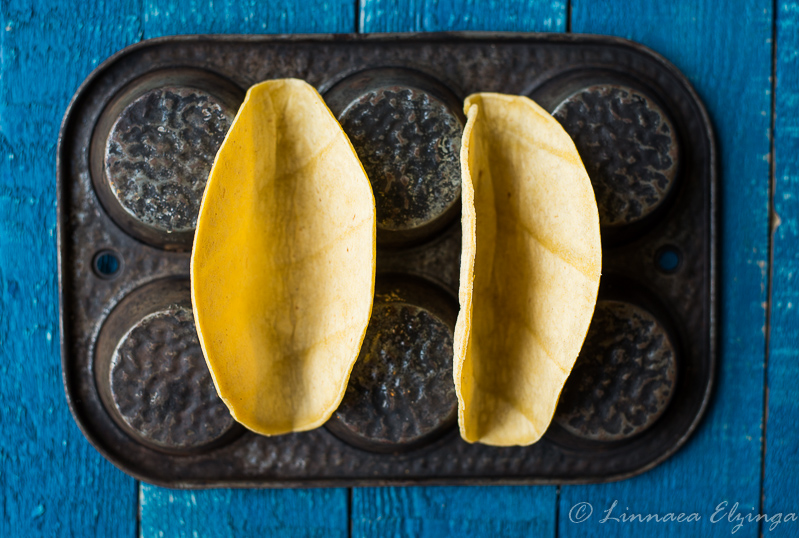 Preheat oven to 450 degrees F.
Warm corn tortillas (use gluten-free for GF tacos) on the rack in the oven or for 30 seconds in the microwave.
Place the tortillas in an inverted muffin pan as shown in the picture above.
Cook the tortillas until hard and crunchy, about 10 minutes.
Serve with taco fillings.
Hey, I hope you enjoyed this ground beef taco recipe and the tutorial on how to make your own taco shells from scratch! You can save below using this Pinterest-friendly image! 
Want to share this post or follow us?