Tired of compromising on flavor, health, and sustainability? Looking for a real producer you can trust?
We're Glenn and Caryl Elzinga from Alderspring Ranch. With our seven daughters and a few great cowhands, we're the real family that raises, finishes, and ships your beef directly from our ranch to your door. We're not some new startup or middleman: we have been delivering beef direct to our partners for over 26 years and have shipped over 20,000 boxes. We have the experience to deliver consistently outstanding beef every time.

Want to learn more about us but don't have time right now? Subscribe by email right here (and get access to a first-time discount on our beef, available only if you sign up on this page).
We know how hard it can be to find real food you can trust amid all the misinformation out there. For example,
75% of grass fed beef sold in the U.S. is imported, but can legally be labeled "Product of the U.S.A." It can make it really hard to know where your beef is coming from! (Want to learn more about how imported beef can be labeled Product of USA? Subscribe to our newsletter above)!
There's no official definition of "Grass Fed", which means that corn stubble, GMO sugar beets, potato waste, or grass pellets fed in a feedlot can all be labeled "grass fed."
While a lot of producers do claim "hormone and antibiotic free," hormones and antibiotics are merely the tip of the chemical cocktail prevalent even among grass fed producers.
We get how frustrating it is to pay a premium for beef labeled "grass fed" when that beef is not a superior product. That's why it is our #1 goal to raise incredible beef with absolute, uncompromising integrity and openness with our customers.
What Makes Alderspring Beef Different

It's wild beef, the like of which you will find nowhere else. During the summer months, we graze our cattle on our untouched mountain rangeland. This wild country has never been farmed and is intact as it has been for centuries. Our conservation efforts keep it that way: we literally live with our cattle 24/7 in this wild landscape, herding our beeves to the best grass while avoiding sensitive wildlife habitats. You will find no comparable source of wild grass fed beef in the world.

Certified organic for 15 years. The organic certification is the best chemical-free label there is. It guarantees no fertilizers, pesticides, herbicides, GMOs, antibiotics, hormones, and more. Every year, we undergo a rigorous inspection to demonstrate that we meet these requirements. Without the organic certification, we would be asking you as a customer to trust our chemical-free claims blindly. But because we are certified, we are accountable to our organic inspector, and to you.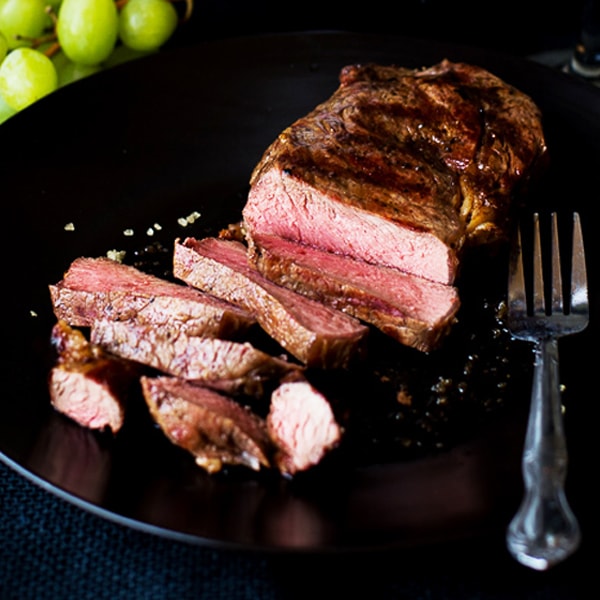 100% grass fed and finished. Our cattle eat nothing but their mothers' milk, grass, and hay harvested from our pastures.

Completely traceable. We can trace every single beef cut back to the animal, where it was born, and where that animal grazed throughout its lifetime.

It tastes good. A lot of people say that grass fed beef is inconsistent in flavor. Through 26+ years of raising grass fed beef, we have perfected our protocol to deliver outstanding flavor and tenderness every time. This has been attested to by taste testers, customers, and chefs alike. For example, celebrated steak chef Aaron Franklin called Alderspring "grass-fed beef of the highest quality" in his new book, Franklin Steak (p. 31).

But don't take our word for it! Here's what Alderspring customers say:
"I have been buying from Alderspring for about 10 years now. It started due to health concerns and the hormones in most beef in grocery stores. But it is more than that, as I appreciate beef that is raised ethically, and where [the cattle] can roam free and eat the grasses that they were born to eat."
-Google review from Bern, longtime Alderspring partner
"Everything about Alderspring Ranch is outstanding. The meats, the sealing and packaging, the deliveries, the recycling of shipping materials, the website, and the entire family operation — all great. If that's not enough, the weekly accounts and photos of ranch life and natural wonders are awe-inspiring bonuses. It's a beautiful, hard-working life that they're sharing."
-Google review from Arvid, partner for going on 6 years
"I had sworn off beef until I discovered Alderspring Ranch. After a tentative first order to satisfy my curiosity about grass-fed beef, I was hooked. I've been ordering ribeyes, ground beef, roasts, sausages and other items from their extensive online store ever since. They are the real deal, and then some."
-Google review from Michael, partner since 2012
And today, we want to offer you a risk-free way to sample Alderspring.
Subscribe to our newsletter to get exclusive access to a first-time discount and free shipping on select packages.
Only subscribers from this page will have access to the first-time discount! Even if you're not sure about us yet and just want to learn more, subscribe now just in case you can't find this page again!

"Best beef in America as far as I'm concerned! I have been buying grass-fed beef from all over the country since about 2008 and now order exclusively from Alderspring. It's been wonderful to have this relationship – the service is highly personal as they treat you like family – much appreciated!" -Google review from Alex, Alderspring partner since 2008

Want to learn a little more about us?
Thanks so much!
Glenn, Caryl, Cowgirls & Cowboys
Alderspring Ranch
Missed our subscribe form earlier? Join below to get our weekly newsletter (and an exclusive first-time discount, available only when subscribing from this page)!