***For applicants interested in 2021 positions! Please read below***
We will be taking the fall to reevaluate our internship program and plan our business strategy for 2021. As a result, next year's positions (if they are available and not filled by previous employees & interns), may look quite different from the 2020 position described below. This page will be updated in the late fall with more information on our 2021 plans, so please check back then. If you have other inquiries, please email Kelsey at help@alderspring.com.
Thanks so much!
2020 Internship Announcement
For hardworking and humble individuals interested in learning about horsemanship, stockmanship, wilderness living, ranch management, regenerative ranching practices, and conservation, this is the internship for you!
***Application can be found at bottom of page, but please read the job description before applying!

The Ranch: Alderspring is a grass-fed certified organic beef ranch in the Rocky Mountains of Idaho. The ranch headquarters consists of 1650 acres of pasture positioned in the Pahsimeroi Valley. The range, where we herd our cattle for four months each summer, is comprised of 70 square miles of steep and rugged rangeland accessible by dirt roads, and, when the four wheel drive trucks fail and the roads become trails, horseback. We've been producing grass fed beef for over 26 years, and we're passionate about raising the best nutrient dense beef possible in a way that benefits and regenerates the wild landscapes we steward.

The Project:
As one of our crew members, you would be part of our project to reinvent the way we handle our cattle on the open range using a paradigm we've invented and dubbed "inherding." With Inherding, a crew of 2-5 individuals lives with the cattle on our remote mountain range 24/7, herding them by day and bedding them down in our cow camps by night.

There are three main goals of the inherding project: First, protect the herd from wolves using human presence. We take a non-lethal approach and we've never had a wolf-human conflict on the range. Our presence deters them from bothering our cattle. Second, with herding and stockmanship, avoid ecologically sensitive areas or endangered species habitats that may be damaged by cattle. And third, herd the beeves "in" to non-sensitive areas with the best grass to bring about increased weight gains and ultimately nutrient-dense, intensely flavorful beef for our customers.

To learn more about Inherding and see tons of pictures from the last several years on the range, check out our Instagram, @alderspring_ranch (also linked to at the bottom of this page). especially look at the story highlights to see past seasons on the range.
You can also check out our blog, Organic Beef Matters, right here to read more about what we do at the ranch and inherding.

The Mission: Conservation riders will be a part of a 2-5 person team that will rotate into the backcountry for 4-8 days at a time. You'll be camping in remote mountain country with no modern amenities (no cell service, showers, bathrooms, or electricity) but will have unlimited access to pristine water, beautiful country, and night skies resplendent with uncompromised night light from the Milky Way.

A typical day is at least 11 hours or up to 16, and they can be long and physically and mentally grueling. You'll spend these days horseback herding about 400 head of cattle with your other crew members and a few border collies. It could be one-hundred degrees and sunny, snowing, or pouring rain (or all three–in the same day).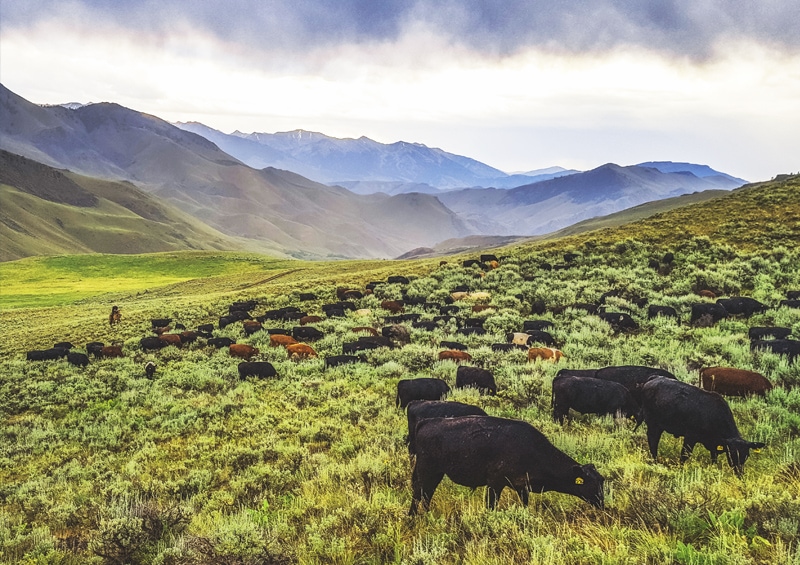 Over the summer, we'll cover up to 10 different cow camps and gain about 4000 feet of elevation. You'll ride over 600 miles on horseback. Camp setups are basic: a stove, lantern and grill on a table in a tent serve as a kitchen. Access to drinking water is always provided via a spring source or filtered creek water. Hours of sleep rarely exceed 6 hours a night; bedrolls are made on the ground in tents or out in the open (your choice, many past crew members have preferred sleeping under the stars).

You'll be spending 4-8 days at a time in the backcountry and these days are long and physically and mentally exhausting. Because of this, on days you're not riding and are back at the home ranch, you'll have a couple days off at a time to rest and recuperate. Many past crew members have also opted to explore the expansive mountain country the ranch is located in. Glacier and Yellowstone National Parks are also not far (Glacier about 8 hours, Yellowstone 5), and past crews have taken a few days to visit.

You can also work more in these days off if there are skills you'd like to learn. For example, working around the ranch headquarters, helping with rangeland monitoring (primarily gathering ecology and plant health data, a great hands-on experience if you're a range ecology major), weed management (which may include hand-pulling, grubbing, or predatory insect dispersal due to our non-chemical organic program), cattle management, and other ranch-related jobs.

This position is not only physically demanding, but is mentally challenging as well. Applicants must be able to function in a team situation even in times of extreme fatigue. They should also be able to make decisions independently without constant input from a supervisor and be prepared to adjust, as plans are constantly changing according to weather or the cattle's movement. They should not mind silence and should be able to keep their mind occupied (there are often quiet lulls as the cattle graze). There is no cell phone service in most of the range country, and social media addicts need not apply.

But for a gritty and positive individual with a love for the mountains who finds pleasure in working with a great team and the animals they care for, this is one of the most rewarding jobs out there. We've had many crew members from previous years come back to do it again. Typically, these individuals are hardworking, gritty people who don't mind getting dirty and have a passion for animals and wilderness. If this sounds like you, you may be a fit.

The Person: We're looking for someone with:
A positive attitude and a willingness to learn
A teachable and humble mindset
Grit and determination
An ability to work well on a team but think independently
Good physical fitness
The ability to stay positive and focused during long periods of silence out with the cattle with no forms of modern entertainment
A strong character, supportable by references
An interest in learning about inherding, organic & sustainable beef production, ranching, horsemanship, and stockmanship
A passion for land and animals

Not required: Past experience with horses, cattle, ranching, or higher education, though these factors will certainly be considered. Also not required is horse gear, although personal dress gear including boots, raingear, a hat, range wearable clothing and a bedroll/sleeping bag is expected. You'll receive a packing list if you are selected.
Rules on the ranch are: no smoking, no drinking, no drugs, and of course maintaining common area cleanliness with respect towards your fellow crew members.
Compensation: As this is an internship, compensation is a $350 monthly stipend and free housing (the housing at ranch headquarters is rustic; it consists of simple bedroom areas, a fully equipped summer kitchen, a common room, an outhouse, and an outdoor shower). You'll also get as much of our certified organic, grass fed ground beef and other lower-end cuts as you want at $2.50 per lb.
For a motivated individual looking to learn, we also want to work with you to help you gain experience in the skills and topics you most want to explore.
And if you hope to use this experience as a for-credit internship with a university, we are happy to coordinate and work with you on that.

Training: There will be 1-2 weeks of intensive training in horsemanship, stockmanship, electric fence use, wilderness first aid, firearm use (optional), rangeland ecology, leave no trace camping and team functionality preceding the deployment of crews and cattle from the ranch to the range.
This training is mandatory, so the required arrival date for all crew members is May 18th. However, the ideal starting date is May 11th, and preference will be given to applicants who can come then. The ideal ending date is September 15, but if you have school commitments or something else, we can work with you for an end date of August 15 at the earliest.

Selection: Selection will be based on attitude, physical & mental fitness and endurance, compatibility with our team, interest in sustainable agriculture, ranching, and inherding, and past job performance.
Skills Gained: Employees will have an opportunity to learn about stockmanship, horsemanship, organic grass fed beef production, backcountry camping, wilderness expertise & navigation, regenerative agriculture, rangeland ecology, and many more ranch-related skills. If you are seeking a future in regenerative, cattle ranching, horsemanship, or some wilderness-related fields, this is a fit for you.

How to Apply
Download the word document below and fill in the questionnaire, then email the finished application to linnaea[at]alderspring.com. The application deadline is February 20th (extended, originally was Feb 15). Once you've downloaded the document, make sure you're no longer in protected view or you won't be able to edit.
If you run into any problems, just email Linnaea at linnaea[at]alderspring.com and yell at her about it. ***Update for 2021 prospective applicants! Please don't contact Linnaea about 2021 positions. She isn't at the ranch this fall and won't receive your email!
Happy Trails!