What had been a tempest of wind finally abated enough that I could hear again; it was no longer ripping through the treetops of the thick Douglas-fir forest we were herding 280 head of beeves in. The adrenaline rush that had driven me for the past two hours was finally ebbing—I took long deep breaths in relief.
It was going to be OK. I thought I still had my crew: four of my daughters this day, and it looked like all of the cattle. And now, I could hear the familiar singsong voice of Becky, far above me on the steep timbered mountainside pulling the drag of the scattered herd. She was OK. I hadn't seen her for over an hour.
I listened for the occasional yell from Annie—on the other side of the drag (the drag is the end of the herd; riders there are responsible to be sure to gather each and every straggler or wanderer. It's a really critical job). There. I heard her, her voice carrying through the thick forest: "Good dog, Clyde! Way to go, buddy!"
Clyde was our new border pup, now a trainable 10 month old. I grinned as I stood, listening. But then, I cocked my head to the west. There was another sound. It was a deep and incessant roar coming from the mountain valley of Big Hat Creek below us.
I tried to pinpoint the origin of the sound. The valley covered nearly 15 square miles—was it a roaring wind? It didn't abate. Instead, it slowly increased. I looked at the tree tops as far away as I could see them.
They weren't moving.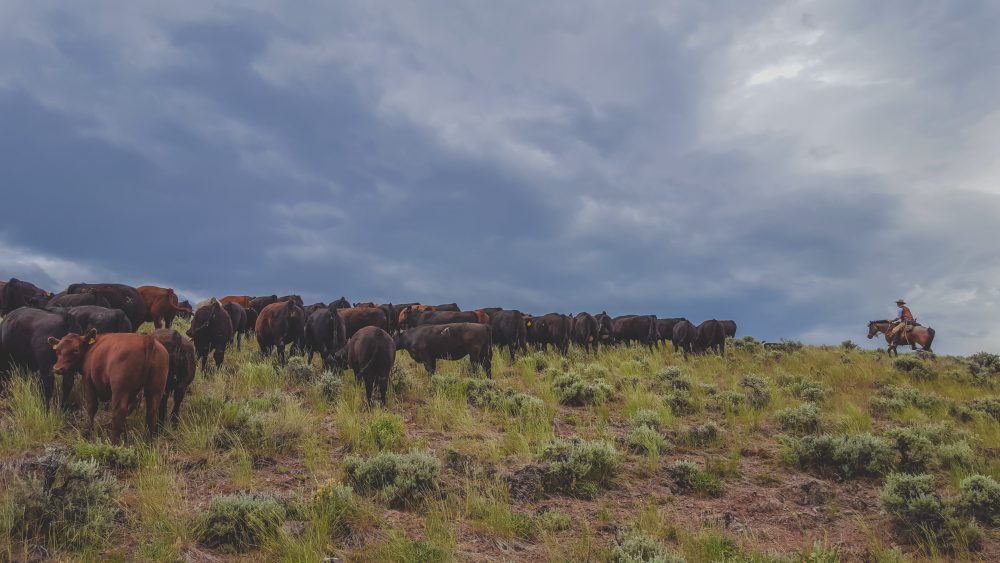 I had heard it before: It was as if a freight train was rolling across the prairie on a still winter morning, reverberating through the thick air. It had to be wind, but there was no storm-clouds to the west anymore. The sky was actually lighting back up from the slate grays and blacks it was.
Maddy rode up. She was finally looking herself again. Thank God. Just an hour ago, I was sure we would have to stop our ride to get her warmed up by a fire. But I packed extra gloves and a coat early this morning in camp—that still, small voice in my mind said that I would need them.
The day had started innocently enough. As usual, I emerged out of my bedroll in the thin light of dawn. I fired up the Coleman stove with a headlamp in the cook tent (actually a lean-to) to get the first priority of the day in order: coffee. I had to nail some shoes on Bobbie the black mare right after breakfast in camp while the girls saddled their respective mounts. I had all the remaining Alderspring daughters not off at college on my crew; there was Melanie, usually a crew boss herself, Becky, our soon to be 18 year old, Annie, a reliable 16, and Maddy, 14, one often quite quicksand-stuck in her terrible teens.
She could be tempestuous and opinionated, that one. And intractably stubborn. Mule-headed would be a gross understatement. The problem with her was that she was smart. Attorney smart, I mean. She could argue her way out of nearly any situation, and often, I didn't have the patience to prepare my argument.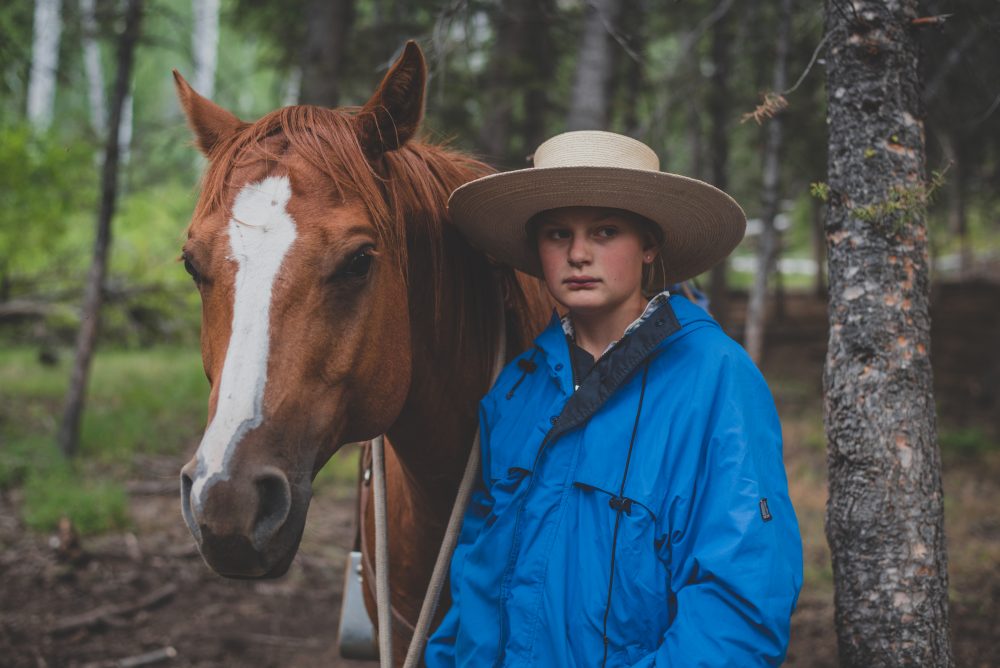 The ride started well enough. Thankfully, we got a little rain while we were cooking breakfast. It put the reality of a chance for change of weather in all of them. It had been unusually warm—sort of an extension of August. Eighty five degrees at midday was the norm. So it was easy to fall into the trap of thinking more of the same was on the way.
But I knew better, and it was simply due to experience. I had seen snow by the 20th of August; and several frosts, especially here, at nearly 7000 feet. Rains always seemed to roll before Labor Day, and here we were in the week immediately following it.
"Make sure you each have a slicker. And a warm sweater," I loudly reminded them as we packed our gear for the week back at headquarters. "If you have chinks or chaps, wear them."
"Yes. And even if you don't need them for the cold or rain, remember we are riding dark timber the whole time," affirmed Melanie. "You are gonna rip your pants to shreds if you don't have leather over them. And for the cold, each of you has got to bring gloves. And bring a switch pair of jeans."
Melanie had been up there long enough to know that it can be ass-freezing cold this time of year. She'd seen it.
And froze.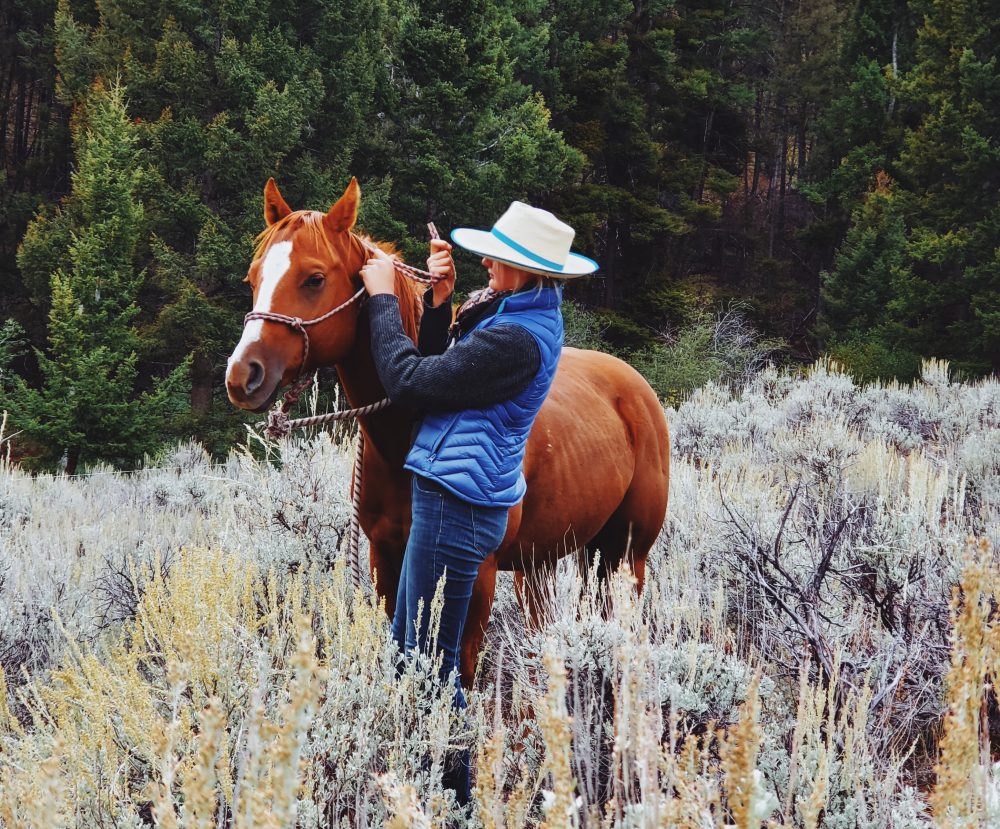 Hypothermia sets in quickly when brought on by the triad of dropping temps, wet clothes and wind. Cotton shirts and jeans can kill when they get wet. Core temperatures drop, and a body can't keep that 98.6 maintained. And when those values drop below 90 degrees, it becomes difficult to raise body heat back to normal.
I had been there several times. Each time, a sibling or friend saved me by knowing what to do, helping my helplessly frozen hands don more clothing and sip hot liquids.
The mare was giving me trouble on my shoeing task and so, Melanie had to help me with Bobbie. She had only one set of shoes on her before today over her entire life, and she was kicking my legs out from under me. She just wouldn't let me hold her, and I was starting to get irritated. I poked her hard in the hinds with my rasp, to which she just escalated.
And then, Melanie came up with a soft blue rope. It was thick cotton, and after tying it around her pastern, the narrow part of her leg just above her hoof, Melanie pulled her gently back. After wrapping the rope around a tree one time to get some friction, she quietly held the mare there until she stopped kicking. When she quit, I started work again.
And she kicked again.
Melanie had the patience of Job. This we did 15 times until that mare quieted. And I got that shoe nailed to her foot.
After clinching the last nail, I took foot between my knees and began rasping the front of Bobbie's toes smooth. The idea was to prevent any overhangs or abberations from being catchable by another foot or rock, thereby causing either shoe or hoof to crack or pull. Even the nails had to be filed smooth, so that their freshly clinched ends wouldn't ever catch—even on a piece of sagebrush.
She was amazingly calm and gracious after Melanie's simple but very effective training. Melanie had made it just quite uncomfortable enough to do the wrong thing that she stopped…and did the right thing. Melanie was good at that and it was because she could get into the mind of a mare.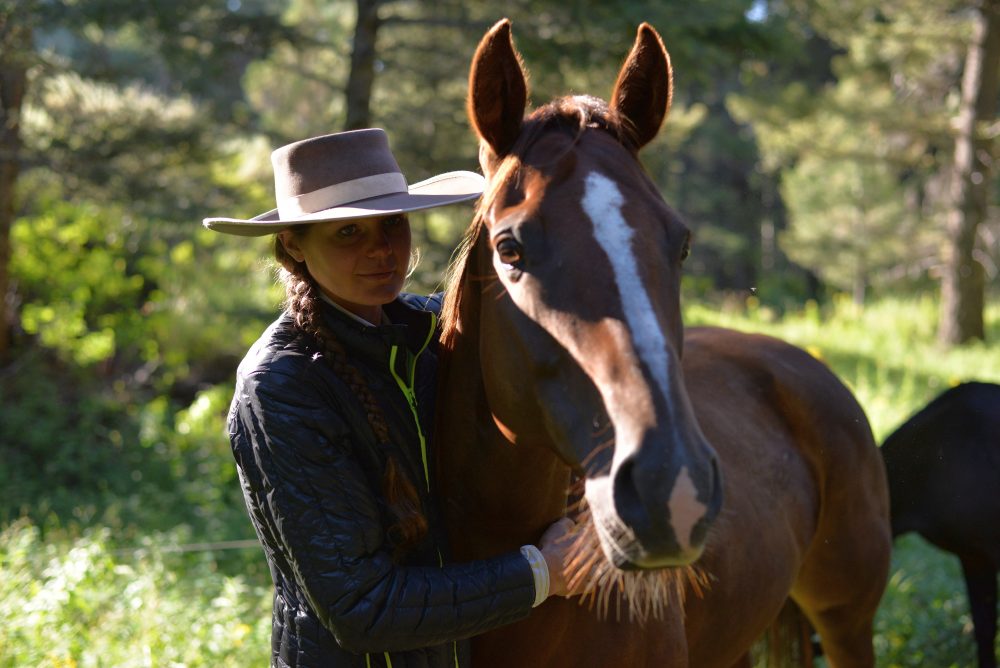 We threw gear on horsebacks and mounted under now clearing and sunny skies. Clyde, our border in training, had a 25 foot long rope fastened to his collar. Sure, he would get tangled, and our horses might buck when they saw the long blue snake darting through the grass, but it would slow his "go" and give him a little "whoa." A couple of the horses were OK with stepping on the lead when we needed him to stop if he wasn't paying us heed when he needed to.
It was thick and difficult going where we planned to graze. There was downfall and undergrowth thick enough that it would be hard even for a human to walk through. But there was green grass hidden in that undergrowth, and at this time of year, our steers would relish it. So it was on the steep north slopes of Big Hat that we ran, in timber that we hadn't had a cow in for over 10 years.
I carried the GPS, had it bluetoothed to my phone, and had downloaded hi-res google satellite imagery to navigate our way through the maelstrom of blowdown, swamps and old burns that had now since regenerated to what we called "dog hair" stands of young fir trees. This was easier than my old method of paper topo maps and compass, but not much, especially with hard to reach satellites on steep mountain slopes in heavy forest. Sometimes, I couldn't quite tell where I was.
But you could by dead reckoning—a nautical term that I've applied to the trackless mountains. Based on direction, speed and time, you can map your new location based on your last one, as verified by landmarks on the map; adjacent peaks, ridges and canyons.
And so, we made our way forward. I worked the lead, with Melanie on the other side of the herd. The three other girls worked hard at the flanks and the drag. And my crew of 4 kept their herding up to a fairly precise science that we've worked out over the years—we call it "formation protocol" where you can't see adjacent crew members on the perimeter, or even the cattle. Using the formation, we can take cattle through even the densest timber without losing any as they graze, simply by bouncing perimeter off your nearest neighbors. The idea was to keep moving—and each rider was in charge of their part of the perimeter. It was based on the idea that everyone would do their due diligence—it was a total team effort.
Otherwise we lose cattle. And they are wolf bait.
After working steadily uphill through unbroken timber the light of day finally was beginning to shine through. There was a ridge ahead. I loped my mare past the front of the cattle to see what was up, and confirm our position on the map.
Upon breaking out into the sagebrush ridge, I trotted out in among the few fir trees that tried to make a stand on the open rocks. We had gained almost a thousand feet this morning. Below me, I could see the Big Hat canyon, and about where camp was. Above stretched seemingly unbroken forest to the high ridge that led up to Taylor Peak, at nearly 10,000 feet, the alpine head of our range country. But just to the south of the peak, an angry pall lay over the ridges. Dark gray clouds boiled up with frequent flashes of lightning.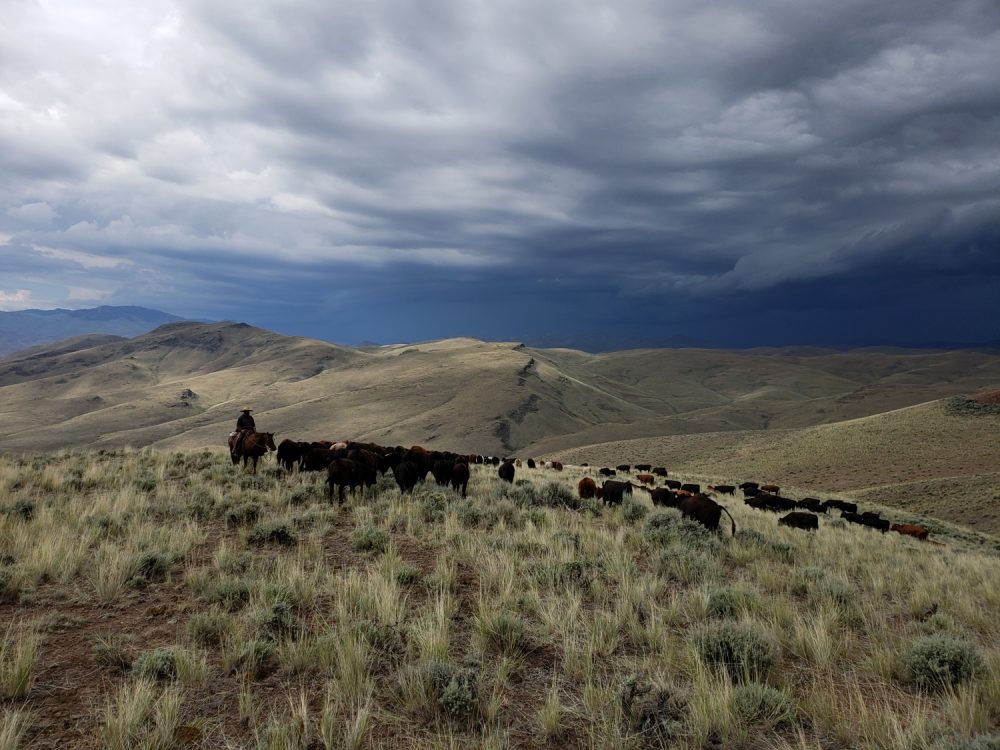 And it was coming our way.
A tiny breeze made the open grown conifers around me whisper quietly. It sent a shiver up my spine; it was icy cold air, descending from tens of thousands of feet up. It was the kind that fell abruptly downward from massive thunderheads whose peaks would turn to ice in the stratosphere, reaching as high as 60,000 feet, higher than any commercial jet can fly.
And already big drops began to fall. I long trotted back into the trees to find my kids.
I skirted the herd and first found Maddy, quietly working the drag with Becky. She already had her coat on, and now the rain became a drizzle. Thick drops began to fall. I spotted another coat, tied to her saddle. "What's that?"
"It's a down jacket."
"Put it on under your coat."
"I'm not cold."
As I wheeled my mare around, I flashed a serious glance at her. I commanded her again: "Put it on! It's going to get bad. There is a massive cell coming right at us, and it's gonna be here in minutes. Get ready!"
I loped back to the front of the herd which was just breaking from the trees. The side slope was steep, and as I tore along, I saw glimpses of cattle heading for the open ridge. They were pretty spread out, but were moving fast for the crest. I saw a flash of red on horseback.
It was Melanie, working the bottom flank toward the lead. I would meet her in the open.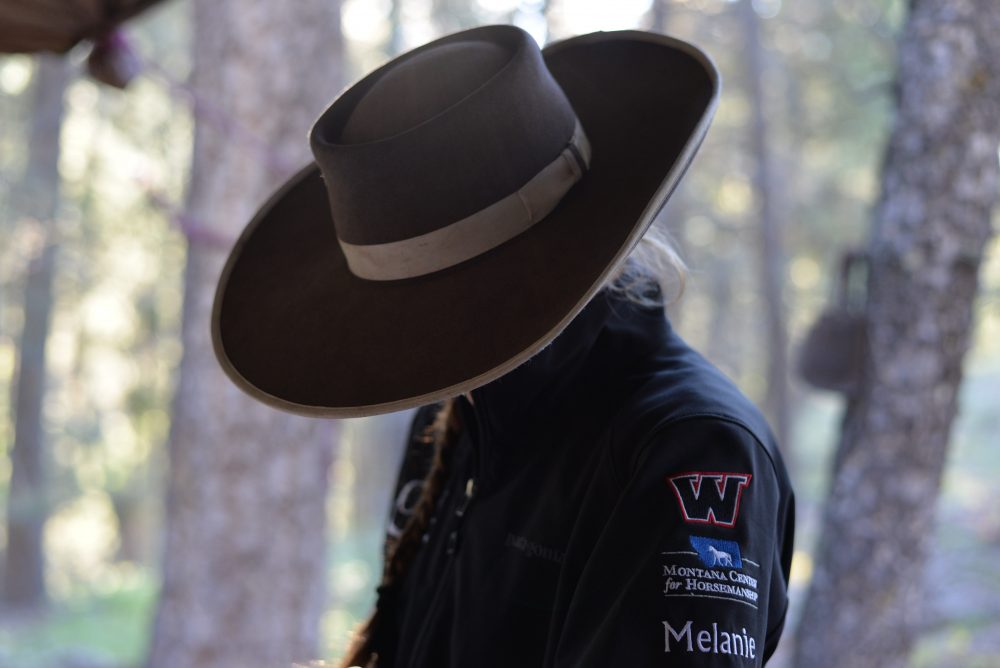 The rain turned harder now. Drizzle was turning to downpour. Thunder rumbled from the coming front. I quickly donned slicker to shed the deluge. As I broke the trees, the rain turned to hailstones. The broad brim of my cowboy had shielded me from the marble sized stones, but my mare and the cattle were quite unenthused. They began to trot in absolutely the wrong direction—toward the open ridge—away from the cover of forest. I looked ahead: there was already a mob of the black steers peaking the ridge, driven by the wind and hail now, heading down the cliff-like steepness of the reverse side.
It was the wrong way.
Melanie rode the ridge on the opposite side of the mob. She was already yelling at the cattle to turn, working it hard, trying to make them go back to safety in the timber. She figured out already that the lightning would be our main concern, and where the cattle were headed, they would be exposed to the blast of a bolt for a good mile.
We both started running our horses up and down along the gathering front of cattle. There was now nearly 200 head pushing at us, as we tried to create a pressure greater than the demonic drive of the wind and hail.
I yelled into the wind "Come on, kids! Get around! Get on–you cattle!" (I inadvertently inserted some more colorful language I am quite sure there). I swung my heels hard against my mare's sides, and pulled her around.
And now, as if the rain, hail and drive of the wind wasn't enough, the brilliance of a lightning strike just where we had been and the near immediate follow of thunder cracked the whip of adversity even harder.
And Melanie and I yelled louder over the din. And finally, despite the pressure of all, they began to turn, heads down, swinging into the storm of hail and rain and wind, faces lit by blinding flashes of oncoming electricity, but heading to safety and timber on the side of the ridge. The lightning was now upon us in full. We were not under the storm; we were in it. The pelt of hail was repealed by a near continual flow of lightning strikes on the ridges around us.
And we were still in the wide open.
I yelled at Melanie as I leapt off my mare, my brim now streaming a rivulet of continuous water off in front of my vision. "GET OFF YOUR HORSE!" She flashed a look at me, turned to drive the herd harder, and trotted away from me. Where did I get such stubborn daughters. I yelled, louder at her back now, as I rode the line hard. "GET OFF YOUR HORSE NOW! We are gonna get killed up here! GET OFF!"
Finally, she dismounted, and resumed her yelling and running along the front of cattle on foot. They were moving now, gaining momentum for the trees, now piling up against the still more emerging out, being driven by her sisters.
I was certain she knew about how dangerous our situation was. We both remembered friends and neighbors that had lost cattle by lighting on the high ranges. With their body water contents, in a herd, they are a magnet for a strike, more than any rock or tree. And with us horseback among them, we humans are the highest point. I thought of three people I knew of who had been struck in our mountains.
And then I thought of the other girls.
Melanie had the herd turning; I grabbed the halter rope of my mare and pulled her to the timber to find them.
I ran into a saturated and cold Maddy first. I couldn't tell if the tracks on her face were tears or rain. "Get off your horse, Maddle! Tell the others! And stop pushing these cattle out; we gotta hold them to the trees otherwise somebody's gonna die up here!"
The flash and blast of lightning and its counterpart was incessant; I had to repeat my words. I ran back to finish pushing the herd to safety, mare in tow, as the steady downpour set in. We were finally out of the wind, and the indifferent beeves simply put their heads down to eat.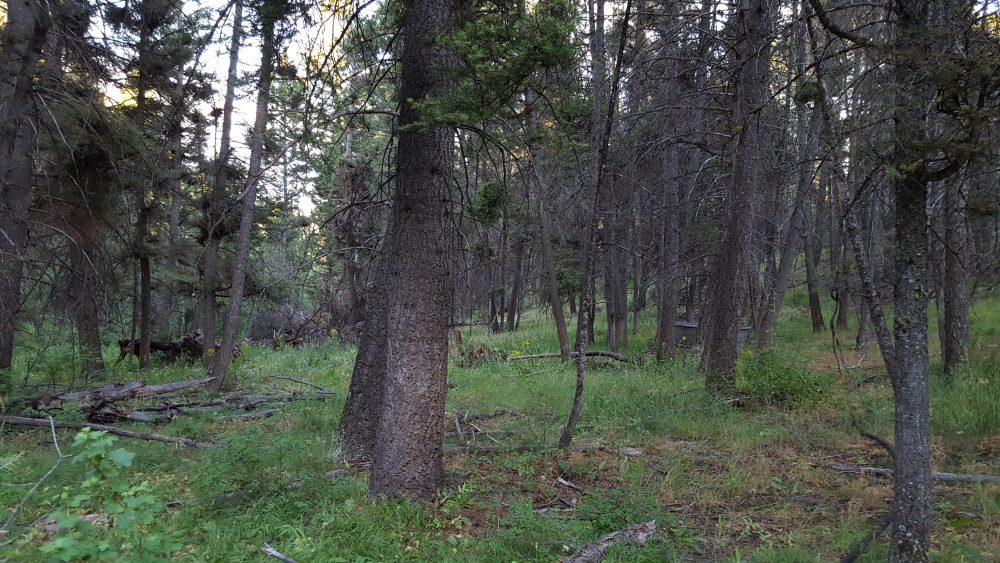 They were nonplussed by the tumult of storm. Lightning and thunder fazed them not.
We resumed our pattern now, on foot, keeping the herd together. There were enough openings in the glade of trees that I still wouldn't let the crew ride. I checked in with Maddy along the windswept ridge.
She looked frozen. It was still pouring. It was a heavier rain than I think I had ever seen in Idaho. And the temp was dropping fast with thunderhead downdraft cold. It had to be in the low forties.
"Are you cold?"
"Yes." She was crying. "I can't get warm. I am so cold." She was hunkered up and moving woodenly.
I spied her down jacket on the back of her saddle. I flashed her a look that she knew said 'stubborn girl.' She never put it on, and now, it was soaked and useless. And she knew it. Down was actually a negative when it was soaked. I grabbed the gloves and spare jacket I grabbed, and helped her into them, putting a hood over her head…conserving body heat. My heavy silk scarf, still totally dry, finished the job with a nice neckwarmer and heat retainer.
And we were out of the wind, despite the pounding rain.
"Now you run, girl. On foot. Like your life depends on it, cause it does. You need to build some body heat, because if you don't, you will compromise everyone up here."
It was enough to keep her running. That girl was stubborn enough not to cause everyone else problems. Stubborn enough not to die. So she ran. And ran.
Even so, I was looking for the big fir tree that would harbor dry tinder at its base to start an emergency fire. There were a few, but each time I checked Maddy, she looked a little better. And after another half hour, I took her off my critical list.
But now, as the rain finally slowed down, there was that unearthly roaring from the head of the canyon. A windstorm? A driving hail? It couldn't be, as the clouds were lightening. After an incessant 2 hours, the storm was wrapping up. Lightning finally moved on to the east.
The sound wouldn't leave us. We dropped the cattle down, down toward Big Hat and camp, where we were supposed to meet the relief crew at 4PM. Instead, the sound got louder, and was no longer possible to ignore. The wind never came; nor did the rain.
But the mud did. As we approached Big Hat Camp, Anthony, our replacement crew boss emerged from the forest, on foot.
"We couldn't get the pickup up here," he said between gulps of air. "Thick and deep Brown chocolate—logs—rocks. Debris."
"Big Hat Creek?"
"Yep." He nodded, and pointed. "Must have been the cloudburst you guys just had. There is over 3 feet of depth to it. Huge rocks and trees. And it's going right through cow camp."
It was the roar. Rocks and trees going down a canyon have a way of doing that.
We got down to cow camp directly. The creek was completely altered. Thankfully, our tents and gear were above the waterline. Only our temporary hot wire fences were obliterated. Our relief horses looked up as if nothing had changed.
It was beautiful in a sort of terrible sort of way. We could see huge rocks that had rolled in the middle of the stream. But as we walked further, after settling the cattle in the night pen, we found that most of the creek was covered with mud, but completely intact, made resilient from 5 years of rest from our intensively controlled cattle grazing. With our herding, we had not used the creek side riparian areas, and instead had regenerated them.
The banks were holding because of the immense biomass of shrubs and grasses that had colonized the banks. Beaver dams, though breached, held soils together. Bank rocks, more often than not, were held together by roots of strong shrubs.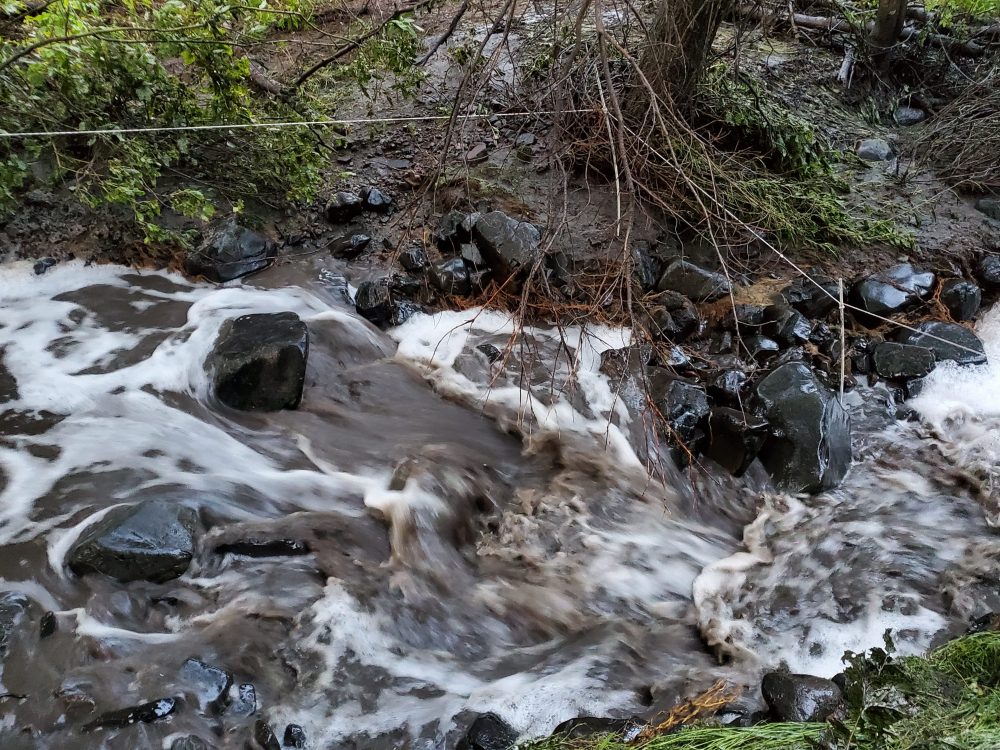 And I knew then that all the stewardship of Big Hat was worth it, and it's because I remember how little vegetation there was previously in so many reaches of the creek. Lack of vegetation makes creeks vulnerable to scouring and downcutting in a flood event like this. And now, because of our hard work, that vegetation held it all together through an extreme flood event.
It was armor.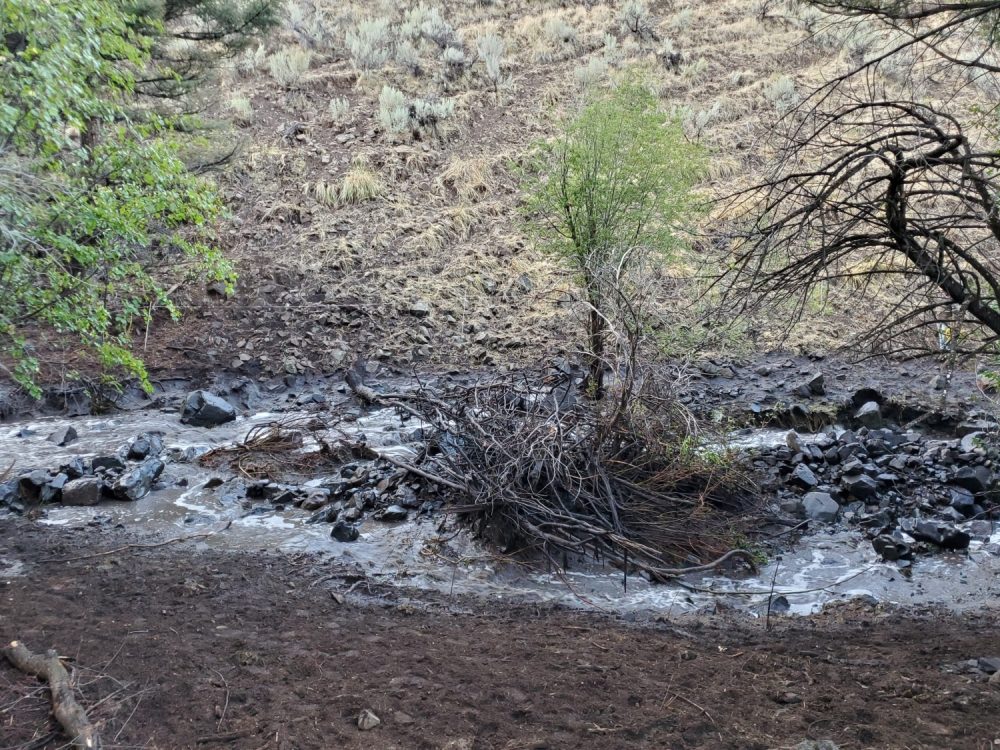 It was a change on the landscape. Big Hat survived a 100 year flood event. Simply by the way we grazed cows.
Thanks for making a difference by buying our beef. It's a direct relationship. You keep us on the land, and as a result, we are discovering what it means to be stewards of places like Big Hat. We thank you for being a part of what we do.
Happy Trails.