It's been a rough week on the range, but all is well that ends well.
The country—and this season's climate simply got more difficult. The crew was thrust into thick forest, in a quest for the green grass of higher elevations. Meteorologists are saying that this is the driest, hottest spring and early summer we've had in 127 years. The abundant grasses we usually see, especially at these levels in the high mountains are this year a third in size compared to what we are used to. Many of our usually reliable mountain springs are dry. And the creeks are running at about half of normal.
So for me, the range scout, it is often a vexing enigma to decide how, where, and when we will graze. It starts late night—the night before I head out, face lit up by the glow of my monitor, eyes fixated on Google earth images of the range. It will prime the pictures I carry with me in my memory from years of travel on the range, and I'll recall rocks, trees and deep ravines—the wrinkles on the face of the ancient landscape. Daughters Melanie and Linnaea, and now Annie and Maddy are starting to build their own intimate maps of that wild country—this 70 square mile tapestry—a living map of memory in their own mind's eye. And we'll all remember even the grass species that grow in particular places.
My eye drifts across the screen to one hillside as seen from the edge of space on Google. On that hill, below Iron Mountain, I know we will see the filling and sweet-leaved stoneseed thriving (also known locally as the hoary puccoon)—it's a broadleaved plant we've all sampled due to its inherent succulence. It will provide deep soil nutrition even in the drying times of year, like this one.
On the hill opposite from it, I recall the incredible tropical forest green of thick pinegrass underneath a canopy of park-like Douglas-fir pine trees. I know the cattle will attack it with abandon, actually running when they fan across the steep mountainside as they mow it down. It seems to respond well to our grazing passes. Even in this drought year, on my recon missions, it is thick and abundant.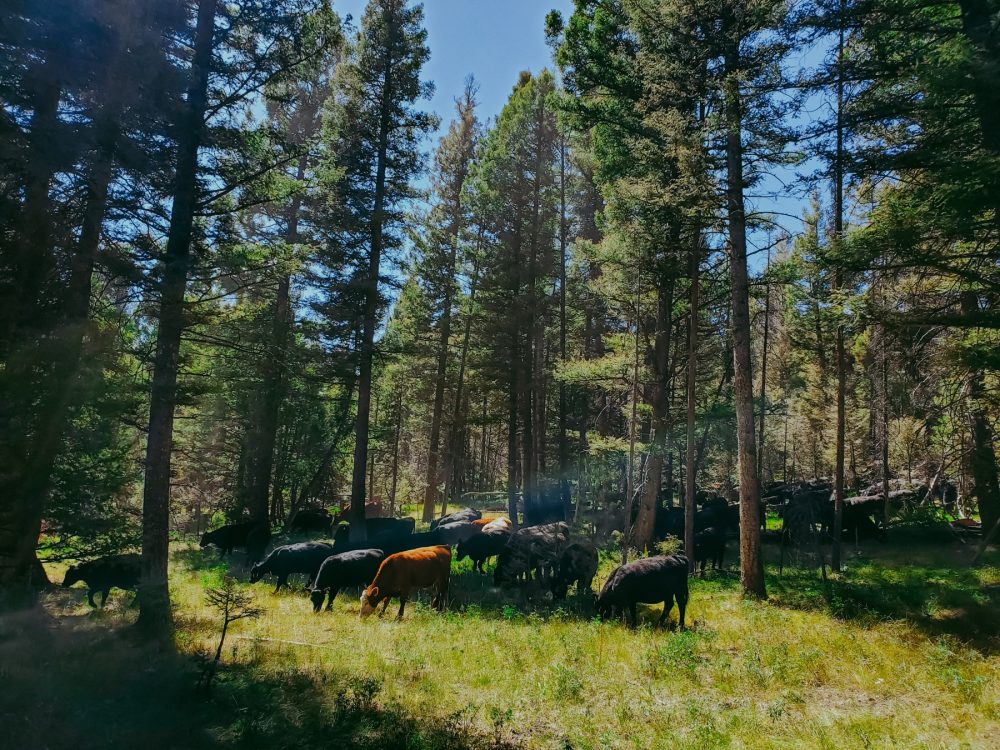 These are good plants to know in dry times like these. I'll journey on horseback and dirt-bike, sometimes 10 miles ahead of horseback crew and cattle coming up with logistics in my head about how we'll get cattle to that grass—and how we'll keep them hydrated in the heat. The complexity can be enormous when one must integrate how not to dewater a creek with all those thirsty cattle drinking at once—not for the cattle's sake, but for the fingerling bull trout that make creeks like that their home. Or how we can ensure that the grasses we graze have already begun shifting gears into early drought dormancy; this stage needs to be still green for the cattle to meet their nutritional needs but we can rest easy in the knowledge that the root reserves created by the leaves' conversion of sunlight into carbohydrate have been maximized as well. That way, the plant is secure for the winter and the following growing season, their root storage bank account full.
Often, I'll ride into a broad meadow to find that the wild elk have already beat us to the punch. They, too, are trying hard to fill nutritional needs in a dry year. Subwater spring areas that we would rarely use, even a normal year, are grazed down to a one-inch razor stubble by hungry elk. So I'll adjust our cattle grazing plans accordingly. We won't be going there. Let's leave wildlife margin as well.
Crew bosses and crew are riding harder than usual. The horses must do more than they commonly do to herd beeves quickly, covering more ground to make up for shortfalls. Melanie and Linnaea ride through the cattle often to check condition and fill.
"Ironically, I think they are doing better than they ever have," comments Melanie. Linnaea agrees. We look carefully at their rumen fill at the end of each day; we all have an eye for that triangulate area between backbone, hip (or "pin" bone) and last rib. Is it filled out to smooth at the end of the day? Is their lower gut, their first stomach distended with grass fill? Do their coats glisten?
Thankfully, the crews are doing fantastic in all those areas, ensuring that the beeves have found more than adequate forage during their daily wanderings over mountain hill and dale. Part of ensuring excellent nutrition is ensuring many deep drinks of spring-clear and cold mountain waters to keep the cattles' fermentation vat (their rumens) well-primed. We shoot for 3 filling drinks, and even 4 on a hot day.
And the water has to be clear and cold—we discovered that cows are just like us; they don't like muddy and or warm water. It's why we like a little sip on the rocks, right? Bovines like cool and clear as well, and we have discovered when they have crystal clear water, they'll eat more.
We'll sometimes pick a rocky and very short reach of a fast flowing and deep creek that they can't muddy up for them to drink from, so clear that we drink unfiltered from the same brisk mountain waters (just above where the beeves do, mind you). Or, if the creek is smaller, we'll use tiny portable gas powered pumps to fill 3000 gallons of water in portable tanks we placed several hundred feet away from the ribbon of streamside vegetation just for the purpose of keeping beeves hydrated with clear and cold while preserving critical fish and bird habitat—completely free of any cow or grazing impacts.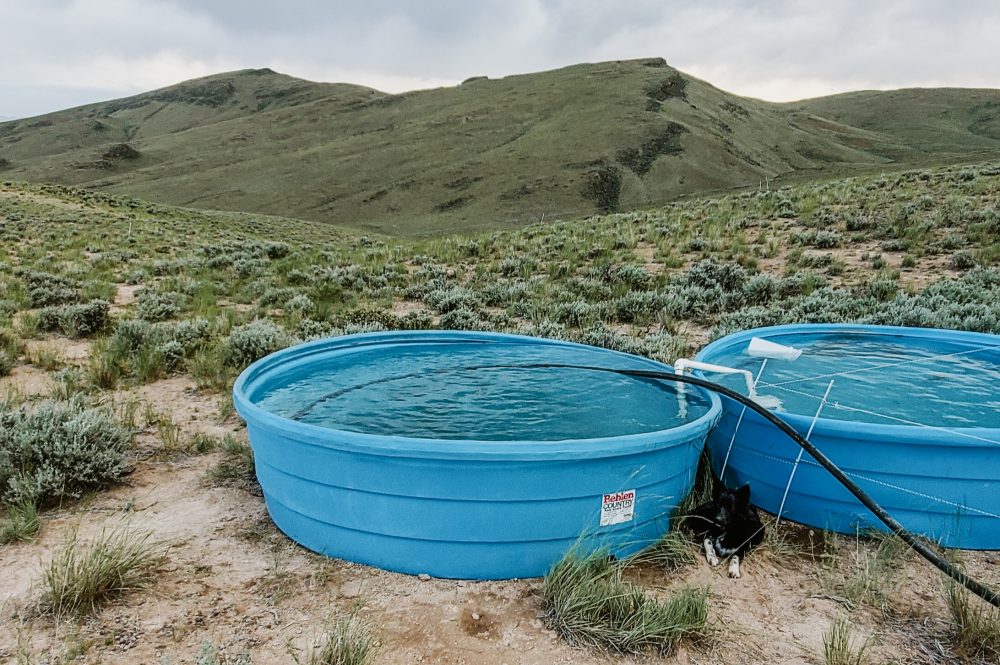 So, there was a lot of that going on this week. Water jockeying, cattle hacking to the best green, while ensuring grass and habitat are better than when we came, not to mention safe and secure haven for humans and horses.
It is a lot to think about and do.
And when a thunderstorm sweeps in, it becomes almost too much.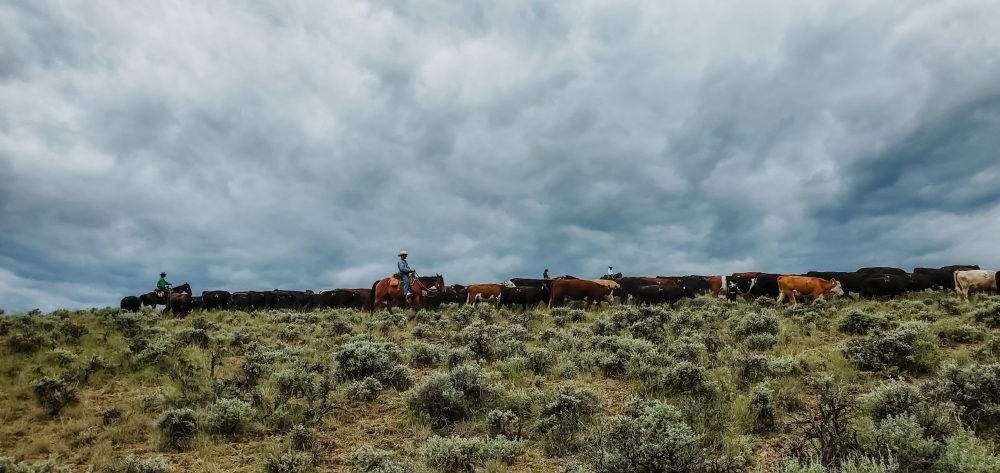 They start hundreds of miles away, in Oregon. Westward flows of moisture originate over the Pacific or the temperate rainy forests of the Beaver State and carry over the high Cascade volcanoes to the deserts of Eastern Oregon. Then, unrelenting blast-furnace heat rises and stacks that moisture into massive thunderheads which lazily drift into the cordillera of unbroken peaks found in the middle of Idaho. Now, an individual cumulonimbus can reach up to 40 or 50,000 feet and create a shadow of 30 square miles. And when those clouds are forced to rise over the Salmon River Mountains of central Idaho, fury is unleashed.
Unfortunately, we are often in those 30 square mile shadowlands at this time of year. Crew bosses Melanie, Linnaea and Jake have been trained by experience up there—often a little traumatic—that when the storm shadow rolls in, it is time to respond by getting off the ridges and heading to the low country with crew and cattle. Fast.
And that is just what Linnaea did. She got crew down to Moose Creek, far off a ridge, and parked them on the slope just up from the creek.
She did all she could. But lightning will strike anywhere it wants. You can predict where most likely to contact, but you never know for certain, for nature always has the last card.
Nobody really saw the exact point of contact; just that the blinding, even in daylight flash of cataclysmic energy was simultaneous with the deafening crack of thunder that accompanied it.
"I think it had to be just on the other side of the creek," range rider Tess remembered. "But we all felt the electricity run through us. I think we were sort of struck."
Crew boss Linnaea vividly recalled the charge going through her, and even saw sparks coming from her fingertips. Rider Michael ironically had an electric fence charger slung over his back to bring to the next spike camp location while on horseback, and had it slung with some braided electric fence wire around his neck. He got himself served with a punch of power.
Horses, ironically, stood non-plussed. But the cattle were a different story. "They just jumped immediately and blew right out of that area," Tess recalled. "It was like they all were shocked right up the mountainside."
That was a close one. Melanie's crew had another close strike and a torrential downpour just several days later.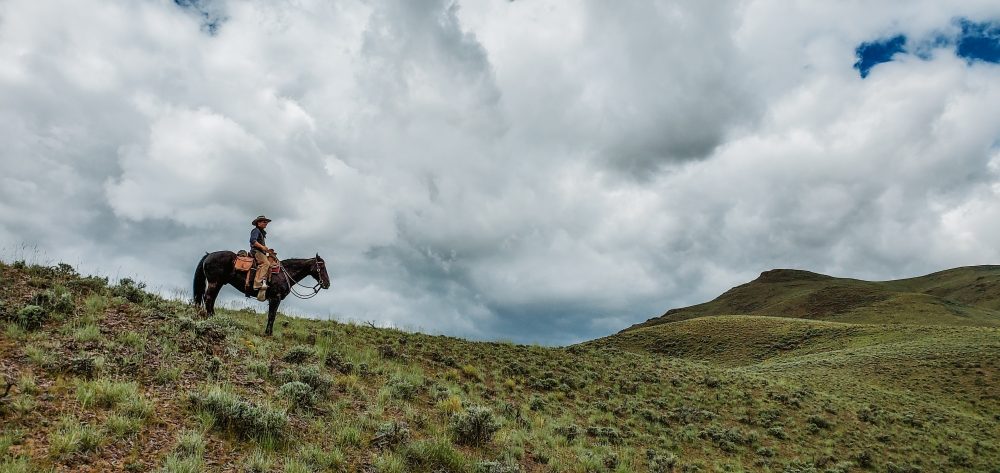 Dark clouds over big country were one thing, but then there was the failure of gear.
Our range water pumps both failed. I buzzed the two hour ride up in our high clearance big traction tired truck with tools to overhaul the little engines that couldn't.
Upon arriving at the remote Big Hat Camp. I first tacked a horseshoe on Tari, Ethan's recalcitrant quarter horse mare. Normally, our very well practiced farrier must give her a small tranquilizer shot to get her shod—she'll rear, kick and try to bite. Our former farrier would try to discipline her to calmness to no avail, and finally stated to Ethan that that horse needed only one thing to not be a problem anymore:
"That mare—she need a thirty-aught six to the head. She no good." He shook his head and spit tobacco into the dirt. "No good at all."
The 30.06 Springfield is a high powered rifle caliber, and a favorite big game choice. It would easily and quickly handle the tough job of putting down a horse.
But Ethan didn't take said farrier's advice. Because she was so good, once you became part and partner with her. When you finally caught her (no small chore) and saddled her (sometimes no small chore), she rode like a dream, provided you meant work and not play. She loved herding cows and covering big country. Once you had her on your side, there was no end to her stamina and try.
I had no-one else in camp to help hold and calm Tari, but I had to get it done. I pulled farrier kit out of the tent cookshack and began the trim, and then the nailing. By watching our current farrier work her, I did learn she didn't like her feet high when hammering the shoe nails home. So my tall 6 foot 6 frame stood bent, close over dirt, holding her with one hand just 3 inches off the pine-needled duff and dirt and nailing with the other. It took awhile, but she was sound, and shoe was clinched and hoof shaped and solid.
I breathed a short sigh of relief. My back was still holding. Didn't always.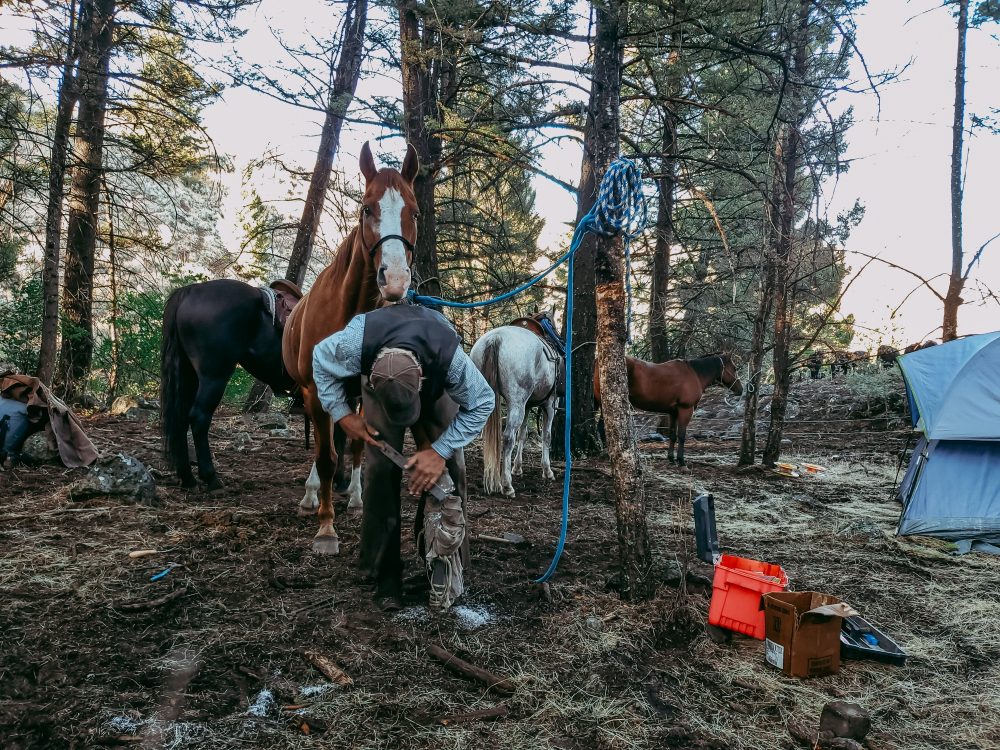 And then, the pumps. I overhauled one carburetor in the grass and sagebrush, finding it filled with range dirt. Mr. Van Haste's small engine class in seventh grade shop now some 46 years ago was paying off in spades. The other back-up pump was not so bad. I checked the oil. It looked low, but I couldn't tell how low.
So I picked up the little pump, and dumped crankcase out into my waiting empty oil container to find one tablespoon of 10W-30. Thank God and Honda motor company for automatic oil quantity measuring shutoffs! I checked camp for extra engine oil; none. In the gathering darkness, I found my oil with headlamp and half inch wrench as I slid on my backside under my parked truck and carefully drained a cup and a half from the oil pan drain plug of the Ford F250 (don't want to not be able to put that plug back in or I would find myself stranded!).
Pumps came to life—and they became the little engines that could. Cattle and creek would continue in wellness. And now, in the pitch black, the crew descended into camp with 434 head of tired and ready to rest beeves. The crew pulled gear from their horses, and set down to cooking dinner in the postage-stamp camp they called home on a tiny lantern-lit flat of Big Hat Creek.
It was the only flat ground for miles, and it would be welcome elk-grazed lawn they laid on; they would sleep soundly to the bubble of Big Hat. And as they made their nighttime bivouac, I would head back the long two track rock trail back to the ranch; a two hour trip following the orb cast by headlights over a black country, uninhabited by not a human for 10s of square miles.
I checked my time as I left camp, as exhausted, dirty, heat burnt and now quiet crew cooked their grub by Coleman gaslight: 11:30PM.
By the time I rolled into headquarters and finished my nighttime chores it would be 2AM.
The days, the length can be interminable in this, the season of grass. But as I lay down in bed, I know these things we have succeeded in:
-the beeves and horses are full and content.
-the crew is safe and happy.
-the land and wild plants and animals are better off than when we came.
And with all those three boxes checked, I am grateful.
And so rest easy.
Happy Trails