Dear Friends
Sometimes I am grateful to be clad in the cover of steel and safety glass. And to be racing along at 55 MPH. Because if I was simply a human on two legs in the deep winter white as we drove through in a sort of snowplow carved tunnel, I am almost certain the fiercest herbivore would have me dead.
Not to be eaten, mind you. Herbivore would simply want to deal with the nuisance of a human encroaching on their habitat.
Last week, after a full day of skiing fresh powder up along the Montana line (a much-needed break from the ranch!), we were making our way back on US highway 93 in the gathering darkness. 93 is our highway of sorts. Our lives intersect with it often, in our land of few roads in the central Idaho mountains. Most of the country around us is a de-facto wilderness of jumbled peaks and canyons; it is completely un-peopled and is only made accessible and passable by the rivers and creeks that intersect it.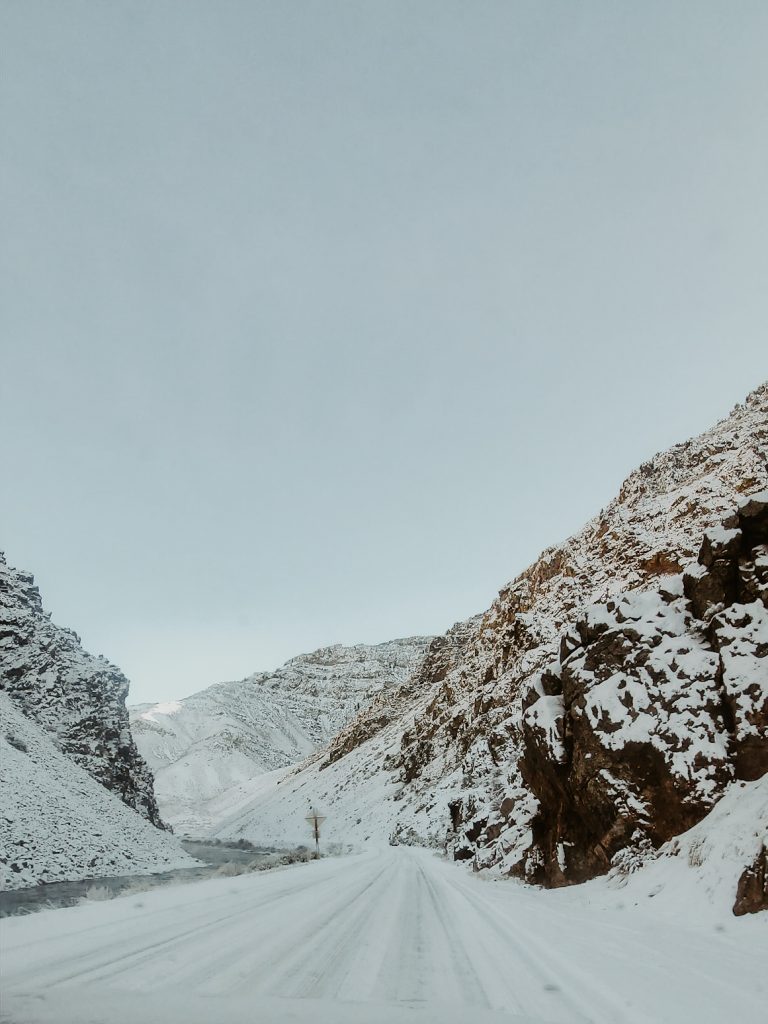 Their carving over millennia made the rifts in the cordillera of 11,000 foot peaks that cover our country. And in those few canyons lie roads and trails. Today, we were driving down one, at whose base was the North Fork of the Salmon River.
The forests along the North Fork are thick. Towering stands of Engelmann spruce stand in sun-blocking ranks along the tumble and roll of the river; beneath them, in the 4-foot deep snow, leafless willows and alders poke forth, betraying the presence of thickets too dense to walk through.
In this, the end of February, the bark of the willows stealthily heralds the hope of an oncoming spring. I think that only they—the shrubs, that is– know of this secret truth that winter will end. It is long before bud swell, but trace amounts of reddish and amber color began to leach through the characteristic midwinter grey of the terminal twigs. Most of these displays of color rise above the dense mantle of snow. And one prominent winter resident has been waiting all season for them.
I'm not sure they know them by color, or by length of day, or perhaps by some un-smellable to human scent. It is subtle to human, to be sure, but to our twig consumer, they relish the feast, and their massive bellies protrude with masticated willow wood.
I see this, because their abdomens are above the snowpack. Their incredibly long legs enable them to step gingerly through the deep, and even run in it. They, of all the great ungulates, are more equipped than any other to digest wood, with a gut bacterial presence that rips cellulose and lignin to shrapnel for dinner.
The trio of these great beings we observe in a thicket along the North Fork, just 20 feet from highway, is none other than moose. The three we spot were feasting on the very willows I describe above, and all standing together, legs in deep snow, feet penetrating to water or boggy ground.
And there, they are content. All is well in their world, in this, the very place that no bison or elk would want to frequent for more often than for just brief and nervous drinks of water on a hot summer day. In the winter, those two would simply stay away due to force of habit, conditioned by fear of death and destruction from the three throned firmly on the top of the food chain: grizzly or black bear, cougar (mountain lion), and wolf.
The thick brush and beckoning cool shade along creeks in summer offers abundant cover for toothy carnivores to lurk in easy ambush. The big cats spring from above, silently, like an owl watching, perched on a branch, waiting for an unknowing hooved herbivore to sneak in for a quick drink. Then, they pounce not unlike a housecat on an unsuspecting mouse, going first for the back of the neck in a quick crushing clamp of long cat canines on the cervical section of said ungulate.
The mighty griz or even the black, scent seekers that they are, would long wind the coat and color of prey. They'd easily determine make and model. Cow…or calf? Or both. And they would wait, crouched in the shadows, a still black or brown mass hidden in the leafy rustle of willow and dogwood cover. Calf comes in for a drink? Explode, chomp and hold.
And then, there is the wolf. In the dense brush of bottoms, wolves find easy prey with abundant cover to aid and abet when circling and closing on their quarry. Elk can see in all directions at a time due to bulging eyes and the periphery that they bring to somewhere on the order of 350 degrees. With a slight twitch of head, they can easily see all. And in their great stride and long-legged gait, they can outdistance and outrun a pack of wolves in the open country.
But in a brushy creek or river bottom. Elk ends here. And falls prey to all that meets them there.
But why is Bullwinkle fairly indifferent? Why aren't moose quick and direct with the drink? Instead, they relish and relax the cool shade, and wade in the waters. They imbibe not only in willow, but sedge, rush and aquatic species. In the water plants they find joy, with mouth and nose under deep waters—their long heads with eyes topmost, allowing them still to scan the horizon for enemies.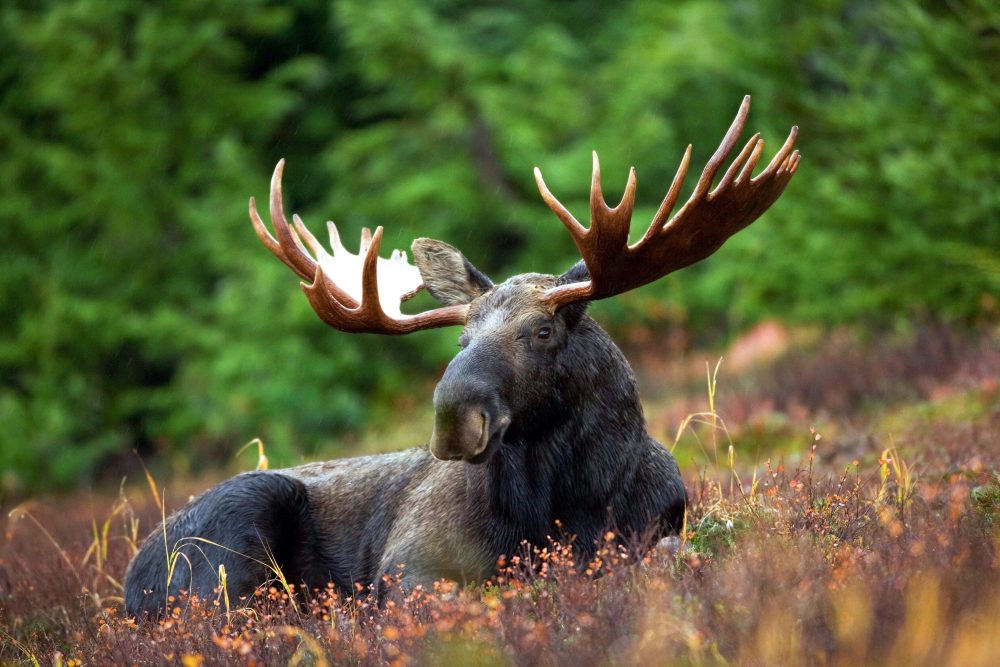 But why no fear?
It is because a moose, a grazer, and herbivore is one of the most formidable foes in a ground skirmish. They are abundantly armed with four fearsome guns: their legs.
They can attack with them in literally any direction. They have 360 degrees of fighting ability with well-placed kicking gear, each of which is armed with a sharp and massive hoof. Wolves have been found dead with crushed ribcages, broken legs and skulls caved in with cranial collapse matching the trademark hoofprint of moose. Moose literally have a leg up on their elk and bison cousins. Their lengthy limbs can deal a savage blow to any predator in less than the blink of their eye. They can fire limbs sideways, or can easily rear up on their hinds, bringing smashing blows backed by the force of their massive frames.
And that, friends, is why I never want to meet a mama moose with baby in tow. Moose don't see humans as toothy predators, but protection of their young trumps all. Bull moose will attack occasionally for the sake of territory (those unpredictable males). So they will attack. Alaska estimates that 5 to 10 humans per year are maimed by moose attack. Globally, an estimated two or three die each year from a sound moose bash to the head.
So stay back, dear ones. Or at least wear that helmet…
OK, so now, we've cut to the sad chase about the dark truth about Alces (the moose genus). Does this mean we should kill them all?
Heavens, no. They are a key habitat component—a ruminant recycler in the riparian—those wet areas where no other native grazers rule besides beaver.
But the reality is that we may be killing them. It's actually a bear that we humans have joined forces with that's the culprit. But wait? Didn't I just say that bears are among those that moose hooves can harm? How can this be? Well—just to clarify; it's not all bears, mind you. Just one. And his name?
Smokey.
Yep. You know him. His stern face…that hat. Him saying "Only you can prevent forest fires." Actually it took a lot more than you. It took hundreds of men and women, a hundred years, working for agencies like the US Forest Service, and the Bureau of Land Management and Cal Fire.
And they prevented them. Stopped them. Put them out. And in doing so, halted the eons of natural forest fire succession in America's forests. In this part of Idaho, I've done tree ring studies (in my former life as a professional forester and forest ecologist) that clearly established that a wildfire burned in the understory of a central Idaho Douglas-fir forest at a fairly regular interval of 45 years, on average. Until the federal campaign of putting out every smoke took hold, under the trademark of Smokey around 1910.
Under the new guise of 'management', the forest now functioned differently. And the natural cycle of post-fire plant succession halted. After a fire, the forest floor normally erupted with new plants, many of which weren't present in the pre-fire forest. I mean, they were there, in seed, but not in plants. The seed was waiting in the ground for a fire to come through. And soon afterwards, pioneer plants such as willows, aspens, alders and dogwoods moved in. Most of them were already there—not in seedbanks, but as plants, vestigial, suppressed by a dense forest overstory.
Then, the fire would come through, and the dense forest overstory light and moisture capitalizing covering would be gone, at least in part, and these seeds and plants would release in the new boon of moisture and sunlight post-fire.
And that's where our herbivores came in, along with an entire complement of birds and other shrub and broadleaved habitat lovers. The forest would sing with new life. Moose would capitalize on the rambunctious regrowth of willows, alder and aspen. Beavers would move in to graze, build and dam with the boon of building material–the new shrubs. The landscape would be transformed.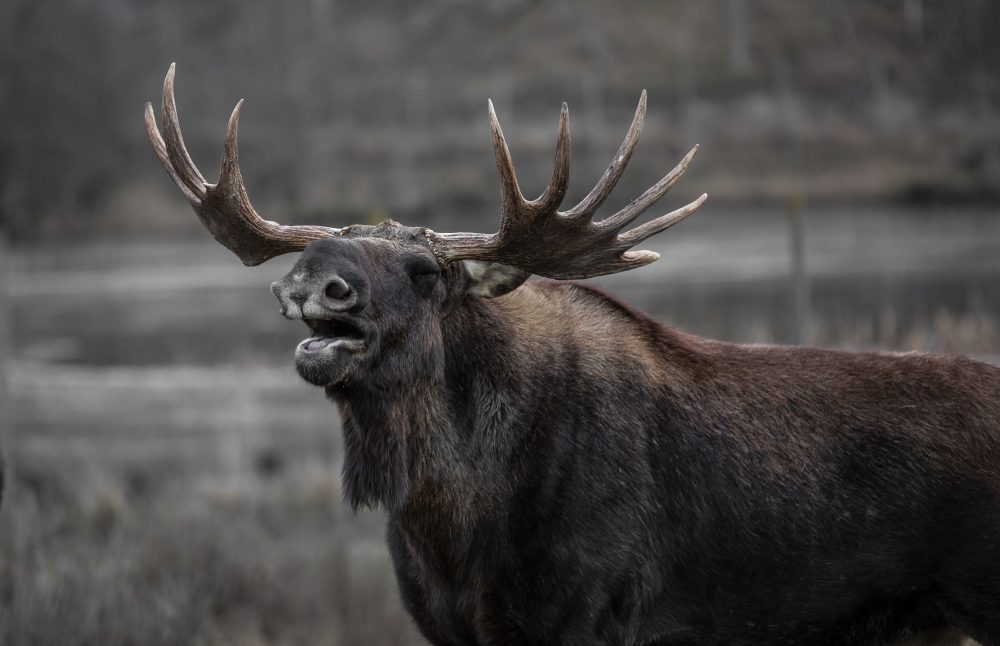 Studies in succession show that moose populations would boom for an average of 40 years post fire. Then the conifer overstory would again close in, and the understory vegetation would be suppressed. Habitat components would change—new avian and terrestrial life adapted to mature forests would replace the understory loving species. The understory loving species would move on in search of new fire territories. And so it would continue. A cycle of sorts.
Until Smokey and his friends ended the creation of new understory habitat.
For moose, it wouldn't have been a problem if it wasn't for ticks. One in particular, the winter tick, has a particular hunger—and thirst for moose blood. And moose, unfortunately, are not very good groomers. As a result, a single moose can be home for easily over 20,000 ticks. One recently radio-collared moose yielded over 90,000 ticks on his emaciated and dead carcass (I must admit, I am wondering who got to count those…) . Some biologists postulate that the concentration of moose, albeit less over all, due to habitat loss has caused tick populations to explode.
But between those two culprits of loss of habitat due to fire management and ticks, it is enough that they are declining in Idaho. Nobody really knows how many we have in the Gem State. Biologists estimate that it is still over 10,000. But metrics like hunter success are declining, and wildlife experts throughout the West are concerned.
Have moose met their end?
******
On the way up into the high Hat Creek country, the jeep trail bottoms out along the rush of the stream and abruptly begins a steady serpentine rise to ascend a notch above the canyon where Big Hat Creek diverges. If you are a passenger in said 4 wheel drive vehicle, the views are stupendous of not only the willow and aspen studded creek a thousand feet below, but also of the 10,000 foot mountain peaks above the incision (I'll remind you that the passenger is the one looking. Driver should only look at one thing: the road). We know those peaks as old friends: the snow streaked high Lemhi Range, crowned by 11,000 foot Lem Peak; and up close, across Hat Creek, King Mountain, the vanguard of the Salmon River Canyon.
But if you look closely on the hills surrounding Hat, you'll often spot bighorn sheep, elk, and often a bear.
On this particular late summer day in 2021, the driver and passenger was one; our friend Skip Johnson. Skip was a wanderer, always stopping along the trail, stepping out with binoculars, and looking. He didn't need to watch the road while watching landscape because of his frequent stops. I met him at the gas station in Challis this past fall. An older gent, he was trundling along for an afternoon foray into the high country, trying to spot some elk the week before. "So you know where that sort of notch is above Big Hat, Glenn?"
"Sure do, Skip."
"Well, I saw something dark down there in the brush along Big Hat by those beaver ponds."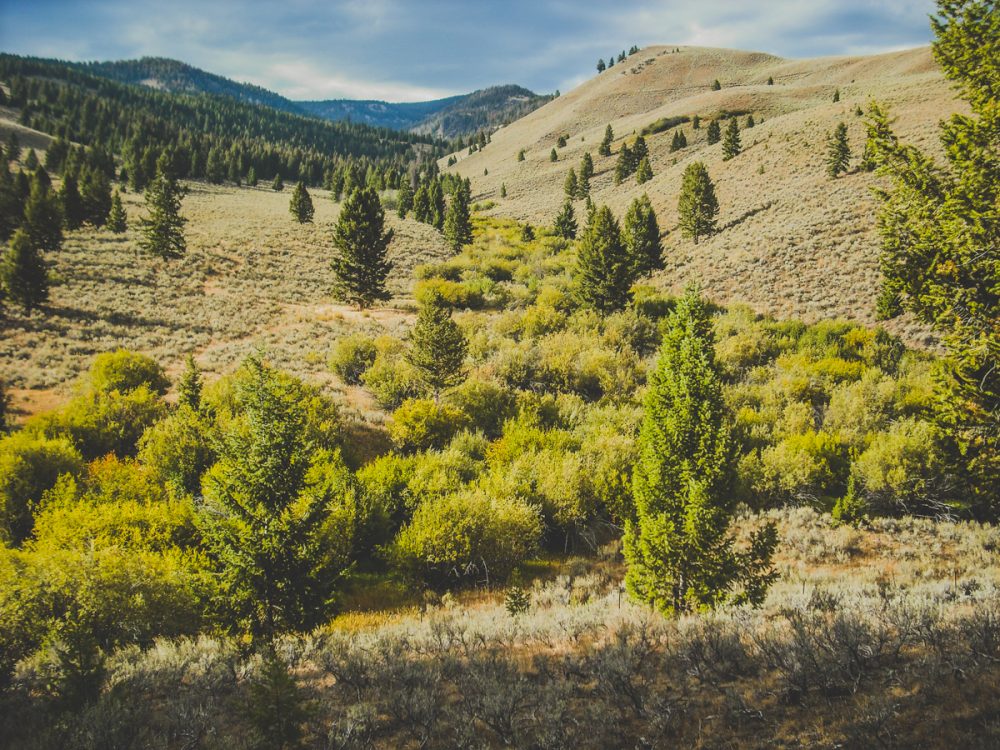 "I know the ones." I smiled knowing what was going to come next. I beat him to the punch. "We had a black bear down there this summer."
"Yep—seen him too." He nodded. And paused for effect. "But there was something else down there."
"What are you talking about?"
"It was big cow moose. I'm sure of it. Black hided, with light colored legs. You know the type."
I was certain that the old woodsman knew what he saw. I was a little dumbfounded. It was the first moose spotted in Hat Creek that I knew of. We were sure of their historic presence; one of our main creeks that bisect our grazing ranges is named so: Moose Creek.
Could it be that the willow and brush habitat on the Hat Creek range is finally to a place where moose will make a home in Hat? The beavers thought so.
Most creeks in the West exposed to cattle grazing are short of moose food, and it's due to continuous grazing by rancher's cows. The result is that moose simply move on to better habitats.
But our willows and brush populations are dramatically resurging, due to our 'inherding' practice where we prevent our beeves from accessing these critical habitat components. Brush is booming, so much, in fact that the Forest Service complained about how their Creekside monitoring transects are getting too brushy to measure. They wanted to move their monitoring sites (a really huge "no-no" in the plant monitoring world, as continuous lines of data are key to measure trend over time).
Never heard that one before. I told Caryl when I got back from the meeting where they mentioned that.
"ABSOLUTELY NOT!", almost yelled the PhD plant ecologist who has literally authored several books on how to monitor plant populations. They are still used as definitive textbooks on the subject the world over.
The next time I saw Tyler, the US Forest Service range specialist was in Salmon at the grocery store. After the usual talk about the weather, hunting, and families, I had to ask him: "Hey Ty. Where was it that you wanted to move those monitoring transect lines?"
"Moose Creek."
I cracked a grin. Appropriate that was the one creek where they noticed the most new woody shrub recruitment. And I thought that perhaps—there was a chance that they would come. The moose would return to the place of their namesake.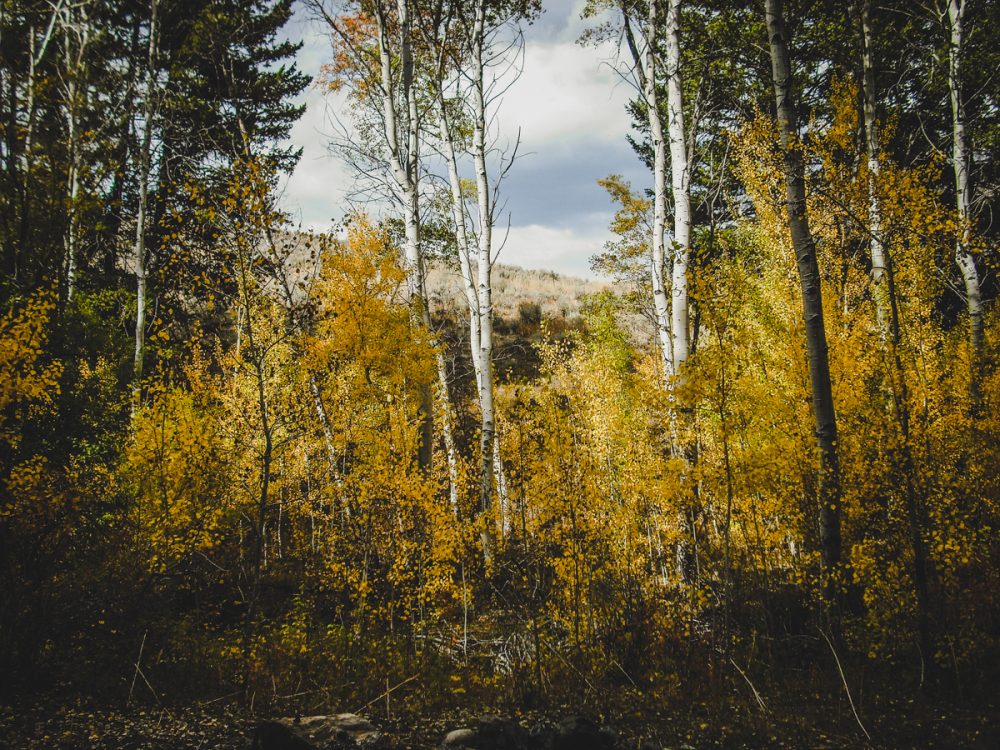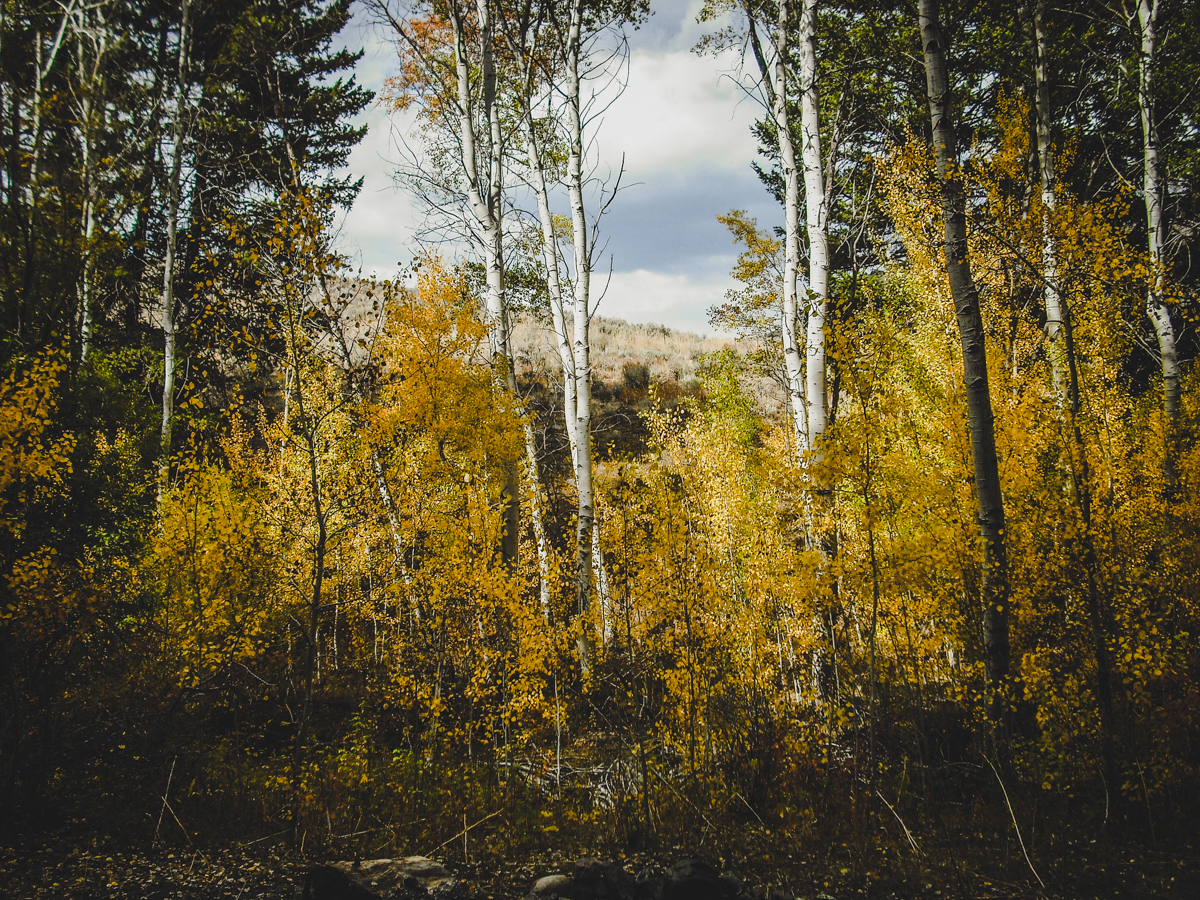 There's that saying—you know. I'm hoping it doesn't only work with baseball. "If you build it…they will come."
Let's hope.
Happy Trails.
Glenn