Dear Friends
Fall sneaks up on the Ranch while we're almost still too busy with summer work to notice. The colors are already in full regalia on the higher elevation ranges and the aspens show off their golden veil as they succumb to the heralding of winter. At our valley location, repeated frosts in the morning bring the grass to a new level of palatability, and the beeves lick up the goodness in what I believe to be the best grass of the year.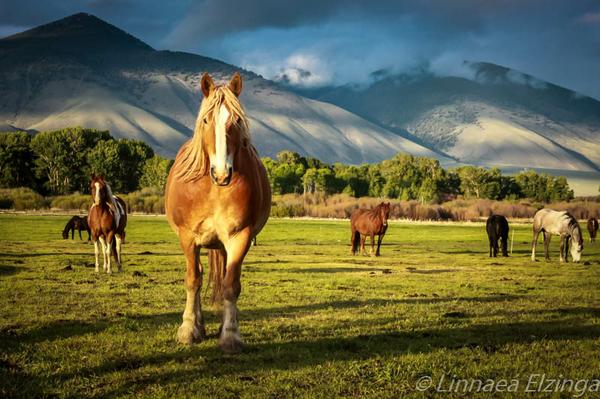 It rained over the past few days, and it completely cleansed the air. Forest fire smoke that had permeated much of the West this summer was gone without a trace. I spent most of the day yesterday on horseback, leading a range tour of the Hat Creek country. Aspens in some of the timbered canyons were actually losing a little foliage in the light breezes as the rain fell, and leaves lazily drifted downward like gold pieces from the sky. Fragrances of sweet mixed with that of decomposing leaves. I was glad I had my slicker and chaps on, as each time my mare, Ginger, brushed through pine thickets, we were drenched with water that clung to the needles.
Most of the 17 riders were likewise prepared for the cool mist and rain that fell as we rode our 15 miles. Ethan brought a packhorse to carry stove and tarp, so we could warm core temperatures up at former Texarkana camp with cowboy coffee and snacks, safely out of the rain under a temporary shelter as it fell. Expansive high mountain views were sometimes obscured by drifting fog, and the string of riders would extend ghostlike and silent in single file across a wild silent landscape deserving reverence and respect.
It was a diverse group that included representatives from the Idaho Governor's office, the University of Idaho, the US Forest Service, The Nature Conservancy, and the US Interior Department. It was a pleasure to have all of these folks with us on the Hat Creek range, and many of them had been with us a time or two before. One new rider we had was The Nature Conservancy's world director of communications.
All had shown up to experience and learn about "inherding," our paradigm of managing these wild rangelands. It's actually the reinvention of an ancient practice of herding beeves across the landscape, and living with them 24/7. Inherding allows us to completely eliminate interactions with wolves that often lead to lethal consequences for both cattle and the large canines, and also protect critical high altitude habitat for endangered fish and bird populations.
The ride, completely on horseback for all of 15 miles, traversed a sampling of the roughest mountain country in North America. The horses and their charges had to negotiate mountain passes, down timber, swamps, and dense forests to cover the country that Alderspring's cowboys and cowgirls took for granted as they moved beeves over the wild mountain and dale throughout the summer. Much of the ride required route-finding in fog and trail-less country that likely had rarely, if ever seen human visitation, except herders like us, or prehistoric Native Americans that lived in these mountains.
There was a problem, however. I think I assumed too much of some of our riders. I realized shortly into the ride that I may have bit off more than some of our entourage could chew. Several of them did not have the mountain experience they needed to thrive on the ride. Within several hours, I had concerns that we could be in trouble. A couple of my horses needed special psychological attention that I had forgotten about and as these idiosyncrasies began to manifest, I started to get concerned.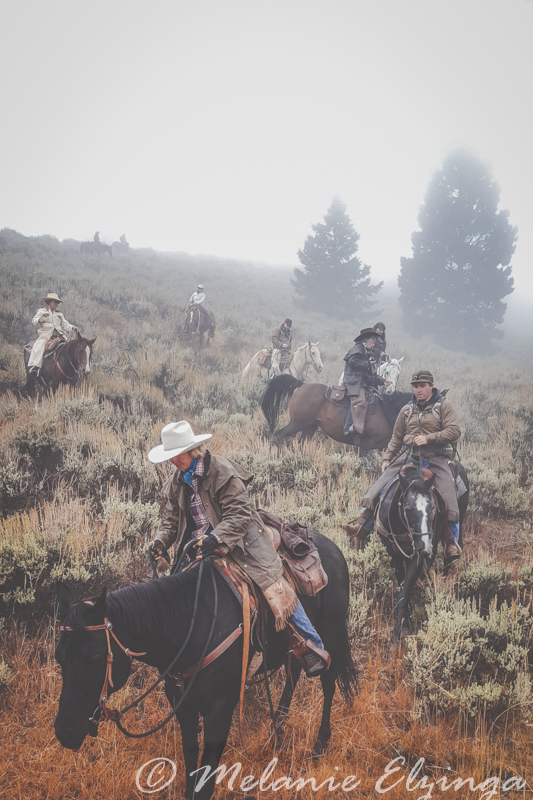 I pulled up to Ethan, Melanie, and Josh individually and asked them to keep an eye on things–a wreck could easily happen where horses could collectively tangle, much as a traffic pileup could happen in rush hour traffic. Muddy ground and down timber could precipitate such wrecks–I had seen them many times in my own horse career. But with a large group of horses, many of them unfamiliar to each other, personality clashes and grudges could cause an outburst that could send the whole crew stampeding, and possibly cause the group to careen, out of control, down the mountain.
Those of us who had ridden for years had these sorts of possibilities always running in the undercurrent of our consciousness; those who hadn't, well, they had no idea of my thoughts. They rode on with the group ignorant and completely unaware of how things could go south of the border in a plum hurry. The terrain was not making it easier.
I was a little stressed, to say the least.
One mare of mine, usually lovely and calm Natalie, decided to pick this day in particular let her own brand of bitchiness manifest. I didn't know what pulled the trigger, but one of the Idaho Governor's geldings must have whispered something quite toxic in her ear, and she quartered around to give him two hind feet on a bucking kick twice, in rapid succession. Riders barely held on during the altercation, quite surprised by her quick candor about how she felt. I had personally seen past events like this cause near breaking of human legs that get caught in such crossfires, and thankfully that was not the case today. She kept her acidic attitude with him and any other she chose not to like that day, and let it affect her to the point of nearly losing her footing in the rough country.
Matt, our soft spoken guest from The Nature Conservancy, unfortunately was the faultless recipient of much of her foul demeanor as the guy on her back. She would kick and bite anyone who crossed her, as he desperately tried to stay in control–and on her back. Thankfully, he had a good seat in his saddle and remarkably stayed with her for much of the day until she had a complete meltdown on a rocky ridge
.
I trotted up and offered a switch to my mare. It was a little unthinkable for him to simply walk, as it was pretty dang far to go yet through some very rough country. My Ginger can be a little hot headed, but was finally worn down enough that the buck was likely out of her, and I guessed she would be OK. Earlier in the day, I would have never been comfortable giving her to a rider of unknown ability, as she could easily unravel if not given gentle guidance in the art of attitude.
We adjusted saddles, and Matt mounted up. I checked my Ginger's eyes and demeanor as we commenced; she would be OK. I mounted my Nasty Natalie, and asked her to walk backwards for 100 feet or so across rocks and brush. It was what she needed to chill out and move forward.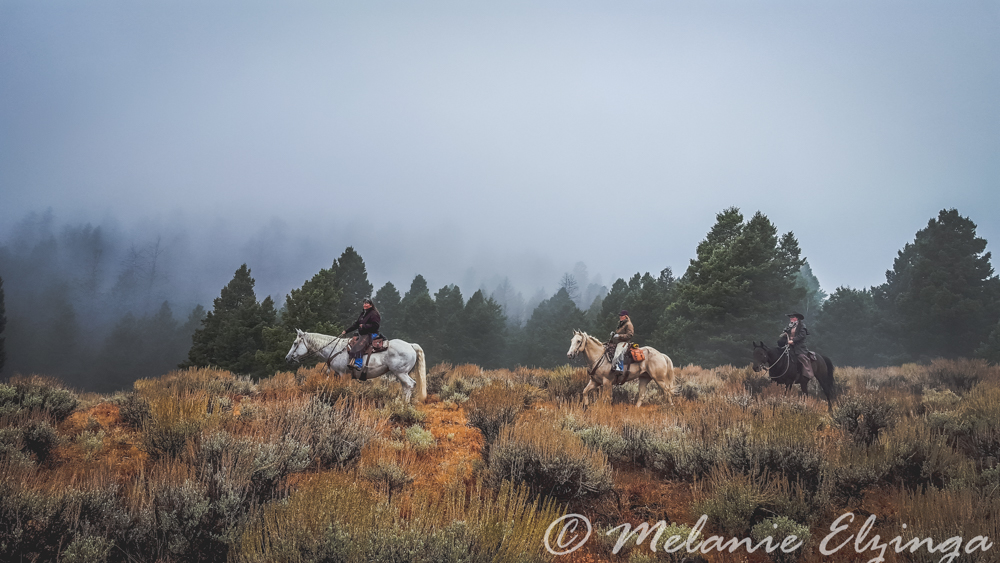 As Shannon, one of my University friends emerged from a particularly difficult and wet spell of down timber and swamps, I noted that her white canvas slicker was marred with scratches and pine needles. I was happy to see her still smiling. She was raised on a ranch, and on horseback, so I worried little about her. But even for a seasoned veteran of rough going, today was no picnic. I knew I had it coming, as she never had a loss for words. She pulled up and looked over at me.
"So Glenn. If this is the kind of country you take your friends, I guess I'm wondering where you'd take your enemies?"
It was a completely valid question. And you, dear reader may be wondering the same thing. Why would we put friends and inquisitors in any harm, danger, or certainly uncomfortable circumstance to show them the country where we placed Alderspring beeves on pasture for the summer?
Well, the date was set long ago, and the rain actually changed our riding location at the last minute, as getting trailers to the original tour spot was impassible due to mud. So circumstance had a lot to do with the adversity. There was a less intense riding alternative planned, but all the invitees agreed to continue as planned–in the new, more difficult tour route. They wanted to see differences in how we took care of our high ranges from the status quo–of how mountain pastures have been grazed for nearly a hundred years.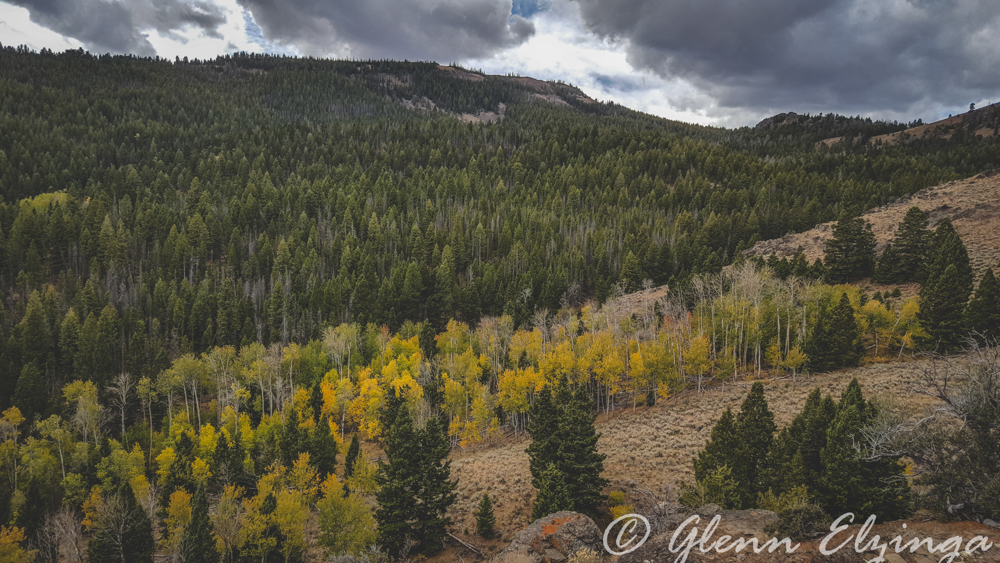 And they were impressed. It can be hard to toot your own horn, but the stewardship of rangelands–especially those managed by the federal government–is under great scrutiny right now. Our "inherding" style of grazing is not a new concept; after all, it has been practiced for millennia….but not at all in the past 100 years in the US since the advent of barbed wire.
It answers a question that has nagged Caryl and I for years: is there a better, more stewardship oriented way to care for these lands held in the public trust? A way that we can care for all species up there, from wolves to worms, and including the beeves we bring to visit? We're hoping inherding would provide the answer. We spent quite a bit of time this summer working on this project, collecting data and observations, and we'll spend time this winter telling others about the successes and challenges.
For us, husbandry of the land we graze is inseparable from the raising of good beef. If we care for all the components of the landscape, the plants that our beeves harvest thrive, and are truly sustained for coming years. And if our beeves are harvesting a portion of those wild plants in all of their fully manifest diversity, then they have choice that maximizes their wellness. If their wellness is maximized, then the nutrient components that we humans need are maximized in their beef. And that makes all the difference.
As we stopped for a break in the fog that streamed in wispy ribbons across the Upper Sky Island meadows, I brought my mare around to face the group and mentioned that we had grazed there for a day back in July. After filling up on grass, the beeves had laid down in the lush comfort of the meadow on a sunny, yet cool July day, relaxing in the fragrance of the pines that surrounded the verdant break, free from any care of the world.
I related to the group of riders that there was one semantic difference in how we viewed the ranges compared with how we used to see them. Years ago, riding for some older ranchers, I learned about "feed." An old boy would say to me that "there was some good feed on that mountain. We had better send them cattle up there."
I caught one of my cow crew using that term repeatedly this past summer, and corrected him. "The term is grass. It's not feed. It's worth a lot more to this landscape than just feed. We don't want to limit it to simply cow feed."
It's grass, and I'm hoping that inherding will initiate changes not only in the landscape, but the mentality of what the range is good for. We're just barely scraping the surface of understanding ecological principles up there, and we have so much more to learn. But I do know that we are on to something with this grassroots idea of change on the range, from feed to grass, and our husbandry can be an integral part.
So can you, for joining up with us as our partners. Thanks for being with us on this trail.
Glenn, Caryl and girls at Alderspring