The bizarre and unexpected sometimes show up in our headlights as we track through the Idaho wilderness night on twisty 2 lane highways. Linnaea, alone in her Outback, was carefully traversing the loneliness of highway 21 at 1 AM on a midwinter night a few years back. Idaho 21 is the only road through this untracked and wild section of Idaho, cutting a ribbon of pavement into about 120 miles of primeval forest, river canyon and snow streaked peaks. There are no towns, homes, or other roads. It's only the home of wild creatures. Some say they've seen the elusive Sasquatch there, the Yeti of the north woods.
Yeti may have been easier, safer. They've never harmed people. Linnaea (3rd daughter) found meaner. As she slowly made a broad curve on the unbroken white of snowpack of the road surface, she found herself face to face with none other than the elusive wolverine, stuck between the unyielding and vertical 6 foot walls of snow and ice tendered roadside by the giant snowblowers that keep the remote Banner Summit clear when avalanches pause.
She had left Garden Valley, the last town on the paved road about 2 hours ago and passed no one along the way until the wolverine. Cantankerous. Ruthless. The fiercest, meanest predator of the North Woods. Attacks unpredictably. Outlandishly unsociable loners. They even reek of a muskiness like none other. I know personally of only one other person who has spotted one.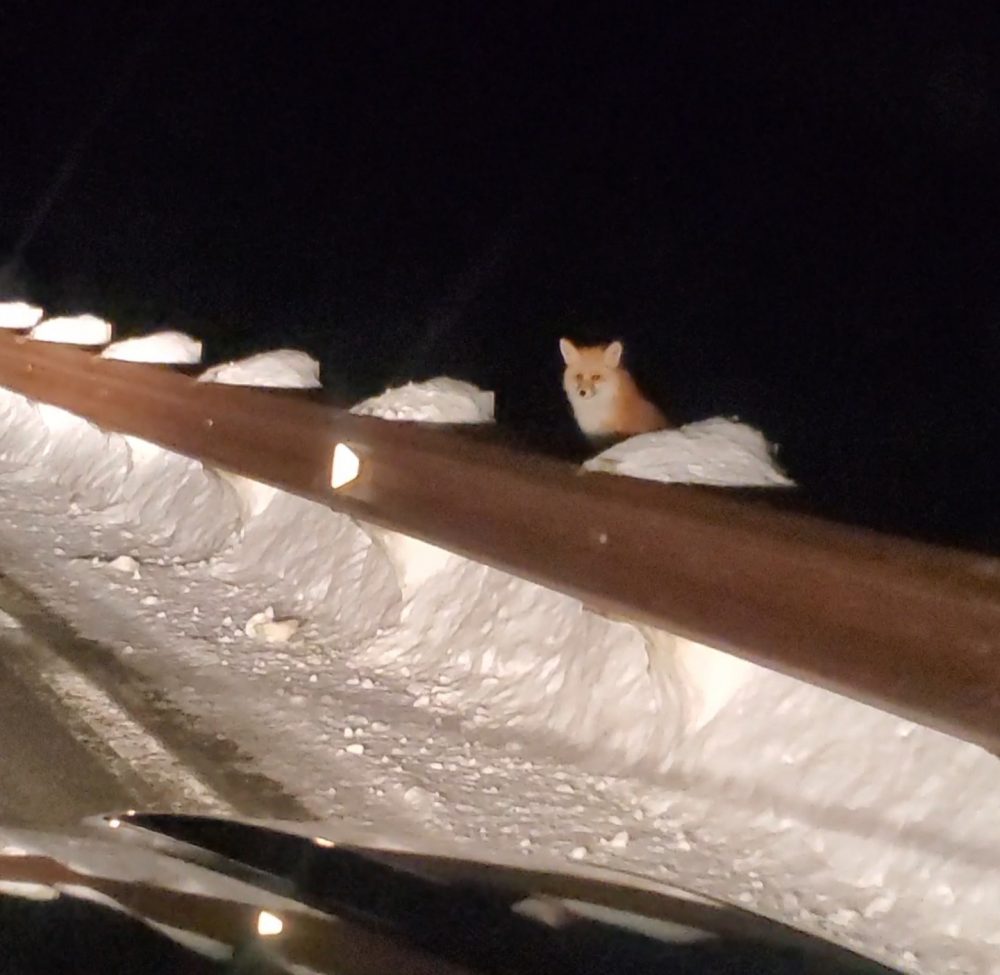 Thankfully, my daughter had the iron of Outback surrounding her, but there were no guarantees. I recalled that I had wolverine's cousin, the badger, snap at my pickup tires before finally letting me pass one day. She followed its erratic path slowly for a mile or so until the wolverine found a good spot to scale the snow wall and disappeared from sight. Quite a gift of the night.
On another night, as I was hauling 15,000 lbs of black cattle through the 2 AM pitch black of Montana's Highwood Mountains, also seemingly forever locked up by the white of winter, my KC Daylighters suddenly wiped back the curtain of dark from around a bend, and caught two mountain lions in a tooth and nail (literally) battle on the arena of snowy pavement bounded by thick timber in 5 feet of snow.
In a moment, they were gone, panicked with discovery, bounding with long tails held proudly and elegantly carried with a slightly turned up tip into opposite sides of the impenetrable fir forest. It was their calling card; the dignified impression they left with me. Those tails.
They weren't afraid. Just discovered.
When you see these things, you wonder if they were your tired mind—a sort of apparition built by the stupor of a late night of too long focus. But then you reflect on the windowpane clarity of your mind after being startled awake by said event.
That's how Jim felt. It was in what he saw—that which was so bizarre– one night on Highway 93 that finally registered with photographic quality in a freshly minted alert mind seconds after he passed it.
The image his sleepy eyes collected had so engaged his mind that he reflexively punched foot to the brakes, bringing the big UPS truck to a sliding stop in the middle of the tortuously curvy route of what we call simply the "Salmon River Road."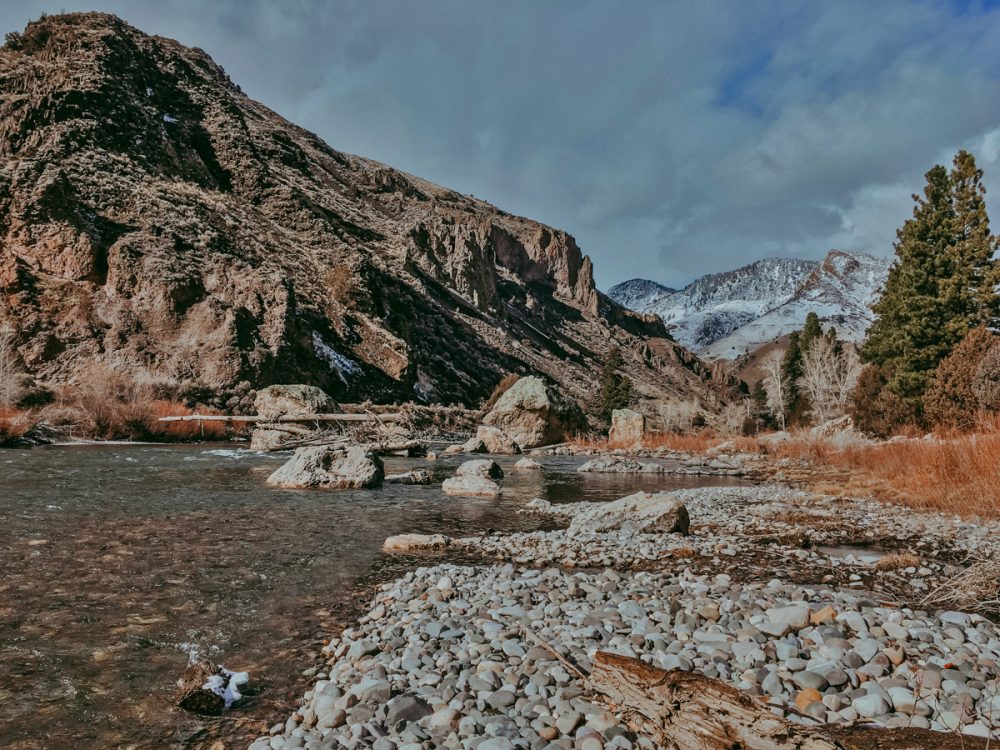 It's not like someone else might rear-end him. It was 3:30 AM. I've driven that road hauling cattle at that hour on more occasions that I like to count. I've gone for hours without ever seeing another headlight. It's no-man's land.
Jim Jarnigan is his full name. He is our UPS driver. He drives what's called a "straight-job." It's a big moving-van sized diesel truck bearing the brown and familiar shield of UPS. It looks like a semi when it's bearing down the road at you, with its big box van on the back. But then he pulls up, and you see it's just a single axle rig, and instead of a 53 -foot trailer, Jim's pulling a 18. It's still 50 some feet in total length making it a long and unwieldy rig for the mountain roads and river canyon curves of Idaho, nonetheless.
We fill the trailer with our orders every Monday, and some of the box compartment on the front rig if we have a big day. Jim happily hauls our products to Idaho Falls every Monday evening and drives some of the loneliest night roads in the lower 48 on his way back. He pilots his piece of iron with cautiously tempered abandon into blizzards, over passes, and into freak high desert windstorms.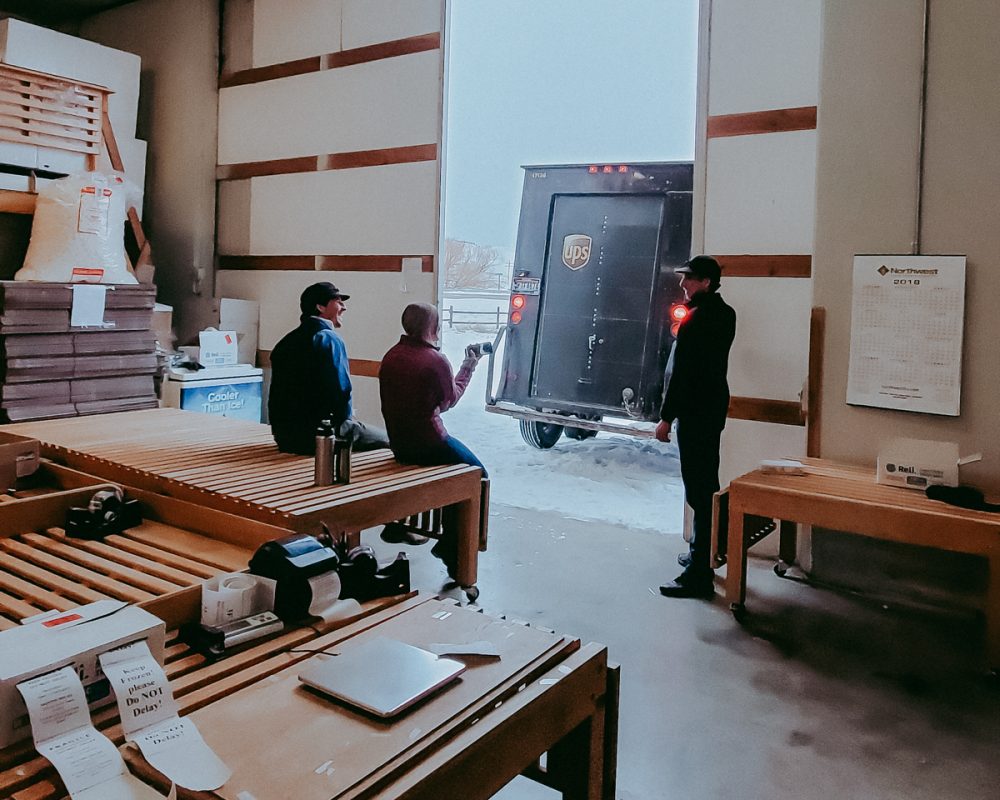 He's even driven through desert wildfires to get to Idaho Falls. Finally, there, the boxes are largely home free. Most of the difficulties of hazardous roads are behind them. There, the white boxes are transferred to a semi bound for Salt Lake City. And there, they get loaded on waiting jets or semis heading south, west, and north. Within hours after we close our precious commodity of wild protein in boxes, Jim, a critical part of the trip, ensures that they are well on their way before that day has passed.
He is not only a good driver but knows the country better than most. After all, he was raised on a ranch buried deep in the Salmon River Canyon itself. He was on horseback as soon as he could walk, to ride herd on hundreds of cattle and sheep in the very river breaks that the Salmon River, and its conveyance companion, US highway 93 wends their through together. One is a river of wild waters, hatched by snowmelt and spring flow from the high Sawtooth mountains. The other stream of adjacent and parallel pavement is a conduit that provides the only passage for humans through 7 Idaho mountain ranges.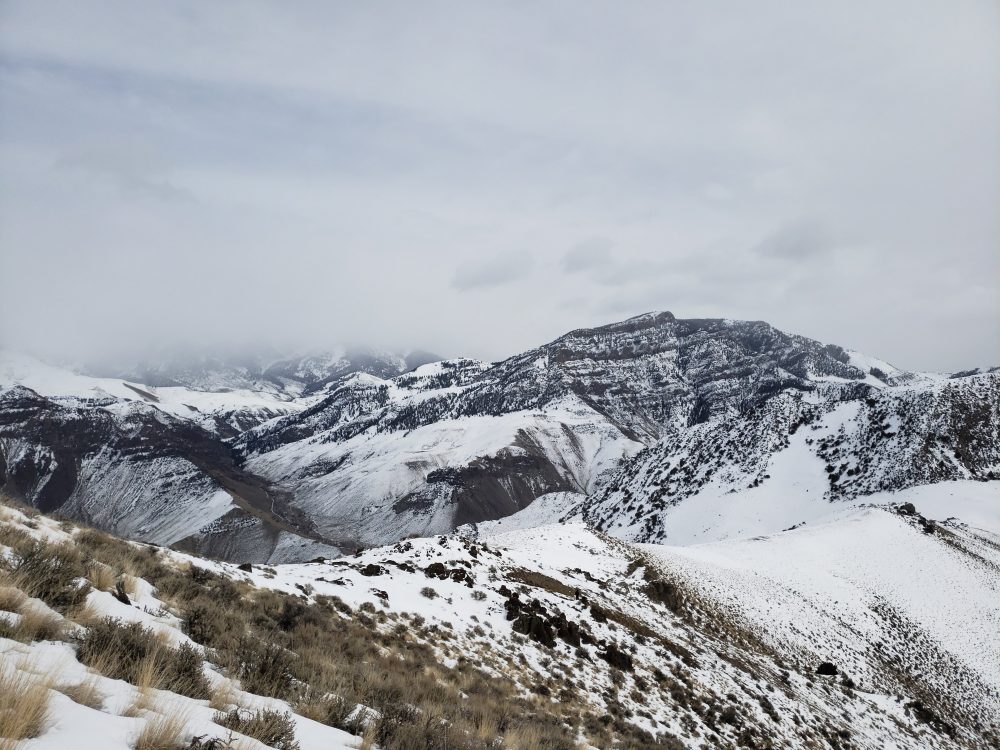 He told me about what he saw at 3:30 AM on the river road while we loaded his UPS truck with beef this past Monday. He knew I could somehow relate. But I think he needed to get it off his chest. We had a lull in the boxes with labels printed; he saw a break and took it.
We could have talked about those champion Chiefs. Or the failing 49ers.
Instead, Jim wanted to talk about what happened a few nights past.
"I was coming downriver on 93 and had just made it through Cronk's Canyon. The road was icy, and the thermometer was reading about 12 degrees. I had a tailwind pushing me down the canyon road; I knew it had to be pretty brittle cold outside."
"I hadn't passed anyone for quite awhile—several hours or so. I picked my way through the curves just below the canyon—you know—along those white cliffs where that Salmon River is just 20 feet out your driver's side window."
The cliffs were comprised of volcanic ash. I knew the ones. They were vertical, diving into the ripple of whitewater that the Salmon River laughed its way around them with. We pass them every time we go to town.
"I come around that last tight curve by the cliffs and spotted something in my headlights on the white line off to my right. I slowed down a little and saw that it looked like a black trash bag with something in it." He paused to let that sink in. Jim's eyes got real serious and narrowed a little. The busyness, the loud tape gun noises, the dry ice quantity calls and the steady rhythm of workplace music at the shop faded as I focused on Jim.
I could that he was going to take me somewhere.
"Just as my headlights were about to sweep over that bag, I saw a white human face barely rise up from one end of it, reflecting back in my lights."
Now he really had me. "What?"
"Yep. The logical part of my mind said garbage bag, but some other part said a face." His eyes were unwavering. "So I locked up the brakes and managed to bring the rig to a stop."
Putting flashers on, Jim jumped from his big brown truck and ran back, flashlight in hand. To the bag. And the face.
And he found that it wasn't a bag at all. Instead it was a human, compressed into a tight ball-like fetal position. Unmoving. Centered, almost intentionally on the frozen white line of the highway margin. Jim touched the form and was met with the slightest of movements.
He knew that he had to act fast. Jim had fire-fighting experience and training and called back into his memory of required first-aid for hypothermia. He had to get this guy warmed up. Fast.
Jim didn't need to check; there was no cell service. It was all on him.
"I tried to get him to move, but he couldn't. And then I figured why. He was soaked to the skin—clothes and all—and it was plumb frozen. Solid. That wind and 12 degrees just froze him like a brick. His bare hands were literally frozen to his chest. And then I knew—he must've had to swim in the river."
The river. It takes no prisoners, that one. Especially in the wintertime. I've pulled people thankfully alive out of the frozen and rapid rolling slush, their car's submerged location marked by bubbles rising to the surface. I've seen cars and pickups in the river all too often, occasionally with frozen and soaked survivors clinging to the slick surface of their vehicle. There are over 200 curves between our valley and Salmon, Idaho (the kids counted them one day). I have 4 friends that have succumbed and left this life in the icy cold of the river after their vehicle finally came to rest on the cobble bottom of those clear and unforgiving waters.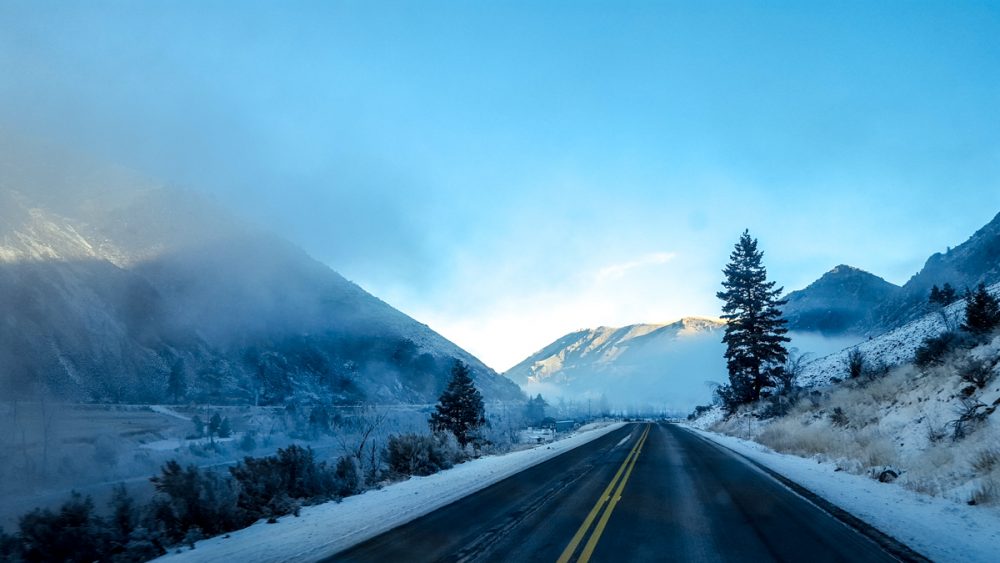 Jim couldn't move the guy. Frozen man wasn't that big, as by Jim's estimate he was 140 pounds or so. But Jim, even though a big strapping guy couldn't get his arms around the wet bundle to carry him back to his truck, let alone, toss him the passenger side of the high semi type front of it.
And there were no options for him to get help. There were no homes anywhere for miles. And no possibility of traffic.
"So I started to try to peel off his frozen coat." He was making motions with his hands now. Showing me how he peeled it off. Jim figured it was kind of a straightjacket now, binding the frozen human in a sort of death grip. Slowly, Jim made progress. "Once I got that off him, I could kind of straighten him out on the pavement, so then I could scoop him up."
Now scooping isn't your average task, especially with one so still soaking wet. But Jarnigan was running on pure adrenalin by now. He's fairly quick on the uptake and knew that he literally had this guy's life in his arms.
He somehow boosted him into the high and idling warmth of the truck cab on the passenger side and cocooned him in a wool blanket and an extra "sock hat" Jim kept handy. Jim likes to say, "Never know when you might have to spend the night stranded, off the road in a blizzard."
Jim cranked the heat as high as it would go. UPS trucks don't have air conditioning. But they do have heaters. And this one was a good one.
The frozen cocooned man groaned, and suddenly began to spasm and quake with intermittent violent shivers brought on by the onset of warmth. The face—the same white face that saved his own skin, blindly stared forward with gray death-like eyes at the windshield as it uncontrollably winced with painful spasms.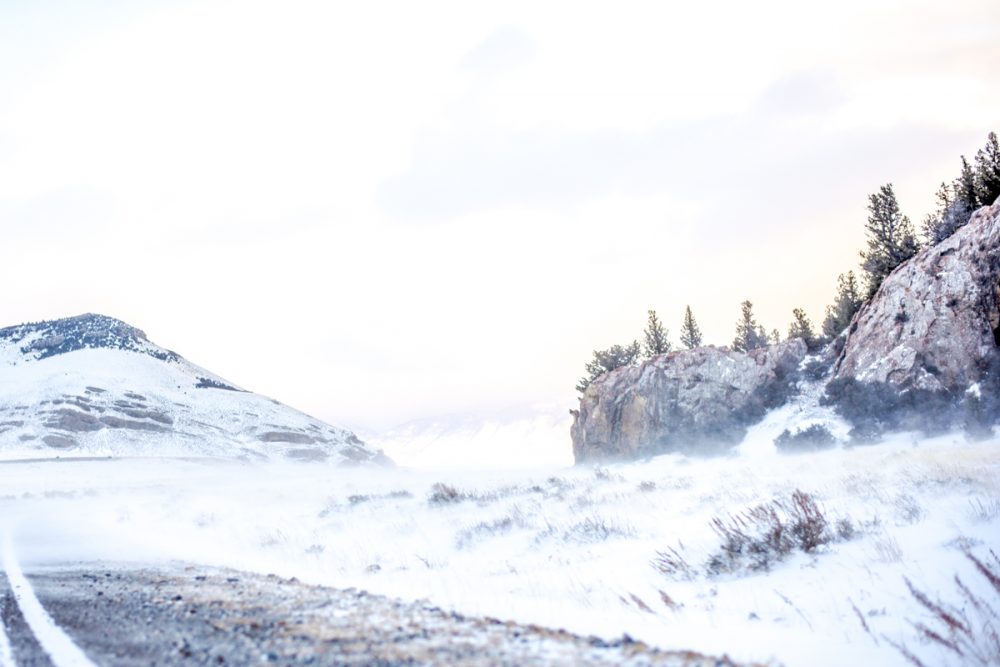 And Jim slipped the big brown growler into first gear and got moving down the river road. Challis, Idaho, was only 22 miles behind him. Salmon, Idaho was about 38 miles down the river, nearly twice the distance. Jim had no choice but to turn 50 feet of running gear around.
Time was of the essence.
There was a Department of Transportation gravel pit just a mile or so distant. Jim found room to swing around there and punched it for Challis.
But then, amidst the moans of the dead returning back to life in the seat next to him, Jim's now adrenalin-razor sharp consciousness reeled with another observation. There, just 200 yards or so upriver from the wet spot that marked where our frozen friend lay on the white line, out in what he knew to be the black of the river void, he saw a light.
It was unmistakable. It wasn't a reflection from his own running lights. It was a dimly brown and mysterious light in a place where in the map of Jim's mind, no light should ever be.
"And I hit the brakes again—especially when I figured out what it had to be. I grabbed my light and bailed out of the truck and ran to the riverbank." Jim could hear the steady and breathy growl of the slush in river ice that coated the surface of the Salmon. The water was moving but would easily be below freezing with these air temperatures. Fog rose off the fluid of the dark waters, and the cone-shaped beam of Jim's flashlight darted back and forth, illuminating the other shore, and then, a foreign object. "I shone my light out across the water, and saw the guy's pickup. I craned my eyes and my stance to see in that door to figure if there was anyone else in there." He looked at me, again, eyes flashing as he recalled the intensity of the moment. He brought me there with him in mind.
"No-one. The pickup was empty. The dome light was on 'cause the door was open."
I guess the guy forgot to close his door.
Jim continued: "I could see now what he'd done. His footprints were in the frozen slush of the truck's hood, but he was too far out to make the bank. He probably tried to jump and make the rocks on shore, but instead, he fell short, and was swept away downriver in the dark."
He was sucked in by the unrelenting flow of slush—and the current of black frigid waters. The truck was only in 3 feet of water, but I'd been horseback and walking across the river often and found how that works out. When the water depth exceeds just 2 feet with the velocity the wild Salmon runs at, even my 212-pound form has trouble finding purchase on the slippery rocks of the river bottom. I've fallen. And with the slush, I knew I could never get up.
Fact is, you're going down when walking that waist deep water. It's not if, but when.
Thank God our wet wayfaring stranger found shore in just 200 yards. If he hadn't, well, the Pacific is 900 miles downstream, and it wouldn't take too many days to get there. At shore, he crawled up, 10 or 20 more feet over the cliffs and jagged rocks that comprised the volcanic bluffs of the shoreline. To the road. And had the presence of mind to stop on the white line. Had he stopped in the brush before, he'd have been dead. Not found, until it was too late, the next day, when someone spotted the pickup in daylight.
Jim: "I ran up and down that bank for a minute or two, yelling. I was plumb freaked out that his partner, if he had one, was somewhere else along the river. I beamed my light over all that shoreline and brush as best I could, but I knew I needed to get my guy some help, quick, otherwise I might lose him."
Jim climbed back in the truck and yelled over to his cocooned companion. "Didya have someone else in the truck with you? Were you alone?"
There were attempts at responses from the frozen form on the other side of the truck, but nothing intelligible. Jarnigan pressed him a little harder. Unreadable moans. And so, with left foot, he pressed down the clutch, grabbed a gear and made for Challis.
In just 10 miles, he hit cell service and called up the Custer County Sheriff, as he crossed the mouth of the Pahsimeroi—our own valley, where Alderspring's headquarters lie. With a deputy on the line, Jim planned a rendezvous at the Challis Health Clinic (no hospital or doctors offices in Challis), just another 18 miles distant.
After dropping his charge off in Challis, Jim hit the road for Salmon. After all, there were packages to deliver the next day. Packages with the Amazon happily curving arrow on them. White return boxes that would go to Alderspring's fulfillment building. The commonality of life and living would go on despite the deeds of one driver who offered heroic.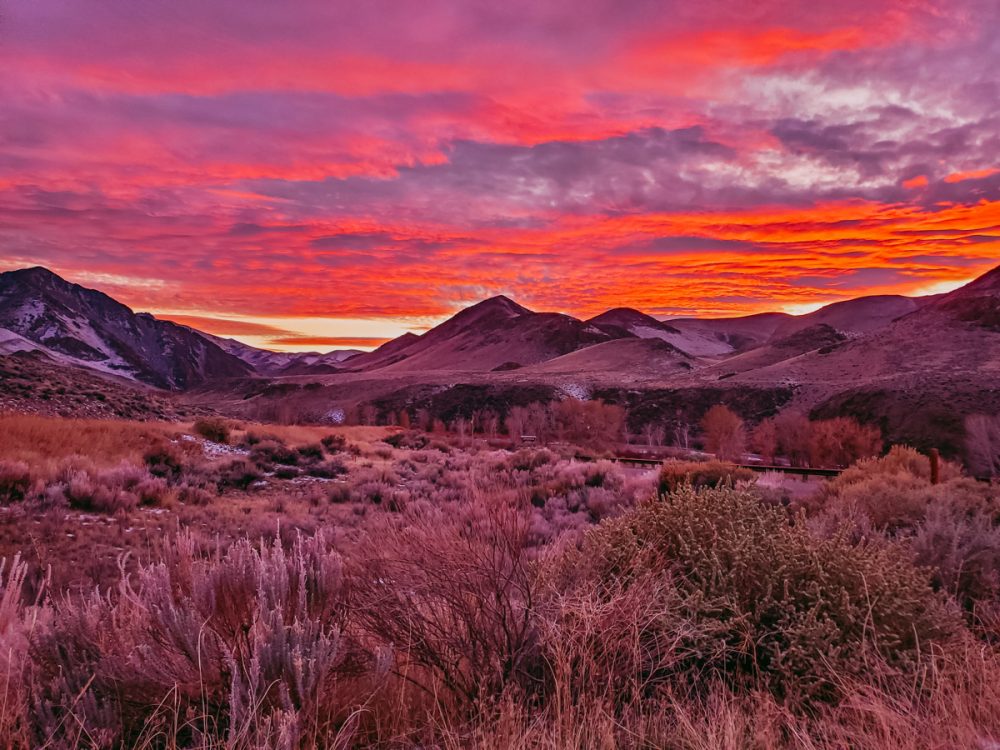 Jim drove down, down the unrelenting curves on the river road. And slowly worked out of adrenalin power rush. And when Jim finally rolled into Salmon, exhausted, 2 hours after he "scooped" a person off pavement, he finally passed the first car of the night. No one drove the river road at night, and white face would not have risen to meet another headlight had Jim simply passed a plastic trash bag. There wouldn't have been another driver for probably an hour or so.
Instead, by morning, that face would have been white, dusted with frost—and death. Perhaps the Linger beverage truck coming from Salmon carrying Challis' daily share of Coke and Pepsi would have found him in the first light of the crack of dawn.
A dark motionless shape, covered with the rime of river fog. Now frozen hard to the long white line.
The local State Trooper called Jim the next day. "The kid's gonna be OK," he said. He asked Jim for the details of the night before as he was finishing the details out in an incident report. He filled Jim in on some story about the "kid." The young Montana man, around 24 years old, was working the night calving stint up the Pahsimeroi on a remote ranch for most of the week, and was on a break, and headed home, back to work and the ranch, late-night out of Challis.
And then he missed the turn up our Pahsimeroi Valley and headed down the river canyon instead. And in his fatigue, confusion, or perhaps lost reasoning induced by "antifreeze" as Jim Jarnigan called it, he missed one of the hairpin curves in the black of the river road.
Trooper continued on the phone with Jim. "You know, I don't think the kid's got any clue just how lucky he was that you happened along. Thanks for stopping."
And now, the "Kid" is back on deck, working the night calving shift, in the high Pahsimeroi.
He probably won't fully recall that night or likely wouldn't even be able to learn from it. But we will. As will Jim Jarnigan. We'll remember that the river, though lovely, wild and free, takes no prisoners.
I tell my kids these stories, and they respect the river road, and the empty cold country we live in. They drive slowly and carry sleeping bags and extra clothes in their cars in case they have car trouble.
Or in case someone else does. On the Salmon river road, in the remote, trackless wilds of Idaho, there might not be another car for hours.
Happy Trails. And thanks, Jim.