Bird Meets Bulldozer
Madelyn, my blonde haired and a little-wild-animal-blooded 14-year old was waiting for me, smiling as I pulled up to the house for lunch. She eagerly came up to my rolled down window, as the warm spring air tousled her hair over her face.
She had news: "The killdeer are back, Dad." Her easy smile told the tale that spring was truly on the way. This one and her sister, Annie, more than any others of my daughters, felt the pulse, the wellness of the wild lands that surrounded them through a keen eye for bird life. Just yesterday Maddy spotted a rare bevy of trumpeter swans flying over the ranch (they would become a "bank" of swans when they landed). They, too were beginning a long journey; they were bound for a nesting ground thousands of miles north in the high Arctic. In the drizzly rain of last night, I could hear snow geese far overhead in the black, heading north to share the tundra with those swans.
But although many killdeer would continue to the far north, a small group of them would stop here.
Maddy was right; it was beginning. Over the next few days, I would hear their peenting cries overhead as they eagerly recolonized the ranch. "Kill-deer," they called, in a high pitched squeaking voice. We still had big splotches of snow over the brown meadows; the mountains were caked with fresh snow. But our valley, called a "hole" by the trappers and mountain men, was a shelter from the abundant moisture that was giving the higher elevations a dressing down.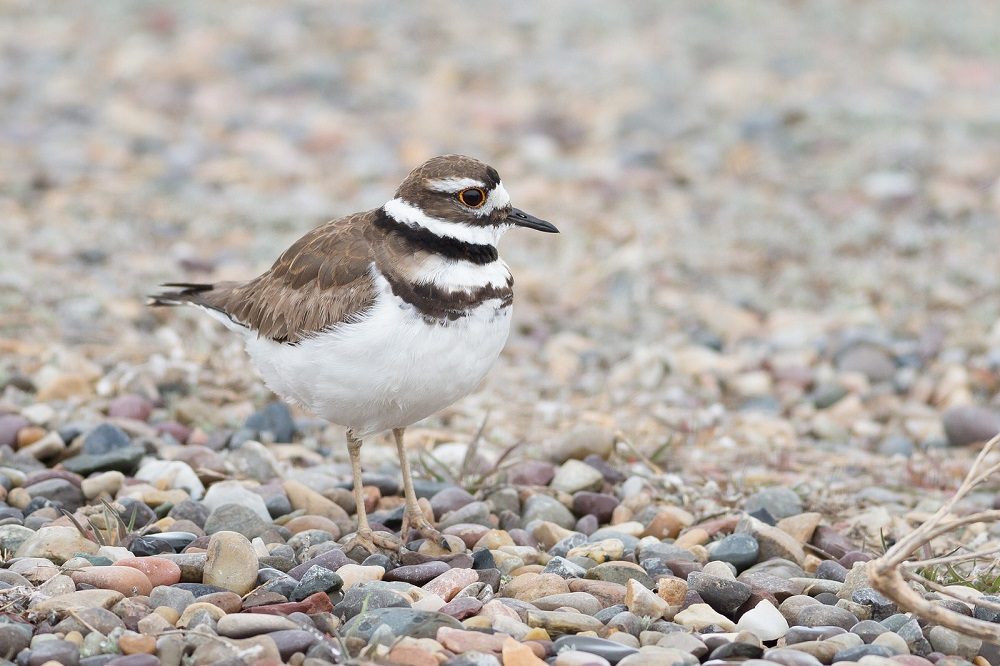 I don't know how they got here, but the little birds had found their way over 11,000 foot peaks and hundreds of miles of snow and ice. They had been here before; most likely all of them had been raised in this very place, this Pahsimeroi Valley. They were the true snowbirds—they had returned from winter on the Mexican or Central American Riviera, most likely, working shorelines, beaches and brackish waters as many other coastal birds had.
They were plovers after all—and despite their size, one of the larger ones. Plovers are most often at home in the breakwaters of oceans and bays, picking their culinary delights from the sand and adjacent wet meadows. Their diet of small aquatic animals and terrestrial insects prepared them for the difficult journey home.
Despite their penchant for habitats of short grass adjacent to waters, they often choose dry gravels for their nests. There is little to no sticks, or grasses, making a cozy or comfortable bed for mother or hatchling. Mother killdeer simply moves a few rocks or sticks around, and drops a tiny clutch of spotted eggs among the rocks. Killdeer have long practiced gender equality; males and females share incubating and nest protection duties. They are perfectly adept at temperature regulation. Eggs in hot sun can literally boil. The birds use their outstretched wings in that case to provide shade and cooling. In cold, they'll simply sit on the eggs, cloaking the eggs in feathery down to ensure proper temperature regulation.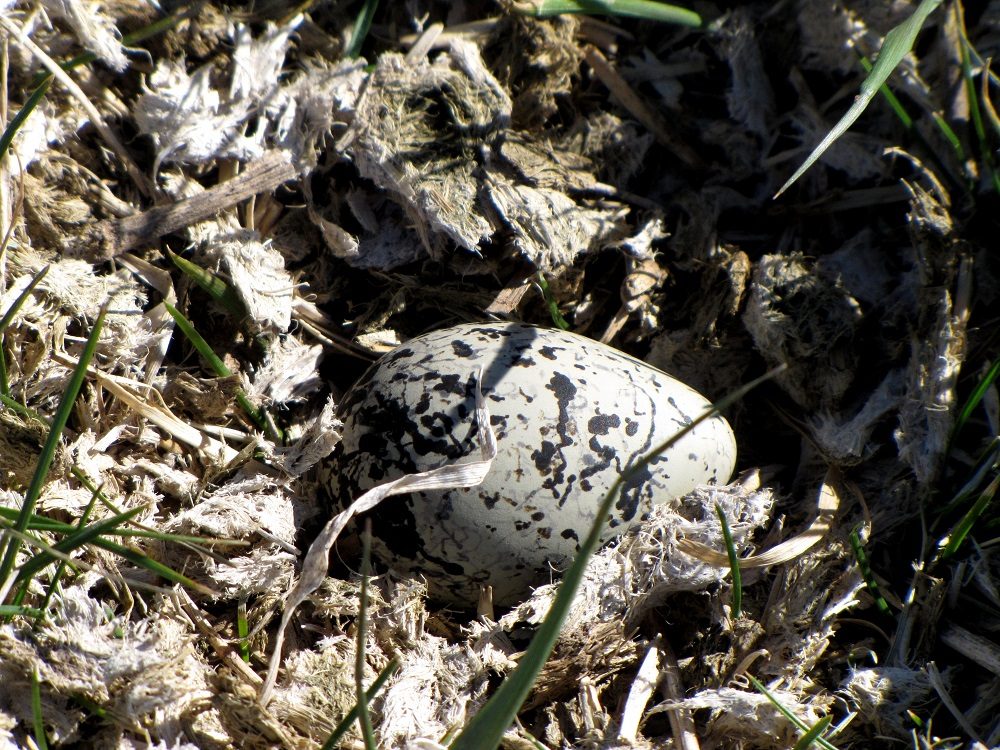 Just how they measure temperatures on the egg surface is anyone's guess.
By my own experience (and the girls'), nests are extremely difficult to spot, despite them often holding 5 eggs. Only by observing a sitting parent at a distance can you then check out their nest.
That is, if you don't fall victim to one of their crafty distraction routines.
The first is the broken wing routine. The plover will flit 10 or 20 feet away off of their nest, and instantly awkwardly carry a wing as if gravely injured, calling out fear and distress. It's a ruse that many predators fall for; she is an easy mark, they think, but the agile flyer expertly stays just ahead of coyote or fox, continuing the ruse, drawing them away from a camouflaged clutch of eggs in the nearby rocks.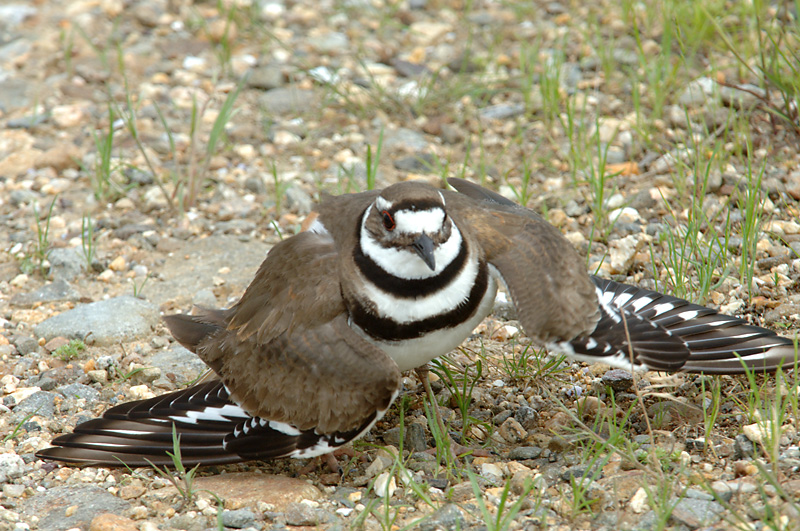 The second is called the "ungulate display." Here the parent exposes his or her rump, raising tail feathers, spreads wings wide, doubling their apparent size, lowers head like a bull elk, and charges at the intruder. Sadly, this ruse can occasionally backfire, resulting in a killdeer sandwich for the surprised but quite happy fox.
We've had to put markers out on our own gravel driveway when we discovered killdeer nests on it. We'll drive around them for the 3-4 weeks it takes for hatching. In only a day, baby killdeer are fully mobile, and gone. They look like striped cotton balls on toothpicks, and are extremely fast at diving into thick vegetation as parent attempts a ruse.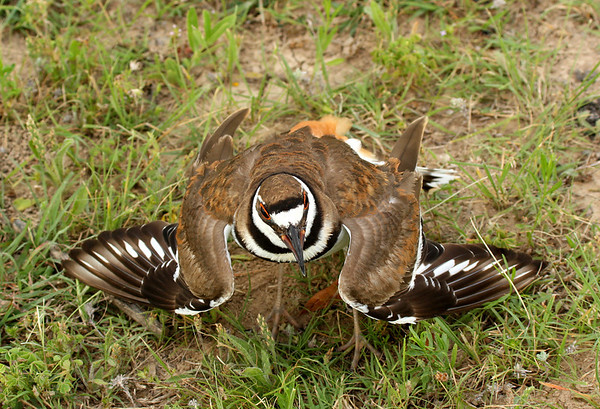 The yard at the forestry and range office at the Bureau of Land Management (BLM) in Salmon, Idaho was always busy. The fleet of dirt-encrusted 4 wheel drive pickups needed to access the 1.3 million acres of wide open desert and timber lands numbered 20 or so; then, there was the heavy equipment that included Caterpillar bulldozers, excavators and semi-trucks needed to maintain the thousands of miles of dirt roads that crisscrossed the district. There was even a helicopter and a landing pad for firefighting and reconnaissance.
The yard was always busy, and the big wheels of all of the above would rumble through the yard from daylight to dusk. They were driven by many rough and tough looking operators. There were former oilfield roughnecks, loggers, buckaroos and construction workers. Range personnel and my own timber crew weren't exactly foofoo snowflakes either.
And we all just started our big rigs, whether semi-truck, pickup or tracked bulldozer, and rattled off through the graveled yard to go about our business. Rigs rumbled through the yard briskly, raising dust high up in the air. We had work to do, after all. Don't stop us now; we're busy. We were men and women on a mission.
Until one weekend, the killdeer came. All was quiet on a Saturday. The BLM simply shut down; gates were locked and offices closed. The road builders, fence builders and timber cruisers were all off at home, mowing lawns, floating the river, fishing or just drinking a cold one on this early summer Saturday.
Flying over the 8 foot chain link fence from the adjacent wetland, the pair of killdeer landed and scoped out the quiet yard. The gravel of the big open area seemed perfect. It was a lovely, set aside place to put a nest. There was plenty of sight distance that would alert them of predators before they drew close. There was plenty of strutting ground for the broken wing display, or the last resort of ungulate charge they might need.
And so, after just a slight preparation in a tire track depression in the granitic gravels, the tiny hen commenced to lay her clutch, and offloaded her burden. By early Monday morning, 2 speckled eggs lay in the early light of the sun as it came over the Bitterroot mountains. In just another month, they would hatch, and another generation would commence.
If the knobby tread of a BF Goodrich 10 ply steel belted radial didn't snuff their lives out.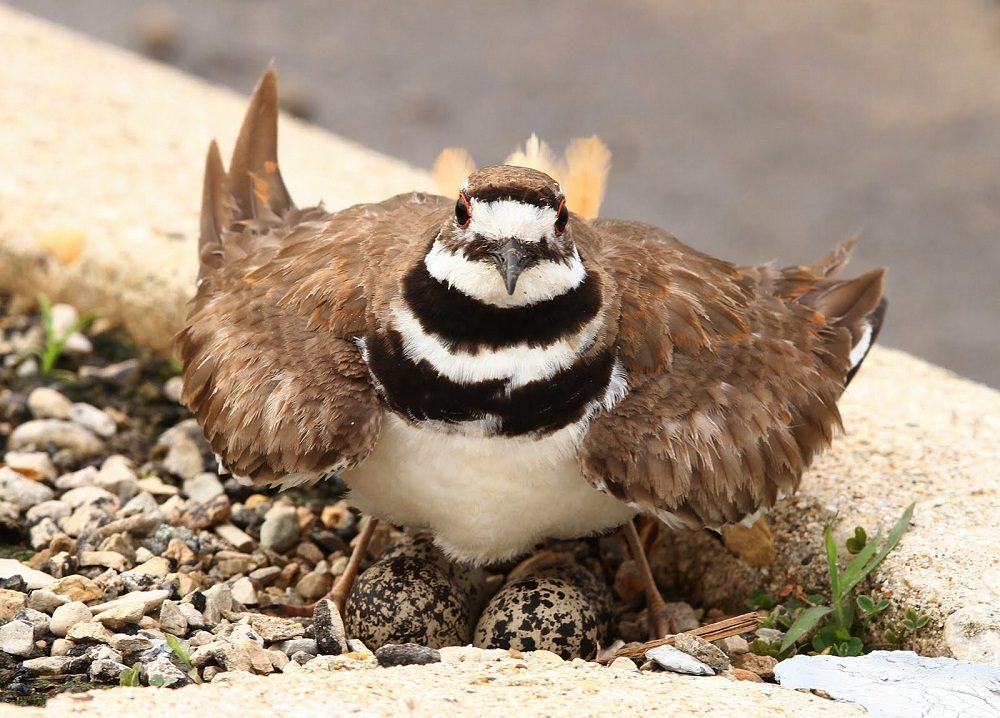 Helen Ulmschneider was a rarity for a BLM worker. She found her way West from Ohio, immediately after college, and brought with her a great interest in the preservation of the natural world rather than the extraction and expenditure of it. After experiencing a total immersion in the world of the Rocky Mountains through years of solitude occupying fire lookouts atop wilderness peaks in the West, she came down to earth in an ecologist position in the Salmon Office of the BLM. She, Caryl, and I were friends.
As with her life as a lookout, her position offered another form of solitude. Often, she alone was a voice against the ram-and-jam process of extractive usage of public lands common in the 80s. The animals and plants found an unwavering voice in her—a voice for habitat, and the restoration of it. Hers was a voice that tempered the roll of unmanaged mining, logging and livestock grazing. Of unbridled oil-and-gas exploration, and simply the practice of unsustainable practice.
And it wasn't only the resources of timber, minerals, and grass that she voiced sustainability for; it was for those unmeasurable assets of beauty, wildlife, and animals.
Helen especially loved birds. Birds filled her mind and imaginings. She would head out at 3 am on many spring morning to far-flung creek bottoms to document the myriad species of migratory warblers nesting there (I could never keep track of their many subtle differences).
It came as quite a surprise when she immediately took the podium at the Monday morning safety meeting.
Safety meetings in the Bureau were hateful. Irrelevant, boring, and the coffee was vicious gut rot from the percolating unwashed and coffee-tar stained "urn" in the hallway.
Today's presentation was to be on how we were to respond if we found illegal marijuana growers with clandestine operations on public land. This was a problem in places like warm and sunny California, including booby traps or other potentially dangerous-to-personnel issues. But we had just had snow the week before and our 90 day frost free season and cold summer nights made successfully growing Cannibus an unlikely scenario. It promised to be another boring and pointless required presentation.
As the entire field office staff of 75 employees took their seats, surprisingly, Helen took the center stage, before our visiting narcotics expert could.
As the coffee bearing crowd continued their murmuring, Helen began to speak. I heard some random snide commenting from the Copenhagen spitting-in-their-now-empty-coffee-cups peanut gallery along the back wall. To them, Helen was a Tree Hugger. A Greenpeacer. Sierra Club Spy. She was the obstructionist nature girl who stood in the way of progress.
"Hey, could I have everyone's attention?" Helen waited patiently for the kibitzing to subside, but it didn't quite stop. There was still the hangers-on talking trash in the back.
This was going to be good, I thought. I had never seen Helen stand up and control a meeting like this. She was more often the silent commentator on an environmental document in writing, holding the project manager's feet to the fire, making them think about implications of their earthmoving scheme to bird or frog habitat.
She waited for a minute, and then spoke loudly over the remaining din. "So there's a pair of killdeer nesting out in the motor pool yard." The din stopped. It was quiet enough that you could hear one of the guys along the back wall drop his chewing tobacco with a little thunk in his dirty Styrofoam coffee cup.
"I spotted them right away this morning." She pointed out the window of the conference room to the equipment yard. "It took me awhile, but I found their nest." She then went into detail about how camouflaged the eggs are in the gravel, and how you can find the eggs if you watch the birds from a distance. It was killdeer avian ecology, 101.
She told us about the broken wing display, and how long the eggs had to set there. And that they needed to be left alone and undisturbed—even ignored for 22-25 days. And that she (the hen killdeer) might have more eggs to lay.
And she had their rapt attention.
"I put flagging on the ground around the nest. You'll see it out there. It's orange." Then she stopped for a second, and looked the group over.
"And I'm going to ask you to drive around that nest with your trucks and equipment, and keep clear of them so they don't lose heart and abandon their nest. And slow down. It is important that both parents live for the success of their babies."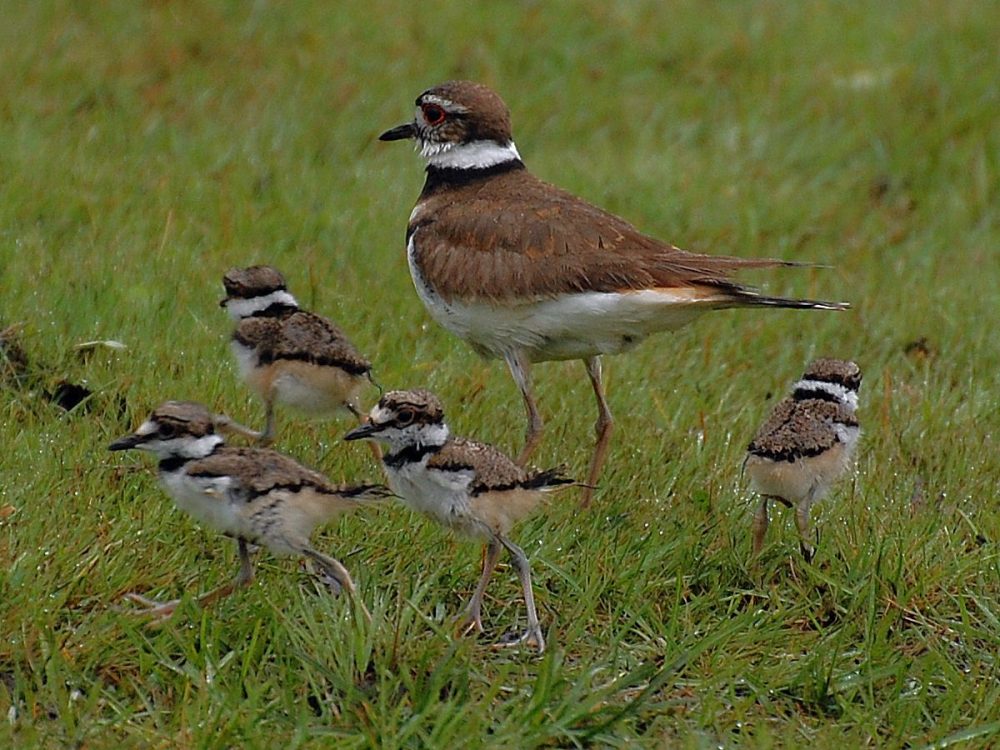 Silence continued to prevail in the room.
"Thank you. That's all I had."
So over the next four weeks, I saw truck drivers, cat operators and former loggers, oil roughnecks and buckaroos swing wide and slow around not one but two egg clutches discovered in the yard that year. And killdeer parents remained, first nervously pacing, but then staying on those eggs in the cool morning, and shading them in the sun, tempering them perfectly according to the unknown thermometer they measured egg temperature with, keeping it in that several degree range optimum for gestation.
And I knew they did it quite perfectly, because, as Helen had predicted, in 25 days, 8 baby killdeer striped cottonballs could be seen scooting across the yard, quite adeptly, following their parents into the adjacent cover of Baltic rush in the alkali wet meadows that formed the periphery of the chain-linked yard.
And there, they thrived until our high elevation short growing season ended, and the last call of killdeer was heard in our country. Snowbirds they became, as fall became winter.
And they became a distant memory.
Helen also would leave us in just a few more short years. My bird-loving daughters never got to meet her. Caryl and I miss her as a friend who we shared our love of the natural world and music with. She contracted an inoperable cancer, and faded away quickly, and like the killdeer, was suddenly gone.
But we won't forget those lessons, and the memories of them that the killdeer brings.
I can hear them now outside of my office window, their call a prelude.
Spring is creeping in. Soon, she will throw the door wide open.
Happy Trails.
Glenn, Caryl, girls and cowhands from Alderspring.
For 26 years, handcrafting unparalleled flavor and wellness while regenerating wild landscapes. Wild Wellness Delivered.