It's coming to dusk, and the two parallel halos of headlight illuminate the beginnings of a snow flurry lilting to the pavement as we pass through the hamlet of Elk Bend, Idaho. It's Caryl and I, and we're taking it slow on the 200-plus curves of US Highway 93, as it wends its way upward and onward to the high country of Idaho.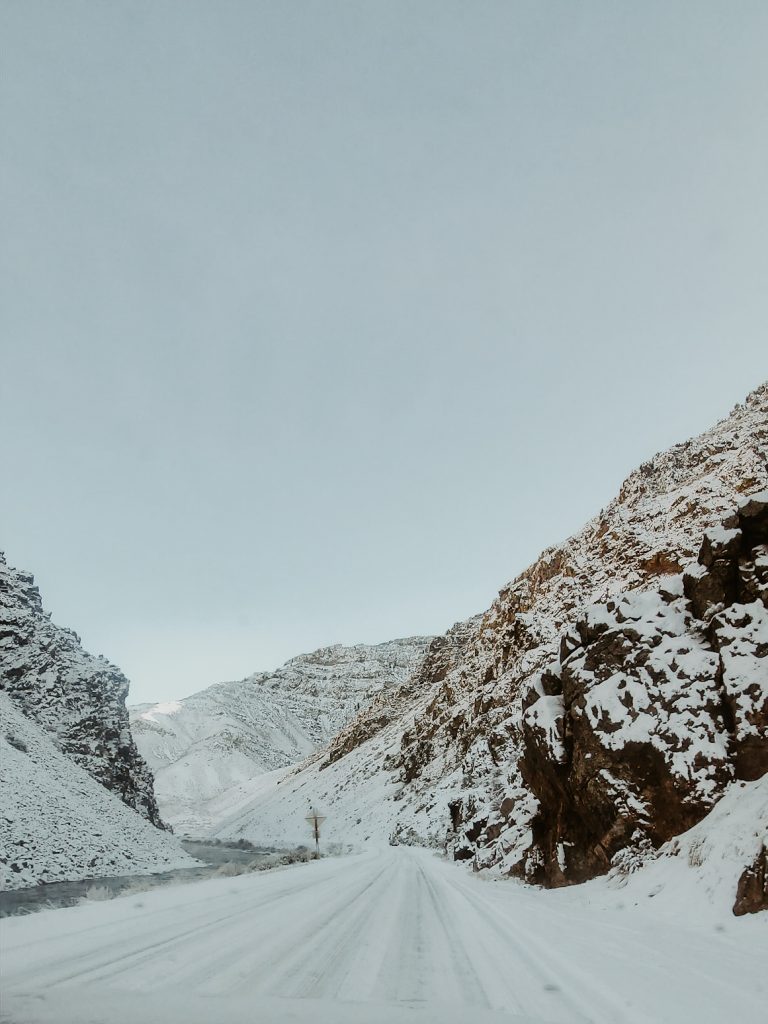 The mountain west is a land where rivers define journeys. This road follows the curve and meander of the Salmon River. Deeply incised in the third deepest canyon of North America, it's one of the few still-running wild un-dammed rivers in the expanse of the Rocky Mountain West.
The shrouded ramparts of 10,000 ft mountain peaks reach to lofty heights over 7000 feet above our travel-way along the river. Most of the canyon is a lonely trip, surrounded by virtually untrammeled wild country devoid of humanity. But Elk Bend is a respite for the loneliness. Here, an enterprising potato farmer found better cash return than any lowly spud could create; he sold several rocky fields to land speculators that marketed the very attributes of Idaho wilderness that I just described. Tiny lots were carved along the banks of the Salmon River in the 1970s, and many of them promptly sold sight unseen to Los Angelinos yearning for the place free from freeways.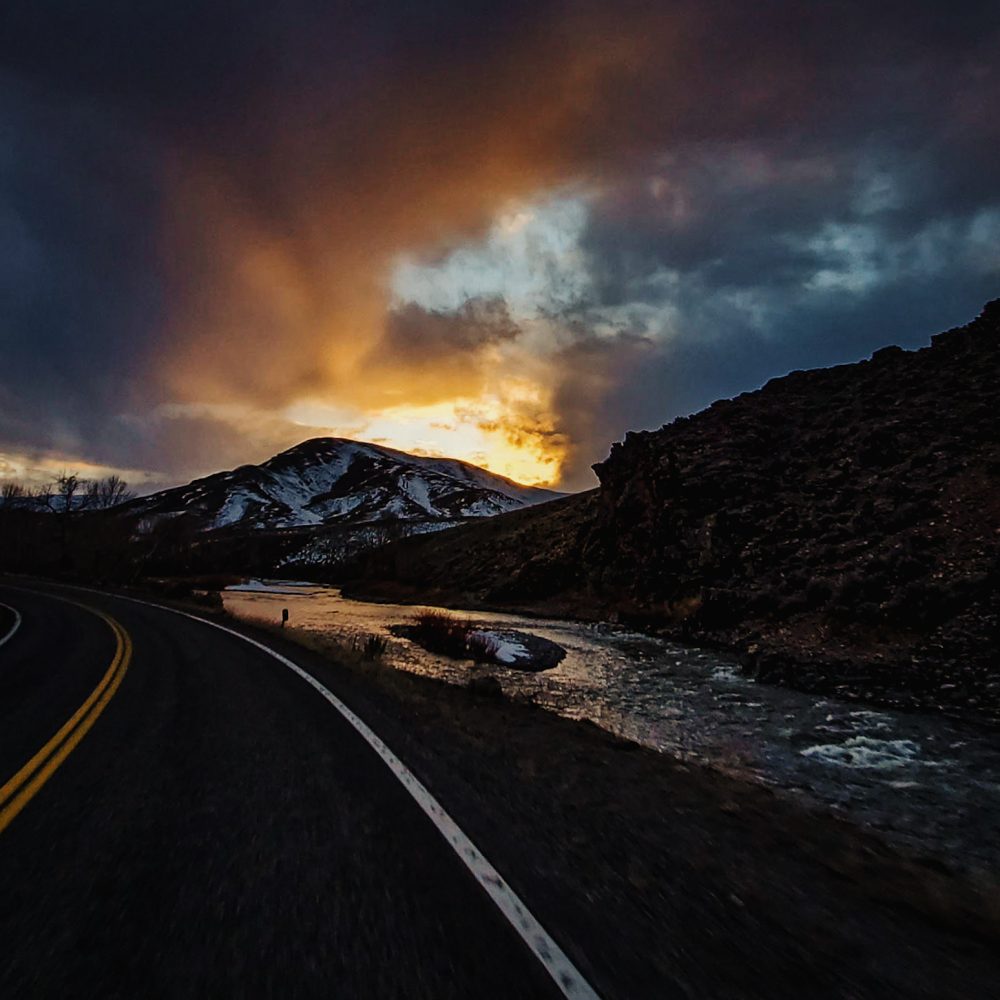 Now, Elk bend is a community all to itself, with its own volunteer fire department (the Quick Response Unit) whose engines are cast-offs from distant city departments. And there's a bar and café, the Dusty Mule, where many a traveler will find a satisfying burger and fries, wash it down with a draft, and perhaps enjoy some live music from a local legend.
But tonight, with 30 more miles to go to home, Caryl and I don't stop. We pass house and cabin lights punctuating the darkness as we work the Elk Bend curves. Christmas lights show the boundaries of fences and the outline of spruce trees; they multiply with shimmering reflections in the impatient and always rushing waters of the river.
Occasionally, we get a vignette into someone's home through their broad thermo-pane windows that during the day yield a wonderful view of the Salmon River from inside. As I negotiate the curves with a light foot to the pedal cautious of ice, I spot an occasional lit and decorated Christmas tree through the big windows. My forester mind kicks in gear, and despite the distance across the river, I easily identify the species.
Most of them are Douglas-fir. I can tell by the lift and spread of the branches and the more rounded appearance overall. Occasionally, I'll spot a subalpine fir or Engelmann spruce (more right-angled and layered branches and a more perfect and even pyramidical taper culminating in a sharp pencil-like point).
The majority of the trees we spot through windows in our travels through rural Idaho are real wild trees, harvested by this family or that from the hills and mountains around our valleys. It's a ceremony all its own for mountain folk. Families and friends head out together with 4 wheel drive up into the mountains to hunt for the perfect tree.
It's a rare occurrence that I spot a lodgepole pine in one of those windows, but there, on this night, I see one. They're very distinctive and quite unusual. Longer needles, open branches, and sparser than their short-needled spruce and fir cousins, they are usually not prime Christmas tree material. Even larger well-grown lodgepoles are strongly reminiscent of Charlie Brown's selection.
But there's another reason they seldom find their way to living rooms: it's because they are inhabitants of higher altitudes—usually inaccessible at this time of year, due to deep snow.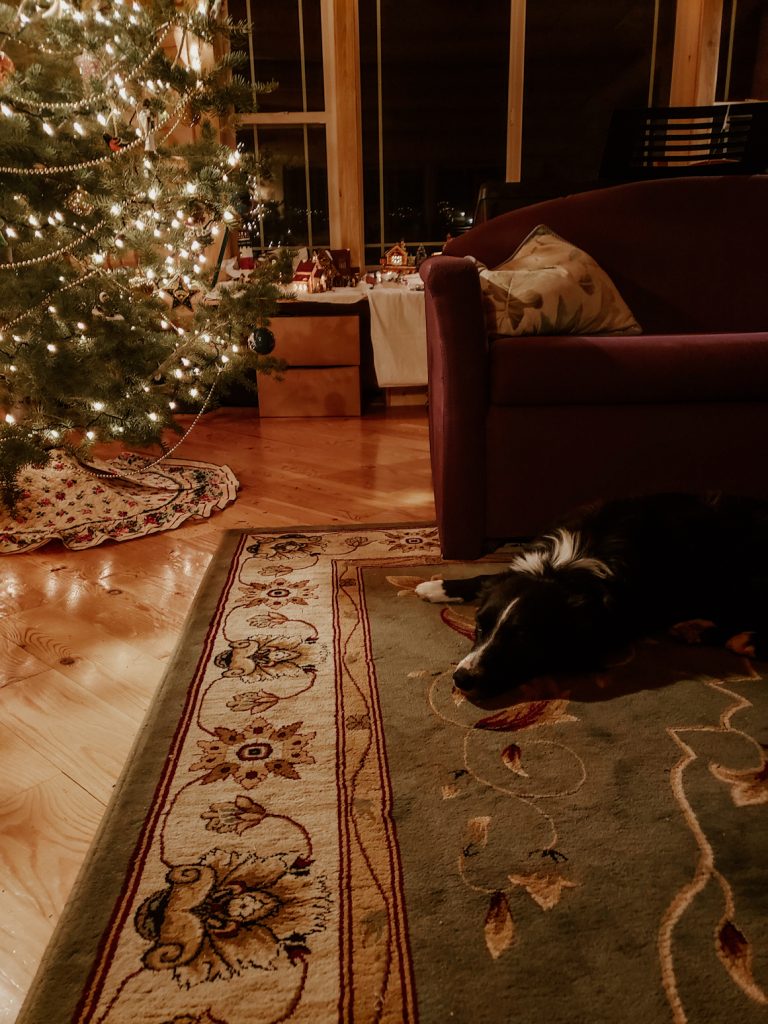 I glance back and forth from the fading yellow lines in the middle of the highway and the passing tree in the window. Yep. It's a lodgepole. In Elk Bend, Idaho.
And now, I remember, and am traveling in time.
Oddly, the first thing I recall is the scents.
They are the smells of decay. In sight, the forests are a kaleidoscope of auburns and burnt umber, of magentas and fading amarillos. It's late fall in the year 1990. Snow is dusting the peaks, and the aspens are on fire with the golden yellow of autumn foliage. Bull elk bugle in the high country, gathering their harems, and flocks of snow geese fly high above, heading south from their arctic tundra summer haunts.
I'm watching my crew partner, John Lewis, take aim through the riflescope as I had hundreds of times over the past few days. Crack! The rifle report echoes across the upper reaches of the Ringle Creek valley, and before the report ends, John's quarry falls from the sky with a soft thump on the pine forest floor. I shoulder my own rifle to run over to look at his success: it's a clean shot, right through the heart.
Of the branch.
It's a pine branch John shot, intentionally pruned by rifle bullet from the lodgepole pine, Pinus contorta. The straight arrow tree is king at this elevation, and after carefully scoping out our quarry with binoculars, we chose this particular branch to lop off with our 22 caliber rifles. It was about 65 feet off the ground, and from our place on the forest floor it sure looked good for the pickings; it was well endowed with robust-looking pine cones, and they looked as if they hadn't opened yet.
And that was only half the story. Our selection leaned toward the trees with serotiny, a word that describes the characteristic of sap-sealed cones that only would open and yield the deeply embedded seeds when super-heated by hot sunshine…or forest fire. Indeed, serotiny is considered to be nature's way of ensuring that abundant seeds will be available for reforestation in the event of wildfire. The closed cones are essentially time capsules for fire events. (in fact, here's a cool video someone made of how a serotinous cone opens under heat).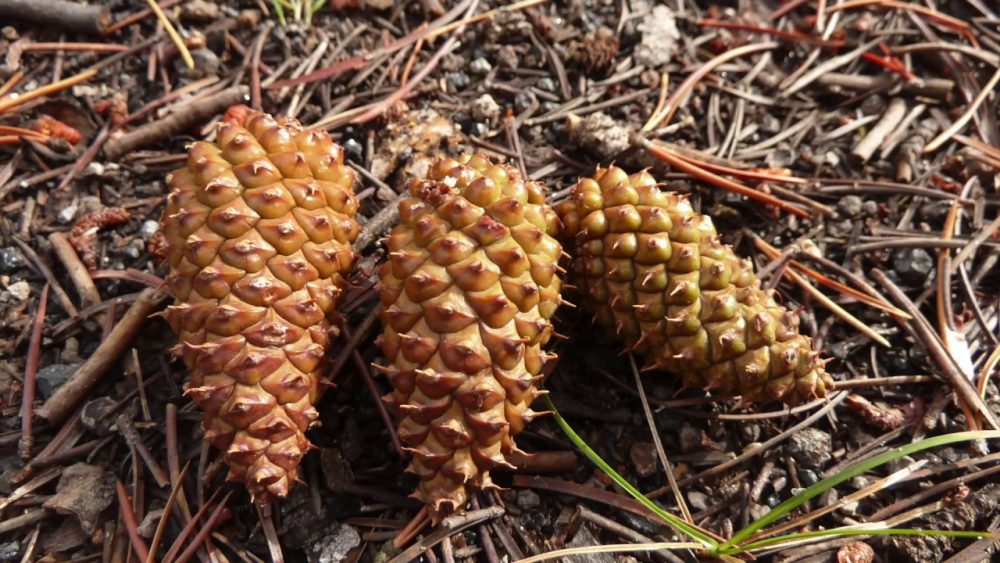 But we foresters had different designs on those closed cones.
I plucked a few sample cones off the abundantly coned branch (abundance was one of the selection factors for blasting this particular sample off the tree canopy) and placed one of them in the cone cutter. This cylindrical device with a razor-sharp hinged knifing mechanism allows foresters to slice a cone perfectly in half, thus enabling John and me to peruse the seeded interior. Two things needed to be ascertained from the inner sanctum of cone flesh: first, we needed to ensure that this particular tree genetic had good seed yield. The number of individual seed faces the razor knife exposed told us this (5 cut faces or better was adequate, and indicated around 40 or more seeds per cone). Second, the interior color of the sliced seeds would tell us viability.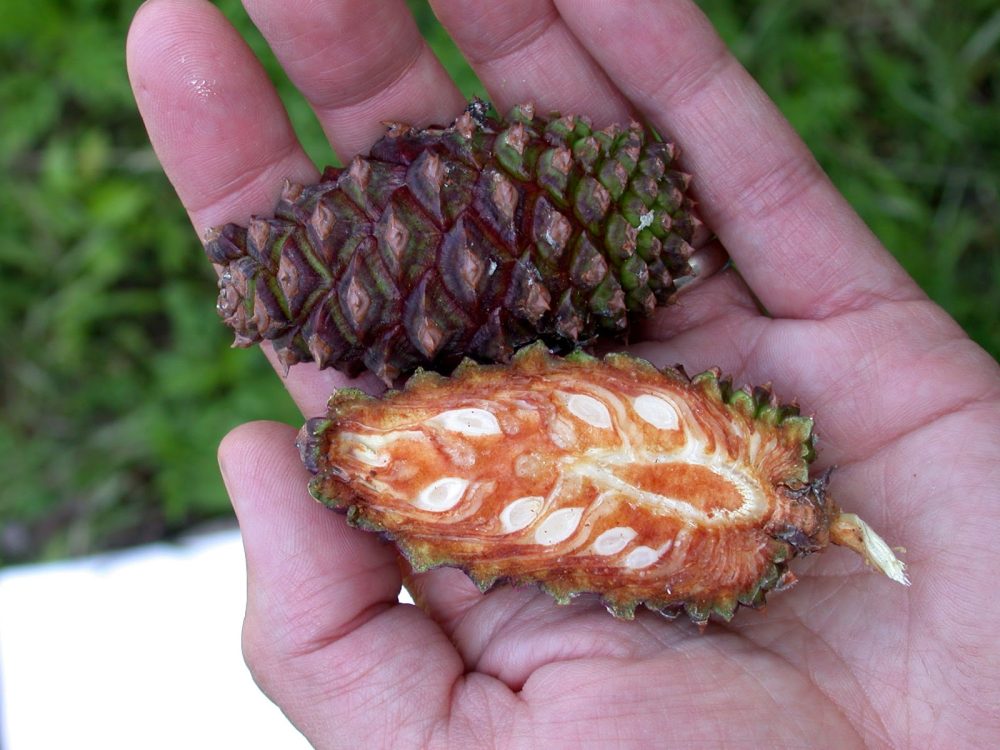 Serotinous cones can hang on a branch for decades. Too long, out there in the wind, rain, snow, and sun, and seeds would die, encased in a sarcophagus of sealed scales. The cone cut face test would yield the story of life: seeds with a healthy endosperm (the food part of the seed for the embryo to live on) would be a rich, creamy color. Dead ones would be dried, cracked and gray, or even absent.
Only a hollow shell would remain where hope of future forest once was.
This slice was excellent: 7 faces bisected, and supple almond-colored cream flesh. Delectable.
"This one is perfect. Want to capture data, John?" I tossed him the tatum, forestry fancy word for a clipboard complete with a data sheet for our cone harvesting protocol.
"Sure. Good to go."
I then pulled out diameter tape and read it off. "10.6 inches." Plugging my loggers' tape in the soft bark, I trotted out through the forest, attempting to keep level. When 50 feet out, I pulled out my clinometer from my cruiser vest (like a fly fishing vest). With similar triangles precalculated into the angle gauge calibrated balancing wheel in the eyepiece, I could directly read off the total tree height: "66.5 feet."
"That's a beauty!" John exclaimed. For lodgepole pine, indeed it was. It's certainly not the fastest-growing or tallest tree in the forest.
As I was taking the tree measurements and rating the tree for health and vigor (basically the photosynthetic capacity through foliage density), John pulled an increment borer from his vest and took a sample from the bole of the tree to the center. Extracting a quarter-inch core sample, he then counted rings to center.
"Eighty-five with a slow down at 55," he stated.
"Looks like canopy closed due to inter-tree competition," I commented. Growth rate was great until the other trees started competing for sunlight, water, and soil. But on its own, the tree was a superb specimen. We decided to harvest cones.
This all fell in a very specific area of forestry known as silviculture—literally translated "tree-growing." Silviculture is the art and science of growing trees in natural environments. It encompasses not only the mechanics of growing trees but also the ecological relationships with all aspects of their environment.
We would map and flag this tree for later. In a week or two, I would bring my cone collection team to harvest all of the cones on that tree, by falling it to the ground. It would give up its life to provide seeds for a future forest. It would yield several bushels of the tiny cones, each bushel tagged with a specific location and tree data code to identify the characteristics of that seed type.
Snow fell that year in just two more weeks and halted any more seed collection efforts, but we had enough. Our seed bank was almost exhausted from growing some 20,000 trees in contracted nurseries every year for the past several, and after this productive collection fall, we would be able to continue growing and planting highly adapted trees native to our exact location and environment.
December came, and our cone harvest was curated, sacked and lot-number tagged for seed extraction and storage at our Forest Service partner nursery, in Boise, Idaho.
We arrived at Lucky Peak Forest Nursery in the Boise Foothills on December 10. It was Chris, John, and I, and we had an entire truck full of burlap bushel bags stuffed with lodgepole pine cones. As we pulled in, James, the nursery manager met us.
He'd been waiting for us. His perfectly pressed and pleated Forest Service official uniform was spotless, and it was matched with green pants and standard-issue black packer boots. He was regionally known for being, shall we say, particularly precise. He reached out his hand, and I grabbed it, and then made introductions. "James, this is Chris and John. They've been with me all the way through our seed acquisition this year, and I wanted them to meet you and tour the nursery—just to connect all the dots in the whole process from seed to seedling."
"Great to meet you all. Let's first unload your collections, and we'll see what we got. We'll do some seed viability tests, and make sure your cones are up to our specifications." He looked at us each squarely in the eye. "We have rejected cones, you know. Not all of those who bring cones in meet our very stringent standards. We're not going to put substandard seed through our extensive curation process. It's a waste of our time…and money."
Chris and John exchanged nervous glances. Together, they turned to me. I smiled back at them nervously. James spun around on his heel and came back in a few minutes with a forklift bearing an empty pallet. Following his very specific directions, we managed to get all of our precious cone bags lined out on the sterile and very clean concrete floor of the warehouse.
Now came the inspection. Thankfully, we had fair warning from our forestry and silviculture colleagues back at the Salmon, 4 hours to the north. They warned us: "Make sure your bags are pristine, and that you have an exact bushel measured in the bag (they let us borrow a special aluminum calibrated bushel basket). And you must have a collection tag with all 15 blocks of data filled out both in and outside the bag, perfectly legible and tied with wire ties. That James guy down there can be tough."
Those words echoed through my head. It was basically a month of work for my entire crew on the line. This pressed and creased uniform guy could ruin us. We wouldn't have tree seed for next year, and we had a lot of tree planting we were hoping to get in the pipeline. Chris and John knew, as I did, that there was nowhere else to go. We'd probably have to dump the cones in the landfill if James rejected them.
It's why we tried to make everything about our presentation perfect.
Chris and John just stood woodenly as James opened the first bags, and inspected tags. He then produced his own shiny perfectly calibrated aluminum bushel measure and poured each bag's contents in.
And then, he began to sample cones with his own perfectly sharpened spotless cone knife. He silently wrote notes on a tatum as he inspected each and every bag (there were 19). James had very little to say as he recorded data, and his face was featureless.
As he finished up the last bag, he turned to me. "Did you bring the corresponding paperwork? The cone collection forms?"
"Yes. I have them in my briefcase. In the truck." I gave Chris the nod, and he retrieved them. And so, James pulled out the first of 19 at the warehouse counter, leaned over the surface and with a pen in hand, went through each line and systematically and deliberately compared them with the corresponding bag tag.
And then his hand stopped. Without eyes leaving the paper, he said, "the Collection Supervisor line is blank. I would put your name in there, but the Silviculturist blank has your name on it." James turned toward me, as he slowly stood up straight from the warehouse counter while looking over his reading glasses. "That's redundancy. We look for a system of checks and balances in our protocol, and you failed to represent that."
We had a much smaller forest program than many of the larger and well-funded Forest Service offices. Many of them had highly stratified teams of 20 or 30 people in only Silviculture. A given office likely had over 120 in Forestry. In contrast, we wore every forestry hat. We wrote silvicultural prescriptions, planted, did prescribed wildlife burns, logged, thinned, fought fire, implemented watershed improvement—the works. I had 5 permanent staff on my entire forestry team.
We had no such person as a "Collection Supervisor." It was just us. And so, I left that blank. We were dead in the water.
He took his reading glasses off and looked me right in the eye, and briefly glancing at my men behind me, as if to underscore the importance of his point to witnesses. His eyes returned to mine, and just as he opened his lips to most likely seal our fate, a voice rose up from behind me.
"Zeke LaRue." Chris spoke up.
I stared ahead, unmoving, wondering what this was. I had never heard of a Zeke LaRue, but apparently Chris had. He continued: "Yeah. It was Zeke. He was our collection supervisor. He didn't get a chance to sign his name on there because he was gone when we finally got ready to ship out. But ol' Zeke—well, he was there all along."
John continued: "Yeah. Now Zeke, he really knew that cone collection business. I don't know what we'd have done without him."
James looked at me. I began to slowly nod, as if in agreement.
James' eyes laser beamed each of us. His glare was silent, and seemed interminable. In this way, he interrogated each of us. I wondered if we would crack under his glare. A grin, or a nervous look away. But the stakes were too high, and we all knew it.
Finally, he spoke. "How do you spell 'LaRue'?"
"Just like it sounds," said Chris. "L-A-R-U-E."
As James filled out the missing item on the forms, he said, "Well, men, it looks like everything is in order here. Have an excellent trip back to Salmon. We'll get this seed curated and ready to plant in the spring." He reached out his hand. I took it and shook it firmly, as did Chris and John. And as I looked back toward Chris and John, they betrayed the very slightest hint of a smile as we walked toward the truck.
It wasn't until the doors were shut and I started the old Dodge that I said, "Thanks guys." We all breathed a sigh of relief.
They were smiling now.
I looked over at Chris and found him grinning at me while I went through the gears. "Yep. Old Zeke…I've had to use him on several occasions to help out. Y'know, Glenn—he's always been there for me."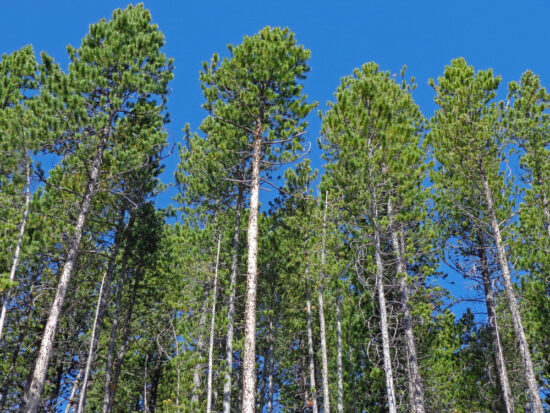 In Elk Bend, Idaho, there's an old logging road that heads up into the peaks behind the hamlet. It follows Cabin Creek until it hits the Douglas-fir forest. And then that road winds along the contour to the next valley, and that is called Ringle Creek. It was there that John and I shot cones from trees 32 years prior.
Douglas-fir dwarf mistletoe is a parasitic plant that thrives in the fir forests up in Ringle. And so, back in the late 1990s, I contracted with James from Lucky Peak Forest Nursery to grow 50,000 lodgepole pine seedlings for us to plant up there, from the abundant seed we had brought him. Lodgepole does not host the mistletoe disease, and if we planted lodgepole, we could theoretically stop spread in the fir.
And so we did. The plantations were successful, so much that Elk Benders started finding this unusual low elevation lodgepole pine to their liking for Christmas trees. And so, I am pretty sure I know the origin of that lodgepole decked as a Christmas tree that I spotted through a window. Because I was there with it, first as a seed in a cone, then in a seed in a manicured nursery bed, then as a 2-year-old seedling in a planting bag (possibly my own) on a rainy and snowy spring day in 1998, and then finally as a well established successful tree on a well-stocked mountain slope in a creek valley called Ringle with many others.
All because of one such mythical figure named Zeke LaRue.
He darts in and out of our lives to this day.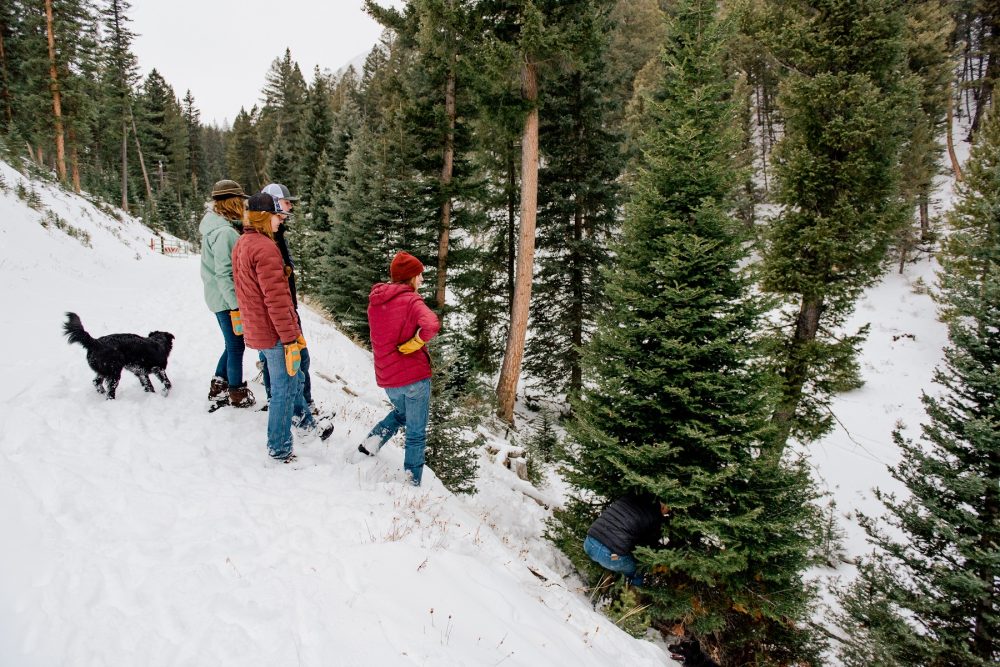 I was in the feed store a week ago. It was time to get Christmas tree tags for our family. They were $5 apiece, as they had been for years. Tomorrow we'd head together to traipse through the hills, crowded like Icelandic sardines in the GMC Yukon 4 wheel drive with almost as many border collies, and find "perfect" one from the thousands—no, literally millions in the high elevation conifer forests. The tree would be the one that we all voted on as the most fitting for this year—for our home. I thought we needed 2 this year; we would need one for our home and one for our Ethan and Abby's (our daughter & her husband). I was pretty certain they hadn't got a tag yet. But if they had at one of the vendors, I didn't want to get them in trouble by buying a duplicate tag.
I tried to call them several times. No answer from my dear daughter or son-in-law.
I approached the counter, knowing that the US Forest Service, due to office quarantine requirements from Covid, has delegated Christmas tree sales to the local ranch supply stores.
"Could I have 2 Christmas tree tags?" I asked the gal with the reindeer antlers.
"No sir. You can only have one." I thought about it for a moment. Ethan and Abby lived an hour away. It would be a 2-hour drive just to pick up a 5 dollar tag. I checked the time. They likely wouldn't even get here before closing. And with their new baby, it would be a project. "Any chance I could buy one for my neighbor?"
"Yes sir," Reindeer Girl smiled. "What's your neighbor's name?"
Now I had a quandary. If I put Ethan's name on it and he already bought one, he was going to get in trouble for appearing to try to circumvent the system and get two trees, which was slightly ludicrous because Ethan and Abby's house is pretty tiny- one tree barely fits. I made my decision.
"Zeke LaRue."
"Ok. How do you spell that, sir?"
"Just like it sounds." I watched her write it, and looked down at the name on the paper. Spelled just like it sounds. I smiled at her, and she smiled back. "Just right. Thank you. And Merry Christmas," I said, as I handed her my $10.
"Merry Christmas to you." she said, smiling, antlers waving.
Now perhaps there are a few of you Forest Service folks that read these stories, and if so, I ask for mercy. I followed the spirit of the law, I think. And it turned out Ethan hadn't gotten one.
But so, Old Zeke won't be without a tree this year. Fact is, he didn't even have to pay for it. I'm sure he'd be grateful, as I'd been for him. Maybe you could meet him someday. I'll be happy to introduce you.
Happy Trails, and Merry Christmas to you all!
Glenn