Kimball Oil; Challis, Idaho. I paid Linda, the cashier, the $12 I owed her for the repair tire wrangler Colton had just performed after he mounted the big lug tire on one of Alderspring's four-wheel drive pickups. Kimball's was typical of small mountain town stores; they sold fuel, they maintained a C-store, and sported a full-service tire shop and Auto parts store. Layering business is a way of life in the lightly populated towns in our isolated valleys. Custer county, after all, only has about 5000 residents, and was the size of the state of Connecticut.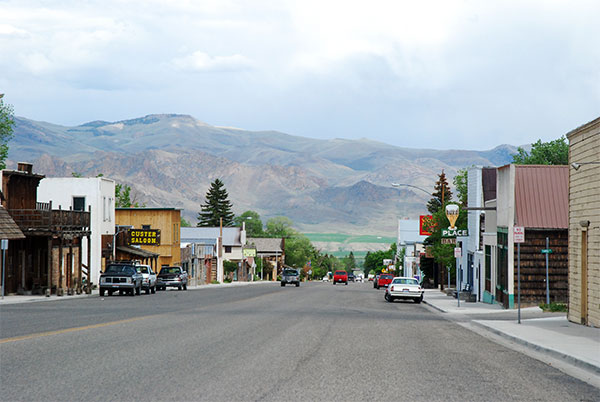 As she handed me my receipt, I saw an early 90s Ford pickup pull up. I had seen it on the other side of town; it was notably immaculate and carried a full-service aging Lincoln arc welding rig on it. It looked like one of those old set ups that serviced the miles of steel pipe that defined the oil culture of Texas during the Giddings Field boom of the 70s and 80s.
I noted the Custer county license plates. Local, I thought.
The driver stepped out and entered the parts store. He was aging and moved slowly and a little stiffly, face with a big cowboy type mustache and swatches of graying salt and pepper hair that stuck out from under his ball cap.
I stepped over to say hi. "My name's Glenn. What's yours?"
He regarded my tall form carefully for a second and reached out his hand to meet my waiting one. "Name's Jim," he drawled, thick with the likes of South Texas.
"Jim, do you do some freelance welding? I got a few hours' worth on my ranch over in Pahsimeroi."
He looked me up and down and back in the eye, thinking. "Well, I got my own place, and that's what the deal is set up for now. I used to weld pipe down in Texas, but I mostly try to keep up with my ranch. But what do you got?"
I looked out the window for a second and checked on my bride, Caryl, waiting on the truck. She had a lot to do in town as well, and I didn't want to waste her time. But she was on the phone, and so I explained to Jim the pickle we were in with a few of our center pivot irrigators. They had some cracks in their thick pipe that were getting larger. Ethan and I had tried to weld on them, but we just didn't have the equipment or the time to get the job we needed so they wouldn't break again.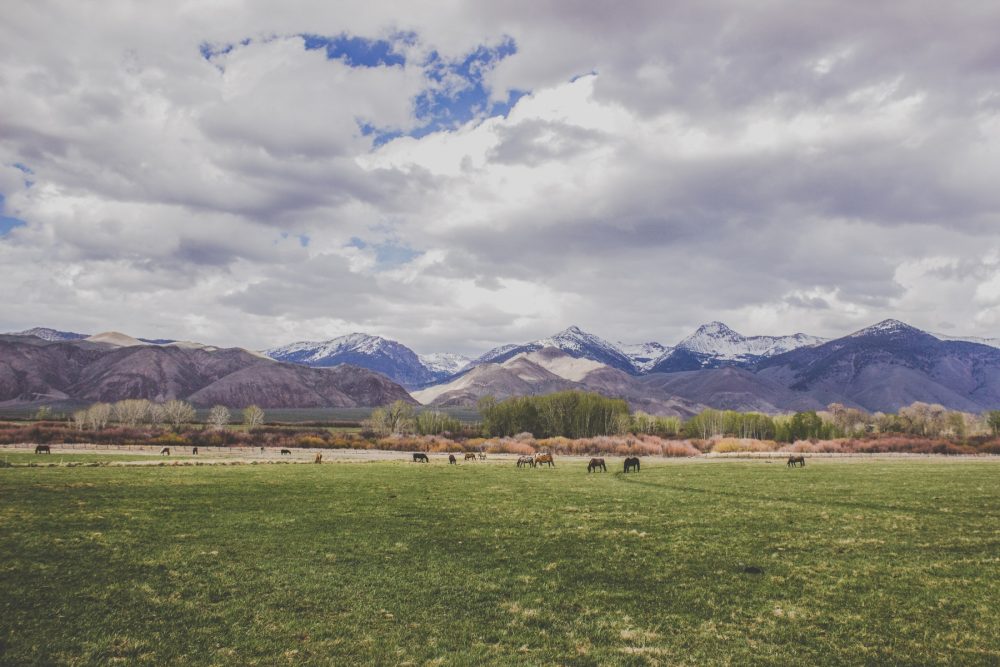 Spring work on a ranch is like flying a jet at 50 feet above ground. There is so much to do to keep the plane flying, and yet, there are so many things that we must be immediately responsive to. There are literal brush fires to tend to when cleaning ditches, fence to fix, cattle to sort, water to turn on, green horses to ride, trucks to make run. Meanwhile, cattle are starting to calve, and they still may need hay if the grass isn't ready, and new range riders and ranch techs start showing up and need lined out.
At this time of year, Caryl and I find sleep becomes really hard to come by. We fall into bed around midnight and are up again at the crack of dawn. Right now, as I write this, the sun is quite a while from breaking the dawn horizon, and at pushing 60 for both of us, we start to fade.
The kids (now all nearly adults), on the other hand, seem to have boundless energy for the most part. But several times this week I saw them losing it. Just two nights ago, I watched most of the daughters and their new range rider trainees on horseback, just before dark, handle a little stampede of about 350 yearling cattle, finally happy to put their heads down on fresh spring grass.
I knew it was a little stressful on all of them. Some of them had hardly ridden, and in the runaway over a loosely directed mile or so, some of their spring-green horses thought about bucking off with the herd.
A couple of them wisely dismounted when they broke loose. Thankfully, all was well. We lost just a few head along the way, jumping clear over fences into the brushy bottoms of the Pahsimeroi, but we gathered them before dark closed in, and rejoined them with the herd.
By the time riders pulled gear and hung leather in the tack barn and turned horses back to pasture, they were all chortling about the horseback adventure, and headed off to the cookshack to get some vittles before falling into bed around midnight.
But I was feeling like we were gaining on things, all right. It has been a good and productive month, so far in May, but that doesn't mean that the worst isn't to come. Next week we sort over 600 head, one by one, determining which 450 head up to the mountains for them summer, and which ones stay to grace Alderspring's home ranch pastures. And then, we begin the long trek to grass by the end of the week.
And meanwhile, the ranch must run.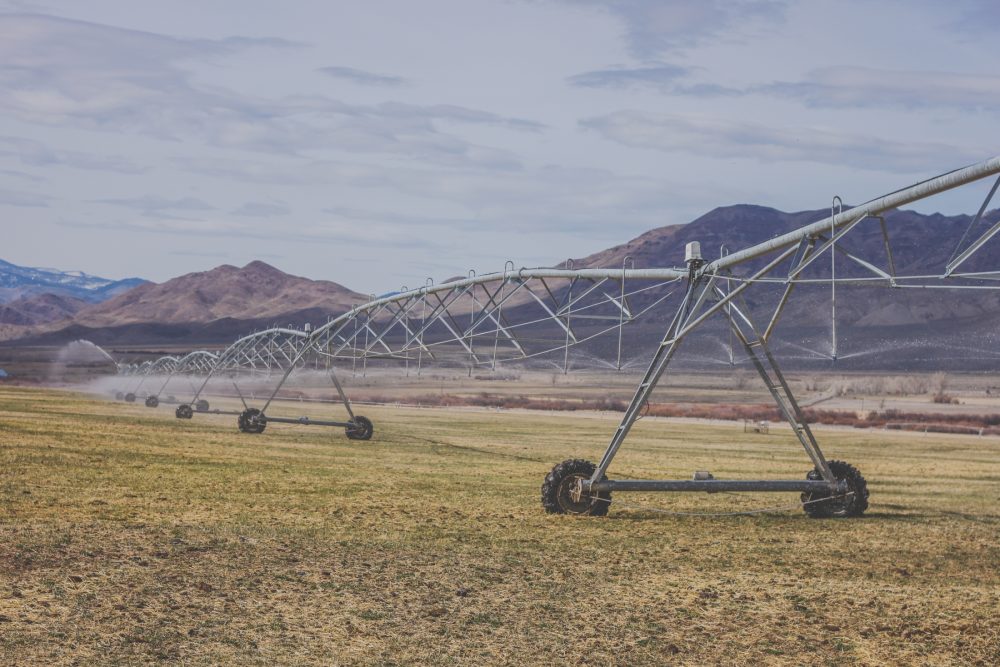 Jim looked out at this rig for a moment, and then back at me. "Sure," he drawled. "I'll do it."
"When do you think you could come out?"
He cracked a wizened grin in his well wrinkled and leathery face. "Suppose you want it done yesterday?"
I smiled back at him, and silently nodded.
"How 'bout I show up this afternoon?"
"Perfect." We shook hands, and I grabbed a scrap of paper and pen from Linda the cashier, scribbling out a rough map of the whereabouts of Alderspring. I knew without asking that there would be no google maps for this bloke. Not only was he straight analog, but he was about as far from digital as you can get. It would take him just under an hour to get there, but he knew that was close in this country, where someone called a neighbor might be over 2 hours distant.
"I'll be there," he growled, still with half a grin.
"Thanks, Jim."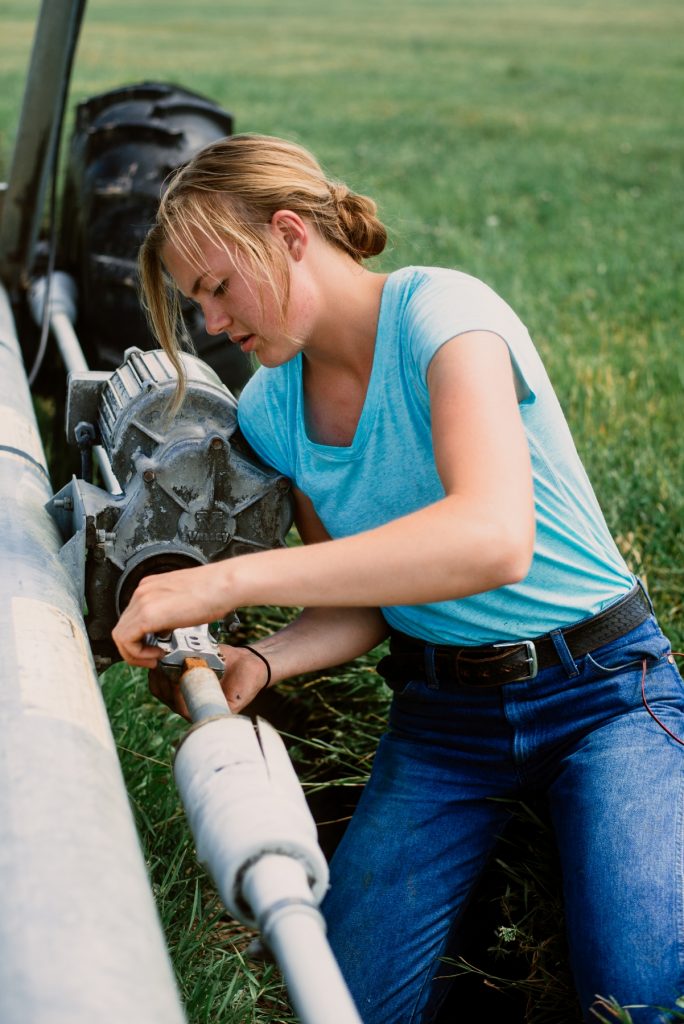 Back in the Pahsimeroi, DJ, Alderspring's ranch tech and I could spot the dust trail kicked up by the Ford pickup long over several miles before I saw the color maroon. I turned to DJ. "I'll take the dirt bike and meet him at the junction and show him where to go. You take the pickup and head over to the gate so we can load parts onto his service truck when he gets there." I spun around to swing a leg over the Honda.
DJ was still looking at the dust plume. "OK." He looked back at me. "How long you have you known this guy?"
"Met him about two hours ago in the parts store." I smiled, and DJ looked at me a little quizzically.
In a few minutes, dirt cloud yielded pickup and Jim in the driver's seat.
"Hi, Partner. Follow me," I said.
Jim nodded.
In a few minutes, we were out under the pivot span, all three of us squinting up into the tempestuous spring cloudy sky. I was hoping it wouldn't start raining, although we desperately needed it.
Jim looked at me, glaring a little. "How the heck you want me to get up there? It must be 16 or 17 feet off the ground! You got a cherry picker or something?"
"That's what the ladder's for, Jim." I smiled.
Jim not so much. He turned toward me, facing chest to chest, and his wrinkled fingers reached up and touched his taut neck. "I just broke my neck in 3 places about 4 months ago. Had to have surgery. Don't want to do that again. You didn't tell me about the ladder." He turned to check out the job again.
I had to ask him. "What the heck happened? How'd you break your neck?"
"Riding colts," Jim simply said. "Got bucked off."
"Wait. How old are you?" I inquired.
"Seventy-six."
"What in tarnation are you doing riding colts at your age? Jim, I'm just coming into 60, and I'm thinking I'm gonna leave that to the younger ones. You and I don't bounce when we hit the ground anymore. We just kinda crumple up in a pile and lay there." I related to him that just a few years back I was launched from saddle for orbit on the lower Pahsimeroi road's pavement while trailing 350 head up to the range. "I came to in about the 10 or 15 minutes it took for the ambulance to show up."
He smiled. No sympathy there. Only empathy. "Yep," Jim went on: "I remember looking down and seeing the top of my saddle horn about 3 or 4 feet down. And I knew then that I was in trouble, and the landing could be hard. And that's when I broke my neck." Still smiling.
"Didn't you know that he was a problem child?" I was talking about the colt.
"Yeah. I knew he had it in him. But I like him. You know what I mean? You get on, 'cause you like him, and want and hope him to do right. You follow me?"
"Actually, I do." I could totally relate. I had been on horses with a lot of go and wherewithal, and they might blow up on you, but if they don't, well, they'll be the best partner you've ever had. Quiet is good, but a partner who wants to get it done is like nothing else.
I looked with him back up to our pipe project. "Pardner, you can bail anytime. I just want you to be happy. What me and DJ were gonna do is set our ladder on the bed of your service truck, so it ain't on this squishy ground. And we got some bailing twine to tie the ladder to the pivot arm. But if you don't wanna do 'er, we'll find another way."
Jim stared at me for a brief second, looked up to the project, and simply said, "No. I'll get her."
As we walked around on the grass below the pivot, Jim looked at the meadows we walked on. "What kind of grass do you have here, Glenn?"
"Oh—there's a bunch of different ones. I pointed to a clump at my feet. "This here's orchardgrass. And then, you got smooth brome there, meadow brome there, and Kentucky blue. And that there is quack. And you know alfalfa, and red and white clover, Jim."
"Yep. I sure do. How do I get more of that orchard? It's a good grass, isn't it? This is a really good-looking pasture. You got a great mix here. What kind of weight gains can you get on it?"
I told Jim that two years ago, we had a bunch big steers we kept weigh data on. About 50 of them exceeded 3.75 lbs a day.
"There's not many corn fed feedlots that could match that gain," Jim quipped. His eyes again rose to the the work above, and he turned to get to it.
Jim donned his gloves and helmet, stuffed a bunch of 7018 welding rod in the back pocket of his Levi's, and climbed the ladder to the top. I breathed a quick prayer to the Almighty that the old boy wouldn't fall off there, as the pivot was undulating in the wind a little. DJ and I ferried stuff up the ladder to him: the long and heavy welding leads, a Makita electric grinder, and a hammer. And then the parts for the fitting that needed welded on there, steel on steel that needed a bead of white-hot glowing and molten metal to fuse the two together.
And Jim would make that happen. I watched him up there, journeyman now in his element, 60 some years in the making, and envied his prowess. I could dabble in many things—it's what most ranchers are, by definition: jacks of all trades; but masters of none.
But Jim called upon memory of muscle and mind and rested easy in the object at hand up there in the wind backed by swirling clouds of gray, bonding steel to steel, face illuminated by the blinding light of the welder's arc.
He paused every now and then, raising helmet, and dropping hot welding rod stubs and pointing at them as they hit the grass. "Keep an eye on each of them, in case a horse gets in mind to grab one," he said.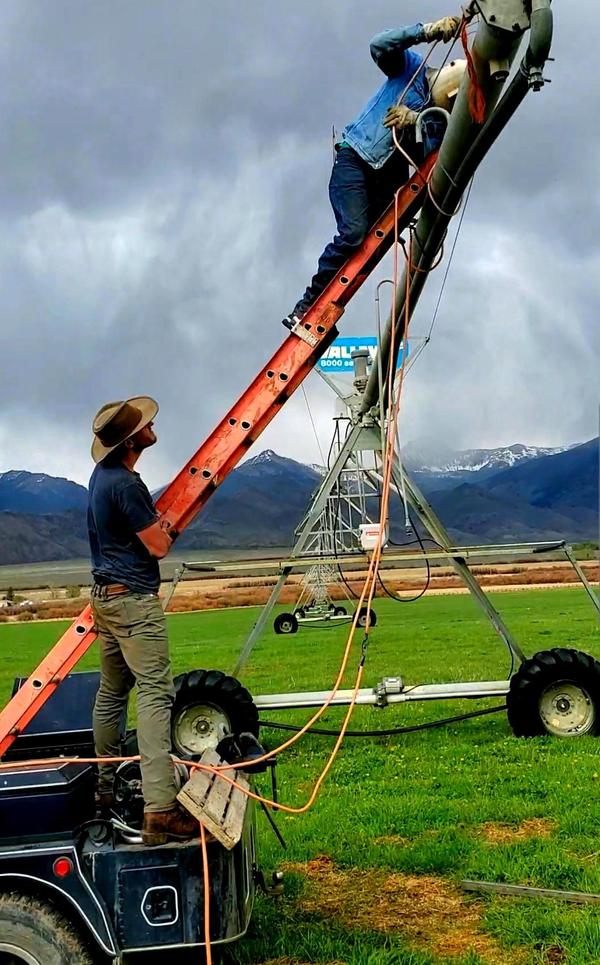 I smiled quietly to myself as his true horsemen blood-colors continued to leach through, even while in journeyman weld mode. I thought 'most guys wouldn't even care' as I grabbed the scalding fragments with my multitool and placed them in a pile on the steel flatbed.
In just a half hour, the job was complete and literally smoking hot. Jim slowly picked his way down off the ladder and was obviously relieved to reach terra firma once again.
We gathered the tools, coiled the long welding leads, and put his service truck back together, ready once again for the road. Jim stashed his helmet and welding bonnet in the pickup cab and turned back to look at me and said "That DJ's a dang good hand. How long have you had him?"
"Just showed up yesterday, Jim. This is his first day."
Jim obviously showed signs of surprise and disbelief. "Good help is really hard to find these days. Where'd you come from DJ?"
DJ smiled. "Michigan."
"Michigan!"
"Yep," I said. "They come from all over. But we got a great crew this year. I got some really solid help."
"I wish I could find some. I got a barn I want to raise."
"Maybe later in the summer some of us could break loose, Jim, and head over."
"That would be great."
As he stepped into his pickup, I pressed two Ben Franklins into his hand.
"Oh no…I couldn't…"
I cut him off. "Hey Jim, now, you got I figure 60 years' experience on this stuff, and a whole service truck full of tools. I don't take any of it for granted. You should be getting at least lawyer or doctor wages."
He grabbed my hand. "Thank you, Glenn. I appreciate it." He slipped the '93 diesel into gear and started down the road. In another minute maroon blended with dust on the Custer travel way and was gone. The plume rose a little, and then succumbed, dragged by the wind, leaving a dusty shadow across the wide ranges of the low Pahsimeroi sage country.
"He's a good guy," said DJ.
"Yep. He sure is. Hope we can get him back again."
Jim was another one of the many that we get to work with on Alderspring. We had just met, he, DJ and I, and through working together, we forged the rudiments of friendship.
People think Alderspring is just another cattle ranch, but it is way more than just black Angus, horses, grass, and beef. It's actually just as much—if not more about the people. We have folks drift through the ranch from all over the world, and they all leave a little different, I think. Perhaps we can give them each a little piece of what I call hope for the future.
And agriculture is a place that is seriously lacking in hope. Multigenerational farms erode equity and sell. Dairy herds cash out. Suicide rates climb for those in ag.
Hope can be elusive, but it is possible. For Caryl and me, it was all about rekindling relationships. First, we had to reforge relationship, a direct connection with our partners, the eaters of the food we produce—that's many of you who read these stories. Through each of you, we can provide wellness for you and your loved ones. And we'll never take that direct partnership for granted. You have come to trust us for that foundational human need—sustenance. It should be personal, and it should be relational.
Then, we needed to reconnect ourselves with nature, and once again, learn from the wisdom of the earth. Through that, we have been able to foster ecological productivity that our beeves live and thrive in.
And finally, we needed to rebuild partnerships with those that we work with; range riders from all over America, co-workers that move water, cattle, and beef to supply our partners, and local friends and contractors. These each take a part of that story—the how and why relationships are important in agriculture and spread it to others.
They're people like Jim. And so, as we are blessed, we are able to spread that blessing out along with a breath of hope. For not only ranching and agriculture, but for our planet.
Happy Trails.