They stealthed upon us suddenly in the silent black of night when we least expected it, as they often do. Ironically, we were just 5 minutes earlier taking about them.
And it had been a while.
We were all exhausted from a long day astride saddle horses in rough country. For icing on a fatigue cake, it was a late day coming into camp on bone-tired horses with 430 head of stuffed-full-of-grass cattle under a setting crescent moon, orange from wildfire smoke.
After pulling gear and graining horses, it was time for some human grub. Range rider chat was usually loud, but not too deep- it's difficult to make thoughtful conversation when you are exhausted. It was the usual jab and deflect banter typical of giving and getting a hard time, characteristic of the tight knit crew of Alderspring range riders.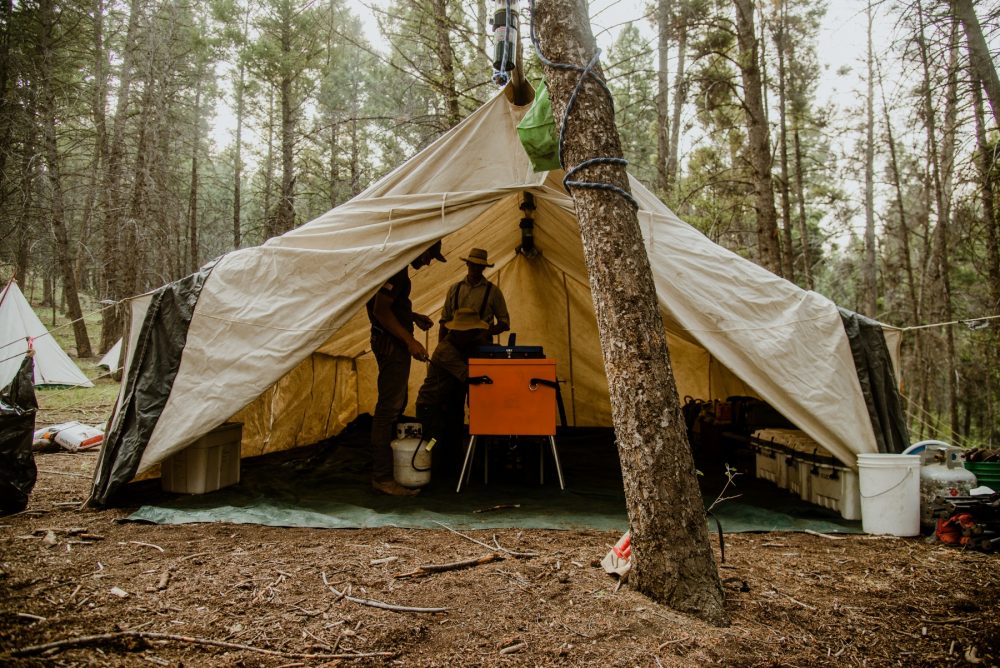 Dinner would be simple tonight, cooked on the gas stove in the big canvas wall tent under the light of the Coleman lantern. We were not paying attention to any outsiders or interlopers seeking trouble. But I think they had been watching us all day. Every move we made…with us unawares.
The wolves were back. Canis lupus, they're called by biologists. These are a sizable rocky Mountain variant; 7-year-old adults can tip scales at 150 lbs. or better. Wikipedia says that the wolves we share the range with are "one of the largest subspecies of the gray wolf."
Ashley, part of a film crew working with us this stint, heard them first. She quickly stepped in from the dark to the din of the wall tent. It was past eleven PM, and yet it was filled with the sounds of stir-frying beef, several loud and laughing conversations, the roar of the gas stove and the hiss of the lantern.
She leaned toward me to make herself heard above the racket. "Could that be wolves howling?" Her face registered what looked like a mix of guarded excitement and concern. As I stood up and made my way out through the tied-open thick cotton tent flaps, I caught myself registering a low moaning sound I realized I had been hearing for a few minutes. My tired mind just sorted it into the bin labeled "random propane stove or lantern sounds." I couldn't remember how long I had been hearing it.
It was quiet outside. A horse nickered as she cracked twigs in the brush below camp on their night graze; I could hear the creek trickling in the aspens at the foot of the hill. The noise of the cook-tent was almost completely muffled by the thick and weathered old canvas of walls and roof. A steer lowed thoughtfully from our electric fence night pen.
Ashley and I stood in the cool of the dark for a few moments. In my mind's eye I pictured our ears pricked up towards Iron Mountain like a border pup's. And then, almost imperceptibly, a vibration commenced that turned into an incredibly low and rich baritone. The lone canid voice progressed upward through at least two, maybe three octaves before peaking and dropping. Then, on the next rendition, lone and low was joined by another in duet. Then an impromptu ensemble formed as others in the pack joined in their mournful song.
I stepped back into cookshack getting crew's immediate attention with a wave of the hand and said only three words: "Hey guys. Wolves."
Silence was immediate as the crew filed into the black away from the dome of lantern-light. And so, we all stood silent in the ink black of dark under a dense canopy of Douglas-fir and took in the sense even more than the simple sound of howl.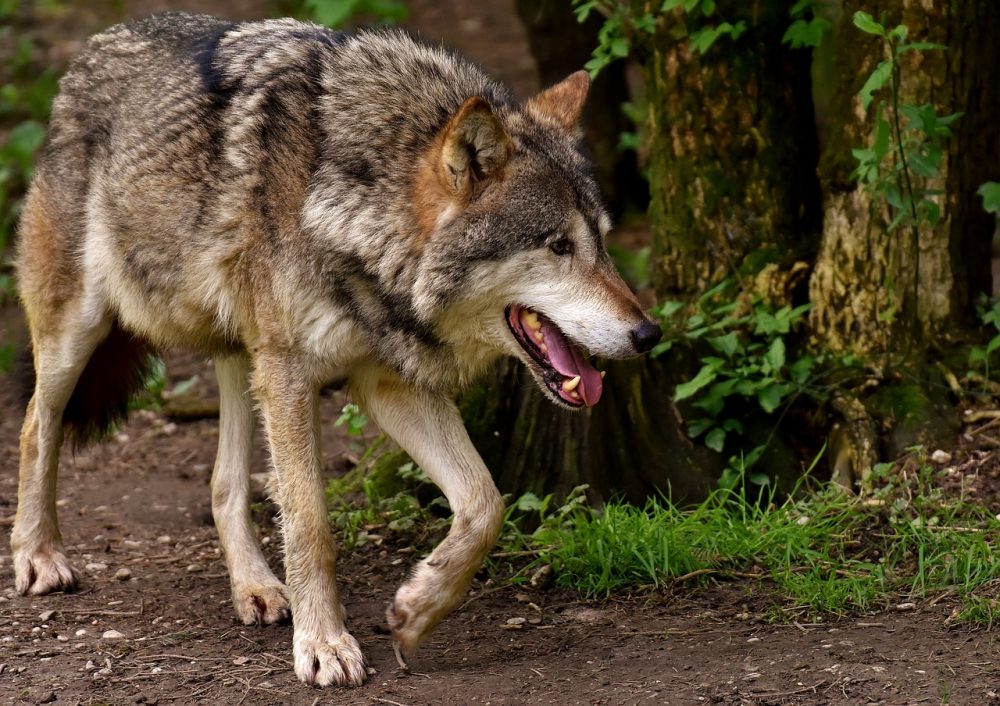 I, for one, don't ever get used to it. I've never been afraid of the "big dogs," (their extraordinary size is the why of their trademark deep bottom-of-the-well howl), but their night howl, though beautiful, makes the hair stand up on the back of my neck.
I wondered about the others. Eventually, we all grabbed plate and bowl and did our dinner. Conversation was a little more subdued now, but we were all hungry, and camp food was plentiful and filling. It was now just past midnight. We all knew we needed calories in for what could be another grueler tomorrow. It just depended on the grass and topography.
The beeves come first while we herd. Their fill trumped every other card: human comfort or fatigue, blizzard, heat, hornets, or hail. Horses came second; they almost always got a day off after a workday. Then they could graze, rest, and catch up with the rest of the string near camp foraging on the same wild grasses the beeves ate.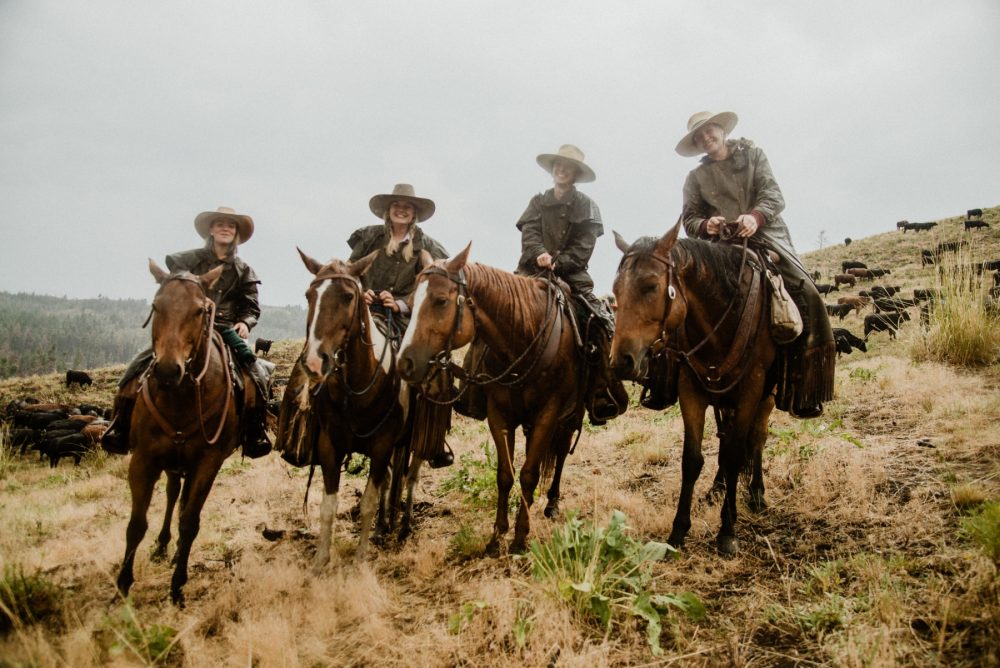 Cattle were king; their prime position was why we had to change up our camp setup when we heard the call of the wild.
I explained it to the catatonic crew, now plowing thru dishes: "OK, listen up. We're gonna have to get some lights around the night pen and get some real live and fresh human scent around it. That probably means one of us is gonna have to bedroll it out among the beeves."
So, we hung up some Colemans in trees around camp and the night ground. I quietly walked the cattle perimeter with lit lantern in hand. I thought that these were wild cattle no more after literally camping with us for the summer.
It was evident that they knew us as we walked through them, spreading more scent within the night pen. Melanie and I drifted by flashlight, stepping through closely stacked thousand-pound steers that just kept their beds, quietly and contentedly chewing their cud of that day's harvest of wild forage, and regarding us with only cocked eyebrows. We were unusual night visitors as we wielded lit gas lanterns and hung them securely out of bovine reach in the low branches of the Doug-fir trees.
The glow was enough, I thought. I wanted several things out of our nightlights. First, the warm glow of the 4 lights we hung around would be enough to illuminate and make clear our human presence to the great canines. Rocky Mountain wolves, it turns out have an incredibly huge disdain for Homo sapiens.
I think this technique is indeed time tested. Shepherds and herders for years used small campfires to keep predators at bay.
And we could too.
Second, the wolves would see the wire. It was braided twine, a composite of poly and tiny stainless-steel strands about 2 millimeters in diameter that alone kept the contented cattle in at night. It was because they were trained to the quite uncomfortable jolt offered by the electric solar powered battery charged wires. Harmless, yes. Easily forgotten? No. All of us on the crew were aware… and remember quite well our own recent altercations with said fence. Unpleasant experiences in varying degrees, but none I know of more than a childhood buddy of mine who convinced his little bro to unzip and empty bladder on wire.
Upon seeing the wire placed with hot strand conveniently at wet-nose-of-wolf-height, my guess is that Canis lupus, like any self-respecting canid would first sniff strange wire like a Rottweiler sniffs a stranger's hand.
And the memory created by that encounter could save a cow's life. That was the idea.
I had faith in our system of using human presence to prevent or reduce wolf predation of Alderspring beeves. It had been working for nearly a decade. Our death loss due to wolf's penchant for organic grass-fed ceased abruptly with a drop from 14 head in one year to none for the next eight years since we started full time herding and night penning cattle near cow camp.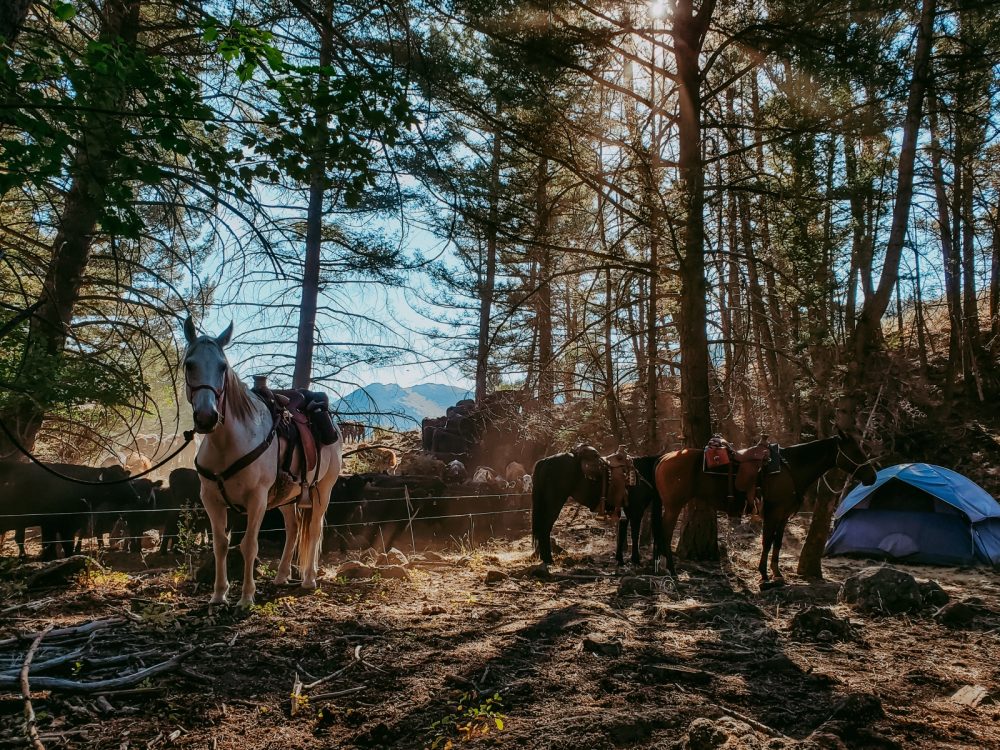 But Caryl and I were always back-of-the-mind concerned that we were missing some key piece to the puzzle. As I picked my way thru dinner that dark night, I searched possibility incessantly.
Fact: each animal at slaughter is worth on average over $4k. I would like to say we pocket that, but let's just say that there is a good reason we have over 600 head on hand at any one time on the ranch. It's because if we had only, say, 300 head, we'd be bleeding red ink. Only with economy of scale can we possibly begin to make our thin margins.
What that means is that when wolves dine on our beeves, we quickly end up in a place where we can't keep head above water.
So, as I enjoyed my lantern-light Mexican dish under the serenade of wolves on the shoulder of Iron Mountain above, my mind was busy with the clarity reckoned by economic survival.
"I'll take the beeves-side bedroll!" I explained. I didn't want the crew to be on point; I was a light sleeper and knew enough from cattle stampeding experience in the black of night on how to use a copse of trees to avoid trampling.
It's because when the beeves all run, as they would if pursued by a wolf pack, they run blindly and with a buffalo-mob abandon, like mobs at a rock concert. A person unaware on the ground in their path would be a literal piece of chopped liver.
Annie, Jake, and I had experienced the possibility of such one night several years ago in this very camp. Stay in your tents!" I yelled above the roar of over 1000 hooves, each packing 500 lbs. of gravity. They poured around our tents like loud water. In a few minutes, the herd was gone into the black timber of the steep mountainside. We could hear them crashing upward for the next hour until 3 or 4 am. It all ended well; we spent the next day gathering them up again and they behaved themselves for the rest of the summer.
And so, after listening to the wolves and doing one last camp check, I made my bed with beeves. I slept clothed as I often do under a wool army blanket and canvas mantie or tarp. Temps would drop into the forties tonight, but I'd be fine in my rough bedding. It's all the riders of old had. The cattle's deep breathing and sighing that they do can drive some to sleeplessness, but I like it.
Maybe it's because I like them. And so, I dozed.
Around 130 am, the ground started shaking. I reflexively propped my back against the thick bark of the Douglas-fir inches from my head. It sounded like the start of a stampede!
I called out with all I could muster to the cattle : "Whoa! Whoa there! That'll do!" As I continued calling, the surge of hoofbeats abated and the cattle settled. Then I heard canvas tent zippers and footfalls of humans coming from camp; it was my flashlight bearing daughters.
"I think it's OK," I said. "Whatever startled them is gone."
"Well since we're up, we're gonna run the perimeter anyway," said Melanie. She, my oldest, and Linnaea, third oldest, split up into the dust-moated lantern-light, I think, half expecting to meet a pack of big dogs thinking about sniffing hotwire.
In a few minutes, they were back. "All's well," stated a sleep-needing Linnaea.
And we did sleep. Me, to the sound of resting cows and the never-ending cud-chew. The daughters and crew to a light breeze in the tall pines and the occasional nicker or neigh of horse in the night.
The wolf pack has apparently moved on over these past weeks. They'll literally cover hundreds of miles in just days. Range rider Will from Colorado was the only one who spotted one, 2 days after the night concert. The tawny gray wolf was on a ridge above the herd, apparently taking inventory of what I'm sure he perceived as his sacrosanct domain.
He may have a point.
But I'm going to bold enough to say and believe that there's enough country for both of us.
We both are nomads, after all. Sojourners. I like it.
Happy Trails
Glenn