"Hey! Could somebody let me out?" Linnaea could barely make out the muffled words, but she immediately obliged. It was Nathan, the Alderspring cowhand crew member who just finished his Bachelor's degree in range science at the University of Idaho. He had spent the night under a heavy tarp with horse gear and camp supplies, cocooned from any further rain, snug and dry in his mummy bag through the plummeting temperatures of an Idaho mountain night.
Being trapped under the cover of a wrecked cow camp wasn't exactly something he bargained for after leaving the ivy halls of university life.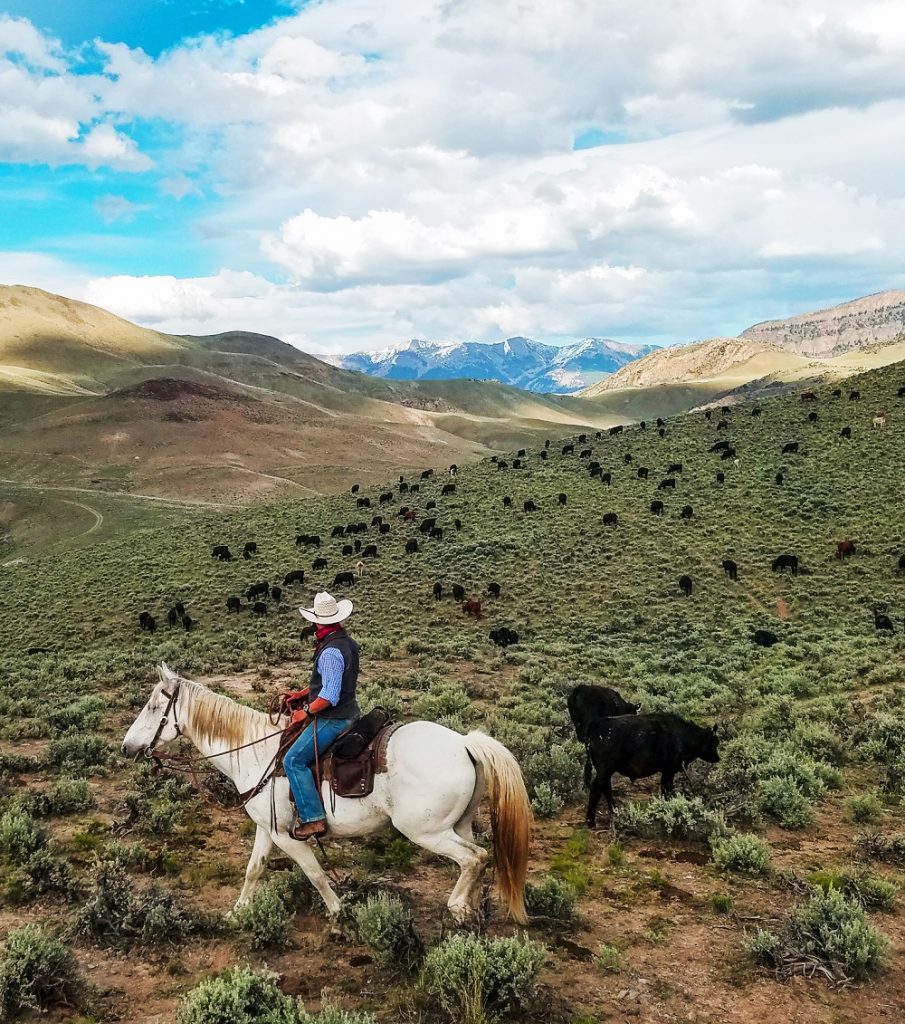 I noted the spot weather forecast for the remote Mitten Camp the morning before, and tried to warn the crew through broken cell text transmissions. Heavy winds were predicted, with rain and possibly snow. It was still June, and anything can happen; winter could still rear its icy head. In fact, I had gotten up to the camp on a four wheeler ATV that previous morning (a conventional vehicle can't get there), specifically to "batten down the hatches." Mitten was our most exposed camp, and the wind rolling off of the peaks, particularly during a frontal shift, could be disastrous.
I rolled into the Mitten (named after a twelve foot high protruding rock shaped as such near camp) around 11 AM yesterday, and set to work, as the crew was gone on the day's foray for wild greens with the cattle. They would forage over a total travel distance of nearly 6 miles a day through untracked mountain foothill country. There were few landmarks, and a crew boss had to know their way around, while obviously finding their way to great grass, water, and back to camp by sunset. There were four on horseback with the beeves today: Daughter Linnaea (at 21, our youngest crew boss); Nathan, Rebecca, and daughter Emily.
True Dog was stalwart companion on the ground. Though old for a Border Collie, she still would lend a willing hand whenever called upon.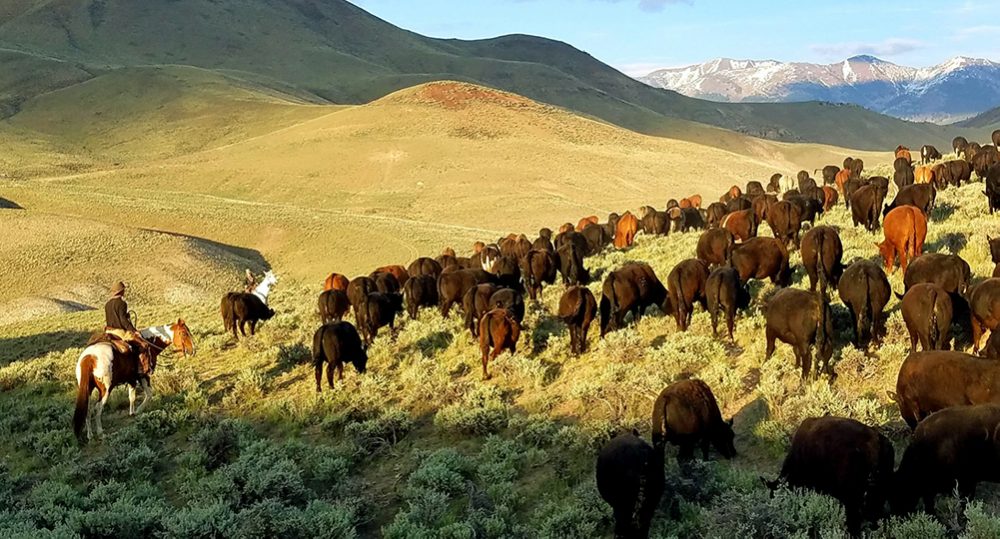 On the racks of my ATV were more ropes, stronger tent stakes (the conventional ones that that came with the Coleman backpack tents were next to useless), and ratchet straps. Already the forecasted wind was picking up. NOAA stated that winds may gust over 30 MPH by the afternoon, and they usually underestimated. I was pretty certain feeling gusts that had to approximate 50. Within an hour of my arrival, our 4 foot long version of Old Glory was already in tatters. Two out of the three tents had pulled stakes, snapped lines and were looking either deflated or kite-like, awaiting me to free them to the stratosphere.
I refused to oblige, and got right to work, tying new ropes to sagebrush to provide anchor. I checked all the lines on the big cook shack tent—a basic lean-to tarp with tables, a gas two burner stove, lantern and chairs. There was even a small carpet to walk bootless and barefoot on (a lesson from the Bedouins that is nice in our cactus country). Our creature comforts are few up on the range, but light and a food cooking system important for continued morale of the crew.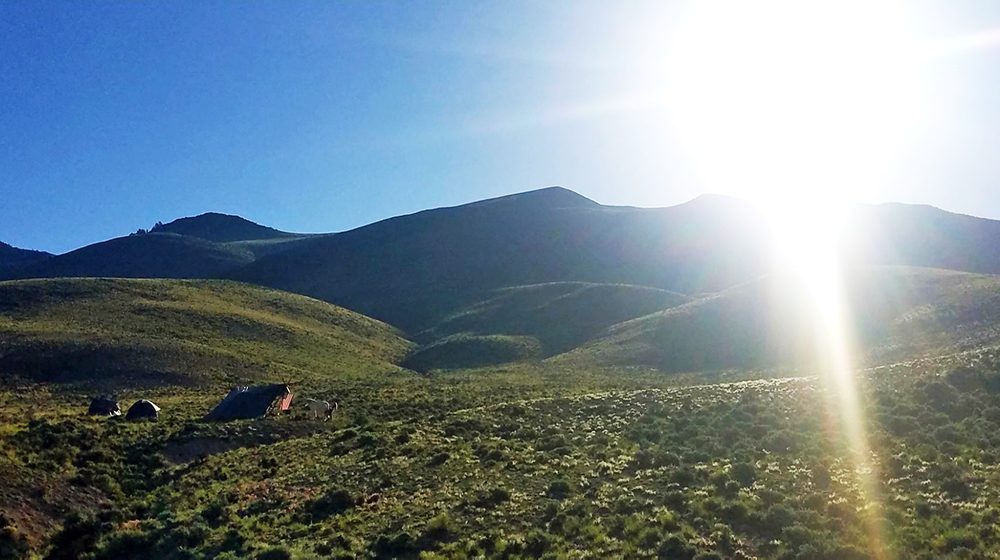 Sagebrush shrubs stay green all year, despite their life in the high desert. They are experts at water conservation, and lose some leaves during the most intense heat of summer. But the real secret of how they pull it all off lies underground; they have deep roots that penetrate to meters below the scalding August heat of desert soil surfaces that can reach over 130 degrees F. The deep roots can reach moisture that may have been stored in the soil several months before in a rare deeply soaking rainfall event.
It's why I'll take my ropes and tie to their prostrate trunks to anchor our 480 square foot kitchen shelter tarp. It serves for shelter for more than just a cook shack. The tarp also protects all the crew's bedrolls, clothing, food, and horse gear. There are pack saddles, riding saddles, horseshoe kits, first aid for horse and human and repair kits for all the above.
And tucked away in one small toolbox, amid bullets, batteries, horseshoe nails and other random repair goods is a weathered and partly water damaged book. It is one of the earliest Western novels: Zane Grey's 30,000 on the Hoof, first published after his death in 1940. Grey penned many of these novels, and Hoof's plotline follows a typical well-worn western tread. It is a romantic tale of survival in the frontier west, of dreams met and shattered, a story of city born young East Coast bride and Logan, a frontiersman and would be cattleman. Although reviews are few, it earned 4 stars on Amazon (the most negative of which referred to the water damaged cover, just like our copy).
The weathered book of yellowed pages was left on the range by one Jeremiah, one of our first and most memorable Alderspring cowhands. He rode for our brand in the first years we started living on the range. The book served as many things—among getting some of the crew through boredom and captivating them with a story of history and geography rolled into one.
It also served as a very convenient perfectly sized object that would level the legs of a camp table set on the volcanic soil on one rainy night years ago back in the high Bear Basin cow camp. It is why it is warped and stained today.
Table leveling for our folding camp gear (packable by a horse) is always a problem for us. It's hard to find a level spot on the Hat Creek range's 70 square miles that is the size of a pool table. I like my eggs over easy in the morning in cow camp as the sun lights the rimrock, and it is quite frustrating when they pile up on one side of the cast iron skillet.
And so the book rides with us every year, as a table leveler in a pinch, but I think more—as a memory of Jeremiah (now a tie wearing and successful house flipper in booming Boise—"I'm only doing this to make enough cash to buy my own spread"). It also is a reminder that the way of life of the Wild West is not over, because, I think, the mountains and big country we live and work in are little changed from the time of author Grey. Most of our ridges and timbered and snow streaked peaks are still unmarked by man. And the plants are as they were when the buffalo roamed before us.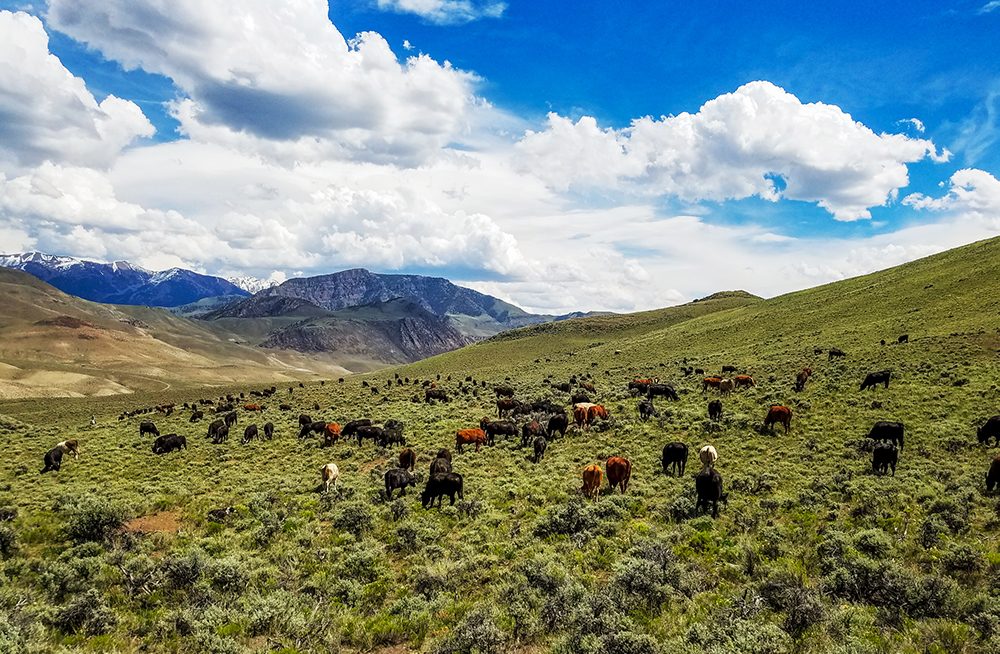 I spotted old Zane's tattered and warped cloth cover as I grabbed some spikes from the horsegear toolbox. Still there.
After an hour or so tightening and shoring tents and tarps, I think camp was ready. Occasional williwaw gusts of over 50 MPH stress tested my work. All was well. Exhausted, I grabbed a siesta on the floor of cookshack, and despite the battering flapping of canvas, I blinked out for a few minutes after a lunch of jerky and figs.
I awoke with a start when the wind ripped my hat right off of my dozing head, and threw some volcanic sand at my face for good measure.
I looked up at tents and tarp: still sound.
And so, I left.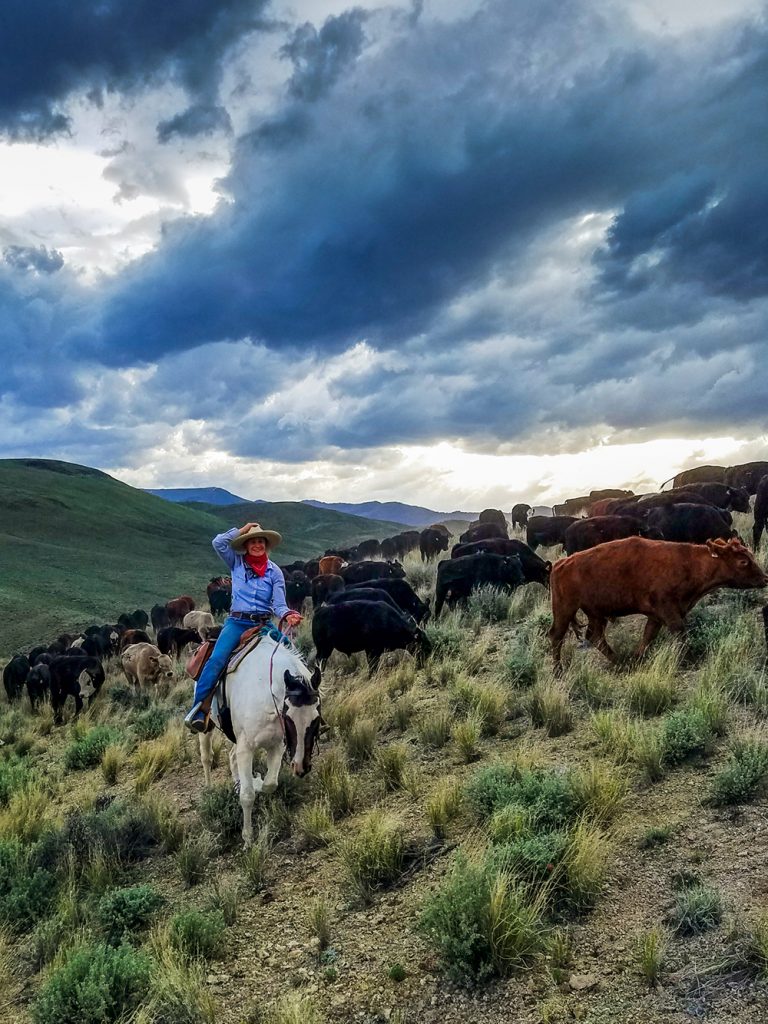 But my testing wasn't enough. Because at 10:30 PM that night, a huge thunderhead came over the Mitten. Linnaea had hiked up a nearby bluff in the dark, hoping to grab some sketchy cell service to text her "all is well" message back to the ranch headquarters, about 20 miles away.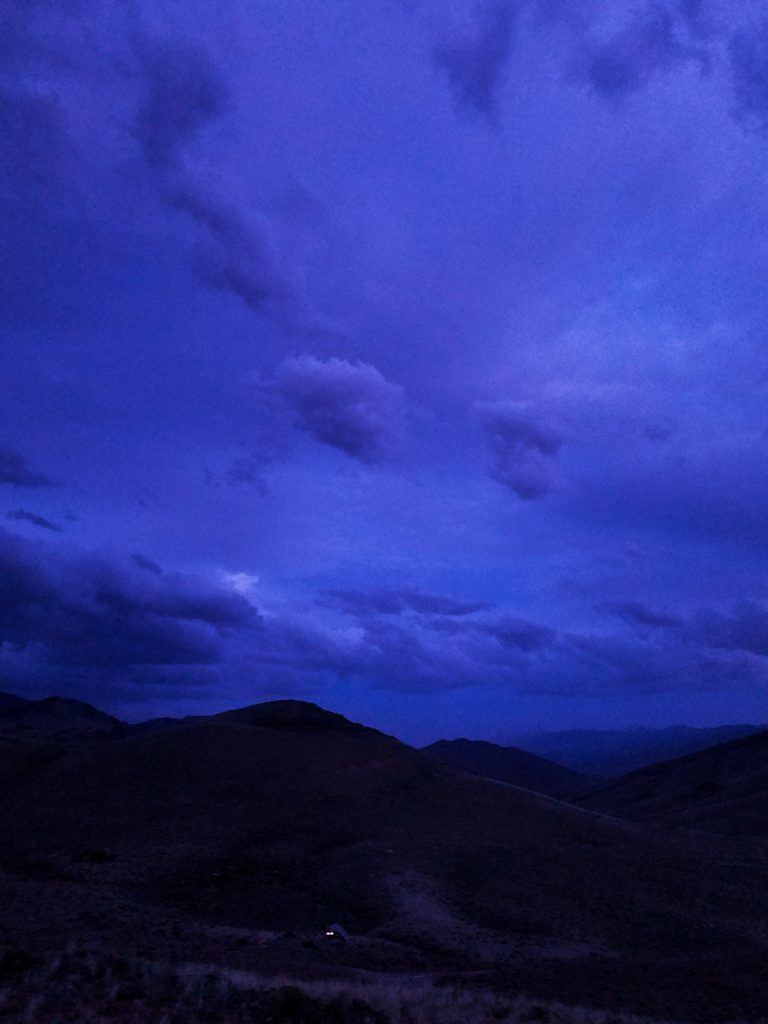 She told me later: "When I left camp, Rebecca and Nathan had already made supper over the stove. It was too windy to light the grill." As she crested the hill, she noted the black cloud in the gathering darkness, and she "knew we were in trouble."
The howl of the wind became a blast.
As she made her way back off the bluff, in the failing light, she saw that camp had not fared well.
All was flat. Three dimensions of tents had transformed into two.
Now in the dark by headlamps, the four worked on two of the tents first, as the heavens opened up with a driving rain. By midnight, they were set, and Emily and Linnaea managed to get down some uncooked rations. Nathan graciously exchanged his tent to the three gals (chivalry is not dead in cow camp, apparently) for an emergency bivouac under the wrecked cook tarp.
The women "tucked him in" under the heavy tarp with saddles and camp gear by his request, battening it down against the wind with rocks, coolers, and heavy propane tanks. They then made off to their tents in the rain, hoping that perhaps the weight of their bodies would hold their tents in the blow.
It worked, although whipping and flapping nylon and canvas can make for a difficult sleep. But when you are exhausted, especially after days on the range, well, you can sleep practically anywhere.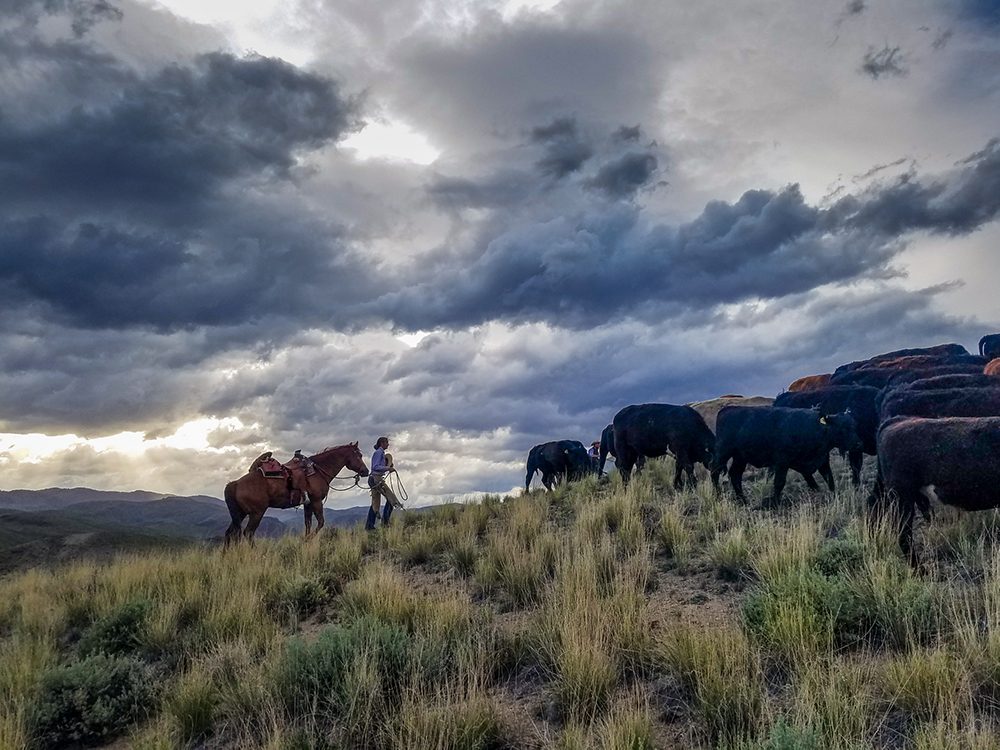 People often ask us by email or phone why we do it. There's a song we sing when we play western folk music with our Bunkhouse Band, called the Night Rider's Lament. It's written from the point of view of a range rider, when his family from home writes him. The chorus sums it up, at least in part.
Well I read out the last of their letter;
Tore off the stamp for Black Jim.
Billy rode in to relieve me.
He just looked at my letter and grinned.


They ask you why do you ride for no money?
Why do you rope for short pay?
You're getting' nowhere, and you're losing your share…
Well you must have gone crazy out there.


But they've never seen the Northern Lights;
Never seen a hawk on the wing.
They've never seen spring hit the Great Divide
And they've never heard 'ole camp cookie sing.
And those things sum it up, in part. We love the wild country and are privileged to be part of it. But even more importantly, we are vision-bound to deliver what we believe to the very best in flavor and wellness to our patrons, our partners. We are connecting the wild land, the soil, and the animals on it with your wellbeing, and in doing so, regenerating the ecological functionality of that land that we work on.
Our vision sums it up: For 27 years, handcrafting unparalleled flavor and wellness while regenerating wild landscapes.
And we believe that most other grass fed beef doesn't hold a candle to the wild nutrient density that we can harvest. Cows on GMO corn stalks can be called grass fed. Cows on dead soils, chemigated with annual grass monocultures can be called grass fed. One or two species. On dead soils. Made to grow with petroleum based nitrogen fertilizers. Think cows grazing a golf course.
And so, we get really excited about the difference: harvesting the flavor and wellness produced by the hundreds of different native plants and wild grasses our beeves consume every day.
All grass fed beef is certainly not equal, akin to how different wild Alaska salmon is different from farm raised.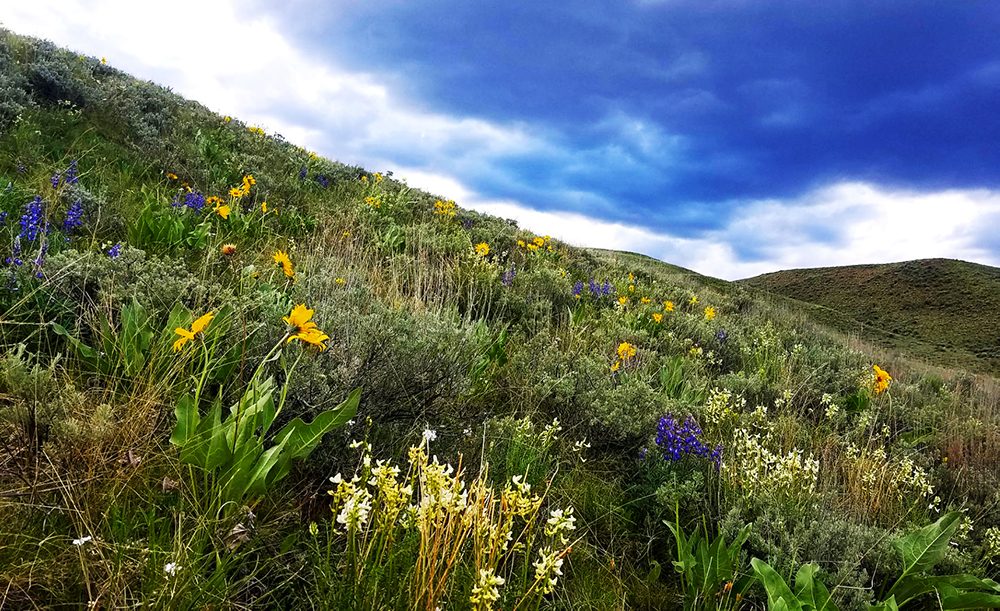 Today, around noon, I drove the gooseneck trailer on the barely dry enough track, bringing predetermined crew replacements Anthony and Nate up to the drop point, a featureless spot on one of the several trails that cross the range. There was fresh snow on the peaks all around us. The mercury dropped this morning of June 7 to the high 30s in our valley and canyon bottoms, and rain that fell any higher fell as white.
Crew boss switch Anthony and member Nate would find the herd, and their switch riders, and send them back to me and trailer on their mounts out in a spot in the sagebrush sea.
It was my daughters who would switch. I first spotted them from a distance across the brush, and noted as they came close that they were clean (guys are rarely clean after being on the range, particularly after an ordeal with rain and bentonitic mud). Their trotting mounts clicked along in cadence on the soft and moist volcanic soil, until they pulled up at the trailer.
"How was it?" I asked.
Linnaea smiled as she stepped off her mare. "It was fun."
And that is what I mean when I say "Happy Trails," friends. It's that despite how muddy, rough, snowy, or windy your trail or trial is, that it can still be fun.
Glenn, Caryl, cowhands and girls at Alderspring
PS: It is dusk now. The light is fading. I can't see the range, as we can usually at this time of day from headquarters. It is because it is pouring rain (and we are so grateful for every drop we get in our mountain shadow environs), and temps are now in the thirties. I hope the crew is safe and in the now reconstructed cook shack (I put it back up before the crew switch today), hunkered down by lantern light, cooking their grub out of the wind before turning in. There is no way for us to know, though. They are on their own, out of cell service, and the roads are impassable.
But they are professionals, and this is what they do. They stay with and care for the cattle while protecting them from the likes of wolves. It is likely that their camp will be covered with snow in the morning, as they ride out once again to find the best of wild and pristine grass. For the beeves.
And eventually you.
Thanks for being part of us.
-Glenn