The Salmon River was starting to swell with the first release of spring snow melt, and it flowed like a ribbon of liquid cold steel. Twelve-year old Melanie and I stood horseback, wordless, in the spitting rain on the rocky shoreline and eyed the 20 or so cattle on the opposite bank across the swirling stream of opacity. Escapees from our first bunch turned out on summer range, they were grazing happily in the alfalfa field that they found waiting for them, unfenced, after swimming across. There were mother cows and their young calves. It was hard telling how long they'd been there.
Melanie turned toward me, the rain funneling down the back of her rain-stained cowboy hat. Her lips looked a little blue, and cold. "How long do you think they've been there?"
"I don't know. I'm guessing they got there just this morning." We watched them mow down the lush green. "Probably got to get them outta there. That alfalfa is pretty rich-they might bloat and die overnight."
The dogs looked up at us from the big gravel cobble along the waterline of the river. It was Gypsy-Dave and Arrow; they were both purebred border collies. There was a distinct lack of complaint or concern in their eyes. They fully trusted us; they even would die for us if they could. We could ask them to do anything, and they would do it. They were the stalwart companions that would never, ever let us down.
I spoke to them next. "What do you think, Gyp and Arrow? Ain't really no way to get them cattle besides back the way they got there." I nodded over toward the recalcitrant bovines, oblivious to our presence in the distant brush on the other side of the river. The dogs looked at me as I spoke to them, and then away toward the cattle when I gestured toward the beeves. They knew the drill.
Gypsy-Dave shivered. It was what he did whenever he knew I was talking to him. And he should, I thought. That river looked cold. And fast. Arrow just looked coolly at the cattle. I knew what she was thinking: "You stupid cows. You don't give a rip that the Boss is going to have to risk his life for you. If only you knew what trouble you caused with your wandering…all for the sake of your belly fill."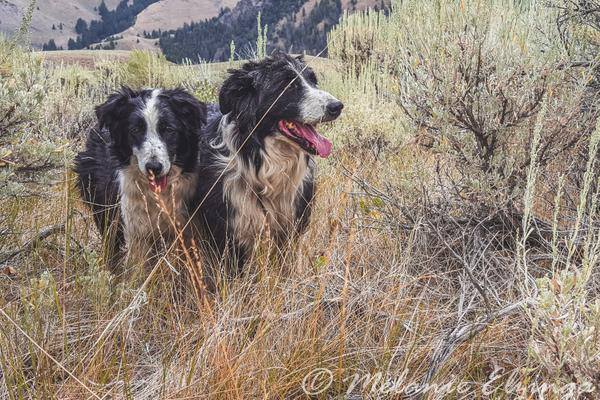 The dogs simply gave all. That's all there was to it; it was in their DNA, and all they needed for encouragement was an occasional pat on the head or to allow them the simple chance to lick your hand. Last fall, when a pack of wolves descended on the herd in the wee hours of morning in a canyon below camp, the border collies wasted no time. They got up from on top of our bedrolls under the starlight and tore after them. They were a pack of 5-6 of the black and white herding dogs, in hot team pursuit of perpetrators that weighed easily 3 times their weight.
We yelled into the black timber around us, trying to call them back to no avail. There would be no pursuing them through the dark downfall. But the dogs–they didn't even give it a thought, and luckily, for whatever reason, the wolves turned tail and left. I thought for sure we would be dogless, as we boiled coffee over the breakfast fire at dawn's break and saddled horses. But as we were mounting, they came back, a little bedraggled, but not bloody. They were ready for a day's work.
And Gyp, well, he was the most dedicated of them all. Sure, he wasn't the Brainiac. That was Arrow. She was cool, calculating and steely. One of the smartest dogs I ever had. But Gyp, he was the most selfless.
He shook and quivered by the banks of the frigid ice melt waters. It was because he anticipated the honor of duty to the Boss. And that could be either Melanie or I. Either one would do; he listened to us both with an unbounded desire to please.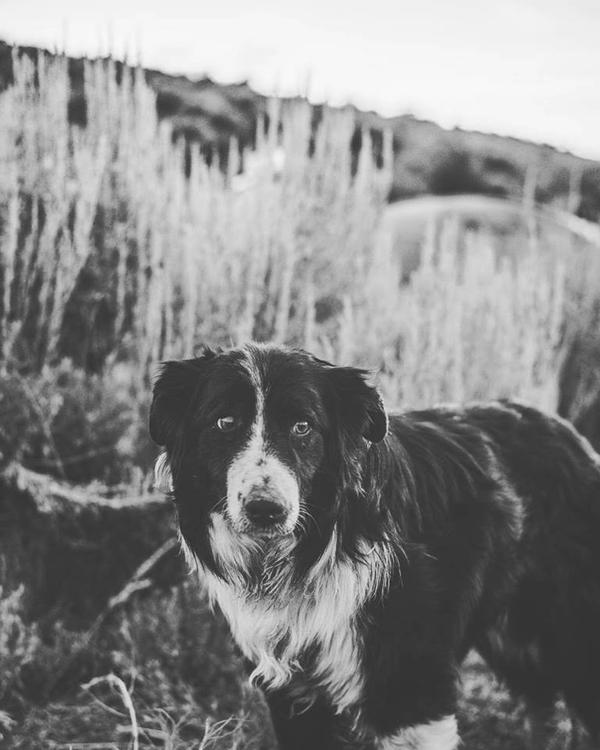 And so we stepped into the water. I went first, and then Melanie, on our steeds. She rode Shippy the thoroughbred quarter; I rode Missy, the Morgan. We read the current on the wide river carefully. Even with a rising water depth, the river was wide enough here that I figured we could pick a way where we wouldn't have to dismount and swim alongside our mounts in the cold water.
It was one of those rare occasions where I was glad for all the time I spent on wild rivers with Caryl in our early years of marriage. It was just the two of us, and we learned the signature, the tale of what the bottom of moving water looked like by reading the surface. The water soon covered our boot toes and stirrups as our steel-shod mares felt their way over the moving and slick cobblestone bottom, carefully picking their way across the invisible murk of flood stage waters.
We all knew that if the watermark reached our knees, it would be over. The horses' wide bellies would get swept away by moving water, and they would lose their purchase on the bottom as their bodies floated. We would be swimming, dropping reins to let them have their heads, and simply swimming on our own beside horse while clinging to the saddle horn.
I tried to keep focused on the opposite shoreline. It was only a 100 feet away, but the rushing current and the wake left by us crossing it fooled your senses of balance if you lost a point of reference on the solid shore. Sometimes Missy would hesitate in the torrent; I would touch a heel to her side to encourage her forward.
The water was now up to our shins. It was icy cold, and filled my cowboy boots under my bat wing chaps.
I turned often, back toward Melanie, on Shippy. Easy does it; Shippy kept a close focus on Missy in front of her. Her legs were splayed out a little for stability. If there was a dropoff, Missy and I would hit it first.
And then, quite suddenly, my boots and stirrups emerged from the flood, and the water slowed. We'd hit the far side shallows and the horses sped up, as the going got easier.
And what of the dogs? They held their own for a little bit in the cross-river swim by staying in the eddies downstream of the horses. But then, inevitably, they were swept away. A gravel bar caught them in several hundred yards, and in minutes they arrived ahead of us, panting, our shore welcoming party.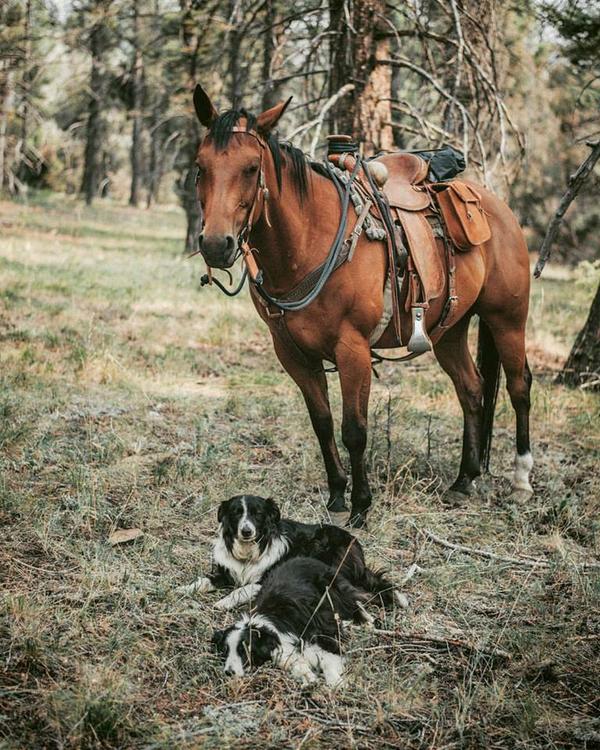 Melanie and I made a plan, and split up. We sent the dogs around the cows, getting their attention so they would pair up. The very worst thing we could do here is leave a calf stranded alone without their mom to encourage them back across the river. In just a minute, we had the whole bunch paired up, expertly brought over by the dogs, and on the shore of the river.
But the cows didn't want to go back.
It would take a little canine convincing. I let out a little hiss from my lips. It was all it took for the eagerly awaiting dogs to move in and snatch a nip at a heel there, and a tail here. Gyp and Arrow dove in expertly and tagged the cow's hocks, darting back in a fraction of a second to get missed by the sure and fiercely flailing cow kick in a vain attempt at striking a piece of dog.
In response to the light pressure by canine, the cows stepped into the waters, and reluctantly set off.
"That'll do, Gyp. Arrow. That'll do." They immediately backed off, and looked up at me, tails wagging, panting, on the rocky shore.
And so, the small herd headed across the torrent. Calves lost footing quickly and got swept away. With just their head above water, they swam hard to get back to their mothers. As we gained the opposite bank, moms trotted downstream, bawling nervously to encourage their babies to make landfall. In ten minutes, we were paired up, and started the move across the bottomland cottonwood forest to take these back to their herdmates up Deer Gulch.
As we left the rocky beach, I wheeled around to call the dogs. They were nowhere to be seen. Melanie and I scanned the wide river downstream, gray, reflecting the foreboding clouds, and the tree lined beach downstream. Nothing.
"There!" said Melanie. Sure enough, nearly a half mile downstream, we could make out two black shapes clambering up an almost cliff along the river bluffs. They had missed the gravel bar, and with their dense fur, were swept into the main current far down the river. As they made the cliff, they sprinted along the crest of it back upstream in the sagebrush, far above the river. They were heading for us.
In another few minutes, they arrived, panting, soaked and a little bedraggled looking, collapsing at our horse's feet. "I'm really sorry, pups, but we gotta get these cows lined out so they don't get back down to the river."
And we moved out. And the cows moved out. And it wouldn't be until the end of that long day, as we loaded horses, and drove the gooseneck back to the ranch in the dark, that I patted Gypsy-Dave on the forehead as we drove the dark road home.
"Good Boy."
And in the light of the dashboard, he licked my hand.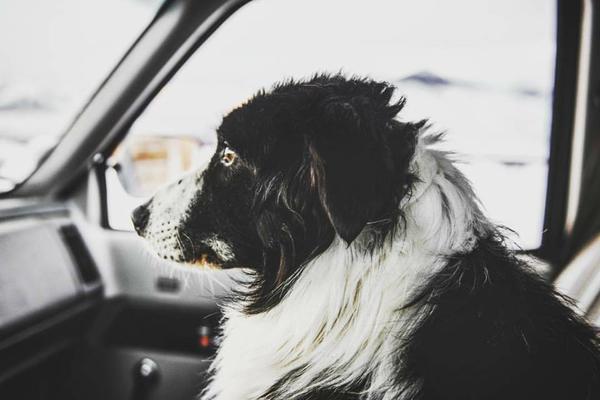 It is morning; this morning. Light is just beginning to spread over the high Pahsimeroi Valley. It doesn't pour in like it usually does when the skies are empty of clouds. When it is like that, sunlight begins with an immediate gilding, as if by gold, of the snow crusted ridges of the highest peaks. But today, the clouds are like a feather-filled quilt over the bed of our valley, and we warm and snug, underneath it. The varying degrees of gray indicate how thick those clouds are.
And I know they could be bearing snow, because there is tide of cloud-matter pouring, like seafoam in slow motion, over the passes in the crags on the ridges above. It spills thickly down the rocks. It happens when there is a north wind, fresh out of Arctic Canada, laden with moisture. It's simply that time of year. And we are almost ready for it. Our hay is in the stack; our firewood is down from the high timber; the beeves contentedly graze the rich fall grass that we saved for them. The world is quietly waiting for winter all around us.
But it is different inside our house. It is not quiet. Now, when we step into our warm house, we are greeted by black and white life at our feet, wiggling. It's Bonnie and Clyde, tiny border pups, just 6 weeks old. Their white-tipped black tails whip back and forth in sheer joy of seeing us return. Their bodies wobble on unsure feet. Clyde nips at my feet, herding me across the room. There's very little that welcomes quite like a happy pup. Their exuberance is marked on our tile floor by small puddles where they couldn't quite contain all their joy. I caution the girls about leaving their sneakers out. The pups chew on everything.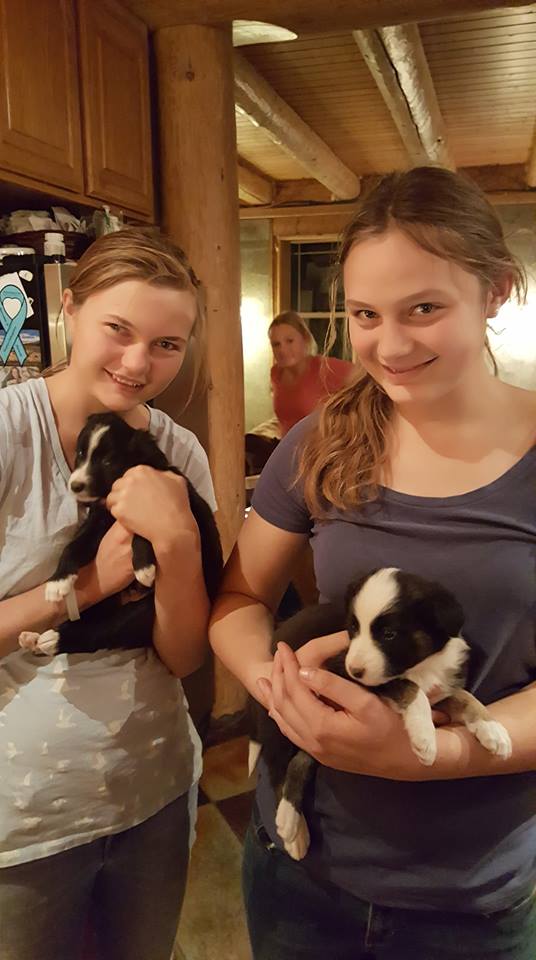 They are the next generation. They will never replace the previous one, but they carry on the work in their own signature way, the partnership of life and living on the range and ranch.
You see, I had to put Gypsy-Dave down the other day. Arrow is long gone. I don't cry very much. But I do when I lose best friends in the form of humans, horses and dogs.
They just eventually die, like all things on this side of heaven, and I'll never get used to that fact, and I don't think we are supposed to. In fact, I think there is something flat wrong with a person that gets used to dying on this earth. I'm flattened by the loss, and always will be. It is not how things are supposed to be; I feel that in the core of my being.
Gyp was failing all summer; we often had to pick him up and carry him in the saddle to get him back to camp. It was the least we could do for a dog that gave his all. I think some of the new cowhands couldn't understand why we still took him up there. But we took him anyway: it was where he lived life to the full. The range and all of its wildness was in his blood.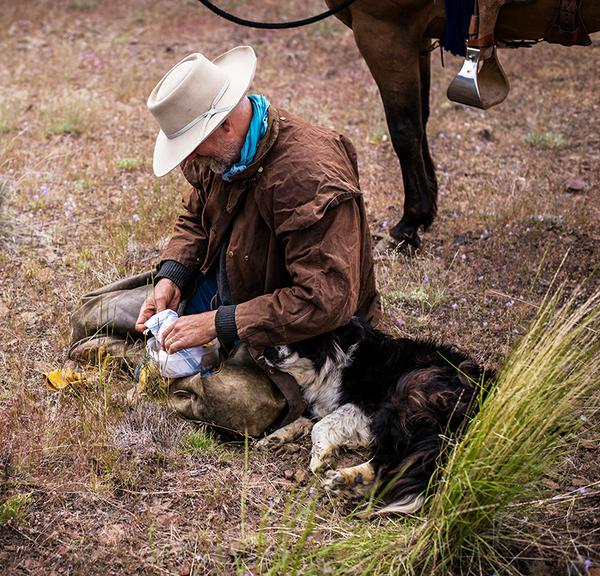 Old Gyp had a stroke of sorts a few weeks ago; his eyes were all there, but his body could no longer follow through. Before he lost dignity that a stroke often can bring, I spent some time with him, and thanked him for being the best friend a guy could have. And I stroked his thick border collie fur, running it my fingers deeply through it, as I always had. And I patted him on the forehead. His tail barely, almost undiscernibly lifted and wagged acknowledgement.
"Well done, partner. That'll do."
And he licked my hand, the final time. Or maybe not. I think dogs, the good ones, show up again. In heaven.
Happy Trails to you all.
Glenn, Caryl, Girls and Cowhands at Alderspring.