I'm sitting in a fairly comfortable camp chair in Camp Texarkana as I write this with 2 of my older daughters. We just finished a nice dinner of grilled trio of Alderspring hot dogs, zucchini strips, and quesadillas. Now daughter Linnaea surprises me by a cheesecake offering that she baked at home that I unwittingly loaded this morning onto my packsaddle panniers on my pack mare, Natalie. Linnaea is quite a cook, and takes good care of me.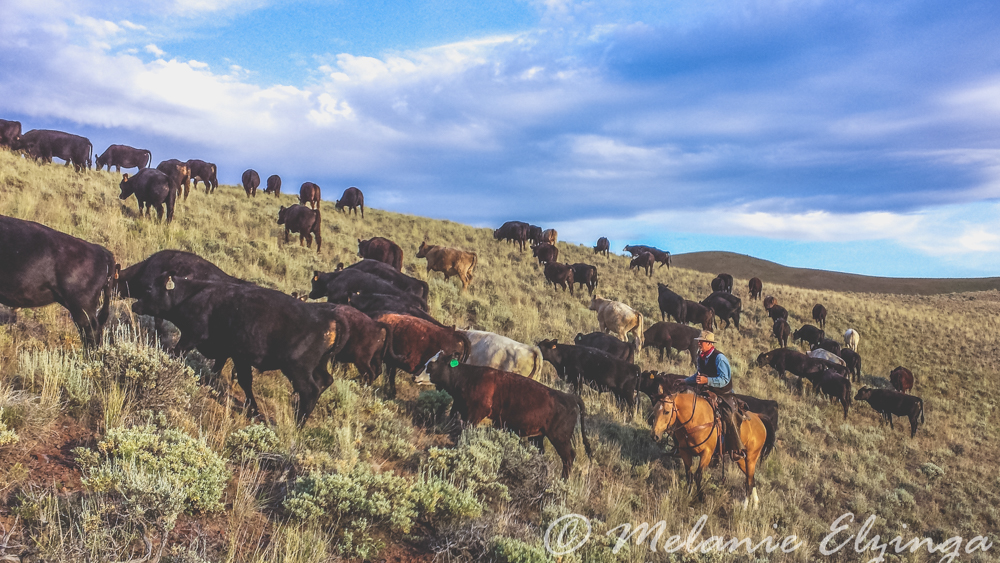 I'm grateful that we didn't have a wreck on the tortuous trail along cliff and canyon on the way up here. There were a few dicey spots where the trail tread is only 10 inches wide, narrowing where the unwary hoof of an elk or deer broke the trail edge off and send rocks and debris clattering to the canyon below. Even though they are accomplished horsewomen, I still remind the girls often to ride those stirrups short, with just their toes in, just in case they have to bail if their mount missteps.
I speak from experience here. As I ride Ginger, I not so fondly recall an event 11 years ago that she did just that…miss-stepped on one of these very trails. She was relatively new to the mountains and I was putting my big new 3 year old buckskin through her paces. Over the past few weeks, our mutual trust had been growing steadily.
We were halfway up a canyon offshoot of Big Hat creek looking for lost mama cows and their babies. We had heard wolves howling most of the night before, and I was getting nervous. Fall was in the air, and a snowstorm could happen any day and make gathering the remainder of the herd difficult. Wolves could easily pick off a calf from a mom that strayed from the herd.
Cowboys Tim and Mark accompanied me today. We were camped out at Big Hat camp, and we would commence our gather up the narrow canyon fork above camp. We saddled up and rode off in the frosty morning. The narrow path wandered through the timbered draw. These trails were the handiwork of hundreds of years of elk, deer, and occasional bovine passage and their passage had worn clear but narrow treadways through these mountains. For the most part, the trails were easily accessed by horse, provided the rider of said horse was paying attention to the occasional branch stub that could grab cinch or stirrup, not to mention eye.
The trail turned sharply out of the draw. After stepping over some downfall, we left the timber and the path climbed across a steep grassy hillside. We gained elevation quickly on the narrow tread. The entire Big Hat canyon spread out below us, and gave us a chance at a bird's eye view of 20 square miles of broken hill country to survey for lost cattle.
We stopped for a moment in our single file procession to see what we could see. Nothing. I was in the lead, and gave Ginger a nudge to move her on. She took several steps, but failed to pay attention to her feet, and slipped off the trail. It was all it took. The sudden jolt of a low step off the trail set a chain reaction of grave consequences.
The misstep caught me off balance, and as I tried to correct, the saddle rotated off of the mare's center of gravity. It further unbalanced her, and sent her tall frame broadside straight downhill, with me attached. I hit the ground first, and she followed. Thankfully, only her hind legs crashed down on me. But she continued to gain momentum and rolled over and over, crashing in a cloud of dust in some trees in the narrow draw we had just passed through minutes before.
My legs were mashed pretty badly and bloody, but they were not broken. I'm grateful I came out of my stirrups. I stood up shakily and took inventory. Mark and Tim were on me in a second, checking me over, but all I wanted to see was my mare in the bottom below. After the dust settled, we could see Ginger 100 yards downhill entangled in a pile of brush, motionless.
We carefully turned horses around, and took off down the trail. I was unmounted, and would have headed directly down the steep slope, but trauma to my legs was too painful to handle the steep pitch. I gimped along behind Mark and Tim.
We arrived in less than five minutes to find Ginger breathing heavily, with eyes rolled back in her head.
I pulled my pocketknife out and cut the cinch off my battered saddle. Her breathing eased slightly. I grabbed her reins, still intact and tried to coax her up. She lifted her head, and collapsed in pain. I tried rocking her up, but to no avail. My right hand found its way to the handle of my .357.
I always packed a pistol on the range, just for situations like this. I had to mercy kill a cow just last season that I found with a broken leg. She must have gone down in the cliff rocks and was obviously in pain. I loosened my grip on the sidearm as Ginger's head lifted. Impulsively, I gave her a swift kick in the rear.
It was all it took. The big mare found her feet, albeit unsteadily. She stood, shaking, with legs splayed out like a newborn foal.
Her right front leg was turned out strangely. I checked the bones for breaks (none). It was like the entire front leg was trying to come off at the shoulder. I sent Mark and Tim off in search of pairs, and I slowly step by stepped the buckskin to Big Hat camp. She was shaking violently by the time I got there, and I blanketed her with my bedroll on arrival. Wood was plentiful in the dark forest camp, and within 10 minutes I had a good blaze going with a large kettle of creek water on it. As soon as it was warm, I poured it off in a bucket and offered it to her.
She drank well, and soon the shock tremors stopped. I tried to call the vet, but cell service was impossible. Besides, there was no way I could load her in the trailer at camp in this condition. We'd have to keep her in camp for another night in hopes that she would stabilize enough to make the rough trailer ride home. It was about 20 miles and about half of it is extremely rough, suitable for only high clearance four wheel drive. In fact, our old blue stock trailer would drag over the road in some places where the wheels were deep in ruts.
So I monitored her closely until we hit the bedroll; Mark and Tim showed up at dark with most of the herd that we were missing. We bedded them down for the night just below camp in a box canyon with a little bit of graze in the big fir trees.
Sleep came fitfully that night; I had dreams of horse rollovers and was probably suffering from a little PTSD from the wreck. Even the border pups were fitful, getting up several times in the black and nervously pacing. I beckoned them back, but they would not settle, and would occasionally whine nervously.
Wolves became an ever present feature in my weird dreams. Their howling started faintly and became louder and louder as they approached me sitting by the fire…and then I was startled back to reality by 4 border collies leaping over my body. I sat bolt upright, frozen with the realization that the howling had been real. They had run right through camp, and I heard them terrorizing the 50 or so cows and their offspring below. To make matters worse, the dogs had entered the fray!
As suddenly as the din began, it stopped. All 4 dogs came back, which was a relief. There was nothing to be done until morning in the black that enveloped us. We would have to scope out the damages in the morning. None of us slept as the night used up its allotted time and finally paled to dawn.
The morning dawned clear, and found Ginger faring a little more bright-eyed than the day before. No shock despite her leg still hanging crooked-like. Mark and Tim wolfed down (probably not the best word choice) a quick breakfast from the fire while I was trying to get Ginger on board the old stock trailer. She finally loaded, and I trundled down the steep and winding two-track we called a road. I met the cows in the canyon below and got out to see the results of last night's attack.
Indeed, they weren't exactly resting easy, but they allowed me to take a walk through them. I found one 400 lb calf that wouldn't get up on my approach, and found that he had a hole about the size of half a tennis ball in his butt. It was trickling blood, and was an obvious bite mark of a yearling sized wolf. It made me think that only one of the big canines had found his way to the herd, and maybe it was sheer numbers of mad mamas and mad-as-a-hornet border collies swarming him that made him turn tail. Whatever happened, I counted myself fortunate that our only loss was a half pound of rump roast.
With that kind of wound, we would have to doctor the steer at home. I pulled up the trailer with Ginger in it along a barb wire fence. On foot, I found Tim and Mark, and explained that we needed to cajole and capture mom and baby because the steer was way too young to wean, and then load them in the trailer…with my sad case mare. The only problem was that both of the cowboy's horses would have to fit too so we could all get home.
The boys mounted horseback, and managed to get the pair along the fence. Between the three of us, we ran her tight against the fence, around a turn in the wire, and into the trailer before she even knew it. Tim and Mark had started the other pairs on the walk home, and now all we had to do was carefully load their horses into the trailer without letting mom and baby out. It was crowded in there, but Ginger didn't seem to mind–she could lean on whoever was next to her. Cows really don't care for horses, but the trailer walls were high, and the old girl couldn't jump out.
The trip home was thankfully and surprisingly uneventful. Several stops and inspections revealed that everyone was as happy as could be. The little calf had found a special place, free from crowding, yet next to mom, and managed to keep his spot all the way home. He fit perfectly under the tall frame of Ginger, who allowed him to live there for the trip. He was safe, and she was undoubtedly steadied by him. They defined, in a way, how life usually ends up on the ranch: you figure it out, and make the best of it.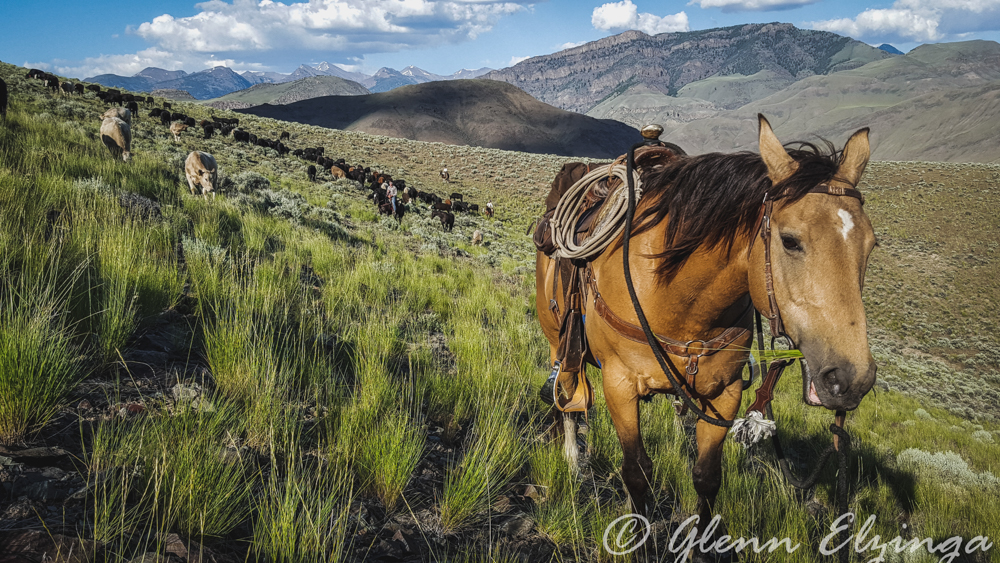 The story has a happy ending. Ginger completely healed. My young daughters prayed for her every night after the vet said that she would likely have to be put down. Over 4 months, her leg and shoulder knitted itself back together, and I ride her nearly every day on the range. The calf healed up too.
Happy Trails from Camp Texarkana, in the wilderness of the Salmon River Mountains.
Have a great Fourth of July!