In the shimmering noonday heat, we made our way up across the broad sagebrush monotype. Viewed through my sweat blinded eyes, it appeared as though we were bound for nowhere in particular; hill after hill marched ever slightly upward toward the distant Bitterroot Mountains, until they finally gave in to the abrupt uplift, festooned with dark green Douglas-fir forest, with rocky and snow spotted granitic summits beyond.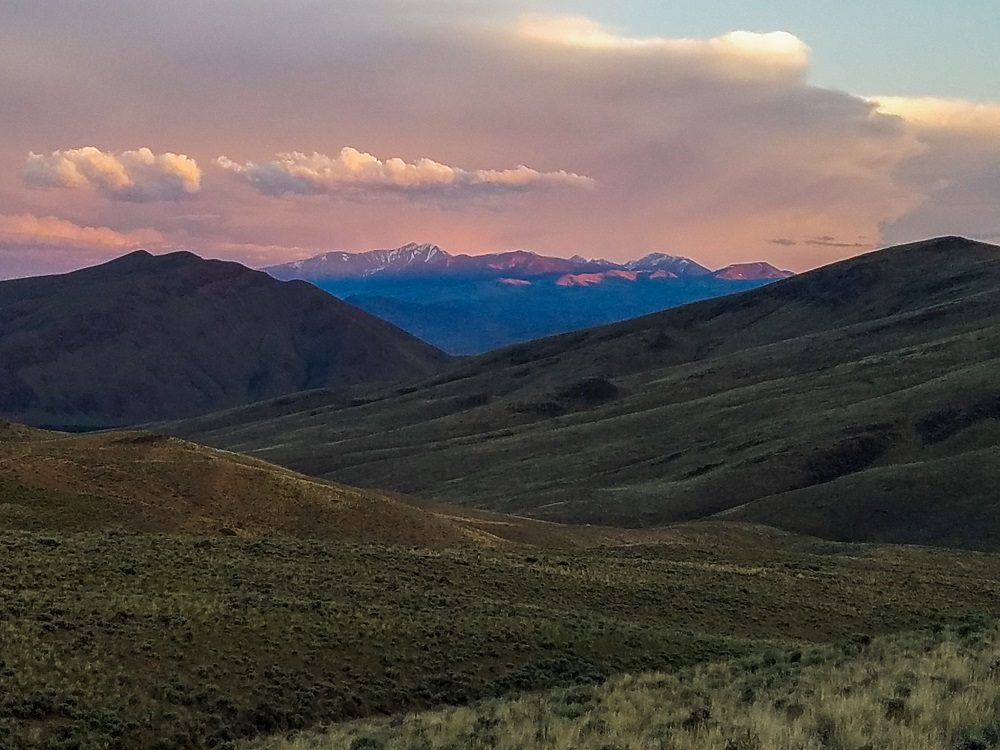 But that was miles away. I was quite certain that we would all die of thirst before then.
Our leader was Steve Wright, passionate historian and Native American historical expert. He was the BLM's archeologist, and had arranged this tour. One of my more outspoken companions, wearing shiny street shoes unsuitable for the hike, called ahead as Steve led our loosely following crew up a wild game trail through cactus and spiny greasewood.
"How much further, Steve?"
Steve turned around, with his trademark: a half smile with little eye contact. Often he would gaze right over your head as if you had someone much taller than you right behind you. And then his eyes would dip and dart, making only the briefest of contact with your own. I had gotten used to his way of communication and had realized that it mostly was because he was always preoccupied with observing his surroundings rather than because he was deliberately avoiding eye contact.
He was an astute observer and by nature a true detective. No; one better: he was a sleuth that could read the signature of events that took place on the land not days ago, but over centuries past. He could read through the depths of time, and glimpse the prehistoric. Ancient history unfolded in his mind's eye. In was more than human events. Steve Wright understood story written by the juxtapositions of geography and geology, and more importantly, the animals and peoples that navigated upon it.
It was why we were here. Over many visits to these Continental Divide foothills alone, often on his own time, Steve traipsed from one end of the South Carmen hills to the other, those eyes darting from landscape to land—even peering into the desert dirt at his feet. He took in the sinuous meander of the Salmon River that had abruptly cut the foothills into a sheer escarpment several hundred below, creating what was now the fertile Salmon River floodplain.
Mr. Wright had finally unraveled the tangle between old journals and verbal traditions that dated back from the opening of the western frontier and the land itself. Lewis and Clark's journals were his first consultation, and subsequently he had spoken to the Shoshoni and gotten their context from their oral traditions.
Heads down now on a steep part of our climb. Our party of 10 ceased talking as we concentrated on footing on the gravely trail upward. Some of their silence stemmed from making oxygen choices. I looked upward for a brief moment to the top of our particular volcanic hill. Our tour guide had stopped for air, hands on hips, looking over the broad vistas from river to ranges, taking it all in, as I was certain he had on countless occasions.
We slowly joined him. Shiny Shoes was in obvious pain, but considerately kept to themselves.
Steve waited until we all were there and ready to listen. He gestured with an open hand and to the valley below.
"I believe the trail had to be up here on these bluffs, just because of the prehistoric nature of the valley. Before settlement, most of the valley bottoms where the Lemhi and the Salmon River intersected were a tangled mess of beaver dams and wetland. So travelers through the valley would have likely been up on these bluffs away from that difficult traveling terrain."
I remembered reading a trapper's accounting of how many beaver pelts came out of this valley alone, in one year, around 1820. It was over 30,000. Today, we still have beavers, and trappers, and I think we would be hard pressed to say that 200 pelts come from this valley each year. It meant that beavers prehistorically dominated anywhere there was moving water.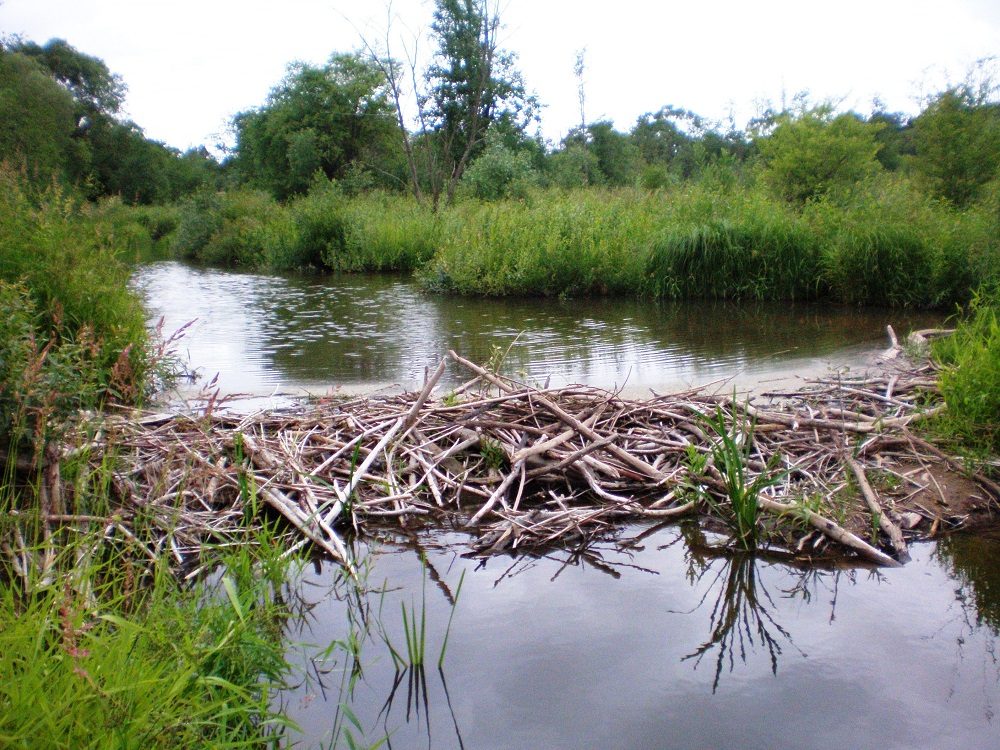 I don't know if you've ever traveled where beavers make their living, but Caryl and I had on many occasions in the Canadian North. We had the travel conveyance best suited to beaver country: the canoe. Dams were an inconvenience, but easily passable. It went something like this: we ram the top of the dam, if going downstream. Bowperson (usually Caryl) jumps out on the dam just as we make contact, keeping momentum of the canoe moving forward, now unweighted in the bow, so it is cantilevered over the dam. Canoe stops. Caryl runs down the face of the dam to the bottom (some of these dams were over 6 feet high).
Then, the sternman (me) scrambles over the camp gear in the canoe just as it comes to rest, and jumps out at the base of the dam, now pushing the canoe to the tipping point where it falls, bow forward to the base of the tangled mass of mud and sticks. As it hits water at the dam's base, Caryl gets in. I push the canoe the rest of the way down, with Caryl furiously paddling up front, and jump in as we launch across this impoundment, this beaver reservoir, bound for the next dam.
You would get good at this, and you had to, because depending on where you were and on what river headwaters you paddled on, it could go on for days. You could cross hundreds of dams until the flow became large enough that beavers could not stop it. It was slow, but definitely progress.
On horseback or foot, travel would have been almost impossible. It was an obvious choice to take to the foothills, despite their undulating terrain.
After our short breather, our hike continued up a broad ridge. And there, Mr. Wright halted. He was looking north. As the group coalesced around him, he pointed, first close, under our feet, and then slowly, finger meandering upward and then into the distance. And he simply said: "This is it."
I followed his finger up to the horizon. And suddenly, it came together. I saw it.
There, starting at my feet in the sagebrush was a distinct, wide and 1 foot deep indent, on an even gradient up hills and over ridges, contouring up and over all the undulations of the landscape on the sagebrush steppe perched high above the river. It was 5 feet wide, and now grown in and covered with brush and grasses, but it was still an obvious human made scar, a signature on the land. It was a treadway unused for almost two hundred years, but still very visible.
Picture a more subtle version of the Great Wall of China, marching to the distant horizon, over hill and dale. And this treadway, worn into the substrate of ancient decomposed seafloor and volcanic ash, was likely equal, if not greater in age.
The irony is that I, as well as many of our group had been on these very same bluffs many times, and had never seen what was now so very obvious. It took Mr. Wright to pull history from subtle and make it real and clearly obvious today.
Steve Wright spoke: "This, I believe, is the exact route taken by Lewis and Clark on their way to Montana after crossing Lemhi Pass. It was the only trail used by countless Native Americans on their way up and down the Salmon River Corridor. This path fits the descriptions found in their journals, and due to its wear into the desert landscape, was likely used for millennia by travelers crossing this country."
It was sort of an interstate highway for Native peoples.
I hiked out on my own, down the ancient trail away from the group as people took in the gravity of what Steve said. The wind caressed the tall seed heads of bluebunch wheatgrass that dotted the desert pavement with sagebrush. As I looked at the trail forward, I reflected on the hundreds, or thousands of ancient travelers that passed this way. First, they were all afoot. Then, starting with the introduction of the horse to the West by Spaniards in the 1500s, horses walked this way. And judging by the width of the cut into the hill, they likely dragged travois, the 3 wooden pole dragging apparatus that natives used to transport goods: jerked buffalo meat, folded tipis, buffalo hides. Young children. The old and infirm.
Steve's voice carried on the wind, and beckoned me back to the present. He was on another stop on his tour. It wasn't far, this time, but important. In the interstate highway metaphor, it was a rest area.
We found it on a little plateau along the trail we were now walking on. The first thing Steve pointed out were little glints of obsidian flakes on the ground. It was the byproduct of flintknapping, which many Native men did whenever they had time to pass. There was no obsidian for hundreds of miles; they either had to harvest their own or it came in on trading between peoples. But they had it, this native volcanic glass, and it was the perfect raw material to make razor sharp arrowhead points with. Flintknapping, a largely lost art, takes raw obsidian, chert, and flintlike rock "cores" and hones them into points through very strategic and well placed strikes against a larger stone. Much like broken glass, the obsidian shapes into a lethal object to be lashed on the end of a wooden projectile. (Jake, one of Alderspring's cowboys, has resurrected the process via untold hours of practice.)
Our local detective then pointed out the even more subtle part of the interstate highway rest area. Rounded stones, now mostly buried by centuries of dust and blown in dirt, and obscured by brush and grass, lay in circular arrays 10 or 12 feet in diameter.
"Tipi rings." Steve said simply.
The rocks held down the edge of the portable buffalo skin lodges, keeping wind, rodents and cold out. Campers would use the same ones for hundreds of years. The last travelers likely came through to camp here over 200 years ago, and the stones are right where they left them. There were several rings to be found on the unusual flat of the plateau.
I reached down and touched the rock nearest my feet. It was a rock a little more angular than the others banded with greys and browns and smooth to the touch. It looked as if it as some sort of metamorphosed sedimentary rock, like a schist or gneiss. My thought: the last person who touched this stone rolled it back to remove it from his or her buffalo hided lodge. It was likely a woman, who happened to be in social position the camp tenders. She likely tanned and sewed the very skin that was held by this rock.
And it was over 200 years ago. My hand reached through time, through centuries, across a cultural divide, into a lost existence, a life by nature lived in complete dependence and relationship with the land.
As I stood up I realized privilege as I surveyed this spot because although I had been here on numerous occasions, I had never known the secrets that lay beneath my feet. Steve Wright had given us new eyes to see with.
Since that time, I have taken those newly engineered eyes and found ancient trails all over our country. The nice thing about Central Idaho's semi desert environment is that these marks on the land take a long time to erase. A trail or spot where a shelter was may remain for hundreds, even thousands of years.  And inevitably, after spending time with Steve, some of that sleuthing rubs off, and no longer do you look at landforms in the same way.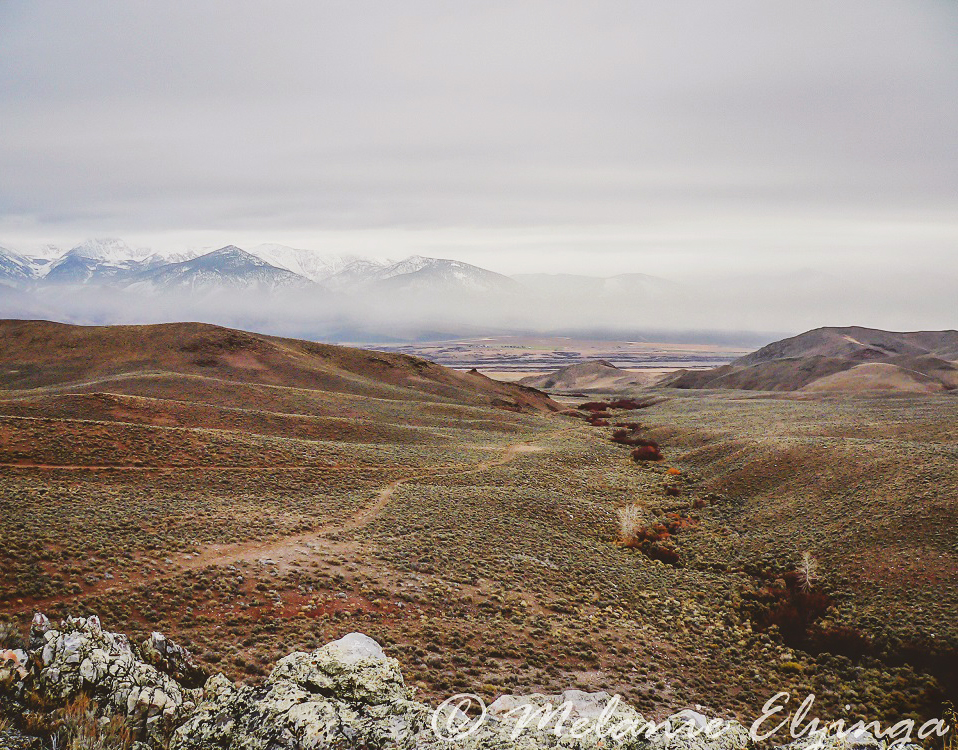 It happened to me first about ten years ago, as I rode horseback in the Hat Creek country in a place we call Hat Creek Pass. It is a notch in the steep topography between Little Hat canyon and Hat Creek proper. The pass is the only way between steep cliff faces from one canyon to the other, and for eons, bighorn sheep, bison and elk wore terresets in the mountainsides, the random wandering trails visible even on satellite images that animals use to cross the steeps.
We were trailing 400 head of beeves out of the high country, bound for Little Hat ranch, and the pass was the only way to our remote holding. A two track road was cut over the notch with a bulldozer in the 1950s that we loosely followed with our mob, but when we arrived at the pass, the cattle took a different way.
A wide, deeply incised and perfectly sloped trail led another way off the pass summit, and offered a more even passage across the steeps than the path of the bulldozer. And our cows chose it over the road, and obliged in single file. Our horses happily followed suit.
And the realization struck me that this, too, was a trail of the ancients. The Bear Hat tribe, the peoples native to Hat Creek for thousands of years, used this trail—even built it with continuous and frequent passage from bighorn sheep habitat to that of wild salmon, when it came in season along the Salmon River, at the bottom of Hat Creek itself.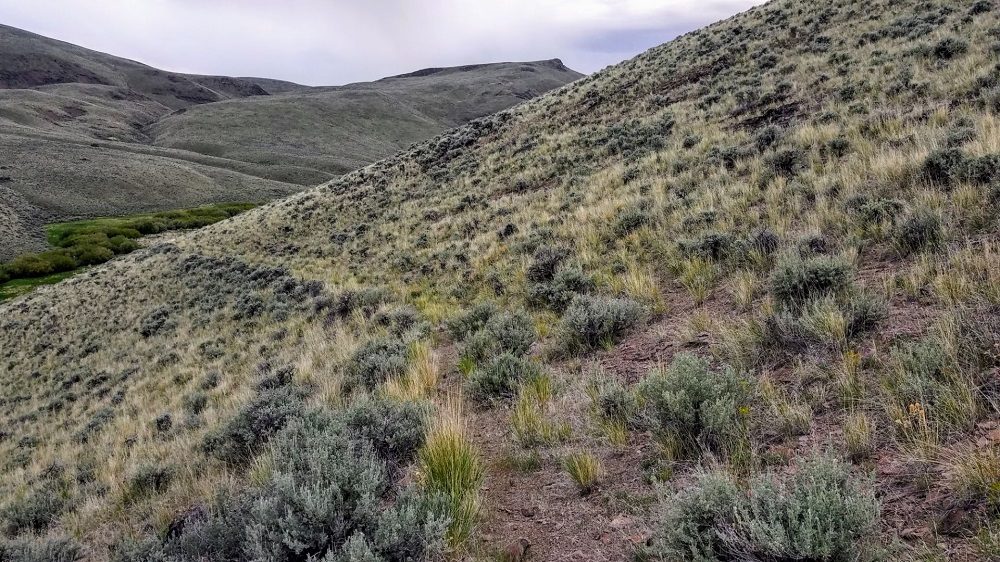 It was a protein trail, and likely a trading one. It was also a winter haven trail, as much of the summer living high country would be unsuitable to live in the winter. The Bear Hats, and others like them, were the first "snowbirds", and nomadic, as many Native Americans were, moving hundreds or even thousands of miles on trail highways to take advantage of the easiest food in animal and plant, or warmer temperatures.
Since finding that first trail, the girls and I have started finding them everywhere. We see them as we speed along on highways, and try to imagine the long single strings of mustang horses on the bluffs above us, carrying buckskin wearing native peoples or goods. Google Earth helps us connect the dots between trail segments we spot. It's become a sort of hobby. But it is more than simply finding them.
Trail rediscovery takes you back. Because when you set foot on them, the first to tread where no-one has trod for 200 years, you are instantly transported into a brotherhood over millennia of intrepid voyagers who stepped, rode horseback and carried their lives on their backs and hands, eking out a subsistence life in these mountains and ranges.
And so, the saying of "Happy Trails" has a deep meaning to me. Because before we came, those travelways defined a better life and living; easier food, warmth, shelter. The Natives moved on trails to improve their life, always. Searching for and moving toward greater happiness.
May you do the same.
Happy Trails, pardner.
Glenn, Caryl, Girls and Cowhands at Alderspring