Aboard my buckskin mare, I broke the crest of the high ridge and surveyed the scene below from the promontory. The herd of 250 head were scattered like pepper across the broad plateau below, under the capable hands of Melanie and Linnaea. I jumped off, tied my mare's mecate and lead rope end to a saddle string, and let her graze. She swung tail to the brisk wind that buffeted us from the rocky crags above, and the long black hair blew between her legs, tickling her belly.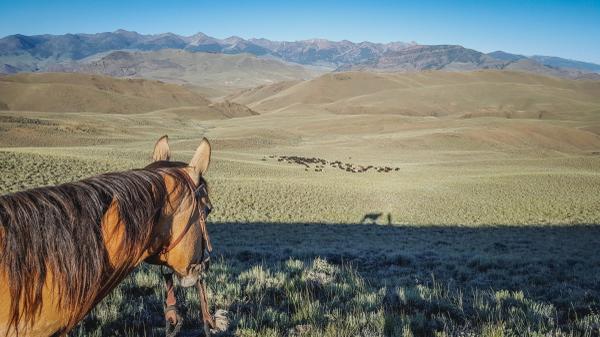 We were up on the edge of the high timber; part of our summer grazing range, and here, we had enough elevation that we could actually use a cell phone and reach a tower on Baldy Mountain above Salmon, about 45 miles away. I could barely make out the snowy summit of the peak, far to the north amidst the jumble of crags and knobs that characterize the Salmon River Breaks.
I called Shane, another rancher friend of mine, who ran over 2000 head of cattle on about 150 square miles to the south of us. I could make out the jagged uplift in the distance that stands like a wall above his summer country; they were the 12,000 foot limestone peaks of the Lost River Mountains. They stood high and crystal clear above the headwaters of the Pahsimeroi River, about 50 miles distant. They marched into the distance until the curvature of the Earth hid them from view. The air had a windowpane clear, and sight distance was limited by my eyes, not by air quality.
Our phone call was short and to the point; the incessant wind was buffeting hard, and it was hard to maintain conversation.
I sent a few texts to ranch hands-down at headquarters, and to Caryl to let her know that all was well. I looked back to Melanie and Linnaea, mere dots on the perched sagebrush flat below as they picked their way across the plateau and rode herd on the occasional straggler that got occupied with the lush grass of the tableland. At least there was no wind down there.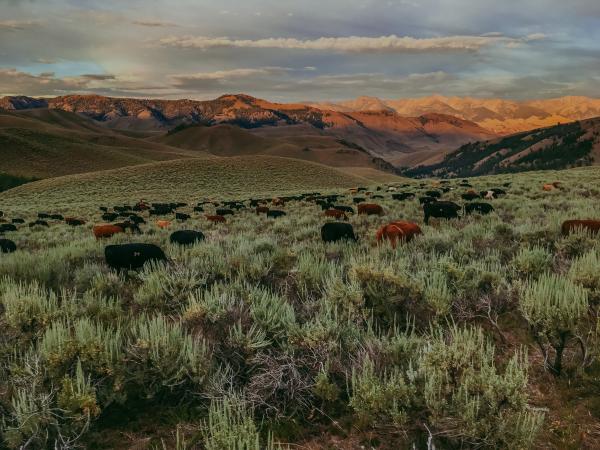 The cattle were about to enter the heavy brush zone. At this elevation, the woody sage is about 3-4 ft tall and can be painful to ride through. Horses will often thread their way through a gap that lets them pass, but not the rider's knees sticking out from the horse's sides. It's why we wear the leather chaps or chinks. But in spite of the difficult passage, there is hidden treasure amidst the sage.
The same winds that work their way down the ridges also drive winter snow deep into the sage, capturing a packed unbroken deep layer of moisture in the matrix of the stems and leaves of the brush. I've been on the high ranges in the middle of the winter, and found I was able to float over it all, suspended above the thick bush on an unbroken layer of snow as I passed over on skis or snowshoes.
Then, in the spring, the sun angle and increased day length begins the melt. But here again, the thick brush jealously keeps the water, and shades much of the snow from rapid deterioration. In our dry high desert climate, much of the snow on lower areas of the range without dense cover sublimates–in other words, goes through a direct phase change to vapor. It never melts into water, with potential to soak into the ground. Instead the low humidity pulls the water from ice to vapor without ever becoming available to the soil. But again, the sage prevents that, and creates a microenvironment that maintains humidity in the understory, reducing sublimation and allowing moisture droplets to trickle down into the soil.
The other beautiful thing about sagebrush is that it pulls water from deep within the soil profile. It adds to the humidity of the air near the ground surface and doesn't compete very much with plants in the upper layers like the wildflowers and rhizomatous grasses that we depend on for our livelihood. The result: even in late summer the understory plants in these dense sagebrush stands are green and delectable (for a grazer, anyway).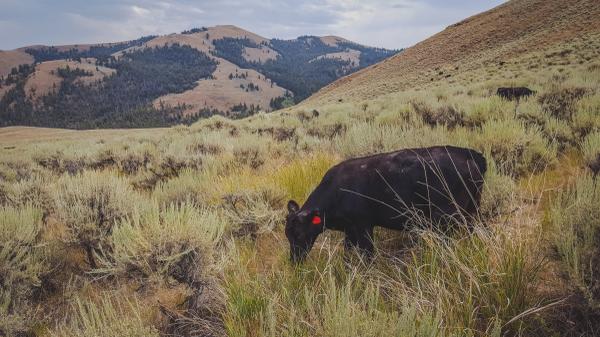 Long story short: grazing is good for us on these high-country ranges. Our beeves thrive on the wild diversity that the open range offers. This abundance of fare makes my job easier, but it still requires a fair bit of practiced attention to a meal plan, so to speak. So, on this day, when I finished my high-country contacts, I was to look for where the cattle should graze next. In a sense, I was trading my cowboy hat for that of a chef.
It's a job we take pretty seriously, and it isn't only about just getting the steer's belly full. It's about offering a veritable multi-course menu to them–that they can choose from to maximize their own wellness. In addition, quite unlike a chef, when we don our hat, we also need to be mindful of the plant's needs, and that of any other wild animal who occupies that pristine environment.
What does that look like? First, the menu had to have a fair amount of options on it. None of us want to visit a restaurant that only has 1 or 2 entrees on its menu. We came seeking choice. It's the same for a steer. They are not lawnmowers, to be pushed into a feedlot or into a monocultured farmed grass field. They, like us, prefer different foods at different times.
Second, it has to be good. If your restaurant offers plain pasta (no sauce) as an entree, it doesn't qualify as a choice. Cows have tongues full of taste buds (twice as many as ours), and likely can taste more specifically than we can. They are picky. So how do I as their chef know it's good? After all, my cows aren't very talkative (sometimes it's nice to have 250 of your closest friends be silent companions).
So here's one easy way to know that Stan the Steer likes your fare: Have you ever heard that 60s song "I'm a girl watcher?" Well, I'm a cow watcher. I spent a lot of time watching cows graze. It's one of the best ways to learn what they eat…and how they eat it. Up on our wild rangelands, there are upwards of 40 common forage plants to choose from and 100s of uncommon ones. Add to that the time of year that we graze them (many plants have very tight palatability windows–a cow won't eat something that they ate like ice cream 3 weeks ago). They are picky eaters. They'll deem it purely unpalatable if it is lignified in its maturity or–even worse–dry.
The second thing I've figured out is that in general, if I don't like it in my mouth, they won't. Sure, you'll find cows eating briers or other rough feed on occasion (I've seen them take bites out of cactus), but for the most part, this holds true.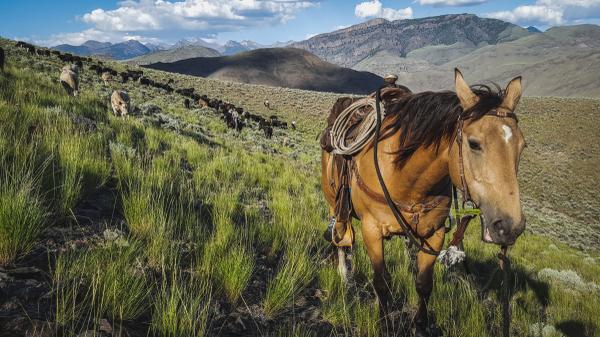 I recall one day when I put them on some of the loveliest hay aftermath I'd seen. We hayed an incredible 1st crop production consisting of Garrison creeping meadow foxtail off of the 20 acre piece that was seeded by the landowner just two years prior. Now, it was August, and we worked the second growth into our grazing rotation.
I had nearly 300 black Angus pairs who saw the verdant beauty in 20 acres of 12 inch tall grass without a seedhead on it. It was all vegetative–what bovine loves best. They stood across the hotwire, and simply bawled with grass lust. And unsatisfying as lust it turned out to be, because as soon as I swung the gate open they stampeded through and promptly put their heads down. And after just several exploratory bites and a trot around the pasture, they boomeranged right back to me.
And bawled. They were pissed. Angry. And they were blaming me. What could be wrong? I walked around the pasture with them following me, voicing their complaints. Finally, I reached down and grabbed a handful, and took a bite of the lush green…sandpaper.
I spit it out. Now it was my turn to be angry. I'd been sold a counterfeit, told by many academic sources that this grass was soon to be the foundation of cow/calf ranching (they write songs about Garrison—rhapsodizing about how productive it is). Indeed, it was excellently productive in biomass, but was unpalatable for the cow. Ground up newspaper and broiler litter (truism: broiler litter equals chicken crap) was likely more palatable for discriminating Bessie. No wonder some feedlots load their bunks up with such wholesome "goodness" as broiler litter, candy waste, and ground up paper (for fiber).
In the end, I made them eat it, but I learned to try before you cry. Or the cow does. So now, I try and chew, whenever I can. If they like it, I can usually tell why with my own taste buds and mouthfeel. Occasionally, I'm foiled by a cactus eating cow, but maybe they just were hoping I would try it…so they could see the boss's reaction.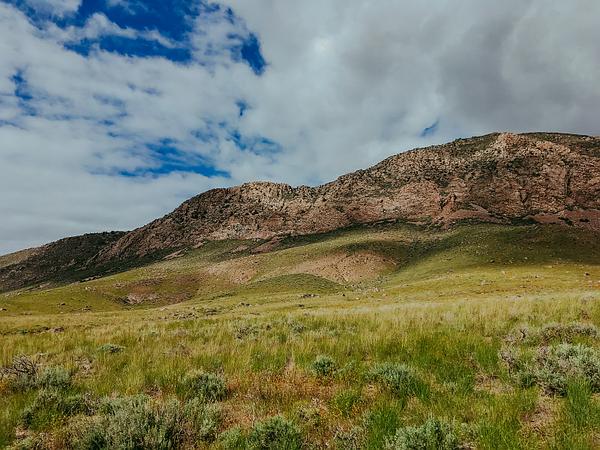 Third factor in the chef's selection of menu? It has to do with plant phenology. Phenology refers to the life stage of the plant. Is it just putting out early spring leaves, or it is nearly done making seed heads. The plant's sensitivity to grazing changes over the course of its life cycle, and so I always have to ask: is this the right time to graze this plant, both for the cow and the plant? How about the other animals we share the ranges with? Let me give you a for instance.
Bluebunch wheatgrass, our primary mid elevation range grass, has elevated growing points. That means if a cow eats it too early, she'll bite those off, and the plant has to put out new growing points from root reserve. Growing points are expensive from the plant's point of view. Do this several years in a row, the plant dies. It's why we see ranges in the Intermountain West with only vestigal bluebunch plants nestled within the sagebrush itself where it is protected from grazing. All the other bluebuch has succumbed to years of repeated spring grazing. It is what many call overgrazed, or "cow burnt." It is one of the reasons why most environmental organizations are against cattle grazing in wild range landscapes.
So when we hit the bluebunch elevation with our cattle, we eat it when the most palatable section of the plant is above the growing points. The lower section is a little too lignified, and the cow moves on to the next plant. Bluebunch wheatgrass thrives, and so does bovine.
Ignoring plant phenology leads to other problems in habitat degradation for other inhabitants from sage grouse to songbirds. Long term effects from soil degradation via the loss of organic matter and the increase in soil temperatures set the stage for issues of global significance like desertification and atmospheric carbon.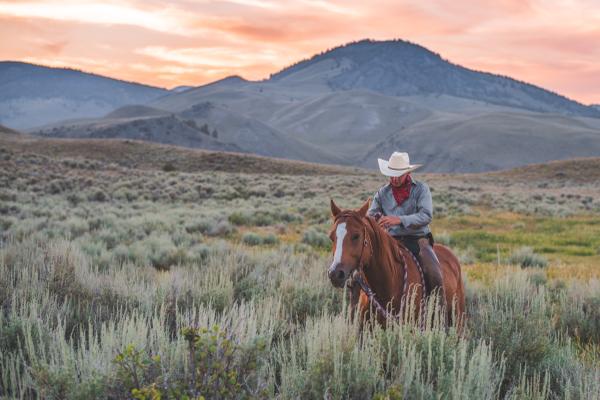 I think chef's hats are actually a little goofy looking, but chefs probably feel the same way about my cowboy hat. But then I remember: In those John Wayne films, the camp cooky, or old chuckwagon cook, wore cowboy hats. So I'll carry on that tradition, especially when it comes to meal planning for the cow…and the wild landscape and animals she shares it all with.
Happy Trails.
Glenn, Caryl, Girls and Cowboys on Alderspring