When you have cattle and crews on the range, the days are long. And they can be longer than long. Adversity rears its ugly head, and people tire. Patience wears thin. Sometimes it is hard to be nice, and words slip out of your mouth abruptly rather than the better way of with a little butter and honey.
And then there's the wrecks. People get hurt. Rebecca's horse fell on her after disappearing into a badger hole on the steep sides of Beaverhead Mountain, leaving her leg crushed but thankfully not broken. And all of us have numerous bruises on our legs, knees and torsos from getting rubbed on rocks and trees while horseback. My girls don't have pristine swimsuit legs. Bug bites and black and blue marks testify to their time on the range. Horses also get bumped on rocks and throw horseshoes; occasionally we pull them off the string for a trip to vet to get stitched up. They get poked by sticks in timber, cut by rocks. Cattle occasionally bruise or cut a foot. It's the Rocky Mountains, after all.
But these all heal. With just a little bit of time. We've never had to put a horse down from life on the range.
But machines. They break, we fix them. Except when we can't. I've left broken down and derelict pickups up there for weeks. Dirt bikes. Trailers.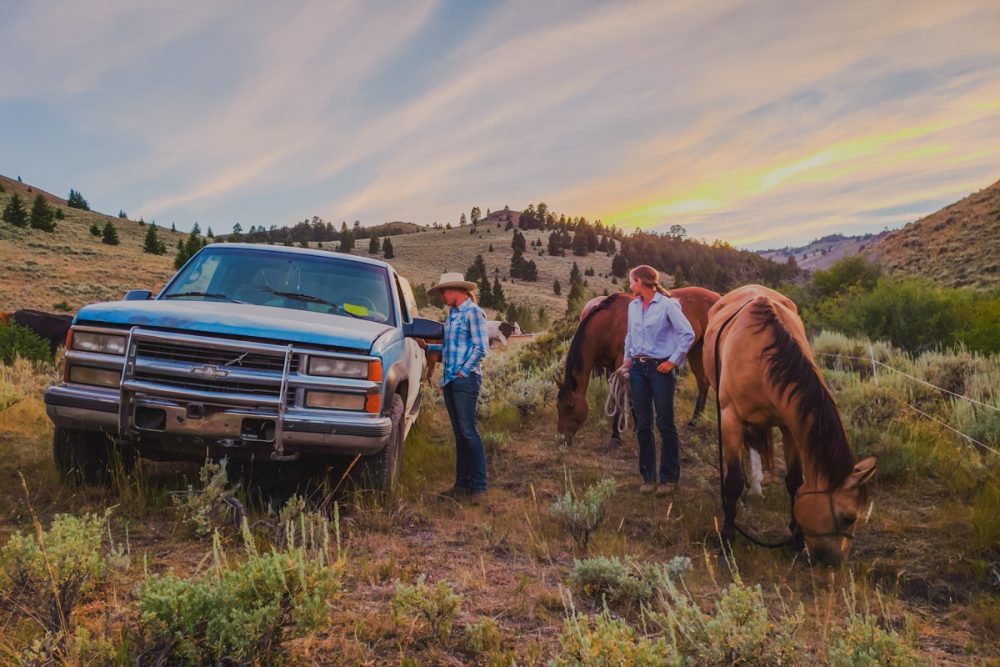 Nobody will steal them. They have enough on their hands just to get out of that rough country with their own stuff.
Last night, Ethan and the girls and I trundled down the lane to home at 11:30 PM. We left the crew far up on the range in a new camp (number 9 for the summer). We had spent the day moving camp, and the herders spent the day moving the herd to the new camp area, trailing them from Iron Mountain. They ran into underestimated and unaccounted for terrain features on their way, and brought cattle into their new camp, Big Hat, under the glow of a Coleman lantern.
But everyone was happy, whether they tumbled into their bedroll up on the range or in their comparative cushy bedrooms at headquarters well after midnight. Cowboy Jake was resupplied with food (he was running out on this stint where we twice have extended his stay by communication by satellite phone—he is going to have the longest stint of the summer now with 10 long days with no breaks).
The beeves are happy too—they have another 8,000 acres of fresh country with untouched grass to explore under the careful targeted herding by the crew. And they'll find still green grass in the high alpine forests of the Salmon River Mountains, despite this being a fairly warm and drying summer with virtually no rainfall.
I don't think the bears are really happy, but they got their fill. Every boulder under 200 pounds in size was rolled over in our new camp, just a few days ago (the rocks were still damp underneath). They, like anteaters, relish the multitude of ants and larvae that colonize the underside of these jagged volcanic rocks, and lick them up like kids on carbs. They are solitary animals, and like their peace and quiet. I think Mr. Ursine will simply move up canyon from the new camp to continue his foraging elsewhere.
This camp move went quite well, even though it was an unrelentingly long day. Ethan and I had to cut apart a huge fir tree that fell across the trail to get the camp moved via 4-wheel drive pickup. His saw jammed, and I had to hand sharpen mine with a file to cut through the big tree. We also had to nail some new shoes on two horses with my travelling shoeing kit.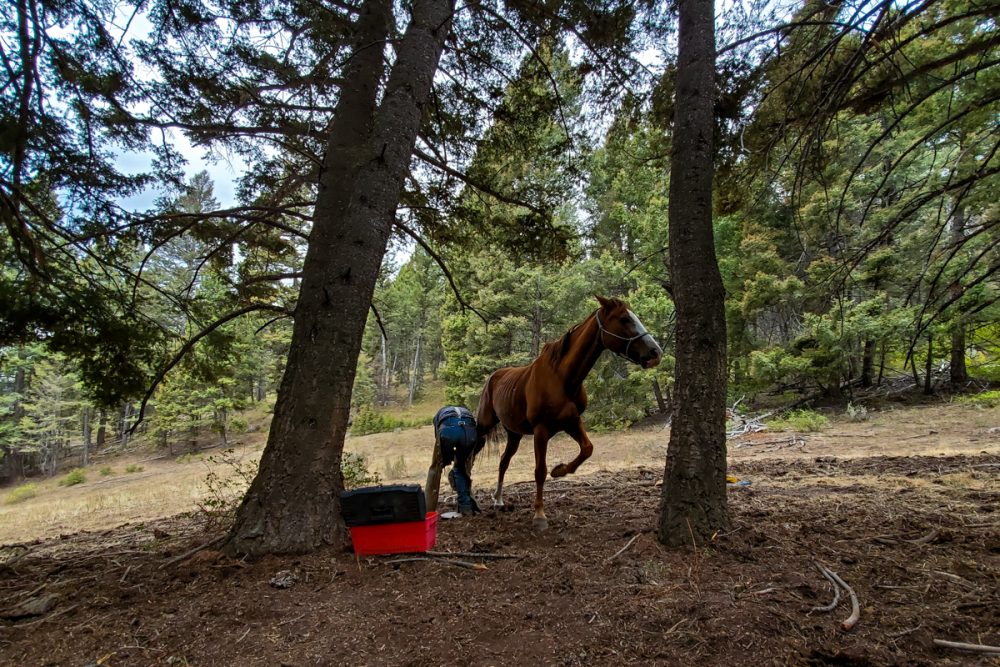 I had 4 of the Elzinga daughters helping me pick up all the gear from the camp: take down tents, roll up wire, roll up the pipes that feeds our tanks and keeps cattle out of springs; dismantle the kitchen, and load everyone's personal gear. It all had to fit in the bed of the pickup truck.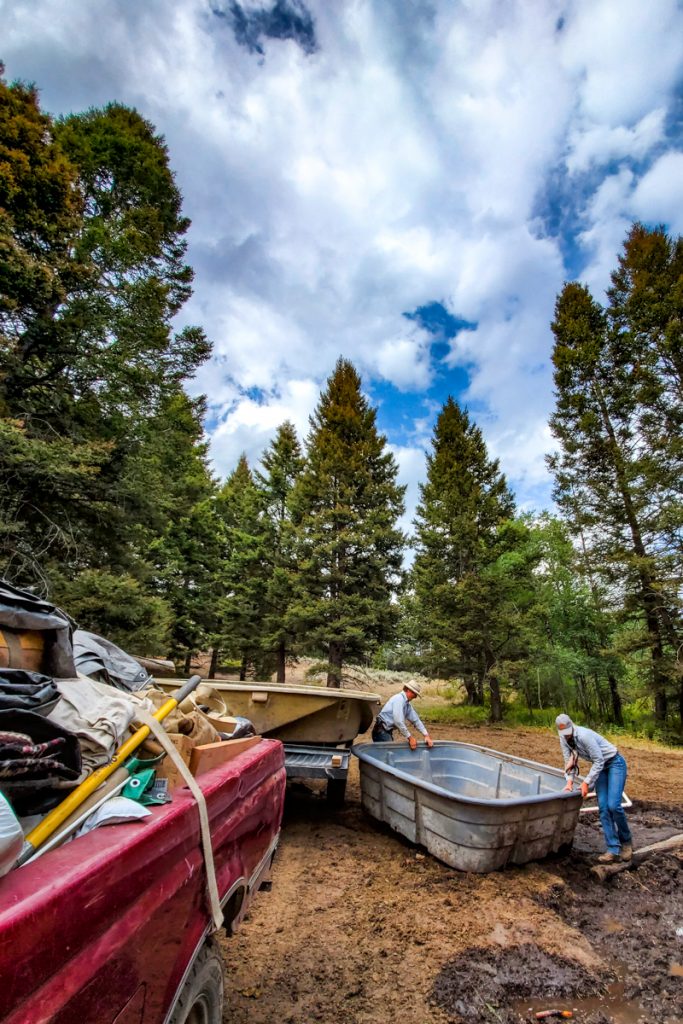 The 4 sisters rode horseback, shuttling the extra camp horses over the 5 miles of backcountry to the new camp. It was a route-finding journey for them, as there were no trails—just unbroken forest and sage, and 2 mountain valleys to cross on the way. Of course, they made it right on time.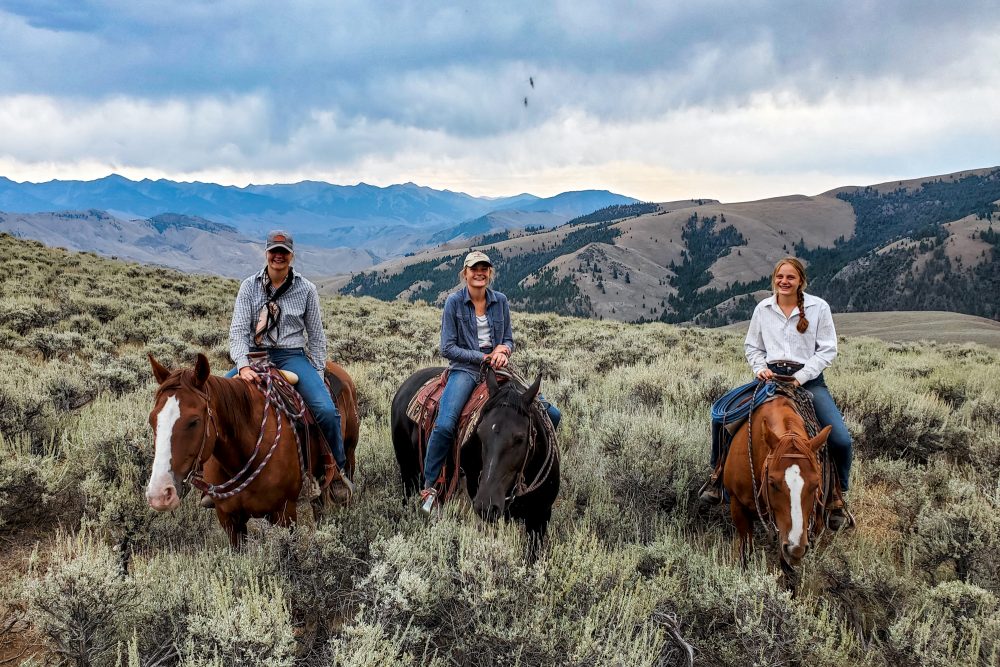 Sometimes I think with the kids, the backcountry gets in their blood. Someday, they will know it better than I do. Or for some of them who pursue other things, they may not. But the wilderness will shape their hearts and their minds with story, that I know for sure.
But last week's camp switch was not as smooth. The blue Chevy pickup had some issues as it was hauling refresher horses and crew up for a camp switch at the Iron Mountain Camp, but I thought it would make it. In spite of the long grinding climb of 3000 ft, I thought it was early enough in the day and cool enough to not overheat.
I knew we were having problems when the current crew shot me a satellite phone message: "Anthony still not here with crew and fresh horses. ETA?"
I went through my pickup inventory. We have 4 on the ranch, and every one of them was having some sort of issues—casualties of the range, I think. Four-wheel drive was imperative with the steepness of the climbs, and our other mainstay had just broken down. We had 3 four wheel drives out of commission.
Josh, our longtime employee, offered his. He knew we were in a jam.
Right after that, Anthony texted: "Blue pickup on fire. Everyone OK. Request assistance."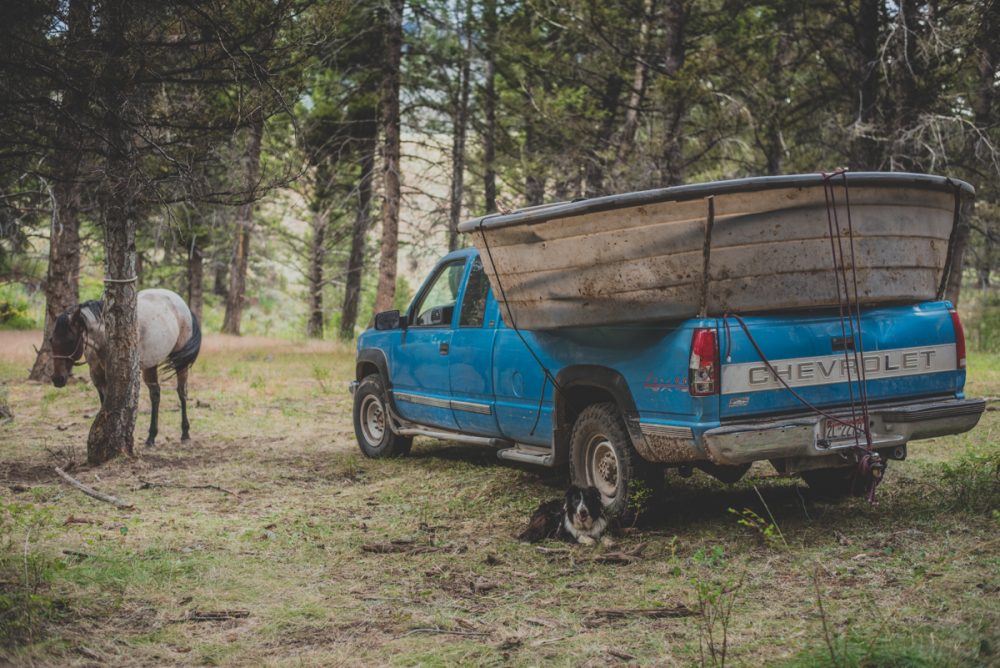 I knew he had to scale a mountain on foot to do that. And it was a long, dry hike on an increasingly hot day. There was no other way he could possibly get cell service in the remote backcountry.
I imagined his sweaty face, streaked with stress and trail dirt as he texted me.
Mobilizing Josh's Ford, I headed out. In about an hour and a half from the ranch, along Big Hat Creek, I found the burned pickup and trailer. Jess met me there, and as I inspected damages she transferred gear to Josh's truck. I popped the hood. The top of the diesel engine was white with fire extinguisher stuff. It was still warm, and char marks and ash showed that indeed, the vehicle had been burning. If Anthony had not intervened judiciously in combating the fire, the pickup would be a still smoldering pile of rubble, and the entire mountainside would likely be ablaze.
It was dry, and everything at this elevation was curing out. It could have burned for literally miles.
Jess and I loaded up, and headed off to camp, where she grabbed a horse, saddled up and joined her crew. "Thanks for rescuing us, Glenn!" she waved as she rode alone into the wild forest, out of camp.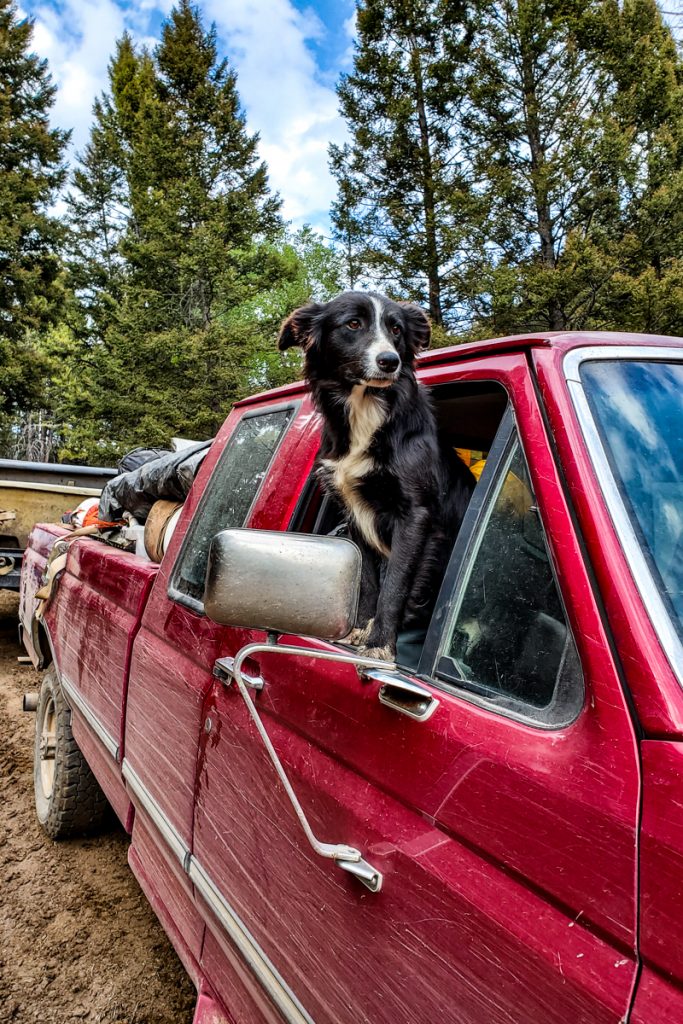 Shortly afterwards, crew boss Melanie, Rebecca and Colton rode in, exhausted after an extra-long day on an already long stint. The sun was down, and they were looking forward to hot showers and beds after 5 days spent in the backcountry.
On the way out, we stopped at Old Blue. It's what we unlovingly call the blue Chevy partly rusting piece of metal pickup truck that burned that day.
"You never know," I said, as I stepped out of Josh's truck. "Old Blue may rise again." After all, Blue had started on fire once before, put out by my hands with a strategically placed 5 gallon bucket of water. And the same truck broke down in the middle of the Rabbit Foot wildfire just last year.
The wildfire completely burned around it. The truck was fine, although still broken down (I had to coast it out 8 miles downhill to where we could give it a tow).
I slammed the hood down over the ash covered engine, jumped in the cab, and turned the key.
Old Blue spun back to life, the familiar clatter of the diesel engine echoing up the canyon. It started right up, despite just being on fire a few hours ago! I tried driving it for a few hundred feet, grabbed two gallons of water from Big Hat Creek, pouring it in the running engine block to replace the coolant that exploded out of the radiator, turned on the lights, and trotted over to the crew, waiting in Josh's Ford.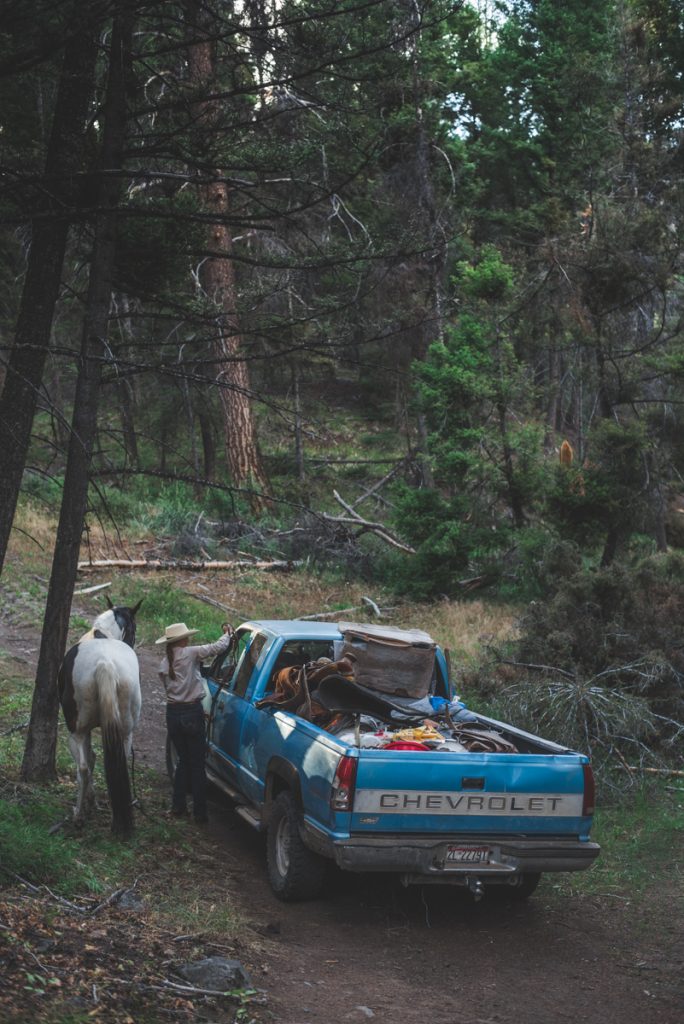 I looked in the driver's side window at the crew. Their faces were tired, drawn and trail dust dirty as I looked at each in the fading daylight.
I had to say it, anyway. At least I had to try.
"Did you see that Old Blue fired right up?" I grinned. There's no time like the here and now for a good pun, after all.
They barely grinned. Too tired to do so. Well, OK then. "Anyone wanna ride with me?"
No takers.
And so, we drove the midnight trail back, down over the rocks and switchbacks, down, down to the bottom of the Salmon River Canyon over miles of dust and dirt through sage hills and willowed creeks.
And as my dusty headlight beams pierced light tunnels into the dark, I thought about the men, women, horses and cattle who have walked these trails. They are not only survivors, but thrivers. They come back the better from a summer on the range. It toughens them, and yet tenders them to the things that are important like the beauty and fragility of life and living on the land simply.
They also figure out that most things usually work out, even on the most adverse of days. Those machines somehow keep machining and there's always a workaround if not.
Thanks for making these things all possible. I share these adventures because they are not just ours. They are yours. By the steak you have placed on your plate, you are a stakeholder. Steakholder?
Sorry. There I go again…
Happy Trails.