Soil Carbon Coalition founder, Peter Donovan, after giving a conference lecture on soil health, stepped out of the conference room. Before he could think about coffee or the restroom, a farmer stopped him in the hallway. "What is the fastest way to get carbon into my soils?"
Peter thought for a moment, then said: "Buy a railroad car full of coal and disk it in to your fields."
The farmer stood openmouthed for a priceless second or two, and then realized that the soils expert was pulling his leg.
Peter told me that story over coffee one day a few years back, and I never forgot it. It seems we get so hung up on this carbon-sequestering thing and how that's going to fix everything that we've lost our way on the real issue.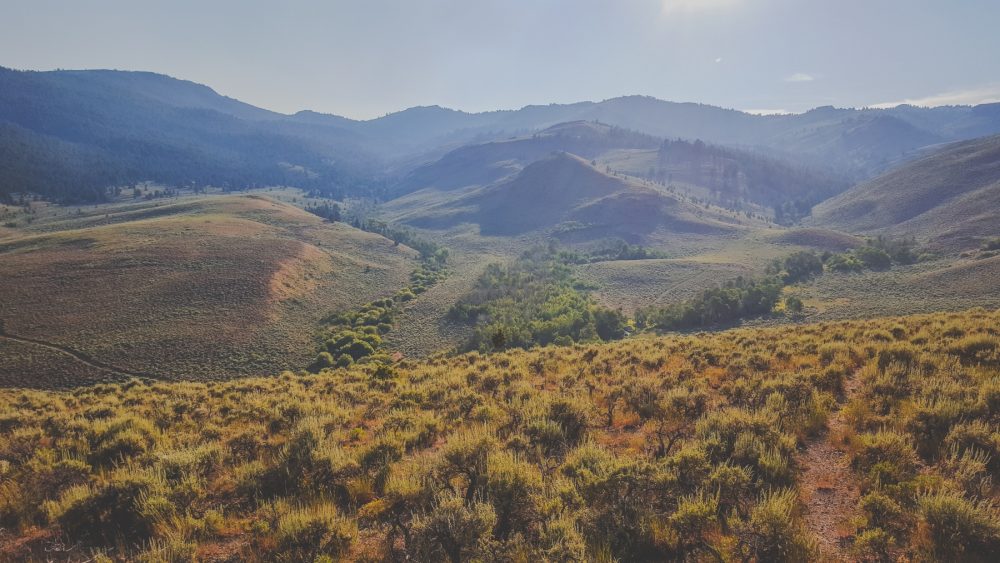 The fact of the matter is that so many of us in agriculture—and every other carbon-releasing industry (of which agriculture is the least offender—take a look at carbon emissions by the coal or petrochemical industry if you want a real shocker) focus on fixing symptoms rather than problems.
Yep. Carbon emission is a symptom. It's just like diabetes, obesity, and heart disease. Those are most often symptoms—results of poor lifestyle choices: diet, stress, and our modern sedentary existence.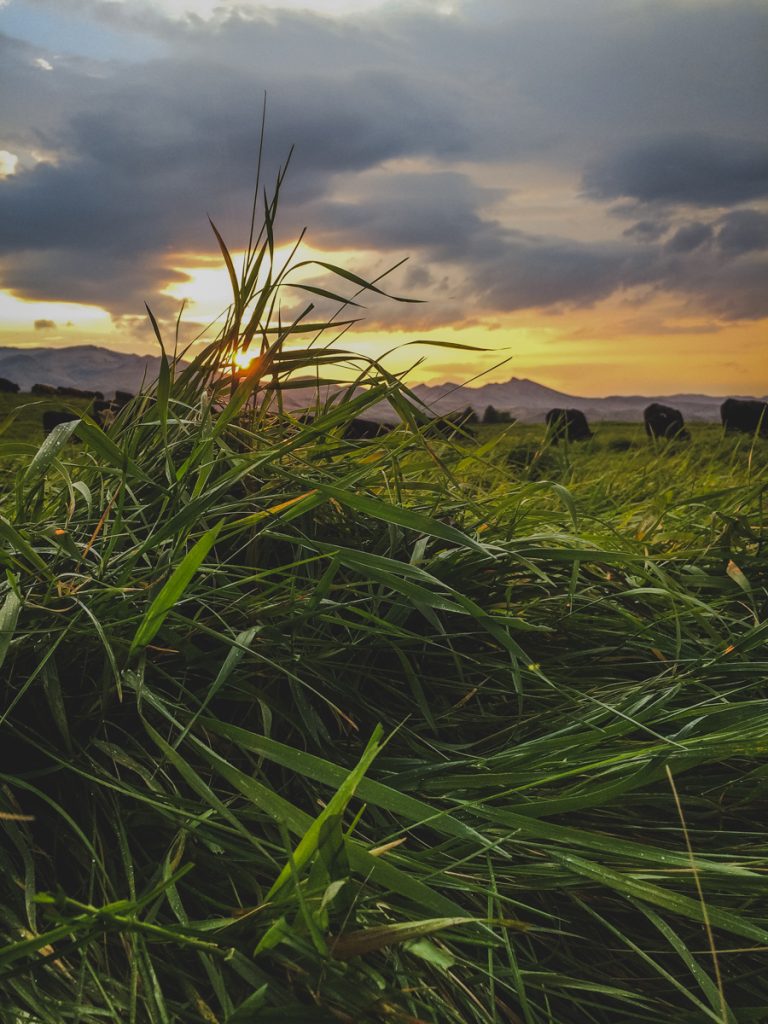 So, if Peter Donovan's farmer friend really wants to create a fix, he doesn't need to focus on putting carbon in his soil, let alone railroad cars full of coal. He needs to focus on healing his land. Healthy soils sequester carbon. The beautiful thing about that sort of objective is that so much more of his agricultural woes may get taken care of as well.
He would see less of the effects of drought, and in times of flood, less mud and erosion. He'd see healthier plants and healthier animals. He'd see an end to fertilizer bills, less fuel consumption, and more wildlife using his land (some farmers do NOT want that). And then, in just a few years, he'd be able to see more productivity, and if he manages his operation right, he'd be more profitable.
And when that farmer evaluates his soils, carbon is a fairly easy element to measure for. And he'd happily discover that he has put the equivalent of a railroad car on his land every year while doing all these other things.
Without building the iron rails to get it there.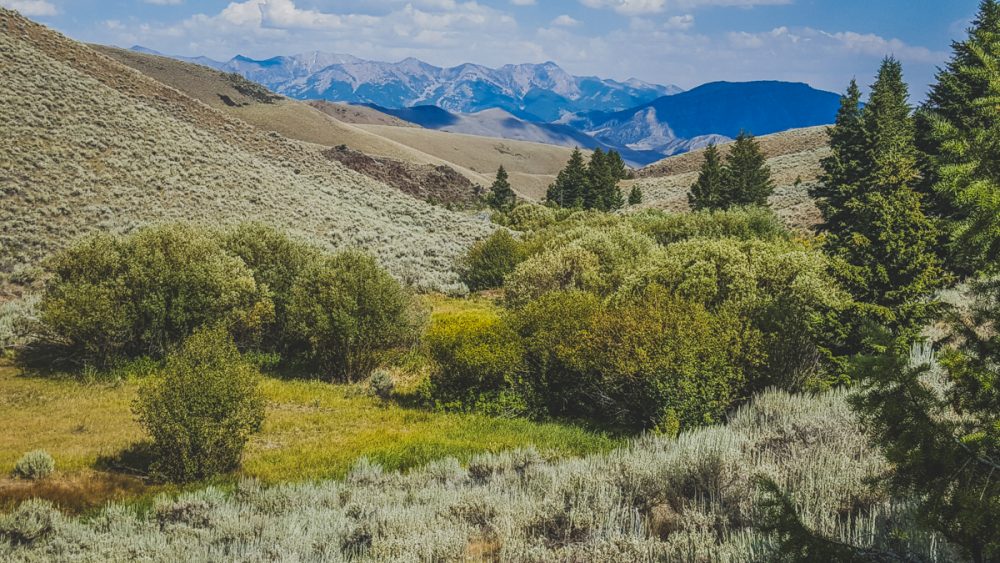 At Alderspring, we are not 'that' farmer. We are 'this' rancher. But that is what we found after we used our cows to regenerate our ranch. All of those things. In fact, by the numbers, we almost put the 'net' of a railroad car of coal in the ground—in equivalent carbon storage—per year, on just this ranch.
'Net' means carefully quantifying the carbon dioxide, methane and nitrous oxide releases from cow belching (enteric, or natural fermentation processes of not only cows, but pigs, sheep and horses), diesel fuel use, gasoline use, all electrical, transportation, packaging of our beef, shipping boxes of our beef and even the UPS shipping of getting a box of beef from our ranch to you, our customer base. We even included the personal gasoline and electricity use of our home and bunkhouse in the calculation.
Then we quantified, by known scientific soil testing methods, the organic matter composition change of our ranch soils, and the bulk density (a measure of dry grams per cubic centimeter) of the same soils, and compared them over 10 years.
And what we found was that for every 1 pound of Alderspring beef we produced over that 10-year period, we put an average of 4 pounds of CO2eq (carbon dioxide equivalents) in the soil.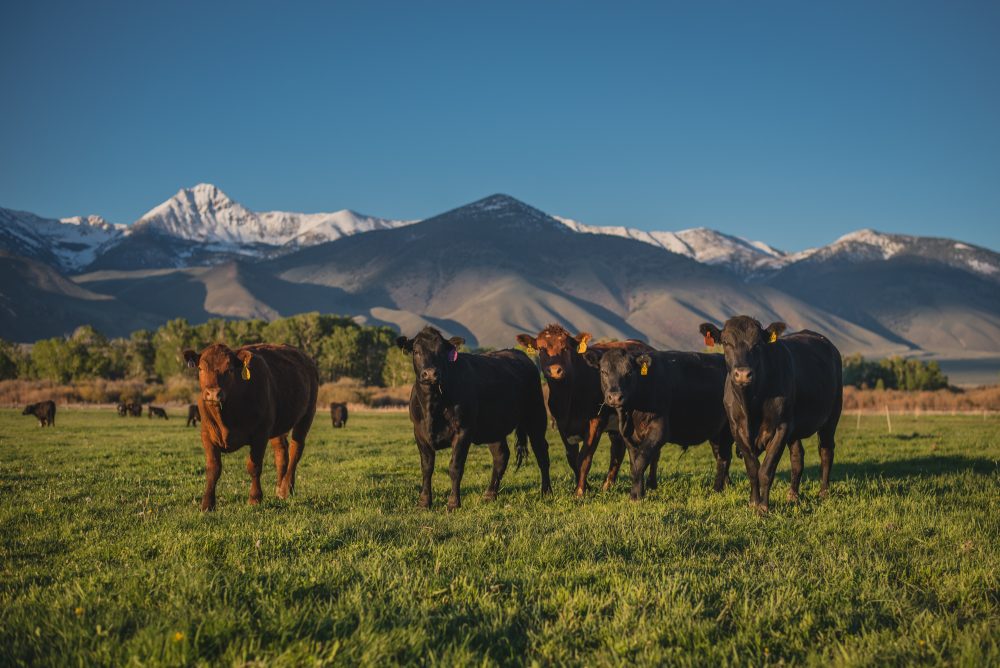 How? With cows?
Yes. With cows. In addition, while regenerating Alderspring, we found we could double the amount of cattle we run on the same acreage, simply because our soils improved. Without fertilizers or any amendments to the soil. In fact, we quit tillage.
Wild cows—or ruminants have always done this—they are beasts like bison, wildebeests, ancient aurochs (the wild precursor to domestic cows), and water buffalo. They've done it without the aiding and abetting of mankind for millennia. But most of those wild habitats are gone. Even some of the animals are gone, or at least the predators who managed them. That's right. Before we came, the predators were the "herders" of these wild ruminants.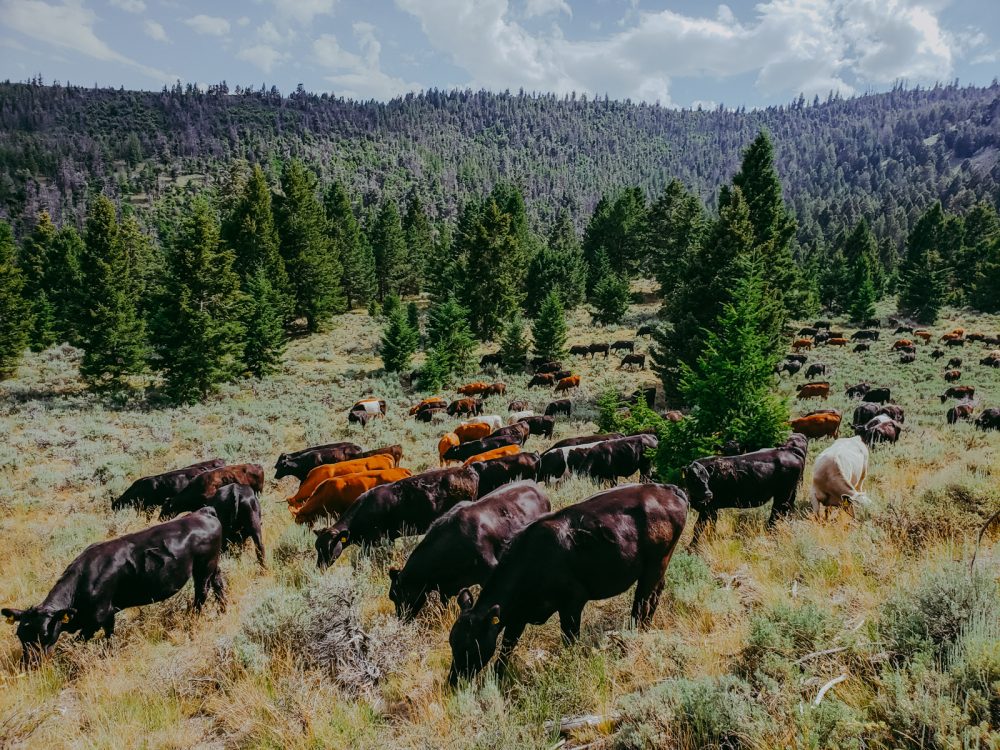 But there's hope for regeneration. Domestic cows still have instinct intact deep within their genome. And we can be the agent of partnership with them to be agents of restorative change. Here are some of the ways that we've been able to mimic the ancient processes of nature on Alderspring using cows:
1. Adaptive planned grazing systems. It's simply called cell grazing. It's basically mimicking nature's method of moving any kind of grazing animal across the landscape. It used to happen through the action of predators. A grazer that stayed in one place too long was a sitting duck for a predator. What that movement creates is non-continuous grazing of plants, allowing them natural periods of rest that they have adapted under for millennia. As a result, plants thrive, as does the soil beneath their feet. We mimic this on our home irrigated ranch with temporary hotwire, paddocks, moving the herd every day or so. On our our 46,000 acres of wild grasslands, we keep them moving on horseback.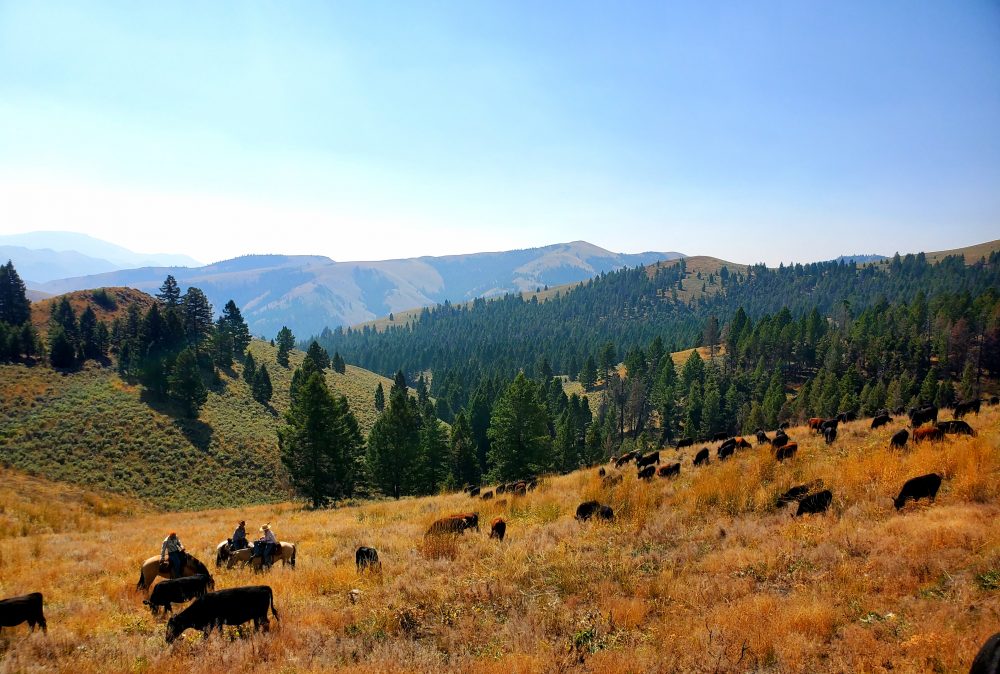 2. Biotic and nutrient cycling. When cows graze pastures, they are inoculating the ground with beneficial bacteria and fungi from both ends—from their nose, saliva and through manure. They live in symbiosis with healthy soils, as many of the same bacteria and fungi that they have within their gut microbiome also live in the soil beneath their feet. Then, urine and manure deposition puts critical nutrients and masses of organic matter back into the soil that feed soil biota directly. We've often seen wild grasslands that have not been grazed for decades suddenly double in productivity from a one-day long burst of grazing the year before. Eventually, grasslands stagnate without grazers.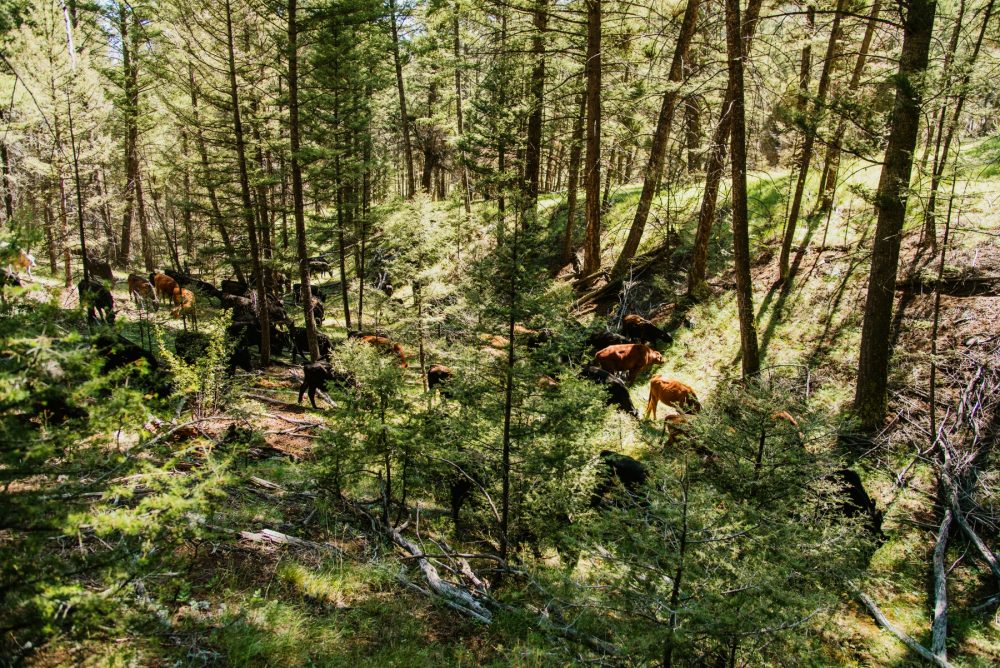 3. Stimulation of root exudates. When a cow takes a bite of grass, the plant immediately responds with an injection of carbohydrates and other nutrients into the soil along the rhizosphere, that biology rich boundary between root tissue and the soil matrix. Soil biota gets fed, and expands. Where life expands, so does carbon, as organic matter is 55 to 58% elemental carbon.
4. Mortality of roots. When a cow eats grass, most plants respond with a commensurate response in root sloughing (die-off). When the top of the plant is grazed, some of the roots will die as a response. New root growth immediately follows grazing, especially carefully managed grazing that maintains enough photosynthetic capability on the green plant above. But the underground gem is that those dead plant roots feed an entire food web of biota that live on dead things. When life is teeming underfoot, organic matter increases, both across the soil and down deep. I've found deep organic matter—roots, and then tangled masses of living earthworms looking like a sort of wriggling bowl of spaghetti, at 7 feet down on Alderspring. I've discovered deeper black soil testing higher than many midwestern prairie soils on Alderspring's desert ranges at 12 to 13 feet below ground. It was root death that put it there, and it was probably a wild grazing animal that caused it.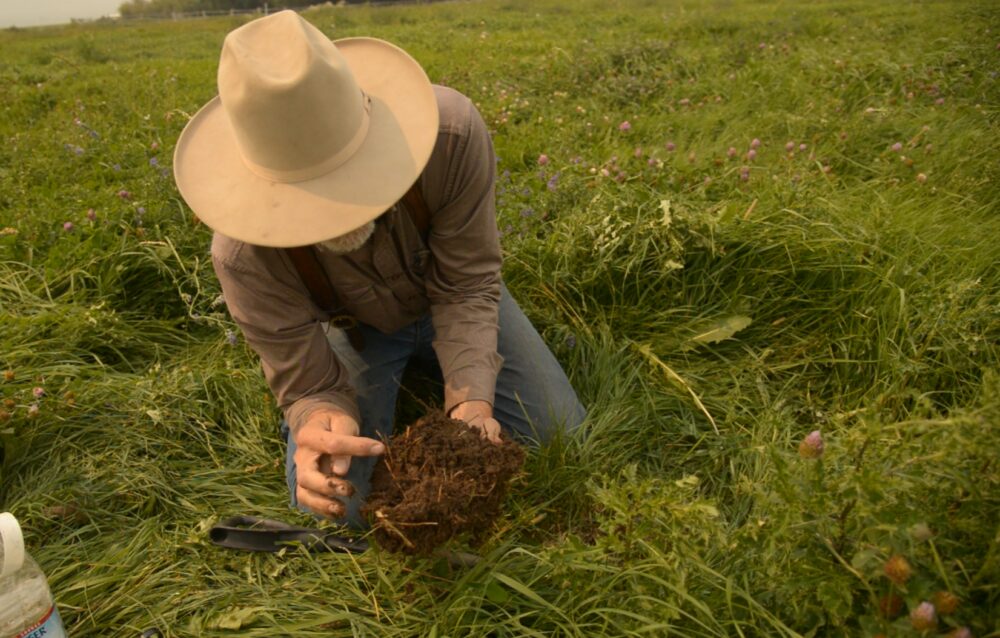 5. Attraction of dung beetles. These shiny and iridescent-backed animals come in many species, but they all target one thing: bovine manure. They appear at all times of year in cow manure, and efficiently and effectively harvest it and incorporate it into the soil profile. Where there were grasslands prehistorically, there were ruminant grazers. And where there were ruminant grazers, there were dung beetles, carrying their trophies of bovine manure deep into the ground.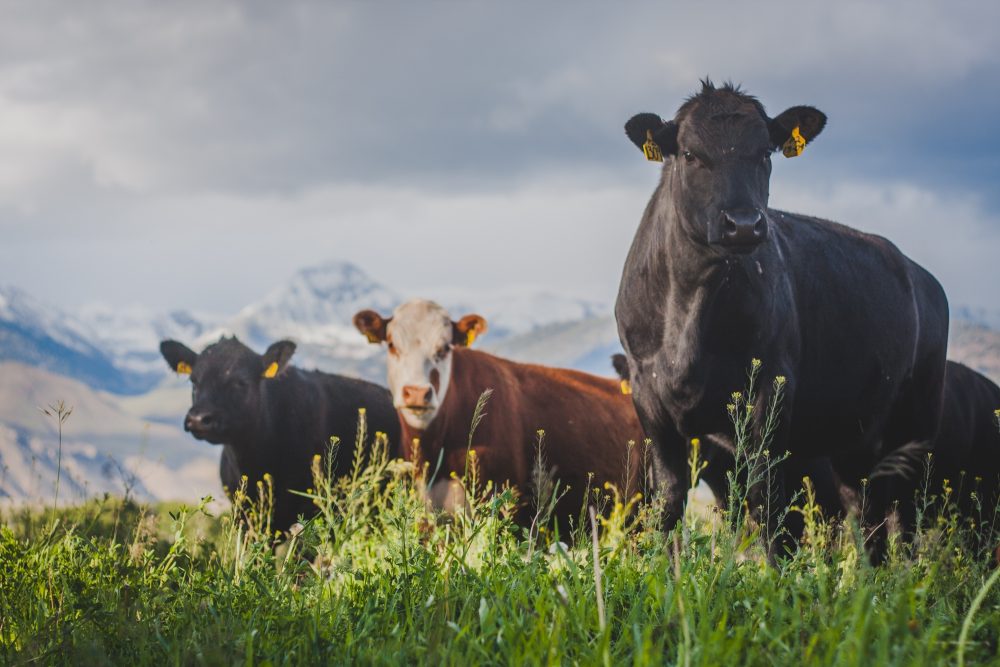 I'm certain that is not a complete list. We're still learning. But with cows managed to mimic nature, they more than make up for their perceived net negative methane effect. The idea of 'bad bovine that destroys the planet" was created by humans by placing them in feedlots and confinement dairies in the name of efficiency. But the industrial and scaled-up 'efficiencies' of cow on concrete is an illusion, as the sustainability (without inputs of any kind) of a bovine-maintained ecosystem as we have found on Alderspring exceeds that of any found in industrial agriculture.
Horizon Dairy is a perfect example. They are currently one of the world's largest certified organic dairy brands. They just released their Life Cycle Analysis report of their aggregate of farms that documents the carbon release into the atmosphere per half gallon of organic milk produced.
Horizon is a shining star of cow 'efficiency' and industrial agriculture. The have biomass digesters to gather methane for electrical generation stations on their 'green' facilities. Their on-site composting takes the by-products of methane digestion and spreads them on their fields to reduce fertilizer demands. Cows are computer tracked individual to tailor their rations and monitor their health and milk production through massive 'carousel' milking parlors that often milk cows 24 hours a day.
They have no water quality issues, either to ground water or surface water. Cow welfare is equivalent or slightly better than the industrial average of mega-milkers nationwide.
The carbon per half gallon released? Only 5.8 kilograms of CO2eq (carbon dioxide equivalents) per half gallon. What does that mean, you say? It's a little cryptic, but let's do a little converting: 5.8 kg of CO2eq is convertible to elemental carbon by the factor 3.67. That means that 5.8 kg divided by 3.67 equals 1.58 kg of the black stuff (carbon basically coal; it's around 90% elemental carbon).
1.58 kg of carbon equals 3.5 lbs. If we were to take it as a block of coal, the kind dug from the ground in America to fire coal-fired generating plants, it is almost exactly the size of a half-gallon of milk. Think about that. Put that on your breakfast table or in your fridge. Half gallon of milk next to half gallon of coal. That's a lot of coal to put up in the atmosphere for 64 oz of the white stuff. It's the polluting cost—the emission of carbon cost for that gallon of milk.
Our vegan friends may ask if plant-based fake milks are better? Certainly better at face value in terms of carbon and climate. But are they good for you? Good for soils? For that, there is not enough space on this page to go in depth on that and whether this highly manufactured 'milk' product is food.
Instead, we'll just stick with the object at hand; cows…and their life on grass.
Not concrete.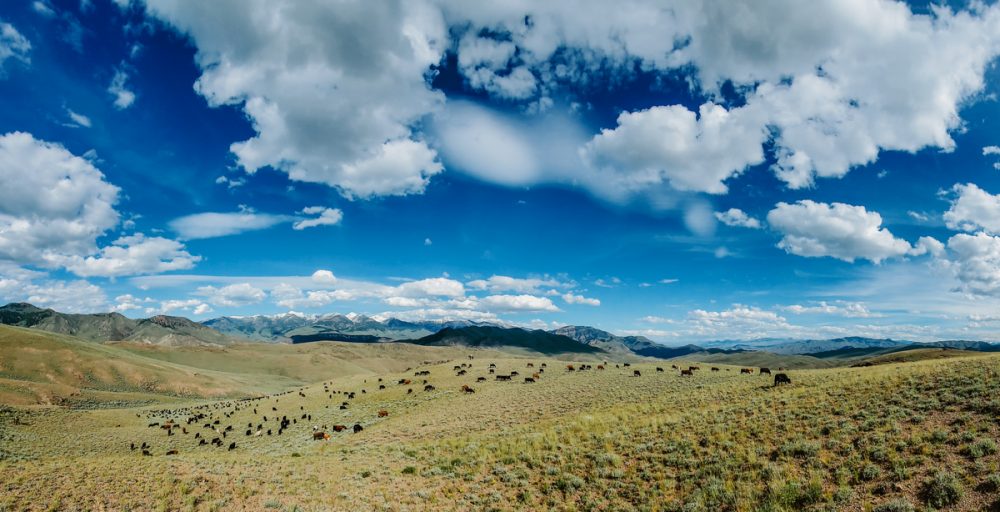 They can save the planet, you know. But they need us to partner with them for it to happen. For us on Alderspring, the solution has been not building industry–or a factory. Instead, we've realized that instead of methane digesters, computer ration tracking, and biomass fuel factories, we needed to make it simple:
A cow. On grass. Moved like nature used to move it.
And that simplicity on our ranch flipped the carbon equation from into the sky to the ground, where it resided safely for millennia. Simple truth sometimes can prove evasive.
-Glenn
---
Post Script:
There are many people who cry foul with the argument of cow. They'll say things like "Well, Glenn, I am so glad that works for you on your weird little ranch in Idaho. But the world population is growing exponentially. How are you going to feed fifteen billion by 2050? We need feedlots! We need our cows on concrete."
Or worse, they'll say "We can't waste our land on cows. We need it for plant-based food sources!"
What if there was enough for both?
The numbers really aren't that hard. In fact, they are quite simple.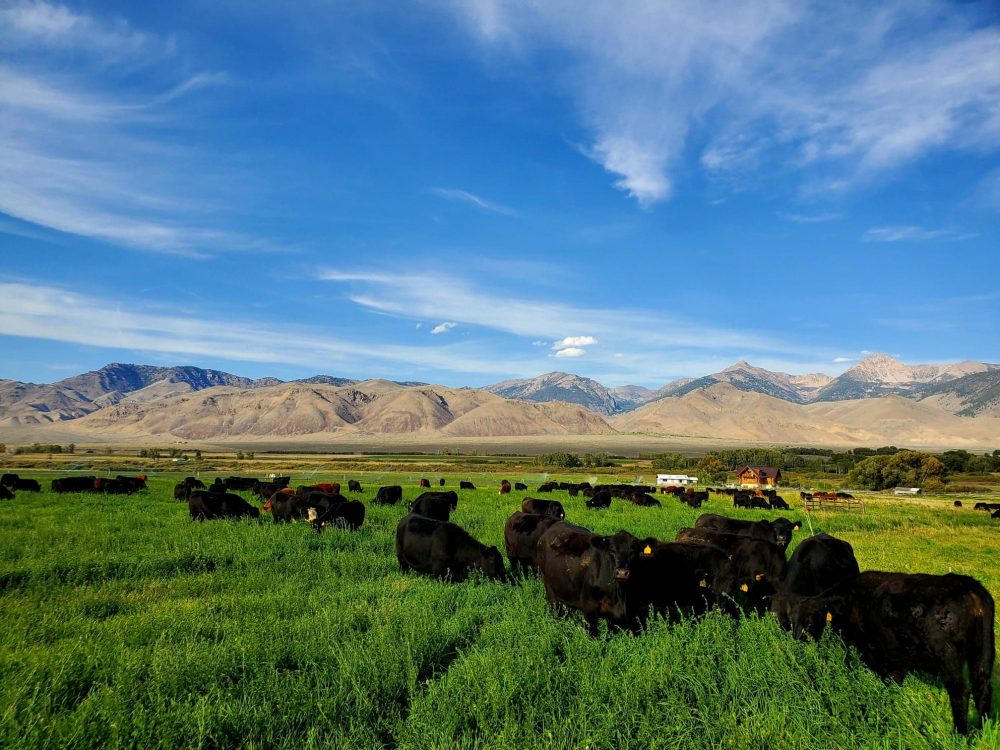 Come with me for a moment:
Ten years ago, on Alderspring, on just the irrigated ground of the ranch (creating a rainfall equivalent temperate growing zone of 35 inches per year), it took about 3 acres to support one beef cow. There are 405 acres there. That means that we could grow 135 cows on that ranch, year-round (that includes growing the hay to feed them during the snowy winter. That is with no chemical fertilizers at all. No feedlot. No bought feed. Cows on grass and hay, year-round.
Now, after 10 years practicing regenerative soil-enhancing principles a cow takes only 1.5 acres on the same 405 acres. We've doubled our stocking rate of cows due to the living soils they walk and graze on. We can now run 270 cows on the same acreage. Again, no chemical fertilizers or any amendments. No feedlot and no hay purchased from outside sources. Cows on grass and hay, year-round.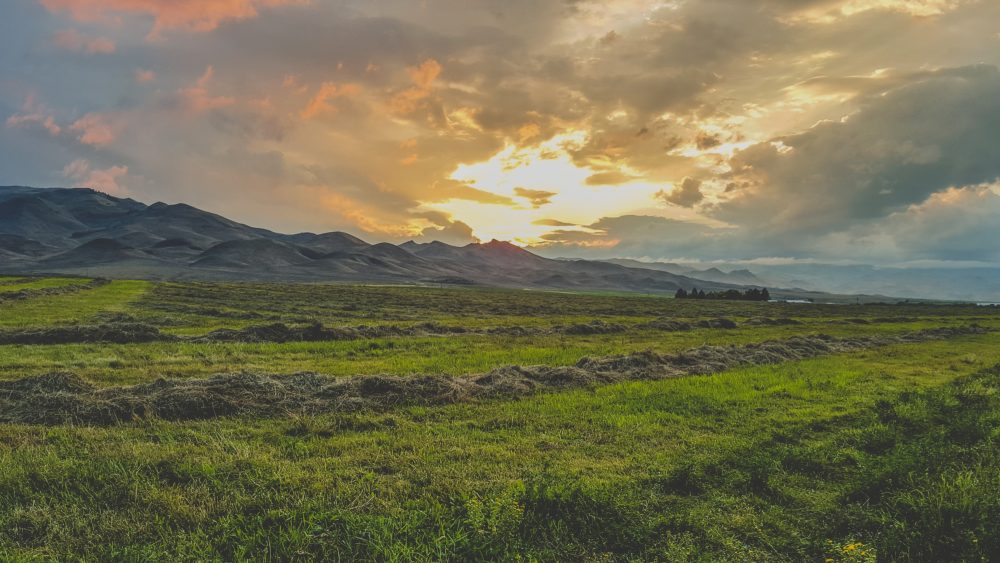 As of July 2021, the US inventory of all beef cattle (cows, calves, feedlot cattle) is 31.4 million head. Let's just say we were able to graze all of the animals on regenerated pastures in just a decade (it only took 10 years for us to get there on Alderspring with very few input costs). At 1.5 acres per animal, we need 47.1 million acres to raise those 31.4 million head of bovines.
*NOTICE! UPDATE OF ABOVE NUMBERS to include ALL cattle in the US including dairy cattle: Starting the above paragraph, updated…
As of July 2021, the US inventory of all cattle (beef cows, dairy cows, bulls, steers, heifers baby calves, dairy replacement calves, feedlot cattle) is 101 million head. Let's just say we were able to graze all of the animals on regenerated pastures in just a decade (it only took 10 years for us to get there on Alderspring with very few input costs). At 1.5 acres per animal, we need 152 million acres to raise those 101 million head of bovines. That's actually an overestimate of actual acres because many of the younger animals (over 30 million head in that number are baby calves who initially rely on just mom's milk for sustenance) only would need half to 3/4 an acre to support them. But let's just err on the side of conservative to be sure we cover our bases.
Total US farmland weighs in at around 900 million acres. That includes annual crops like corn, soybeans and cotton, hay ground, drier grains (wheat ground), and even pasturelands in private ownership. If we just took 17% of that land (that's the 152 million acres), and dedicated it to regenerated grazing lands, we could feed every beef animal grass—not only great grass, but some of the best weight-gaining, wellness and productivity-performing regenerated grass in the world. The very same acres would grow the hay, too, for winter forage in our temperate climate (the hay is in the calculation, remember; it is 1.5 acres per cow, year-round). The southern states could simply graze year-round and not have to worry about hay raising or feeding. The southern state's year round growing season potential productivity increase would create a balance for lower producing drier-lands in the more arid West.
But on the whole, we're still talking about 1.5 acres per bovine animal, on average.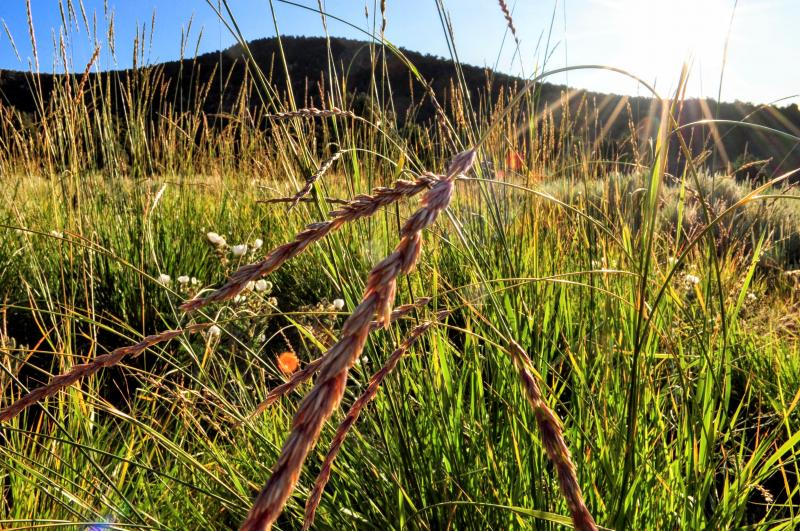 The beef cattle feedlots could stand idle. Empty. No cows on concrete.
The croplands that currently feed cows in feedlots could grow other crops. We wouldn't need corn and soybeans for cattle feed. There are currently 180 million acres dedicated to just those two crops. Beef cows would not need them.
The carbon sequestered on that 152 million acres of regenerated pastureland would be enormous. Currently, Alderspring nets about 200kg of CO2eq (carbon dioxide equivalents) per acre each year back into the ground. That's after taking out all the emitters: cow methane, petroleum use, electricity, packaging of our beef, and even UPS freight.
Let's just say that the 152 million acres of regenerated soils under those cows could suck in that same amount of carbon per year. On that meager 17% of US farmland, those cows would place the carbon equivalent of 167,000 railroad cars of coal back into the ground each year (from the EPA's carbon equivalent calculations). These hypothetical coal cars, joined together continuously on a train track would stretch from downtown Los Angeles to Atlanta, Georgia.
And that still leaves 83% of cropland in whatever you want it to be. How about growing human food instead of things like corn and soy—two crops which are mostly not used to feed us.
Crops for Human food? What a concept!
Happy Trails.