It was our second day on the range this past spring. Chilly williwaw winds buffeted the open rock and hill country we rode in. They brought squalls of icy rain and spitting snow streaming downward from the precipitous snow-covered heights above us which were partially obscured by low and fragmented clouds that foamed like ocean waves in slow motion around them.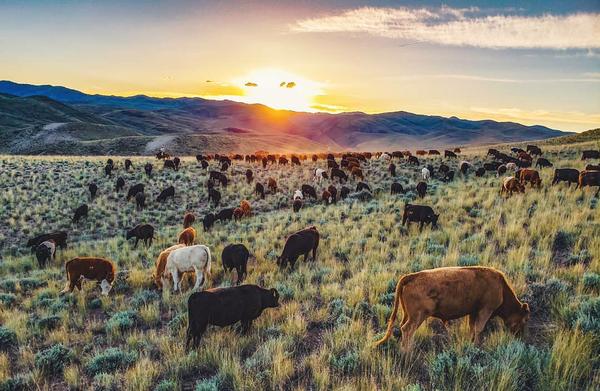 The beeves were unfamiliar with the new grasses and territory. They would scatter out like wheat chaff to the wind tempted by new plants, scents and animals to experience as well as driven by the periodic squalls. I watched some of them spook up an antelope fawn who booked it across the sagebrush bowl with some of the steers trotting in hot pursuit, interested in what this new thing might be. In a few moments, fawn stopped motionless behind a convenient rock, becoming nearly invisible in the crypto-coloration that is the trademark of ungulate young.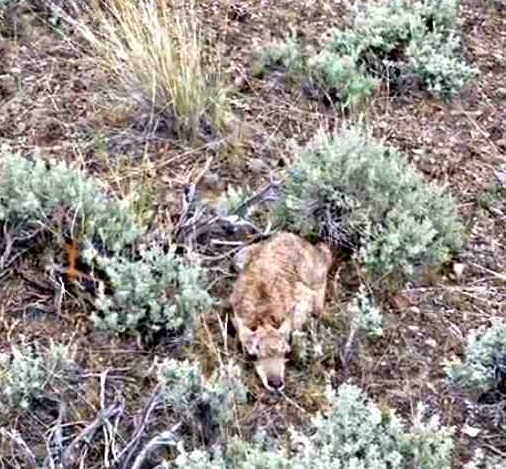 The cattle weren't the only ones unfamiliar with the range. Loosely and somewhat randomly associated with the scattered herd were 3 other new arrivals. They were humans, most of whom, although seated on a horse, remained somehow unattached, unconnected not only mentally with their mount, but unconnected physically with their seat in saddle as well. These were our newly-arrived summer riders.
At this point, I just let our new charges explore the range while attempting to help with herding (It's a success if they all stay mounted!). They had so much new material to practice on after our two-week training intensive to make the new recruits into cowhands. But one of them followed me up the steep sided butte, on whose top I had spotted some scattered black Angus steers. It was Renae, a 20-year old college student from Indiana. She was on board George, the quarter horse gelding whose main issue was taking advantage of the unschooled in equine. He could act more like a large wooden sawhorse than a live one. George would take deep Eyore-like breaths in the obvious pain and tribulation carrying a rider involved, and his scam would work on the newbie riders.
But Renae was from a different mold, and although not experienced in horse, wasn't going to put up with his scamming (she had been given the inside track on George's cons by daughters Melanie and Linnaea). She took the stocky gelding up through the rocks behind me, as soils got less, and rocks became more. Pretty soon, my stirrup on the uphill side of my horse began to bump against rocks and bunchgrasses on the ground. It was steep.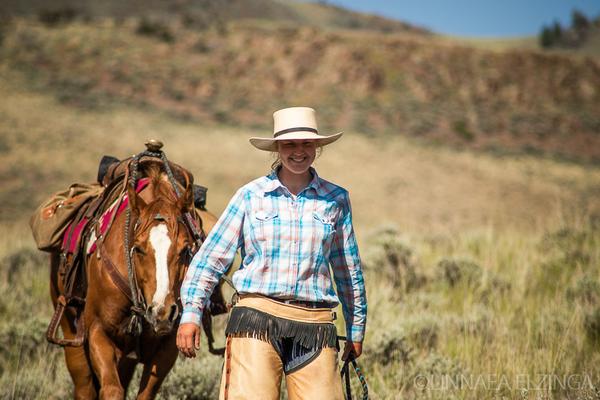 Our horses were plenty surefooted enough to handle it, so I wasn't worried. But I was wondering if Renae was. "Hey Renae," I called out through the rainy and half snowing squall across about 100 feet of slope distance. "You afraid of heights?"
She looked up at me, halting George (who was happy to do so, by the way, as he was working and breathing so very hard). Then, she looked down at the pepper like sprinkling of cattle on the rolling hills in the rainy fog below us, and then back up to me. "Not anymore," Renae stated.
"What are you thinking about your job so far?" I called down to her.
She looked up at me, thinking for a moment, and then: "I think I just landed the best summer job ever."
She was too far away for me to read her face. I turned my mind to the cattle up above in the fog. And Renae helped me trail them, gathering them back to the others, picking her way on horseback down through the maze of Volkswagen-sized boulders like she had done it all her life.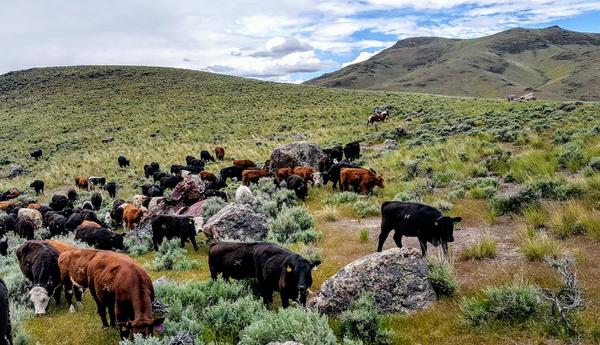 Six weeks later, crew and cattle had trailed Alderspring cattle 110 miles over canyon and mountain. They'd gained over 2500 feet in elevation and were camped at their fourth camp of the year: Timber Camp, at nearly 7000 feet, shaded under a thick stand of Douglas-fir evergreens.
"This is the nicest camp yet!" stated an enthusiastic Ben several days before. Ben, recently graduated from University of Idaho and originally hailing from the farm country of Eastern Washington, had taken a shine to the high country. He was excited to run in forested lands, even though all on the crew knew it could be so challenging. After all, there was nearly 300 head of yearling angus beeves to keep track of, and one could easily lose even as many as ten at a time in the thick forest. They could be invisible in a second. Without a plan, and good communication between crew members, cattle could vanish in the opaque pine and fir forest, and easily become wolf food.
As several of us went through the paces of setting up Timber Camp, I noted the position of the rocks on the ground in and around our camp. Every one of them, big and small, were flipped over, leaving an exposed divot of still-moist unvegetated earth next to each stone.
I showed these to the set-up crew. "See all these rocks?" I walked over to an especially large one, and tried to move it up so they could see. I couldn't roll it. The bear was much stronger than I and had managed to handily flip it over. "Check this out. This must have been a big bear…that rock is heavy. The dirt is still black and moist underneath. That means a bear rolled these over looking for grubs and worms just in the past 24 hours! Brother bruin is still around somewhere, I'm sure. Let's be bear aware."
Georgia, a 21-year old college student from New Jersey, walked up to me after I finished giving my little (or big?) bear speech. She spoke to me quietly: "Could you stop talking about bears, please?"
Her eyes told me she was not kidding.
Ben, Melanie, Sarah and I did the first rotation in Timber Camp. Sarah was a 21-year old college student from California. I was dead-set on taking the cattle into some of the thickest timber that day, so I stayed on to help them through the first day. There was good graze in there, and it would be cool on this warm summer day. Besides, it was time to train crew and herd about the beauty of grazing the high timber. It was here that the grazing cattle would find new flavors and different plants that would get translated into beef. Many of these forest plant species were new plants the cattle had not yet had the chance to eat before. We would have to show them.
The crew was not especially enthused about the timber I chose for this day's foray. It was thick, dark, and endless. In fact, once they hit that dark timber, they could stay in it for 100 miles, with hardly a break. If we didn't stick with our systems, lost cattle could wander for months. And be wolf bait. Wolves, as you likely have figured out, have a penchant for grass fed organic beef.
But that timber…and the thought of losing cattle, well, that made the trio of my crew a bit nauseous.
There wasn't a lot of talk while we caught and saddled the stock at Timber Camp. As we swung legs up into our saddles, I reinforced to them the herding nuances of timber grazing. Melanie knew the drill, but she knew depending on the new riders to pull it off may be touch and go.
And then, as the rising sun bathed the hillsides in golden light, spirits rose with it, and we turned out the 285 head, leaving the night pen behind, and Timber Camp.
It was a lovely morning. Rosy clouds dotted the sky, and it would warm up. It froze this particular morning, even though it was July; I spotted frost in the thick grasses along the trail we rode. In another hour or so, we gained the timber, leaving the sagebrush-grass system behind until we would return in the afternoon.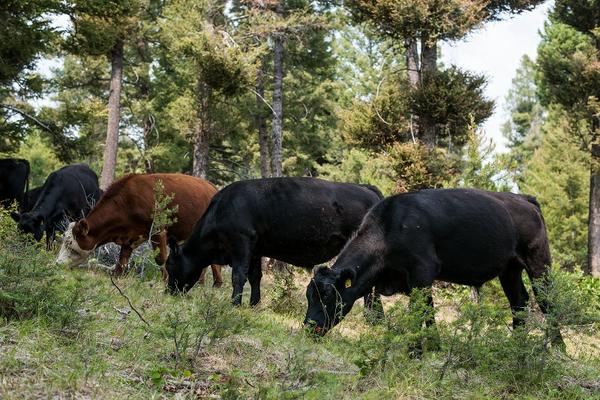 It was going well. The cattle moved excitedly in the cool of the forest, gulping mouthfuls of abundant green grass, but we stayed with them. They moved quickly, until their bellies told them to slow down, and maybe find a spot to stand or lay down in the forest shade as they chewed cud. It was a pattern they followed every day we grazed them.
"I'm gonna go on a scouting mission, further and deeper in," I told Melanie. "I think you guys got them. They are starting to slow down." She nodded, although not thrilled. "You're boss, Melanie!"
She nodded again. She was a veteran crew boss but was never thrilled about thick trees.
I left on Gatto, the gritty gelding, on my information seeking foray, trying to find the very best forage for flavor and fill, and soon was well out of earshot, and long out of sight. I headed Gatto up on a brisk trot up the mountain to the south. When I left, the cattle were heading west, slowly.
But soon after I left, something changed, spooking the cattle, causing them to turn back on themselves. Perhaps it was a bear, or elk in the dense trees. And they bolted, tails up, downhill. They weren't accustomed to forest, and like my new crew members, had to learn how to be comfortable in the new environs. At first, all three of the riders took off after the runners, and thankfully, got them slowed down, and eventually stopped. Sarah and Melanie got them halted, but when they came out the bottom, they only had half of them.
Melanie's heart sank at the realization that the other half of the herd could be still heading off, spreading across the huge forested mountainside. It was the broad northern flank of Table Mountain, and it ran continuous and dark timber for miles. They would never find dispersing beeves in that morass of black forest.
She asked Sarah if she could hold the herd and keep quieting them there. "Ben should be popping through the timber here along that flank of them any time."
Sarah nodded. She would do it.
Melanie put her heels to Sunny, her young mare, and took off to where she knew the rest of the herd must be wandering. In a few minutes, she was there, and so were her lost 140 head of cattle, quietly grazing in the dense forest. Inexplicably, they had stopped and settled; some were laying down. As she rode through the tree trunks, she saw a non-bovine figure through the thicket.
It was Ben, on his horse, quietly grinning.
"Ben! This is perfect!"
"I just figured some of them would come up here, and I better stay here to settle them down."
Melanie signed with relief. And so she and Ben quietly moved the entire herd back together, and when I returned, all seemed quite well.
When we reached camp that night and did the count as the cattle entered the night pen, not a single animal was missing.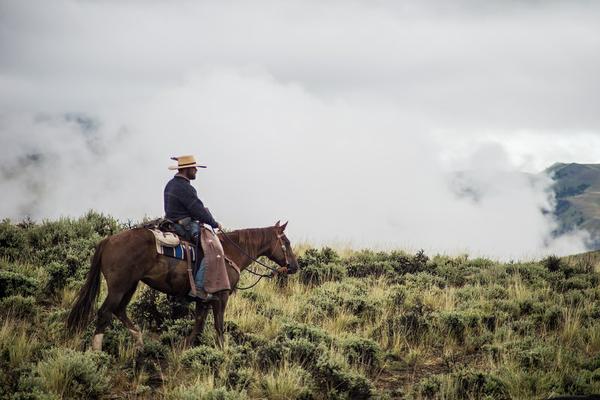 In four short days, Georgia's rotation in camp would come up. She left the ranch in the late morning with fresh horses and Sky, a 21-year old college student from Northern Montana. They drove the gooseneck truck, with gear and horses and climbed up the rough and cobbly roads to what we call the drop point, a narrow flat on the otherwise steep and rocky two track where we could turn a trailer around and park it.
They would ride across the broad expanse of Bear Basin, a sort of rolling prairie in an otherwise mountain and canyon landscape. They brought an extra horse, Tiri (short for that fat laden dessert known as tiramisu), figuring she'd stay with the other horses and didn't need to be ponied with a halter. Tiri, like the dish, was fat laden, but she was a firecracker and could go all day despite her midsection.
And Tiri didn't much care for Roxy and Lulu, her equine mare compatriots. As the group came over the rise into the wide open, grassy country of Bear Basin, she took her chance. The mare was off at a brisk trot, even a lope, across the big country. Toward the Brumbies.
It's what we call the feral and wild horses that range through our big country. There's about twenty of them in total, and most of them made the south end of Bear Basin home for this summer. We'd cut their tracks and ran into the magnificent black stallion who leads them all. Fierce, long haired and massive, he dwarfed the harem of mares he commanded.
And he would be happy to adopt another mare into his band. Tiri must have scented them on the wind and lined out for the upper reaches of the basin, the Brumby haunt.
Sky, well versed in the riding of horses, took off first. Georgia from New Jersey leaned into Roxy and dug her heels in, asking her for all she got. The two women roared full gallop across the basin in hot pursuit.
Tiri saw them coming and gave race as the others gave chase. Georgia and Sky wisely pulled up when they both came to the same and simultaneous realization that they were making matters worse. And the two of them made a plan, and quietly turned, and started heading back, as if giving up.
It worked. Tiri saw them turn and stopped running. In fact, she started walking toward them. And Georgia quietly walked toward her and reached ever so smoothly to the wayward mare's halter rope. Just right. Quiet, and easy, in an affirming way.
And the wreck of a fat but wily mare lost to the brumbies was averted.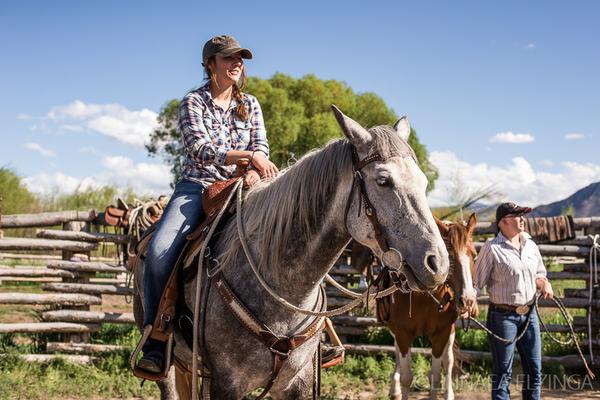 Perhaps, to you readers, these are just small things, like Renae putting aside her fear of heights, Ben resting the herd in thick timber, and Georgia picking up that stray mare, but put them all together, along with the many other adventures Alderspring crews endure, and you have the stuff of story.
It's the story of how young people come here and live a life so distant from their upbringing experience and bring their diverse contributions to the table of what we do—they become members of a team. They develop a keen resourcefulness and strength to prevail despite the odds of weather, animals, both wild and domestic, and extreme fatigue often being against them. The days can be long and unrelenting on the wilderness of the range, but all of them know that the work they do has great significance in the survival and wellness they provide to the beeves and the care of the land they traverse.
And as the summer progresses, they also realize how what they do is linked to serving the many people who purchase Alderspring beef. They begin to understand that people depend on us and trust us to provide to them the very healthiest food for them and their loved ones. It is a mission in artisanal husbandry of a handcrafted, beautiful protein that originates from animals respectfully ranged on a wild landscape.
And in a summer working in that vision, these young people become part of the landscape and the story of our beef. Without these young people and their stamina and enthusiasm and embracement of the significance of what we do, we wouldn't be able to serve our beef to your table.
And so, we are thankful for the young people we've had work here over the years. Many of them come back, but every year we get to bring on some new recruits. And it is time to begin the hiring process for new candidates for Alderspring's summer range riding crew for 2019. We are looking for young people who can live with others in remote settings and thrive while appreciating the hardships of life on the range while walking in the beauty of high mountain wilderness. If you know of anyone who has what it takes to be a candidate, please forward them the link below!
Happy Trails
Glenn, Caryl, Girls and Cowhands at Alderspring