Earlier this week, Tracy was helping me at the Custer County DMV window. I was switching off plates from one of our ranch pickup trucks to another. She was intently concentrating on the computer screen in front of her, mouse under hand, scanning through our registered vehicles.
"Yep…that red chevy—I'll pull the plates off that and put them on the '08," I told her. "We'll just run that pickup plate-less around the ranch. Like an ATV. The girls will drive it to haul salt and fenceposts."
She was only half listening as she nodded while fixated on the monitor. "So Glenn…what about this Mercury? The 1981?"
"The what?" I had to think for a second. Slowly, a memory materialized in my mind. "I haven't driven that car for 30 years!"
"Well," she replied, "if you don't get the salvage yard to send in the title it will stay on your list of vehicles until you die." Her eyes left the screen and met mine for emphasis, with her best "in case you didn't know" look.
"That one never made it to the salvage yard…," I said as the recall of a morning nearly 30 years ago rushed in.
It was the swiftly rising column of ink-black smoke that caught my eye. The day dawned unusually calm at Alderspring Ranch, at that time in Tendoy, Idaho (about 30 miles as the crow flies but an hour and a half away by road from our current ranch location in the next valley). Ron Alder and I had gone up to see if we could bale hay on what we called the "bar ground," an unusually flat perched terrace of land that ancient glacial outwash had left behind. The bar was pressed up against the abrupt uplift of Ramsey Mountain, the first foothill of what further up became the Continental Divide, the rocky spine of mountain wilderness that separated Idaho from Montana, Pacific from Atlantic.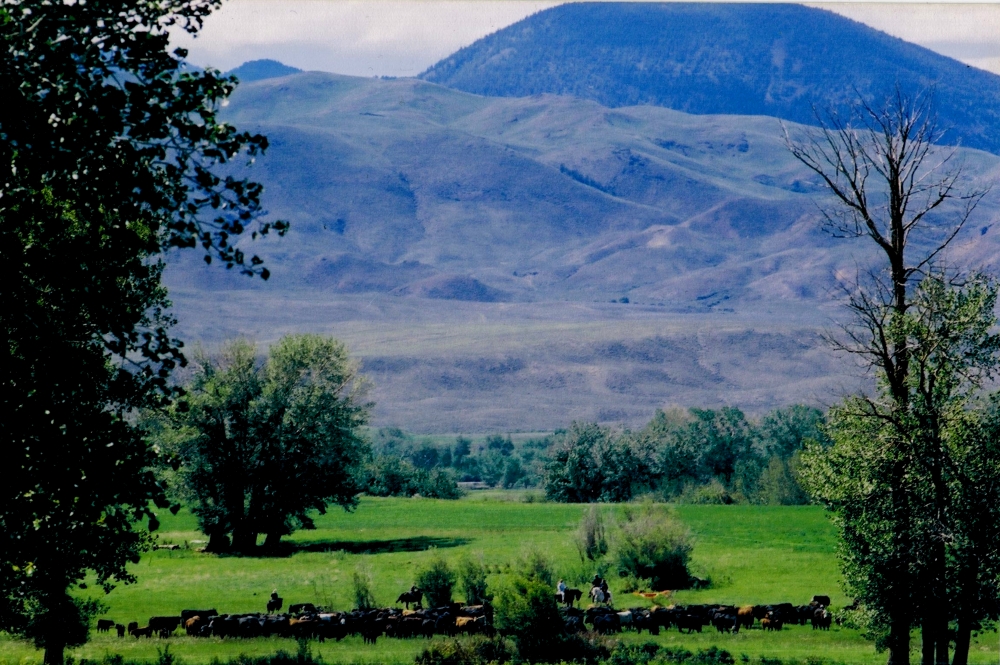 The day had dawned warm; I knew it would be called hot when it reached the 90s later in the afternoon, sweltering by our standards at our 4800-foot elevation. It was perfect hay drying weather if we could avoid afternoon cloud buildups and thunderstorms. Over the past few days, I had piloted the ancient and cantankerous Hesston 420 self-propelled swather up and down field. I figured I had inhaled every bit of the pollen that emanated from the beaters of the gathering reel and then blew it back out again in my handkerchief. There was no cab, no air conditioning, just me in a cloud of dust and pollen unbuckled on a tiny seat, balanced precariously above the clattering reel as it mesmerizingly folded in an abundant hay crop of orchardgrass, alfalfa, brome and bluegrass to yield stem to sickle bar and then to windrow behind.
The hay would dry further today, and some, the earliest cut from several days ago, would be ready to bale.
"Should be good hay this year, Glenn, and I reckon that first cut hay will be ready by this afternoon." Ron commented as we headed up to the bar ground. As he continued, I calculated just how many hay seasons Ron had been through on these particular hay meadows. I figured that it was at least 65. As we crested the hill, I glanced his way with a nod. I noted that the early morning sunlight illuminated relief in the topography found in the deep leathery furrows on his face.
We had bought this little ranch from Ron and his wife Frances and asked them to stay as part of the deal. Ron and Frances weren't just sojourners on this land. They had become part of it. I saw the evidence: Ron somehow managed to keep his entire place green by the artful and very strategic moving of canvas irrigation dams across the complicated network of tiny ditches that crisscrossed the ranch. There, armed with shovel and canvas, he eked out life and resilience from what would have been desert soils. Thick grasses, some near chest high, coursed in oceanlike waves in the breeze where he performed his art. Somehow, he seemed to convince water to disobey the laws of gravity and flow uphill. Water and grass bent to his will.
In the winter, Caryl and I would watch in wonder as a wild magnificent 7-point bull elk would come up to their pickup as they drove up on the bar just so that Frances could take pictures of him. Sometimes there would be a half dozen of the massive creatures around them. The elk seemed tame around the couple; I could see Frances talking to them as she sat in the bed of the pickup as Ron drove. With anyone else, the huge ungulates would have turned tail and humans would have been lucky to see any more than a cream- colored butt bobbing up and down through the distant sage.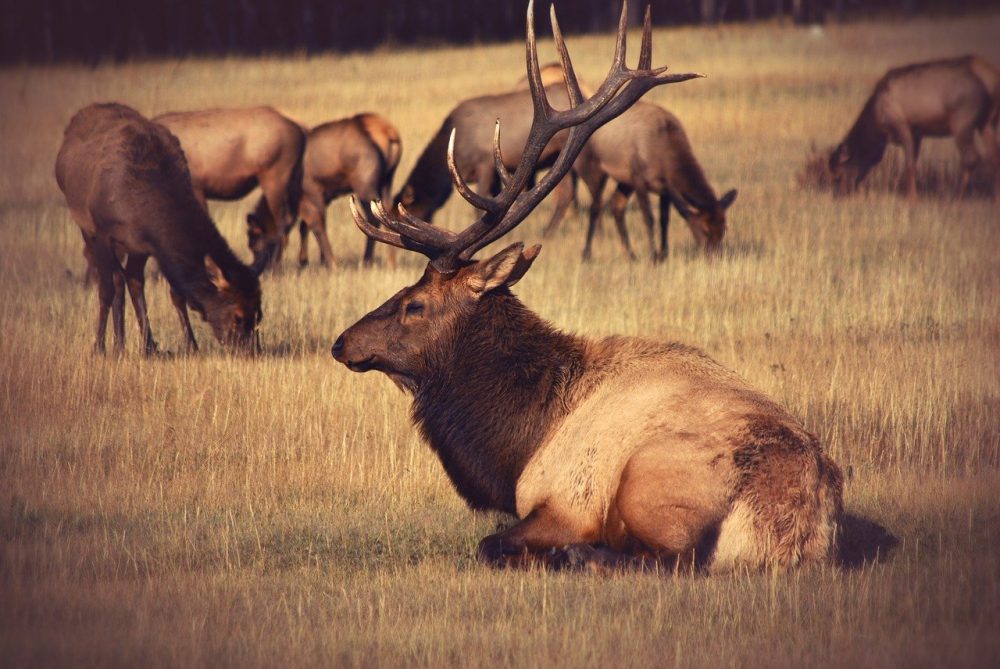 And then, it was the carloads of Shoshoni elders, raised by a generation of peoples who hailed from a time before white settlers. They visited Ron and Frances often, and quietly shared a peaceable smoke of tobacco while reflecting on they only knew what. I would see their shadows, seated on the couches and chairs, clouded by smoke through the windows as I rode by on horseback; they would talk for hours, probably about people and horses they knew, and salmon and elk. Both human and horse occupied the same position of importance in conversation in those discussions—that much I did know. For Ron was a horseman.
On occasion, I would ride a recalcitrant acting mare or gelding up to their home and knock on the door. Ron, in his late 70s and no longer able to walk well, would invariably grab reins from me, throw a foot in the stirrup and climb on their backs to see what was going on. All hints of rebellious behavior immediately evaporated. The horse knew, that despite the age of this human, he was to be respected. Ron somehow knew them. And horse knew him, even if they had never met before that moment. Ron spoke their language—the lexicon of equus.
Ron and I turned off the road to head down through our corrals toward the mown hay, beautifully patterned in concentric windrows on the irregularly shaped small fields bounded by stately cottonwood trees. This place was a sort of a reverie to me; I couldn't believe how blessed we were to have found such a place, especially with the likes of the Alders on it.
Snow-streaked mountains of the high Lemhi Range rose up beyond the green hay meadows. As my eyes wandered across the valley toward the high Divide something dark and disturbingly sinister interrupted my traveling vision: a black erupting plume of sooty smoke. It was right where we lived, in the humble cluster of old trailer houses and sheds that defined home for both of us.
I slammed on the brakes. "Ron! What the…!" We stared, frozen for just 2 seconds, and I slammed the pickup in reverse and gunned it back out of the corrals, rammed it in drive, and booked it off bar hill, raising our own column of dust into the warming morning.
In a minute we were there. We wheeled around to the front of the Alder residence, slammed on the brakes and jumped out.
It was the 1981 Mercury Lynx. Inside the black cloud of smoke that pulsed from the front of the car, I could still make out the outline and clearly see the words "Famous Potatoes" on the Idaho license plate. Amazingly, the car was still running (I had left it running just to charge a low battery), but the engine was now accelerating up to a very disturbing fevered whine. Although I knew it was a goner, it was too close to the house. Something needed to be done.
"Glenn, it's too close!", Caryl yelled over the whine, now becoming a roar combined with the crackling din of burning car.
"I know! I have to move it!" Then with a wave of my hand, I motioned for her to go inside in case of an explosion. "Go inside!" I yelled.
In a passing look at the kitchen window, I saw that Ron's wife, Frances was already there. Head in hands, obviously distressed.
In a sprint born from a sudden inspiration, I made it for the pumpkin: our 1973 rust and orange colored Allis-Chalmers tractor. There was already a chain wrapped around the 3-point arms, and it would have to do. Old reliable diesel smartly fired up, and with no wait for warm up, I slid it into high gear, bound for the Mercury's inferno, which was reaching a fevered frenzy. The flames now had melted the firewall and had engulfed the dashboard. Black fetid smoke belched skyward out of the windows; the upholstery had caught fire. Flames glowed, illuminating the base of the dark column of smoke.
As I backed toward the wreck, I felt the searing heat of the crackling flames on the back of my neck. I knew I didn't have much time, but it was unthinkable to leave it there. Ron and Fran's garage was 12 feet in front of it and was already smoking. Their 1970 Broadmoor mobile home was only 15 feet away.
Jumping off the Allis, I grabbed an end of the already warm chain on the back swing arms. Crouched along the ground, shielding myself from the heat with my free arm, I dragged the 20-foot length toward the car's bumper, and swung the hook over. It held.
Turning my back to the heat, I jumped back on the Allis and eased the clutch from a standing stop directly into 3rd gear. Amazingly, the tires still held air on the car, even though the entire top of the car was engulfed now. The heat was licking the back of my neck as we trundled away from the house to the edge of the hill that framed our homes.
Jumping off the tractor one more time, I unhooked. Ron, figuring out exactly what I had in mind, was already there, ready with a long wooden piece of lodgepole pine. Together, we used the 20-foot stick as a remote-controlled battering ram, pushing the back of the car with all our might over the tipping point of the hill.
The car took off and hurtled down into the open field a few hundred feet away, and almost immediately, the tires exploded as the Lynx came to rest.
For whatever reason, the flames now spread to the back where the gas tank was. I remembered it was about half full. It didn't take more than a minute before heat and fire found what they were looking for. The car blew up, and launched up into the air a few feet, a gasoline fireball.
I breathed a sigh of relief and looked at Ron. His sweaty face was smiling, as was mine. We'd done it.
Caryl came out of the house, tears in her eyes. I know she couldn't say she loved that junky old car, but it was still a little traumatic. After all, she was pregnant with Melanie at that time, and car burnings weren't exactly on the docket every day.
We still had our pickup truck. It was well over 20 years old, but it still ran. Everything would be OK.
And we still had all of us, and everything that mattered. Ron and Fran were fine. The cows were all well. Our chickens happily foraged just 100 feet from the burning Lynx, and horses grazed out on pasture, although they, too came to watch. And of course, we had the land under our feet.
That land was what we had come for. It was that heart and blood-connectedness to the land that Ron and Fran had. That was what we wanted, and we had come to learn. We gave up everything for that first ranch. We lived in a 400 square foot 1969 model mobile home trailer for 5 years (the first one invented?). We drove $300 crap-bomb cars that we had heard about on SwapShop, the local radio station's buy and sell show. We had no TV, slept on the floor, and had ancient farm equipment. We did much of our work with teams of horses. We ate from our garden. I hunted elk and deer in the fall (we couldn't spare eating our own beef then).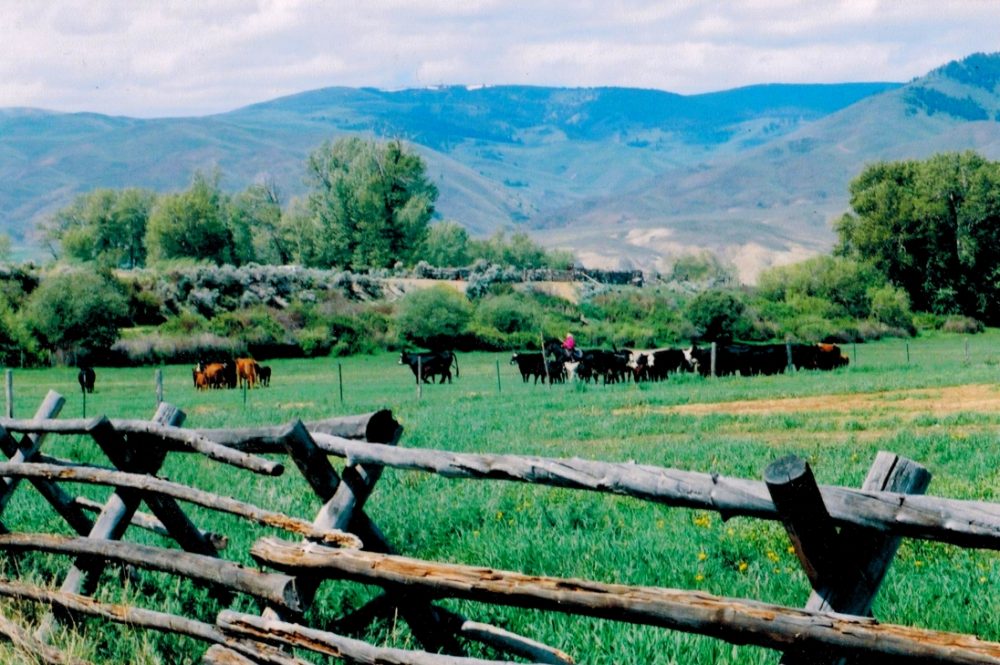 But it all was worth it for us. We had this idea to make it on a ranch, and that meant more than just occupancy: we had a vision to someday create a ranch that could be profitable in both ecological and economic terms.
And we would be willing to give up the pleasures of stuff to make that happen. Trappings didn't matter.
Now, 29 years later, those dreams have borne fruit for us. We finally drive decent (but never yet new) vehicles. We sleep on beds. We've built a nice home (out of lodgepole pine logs instead of sheet metal!). We own a TV and two pianos. The ranch finally turns a profit, and I finally can tell our girls—the next generation—that there is hope in agriculture, despite what nearly everyone else tells them.
But I will tell you it is different than we thought it would be; for instance, that equipment we constantly were fixing? All gone, except for a 1960s vintage backhoe and that same little old Allis tractor (take that, you green iron addicts!). We still do much of our work with horses, and in every way we can, we strive for an operation where our beeves, sheep and hogs do the work of harvesting the grass. Our goal is a ranch where soils are resplendent with even more biodiversity than that which grows and walks on it.
Caryl and I often wonder at folks trying to get into ranching. We look at what they have, these just starting out ranchers: pickups, tractors, hay equipment- all newer than anything we still drive. All depreciable capital that simply drives on the ground and rusts—rather than the living equity that is growing above and below ground.
I can't blame them. Every other page of Beef magazine is devoted to the latest chemical breakthrough you can vaccinate or doctor animals with or spray on your fields. Or maybe it's a 2-page spread devoted to the shiny piece of iron that you need to drive off the lot so it can start rusting. Even many county agents and University ag types espouse the same spending-focused ag paradigm.
Perhaps those intrepid aspiring ranchers and farmers will get there, somehow. It wouldn't have worked for us. We never had the capital or the credit line. Our life of ranching from scratch with no inherited equity came with many sacrifices and many long days working 2 (or sometimes 3) jobs. But we have no regrets. This was the way for us, as it taught us to listen to the land and the animals on it. That listening, by the way, is not going to end any time soon. We still have so much to learn.
Like Ron and Frances did. Although they were always poor by American mainstream cultural standards, they were never broke. As a matter of fact, Ron and Fran Alder were some of the richest people I've ever known.
Happy Trails