As the trapper climbed up through the thickly needled foliage of the stout fir tree, he couldn't have known that his rear end would be parked there on that rough barked branch for nearly 4 days. Unfortunately, he couldn't take his horses up there with him, and if they were swept away by the brown tide he could be afoot for months in the big open wilds of Idaho's high mountain country. He had many hours to consider his vulnerability to the marauding and quite aggressive Blackfeet, not to mention the plentiful grizzlies that could sprint at speeds of over 40 miles per hour. He would have to be very judicious with fresh meat, camping unobtrusively and keeping a small smokeless fire.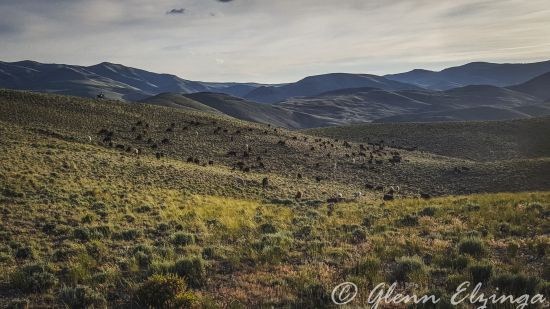 This particular August day in 1826 day had dawned quiet enough. Skies were blue and the abundant grass waved in a light mountain breeze, as the scout and his string meandered up the canyon. The map he read of this untracked wilderness was entirely in his mind; he knew it intimately as his aristocrat customers knew the ins and outs of New York or London's greasy cobblestone streets. He would be paid very well for the load his horses carried. If he could deliver it.
Several years ago, he had left all of such European sights far behind and found comfort in the wide open expanses of high mountains and broad valleys of what is now Idaho, Montana, and Utah. He had become part of the ecosystem in his ability to live off the fat of the land. But it took years of experience and learning from other mountain men and natives to find where the fat was. It's why he was still alive today, but he also knew that life could be a vapor, snuffed out in an afternoon with the Blackfeet or a freak storm. Each day had the potential to change from good fortune into disaster. Today could be one of those days.
Since we don't know this gent's name, we'll just call him Trapper. The Library of Congress record, from which this account came, was not clear on such details. He was a scout, trapper and prospector for the American fur company. Such men were entirely supported by the wealthy aristocracy of the British Empire and Western Europe, who wore black and dark brown top hats that were the peak of fashion in Europe's Victorian era.
It was consumer demand more than curiosity that propelled the exploration and ultimate expansion of North America. Beaver felt was second to none in the hatmaking craft due to its unusual ability to mold to a hat, resist water damage and retain shape. Millions of beaver pelts were packed, canoed, boated, and freighted eastward in wagons until they hit the Atlantic where they filled cargo holds of wooden barks, schooners and clippers bound for the Old World.
Like many scout/trappers, Trapper rode one horse and packed camp, fur and gear on three. He would cover several thousand miles over the summer in search of beaver, report his findings to company reps at fur rendezvous, and hole up for the winter in one of the beaver-rich honey holes he discovered through the previous summer. In the late 1700s and early 1800s, as many as 30,000 pelts would come out of just one of the wilderness valleys in a single year of what would become Central Idaho (based on actual data from Lemhi Valley, Idaho, in year circa 1830).
The fur was considered "soft gold" in those days, as each pelt was worth nearly 5 dollars, and weighed only an average of only 1.2 lbs (at the same time, gold was worth merely $20 per ounce; a small farm could be gotten for $1500). In today's dollars, a single pelt was worth $300. Just 3 of Trapper's horses could easily pack $100,000 worth of fur in present dollars. It was big money, easier to harvest than gold, and men like Trapper easily adapted to life in the wilds in exchange for a piece of the bullion.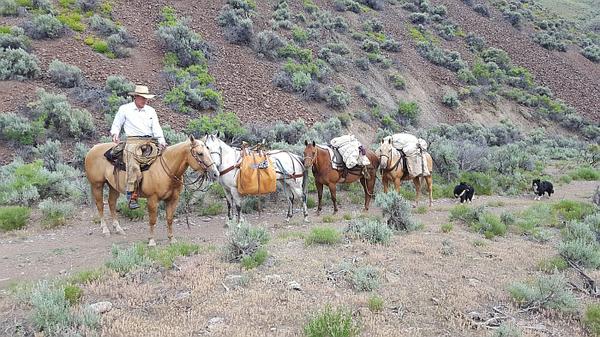 It was the sound that commanded Trapper's attention first. It commenced as a vibration; a kind of rolling throbbing, as if deep from within the bowels of the earth. He just had entered the sheer-walled Pass Creek Canyon; aptly named as it was the only way through the rugged 12,000 peaks of the Lost River Range. It was a narrow gorge with places where the carved limestone was only 50 feet wide. He stopped to listen.
His horses had been nervous for much of the morning; perhaps they were feeling it, hearing it for a long time before Trapper did. Now, they began pulling at their leads and pacing nervously. The terrific rumble increased in volume and began to shake the ground under his horses' hooves.
A mist of pine needles gently showered from the nearby fir trees and mountain mahogany with the now palpable vibration. Trapper looked down the canyon to what he now perceived was the direction where the reverberating din was coming from. Steeds paced and glanced back from where they came with a wide-eyed look of terror.
Suddenly, he was hit with a blast of hot canyon air driven by a continuous cloud of brownish white dust that belched forth up canyon. The horses nearly bucked in mortal fear as Trapper's mind raced through the possibilities; in another second, he knew. From the deep recesses of his mind he cultivated an answer, and his response of reflex and instinct was instantaneous.
He dug heels in on his lead mount and pointed the gelding for some big fir trees. The ropes on the pack string leads went piano wire tight only for a second, as the flight instinct reflex on his other steeds kicked in as they recognized fear in their handler. They collectively broke into a full gallop.
In no time, they were at the trees. Wasting no time and choking on dust, he swung a leg over, dismounting before he came to a full stop. Pulling the quick release knot on the lead ropes that connected them to each other, he speedily and with expert hand tied each horse hard, fast and close to the thick tree trunks of the barrel thick fir trees. As he did, he looked over his shoulder as his worst intuition—and fear—became reality.
The snorting and bobbing heads of the lead bison could now be seen clearly seen in spite of the thick choke of dust that preceded them. They were coming wide open as they poured up the canyon. The brown tide absolutely filled the width of the canyon bottom as the ones on the sloped perimeter struggled to keep their footing in the confused surging mob of horned, hairy and massive beasts.
Trapper stood transfixed for a microsecond as the tide ripped toward him, then climbed on his saddle horse, and vaunted up from stirrup into a standing position in the saddle. It gave him the height he needed, and he was able to reach the lowest branch. As he pulled himself up the horde enveloped him in a grunting clamor of beast and choking volcanic dust. He found a seat on a thick branch out of harm's way, and waited and watched as the herd enfolded him in all of their fury.
It would be a long wait.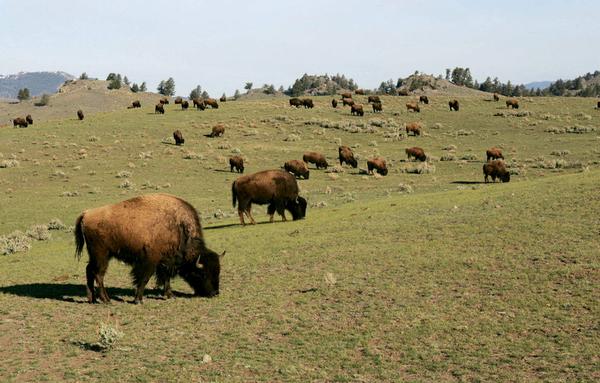 For three and a half days he waited. How he managed to rest and eat, we don't know. But somehow, perhaps by tying himself to tree and branch, Trapper managed to keep himself out of harm's way. He knew, perhaps by first-hand experience that horses, cattle, dogs and even humans often got swept away and quickly trampled by the onslaught of a bison horde. Anything that couldn't keep up would succumb very quickly. Animals like horses often became part of the herd, and ended up traveling thousands of miles with it. Thankfully, he had enough presence of mind to tie his horses well on the lee side of the large tree trunks. In spite of the continuous body slamming they endured from brushing with errant bison, they remained after the 3 day tumult subsided.
Now, stragglers continued to trot by on the dusty trail. Old cows and decrepit bulls desperately tried to keep up. Eventually, their number would come up; the plentiful wolves that ran with the herds or scavenging grizzlies would take the low hanging fruit they offered.
Trapper gathered up his horses, and moseyed up over the pass, continuing his journey toward the broad valley called Cote's Defile, now today's Little Lost Valley. Vegetation was decimated, pulverized into the dirt. In places, it looked like a moonscape.
After several days in Cote's, he turned back. There was no way to continue, because everywhere he rode, all the grass was gone, eaten in fury by the bison. They took all and left none, just as if a plague of locusts descended on the high valley. His already starved packhorses were in trouble, as the woody brush that remained wasn't sustaining. Trapper headed back the way he came, and proceeded to entirely new country to the south, where the bison horde had not yet been.
******************
"I think the big trees are still there. I believe I found them, and tried to picture in my mind's eye what it must have been like for that guy." I was talking to Steve Cote, stockmanship expert and part-time historian. He, like Caryl and I, has been trying to reconstruct the prehistoric ecological functionality of these mountain grasslands. We all knew that bison were a part of the historical landscape for we had all seen skulls and ancient wallows scattered throughout these mountain ranges, but the question that begged an answer was how many. Steve was the one who located this Library of Congress account in the first place, and it was the first time any of us had heard of a Great Plains sized bison herd in the location where we lived in the Rockies.
Steve continued: " Based on what I've learned about bison size and traveling speed, adding in the width of Pass Creek Canyon, I've calculated how many bison this trapper guy must have been waiting to pass over 3 days."
"How many do you figure?" I was intrigued, because I would have done exactly the same thing. In fact, I had, when trying to calculate number of bison in herds that stopped the Union Pacific Railroad in Nebraska and Kansas (several million head at minimum in each herd).
"I'm figuring a minimum of 100,000 head." That was a huge sight bigger than the average herd size of 150 head that we agreed was probably the size of the endemic herds that lived here all the time. We both agreed that this huge herd was an unusual occurrence; perhaps it was an offshoot of one of the Great Plains mobs what wandered into the Rockies.
I put the whole incident and the numbers in my mental file that Caryl and I continually add information to. To us, it's critical information that can guide us in how we graze these wild landscapes, because if we can mimic these ancient and natural processes, we likewise will rest assured that the sustainability of them will remain under our care.
Sure; beeves aren't bison, and the wild habits and their inherent ignorance about fences make it impossible for us to keep bison and be good neighbors. But the more we can learn about how the bison "managed" and fit in the landscape, we can herd our beeves just as bison did themselves. Thankfully, the epic event I describe above apparently was unusual prehistorically. It might be hard to muster 100,000 beeves in a stampede, and I'm thinking the neighbors wouldn't be very impressed with us. But we can mimic the 50-200 head herds that did live prehistorically in the mountain country we graze today.
When we do that, those ecosystems will thrive as the ancient rhythm of grazer and grass in that pristine landscape continues under our stewardship care. It's about making complete the functionality that existed before humans interfered with these natural systems, and demonstrates that there is a place for humans to restore and complement nature where it has been broken.
Thanks for partnering with us on our stewardship quest.
Happy Trails
Glenn, Caryl, Girls and Cowboys at Alderspring Ranch