Gwen desired an in-depth tour of the 70 square mile piece of Idaho wilderness to see where our cattle grazed this past summer; she wanted to ensure that it was still 100% certifiable as organic. There are a few old two track gravel roads that journey up and through the rugged mountains and forests that comprise it, kept from overgrowing by our occasional passage with horse trailers and pickup trucks. We picked one, and started the climb up out of the Salmon River Canyon.
The big thing now that inspectors like Gwen look for involves a thing they call "traceback." It involves taking a pound of ground beef, or whatever cut they choose, and following the lot number on the package back through records to a specific animal tag number at the processor. Then, an auditor will in theory be able to use the producer's records to determining the exact date and birthplace of that animal. In my case, it was a tri-tip roast with a vacuum pack crack in it that we couldn't sell that had found its way into the bunkhouse fridge.
I boldly swung the freezer door open because I was 99 percent sure that the rattlesnake that used to live under said fridge was no longer there (Yes, really). My summer cowhand crew was gone, so I chose the lowly bunkhouse as the place for the paper trail part of our inspection. I was hoping that one of the many mice that now find residence there wouldn't disturb my inspection proceedings. At least there wasn't any sweaty leather horse gear and drying cowboy boots laying all over the place as there was during the summer.
I was intending to show Gwen Alderspring's new and improved beef label, but she pulled the lot number off of it like a rat on a Cheeto. It was traceback time! After peeling through and poring over several layers of records that kept her occupied over the next fifteen minutes, she was satisfied. She even noted the tag number of the mother cow that birthed the little baby 2 and a half years ago, and exactly where the steer was born.
Then, she followed the dietary history all the way back across pastures and rangelands to the point a few months ago when we harvested that beef, and then, and only then was she satisfied for that one steer. After three more random such audits, she was content to close the books recommend us to the next approval level, at least from a paperwork standpoint. Now we would begin the field tour, where she would examine what we do to prevent contamination from the neighbor's conventional operations.
After she completed the tour, she would return to the Idaho state capitol, Boise. Another auditor would go through her notes over the next month or two. And finally, if all was well, we would receive a certificate. We could use the organic claim and the "USDA/Organic" mark for another year. The culmination of all we did to be organic was on this one day.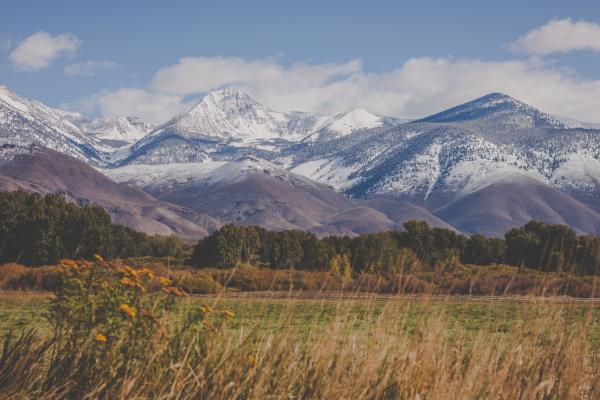 Part of the organic certification is a discussion about natural biodiversity and wildlife. It means that on Alderspring, we think about the riparian corridor along the Pahsimeroi River that supports cottonwoods for eagles, and shrubby willows for cover for the elk that move downward as the snowline creeps down the mountains. It means fencing the springs (in the foreground) to provide nesting cover for birds and small mammal. Organic is much more than simply "chemical-free."
Our first stop on the way to Hat Creek was the big meadow the beeves were grazing. She walked across the diverse grassland that made up their pasture, making mental notes, and selected several steers, by eartag identification, to trace back to origins. One steer she picked out had spent two summers up in Hat Creek. It was time to check that piece of real estate out.
As we bumped in the pickup to Little Hat Creek Ranch, I showed Gwen where the beeves had trailed and grazed over the course of the summer. "It adds up to about 600 miles they walked while grazing this summer," I mentioned. I pointed to one dense stand of golden and now cured out bluebunch wheatgrass. "We actually grazed this mountainside twice. They really liked that bluebunch when it was green and soft."
"Really? It doesn't look grazed."
She was right. It was hard to see that it had been grazed, and only a highly experienced eye would pick out the occasional plant grazed down by our beeves. "We are always moving with the beeves. They take two steps, and take a bite. We'll cover a big sweep of country in a day." I waved my hand across the view before us, indicating how much ground we'd cover in a given day. "It's really important to us to leave as little impact as possible on the landscape."
She nodded. More notes.
Little Hat Creek Ranch was lovely in the soft colors with the onset of fall. The air was thick in the pungent fragrance of sage as a gentle rain fell. I described to Gwen the process of dealing with noxious weeds on 70 square miles of wild rangelands. After all, it was one of our larger investments in organic. "Last year, we spent over $15,000 of our money in the control of weeds." Thankfully, we partnered with the US Forest Service and Bureau of Land Management on weed pulling crews this year, and for predatory insects, like the knapweed munching Cyphocleonus beetle. "Those Cypho beetles will walk 10 miles. They can't fly. But they can smell knapweed from across canyons." I looked over at her as I swung the steering wheel around a switchback and grinned. "But what I'm really wondering about is the poor soul who had to follow that beetle over 10 miles of mountain country to find that out."
Gwen raised her eyebrows with her best Mr. Spock-like "indeed" look.
I should have known not to crack a joke with the inspector. It's quite a serious job, really. In a world where we see the smear campaign people launch at the process and label of certified organic, I'll have to say, it is still the real deal. Sure, there is some people gaming the system, and they should be hung out to dry. But for the most part, USDA organic is the best thing going to ensure product purity. The inspectors I have had have all been professional, serious, detailed, and a little like Mr. Spock. They are not romantics; they are logical and careful, and they know what they are looking for.
I'm reminded of another "organic farmer" I knew in a state south of here a few years back. He had been producing organic labeled produce for about 10 years. Nice guy. Family man, it seemed. But he was a cheat, purchasing non-organic crops and labeling and selling them as organic.
I heard rumors through the organic grapevine that the FBI got on his case (it is a crime against the feds to falsify organic, by the way). Pretty soon, I read a news story about him in the paper. They nailed him…and hung him out to dry. They fined him a million dollars and put him in the state pen for wire fraud.
I believe he's still there.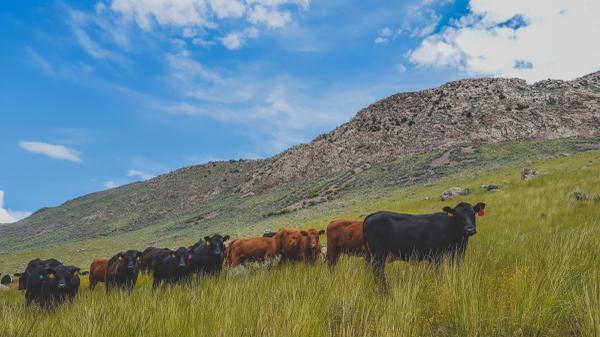 I find it interesting that the companies and people who slam the idea of organic certification are never certified. Then, they claim "grassfed" and "hormone and antibiotic free" are essentially the same as organic. Far from it. Just the complete traceback I described above is something that no other label claims, let alone to be able to say where and what an animal consumed during its life.
Being non-organic and using completely unregulated claims such as "beyond organic" or "natural" makes it easy to hide the ubiquitous use of chemicals like wormers and fly treatments. It makes it easy to hide the fact that feedstuffs for both commercial and grassfed beef are grown with glyphosate (the active ingredient in the weed killer known as Roundup) and affects nearly all meat produced in the US today.
Worse, it makes it easy to hide the compromise that chemical fertilizers and herbicides make in the long term productivity and sustainability of agriculture in the world today. I have kids. It is imperative that I think about their future, and the future of their food. I believe we are destroying our soils with our unbridled use of chemicals, and although the "dirt" beneath our feet seems lowly and unimportant, in reality all of life on earth depends on the soil and the living diversity that inhabits it.
Many of you recognize this newsletter as my "organic tome" for the year. Each year, I write one. Yes, it costs us tons of money to be organic in both management costs and direct fees paid for the certification (last year it totaled over $35K). But for us, it is a natural course when we, as producers, have seen the problems with conventional agriculture in the US firsthand. Caryl and I have worked in nearly every facet of conventional ag from muck farms and orchards to big corn farms and confinement dairies. It comes down to this: we know too much. So much that we won't eat conventional at our table. So we'll always be de-factor organic, if for no other reason but our own health and peace of mind, even if we did forego the formal cert and the $6000 admin fees.
But that's not fair to you, dear reader and partner, because, in effect, we would then be asking for your 100% trust that we are doing it right for the safety of you, your family, and the land. So we bite the bullet for a 3rd party player, like Gwen, to rake us over the coals one time a year.
And it's worth it, I believe. So maybe, it's a way of buying your trust, and that's OK, because at least…we have it. And that's saying a lot these days.