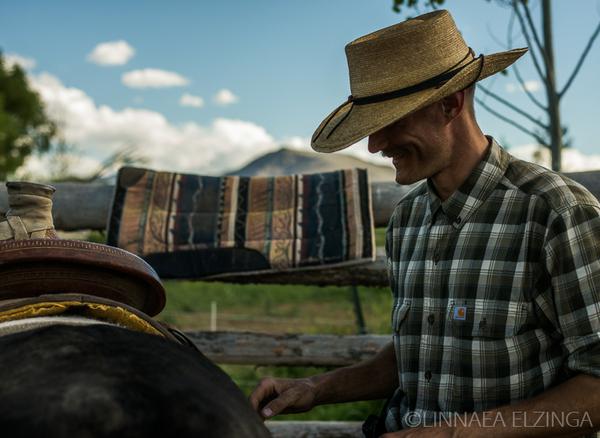 The weather flipped to fall. Snow blanketed the high country over the last few nights, and the aspens and cottonwoods are gilded with gold. The air is thick and clear. I love this time of year.
I fired up the wood stove for the first time this year with daughter Emily yesterday. She was the wood loader of the big four-foot logs. Lest you think I am a mean dad making my daughter do the heavy work, know that she was willing. It was because I returned from the range yesterday on my dirt bike nursing a chest load of cracked or broken ribs (I flipped the bike off a cow trail on a steep canyon side while hunting my neighbor's stray cattle). So now, the house is warm, and if I lift my right arm onto my desk, I can type fairly pain-free. I'm thankful for willing hands in the kids still around home. It's not the first time my ribs have been busted; horse rollovers and airborne bucks into rock slides worked their malevolent magic on my chest several times before.
Hopefully, it is the last rib cage trauma I'll have to endure.
The cattle are content on the richest grass of the year; fall grass. Frost makes it a little softer and easier to digest, yet it is still very green and luxuriant. We've had some nice rains to soften up the more lignified stems, and the cattle relax, drifting around on the big pastures, resting now in their sedentary life of "cowch" potato, just watching clouds scud by, and eating deep grass until their heart is content.
I wonder if they revel in the fall colors as we do.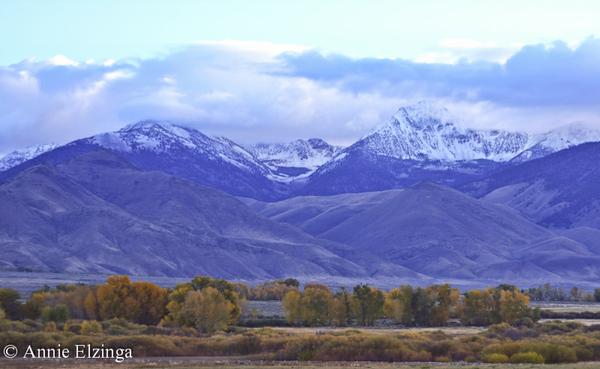 Elk continue to bugle through the early mornings; I can hear them from my open bedroom window as their call carries clear over the still and frosty air. I can hear the river running through the dense willows; the slower areas are thick with ducks and geese readying for migration. The brushy bottoms run color tones from auburn to golden yellow, a subtler beauty that rivals the more exuberant eastern colors. That shade of trees and shrubs and the clear water gravels on the river bottom are why the Chinook salmon just finished spawning in the well aerated riffles, laying the next generation of eggs in the clear cobbles after a 900-mile exhausting final journey from the distant Pacific.
It is a season of change, to be sure. Forest fire smoke is finally gone, and snow has put the fire out. Man had really no say on where the Rabbit Foot fire placed its paw print next; it was brutal and powerful, forcing man to respect and heed from a distance. Eight thousand acres burned on our Hat Creek range, and nearly 40,000 acres altogether. But now, nature had its final word: snow put it out for good. The Lord of Heaven laughs. And firefighters go home knowing they really had little to do with putting the fire "out," especially in the face of the August fire behavior of 200 foot flame lengths and airborne and flaming debris spotting up to half a mile distant.
I sense a collective sigh of relief in those people around me as the heat of summer dissipates from the land. When you are tied to the land and the weather over it like we are, low anxieties can creep in, because maybe, this year will be different. Perhaps, the cycle of Nature will not prevail, and instead we'll be tormented by lack of rain, or never ending snows and cold. Indeed, these things do happen.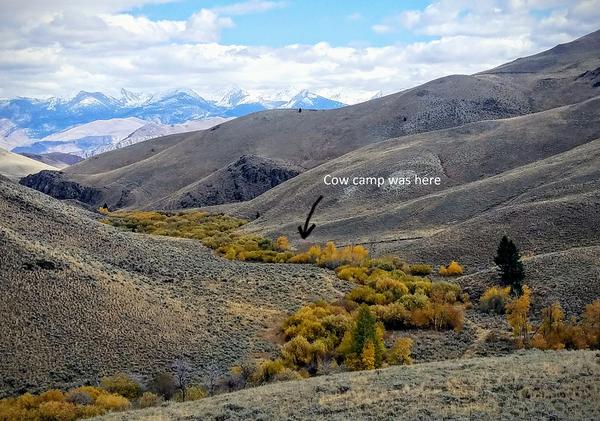 The weather can be like the wild mustang horses we've owned who would not ever truly become "broke." There is no true taming of such blood; instead, it becomes sort of a truce in partnership. Nature is like that. As recent as the frosty winter of 2016, unlike any in memory of the old people, I was reminded that our existence and success here can be tenuous. If one more engine wouldn't start, or a draft horse would show up lame, or the field would drift with just another 3 inches of wind packed snow, or something completely unexpected, then we wouldn't be able to get hay to our hungry cattle.
That winter, the unexpected was elk. The wild elk materialized seemingly out of nowhere, out of their normal wintering grounds in the surrounding expanse of wilderness of the mountain foothills. They came by the hundreds, even thousands, and stalked our hay stores and us, while we went about the business of feeding our beeves to sustain them in the cold. Ethan and I would be up often for much of the night hazing them away with shotguns aimed for the sky on subzero moonlit nights, trying to protect our precious hay resources.
The next unexpected was jackrabbits that found our haystacks by the literal thousands. One bunny at a time, they would eat enough that suddenly, in the black of night, entire stacks of 1 ton bales of hay would topple over on them, crushing them to death. We desperately tried to haze them off, running across the Styrofoam hard pack of frigid snow with shotguns on 20 below zero nights, and then, one day, they were gone. Their own concentrations of density and close body contact around haystacks spread virulent pneumonia strains through all of the long-eared marauders. They collectively succumbed to the subzero cold in 2 days. They were dead, not in part, but all of them. Their carcasses fed hundreds of bald and golden eagles for the rest of the winter. We didn't expect them either.
​​​​​​​
And then, suddenly a thaw, and another tumult: spring roared in with snow melt spilling down from the mountains in sheets. It was a mess, but our hearts soared with hope. It was over.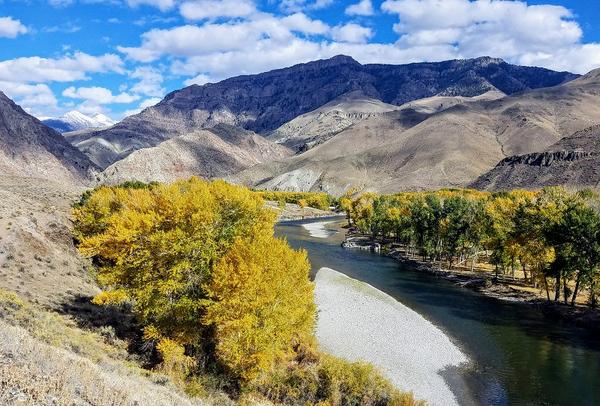 One year, early in our ranching career (then an experiment?) back in the 90's, we were looking at a terribly dry spring. Ron and Frances Alder lived on our ranch then (they are one reason we are called Alderspring). Ron was the previous owner of the ranch we had purchased then, and had lived and worked it since the 1930's, starting as a young boy, horseback. His face told the story of a life on the land; it was furrowed, weather-beaten and cracked like old leather, but the crow's feet along his eyes betrayed times of prolonged laughter despite all odds to do so. Ron Alder was always poor on this high altitude hardscrabble outfit founded on glacial till, but never broke.
I was worried about the spring. It was May, and it didn't look good. Over the regular morning ritual over coffee in their house (several hundred feet from our shack), I spoke to Ron and Fran about my concerns. "The water master just shut off my water. My hay crop is wilting. I'm calving on dry pasture." I put down my coffee cup, empty just like Agency Creek, which bisected our little 145 acre outfit. It was spring, after all, and it should be bank full with snow melt.
Frances reached for the pot and refilled my empty cup. Ron thought for a minute, as he took a long drag from his cigarette. Marlboro in one hand, coffee in the other. It was how I would remember him. He looked out the window as he exhaled blue. "Yeah, Glenn, sure is dang tough out there. Seems like every tenth year or so, we get one of these. Dry spring." Another drag. Slow exhale. The morning sun shone in shafts of blue light through the kitchen. Then he looked me in the eye. "But I'll tell you something. This country always takes care of itself. You mark my words. We'll get rain like no tomorrow, right when you think it's all over—you're thinking no hay; no grass. And you're thinking we're done."
Frances nodded in agreement and creased a quiet grin. It was why I was drawn to them, and had found a home with them in the first place. They were unquenchably optimistic. They had been through it, for sure. They were survivors, and had lived life to the full, despite their continuous existence at the brink of the financial cliff. I would later find their late 1930's and 40's milk and cream receipts from their dairy herd in their belongings I curated after they passed. It was a testament to meager: a dollar or less for a day's yield of cream and milk. Just poor, but never broke.
The rain came that year, just as Ron had promised. It came in buckets a week later, and never stopped. It came so fast that the weather forecasters never saw it coming.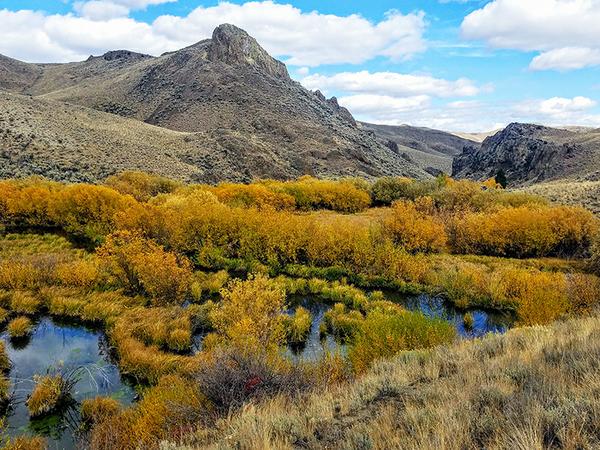 And it never stopped raining, even into July and August. It became the new crisis over coffee at the tiny Tendoy store and post office. Mert, the retired gentleman fixture that always leaned against the ice cream freezer (he was like a bib overall wearing talking statue), made sure he asked every time I came down to get my mail: "When you reckon this rain's gonna quit? This country's gonna wash away! And how's that hay crop going to dry?" Windrows of freshly cut hay all through the West lay rotting in the field, black and useless. Grass grew through the downed hay with abandon.
As for us, I recall vivid memories of Caryl running the hay baler as fast as it would go, as black clouds shooting lightning roared up the valley, soon to upon us. We were driven by the potential loss of a crop, for one, and plain and simple fear, for another. We both bumped along on open tractors, the highest would-be lightning rod for a mile. I followed Caryl, pulling the bale loading wagon, sweeping the bales off the field as fast as she could make them. We tipped the last bales into the stack just as that particular downpour ensued. After parking tractors, we walked soaked and freezing back to our hovel. We passed the Alder's humble abode on the way down the mud track home. Wood smoke curled up from a crooked stovepipe.
As we walked passed in the downpour, cold and wet cotton pasted to our bodies, Ron and Frances stood beaming at their window, raised coffee cups in hand, cigarettes in the other, creating more furrows of happiness on their worn and leathery faces. And we smiled and waved back.
Cheers to you all, as well, our partners. And Happy Trails.
Glenn, Caryl, Girls and Cowhands at Alderspring