Thomas, the nicely coiffed young man behind the meat counter smiled amicably as he asked, "What can I help you with?" His near-spotless white apron portrayed clean, as did the well organized and shiny surfaces of the newly minted meat department behind him. I could trust him, I found myself thinking. He seemed even innocent. Now, in retrospect I realize he was the perfect mark for the one of the latest grass fed beef cons: doesn't ask questions. Knows nothing about how cattle are raised.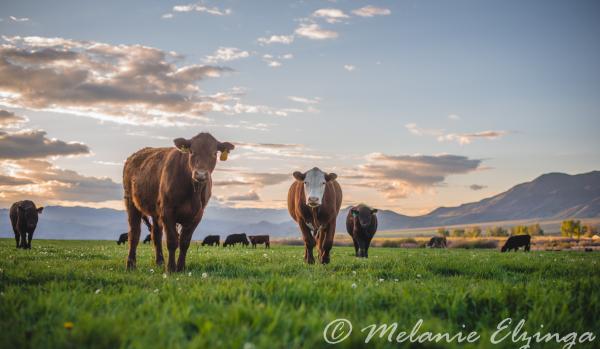 Perfect.
Not only would he not know, he probably couldn't even understand the implications. I eyed the well-marbled grassfed ribeyes in the meat department case suspiciously. I had a pretty good hunch. Even though they were protected from the dry air of the store in the glass case, there was something different about them. Everything else in the case looked fresh and well presented. Certified Angus Beef was there, and some other local Northwest Branding. Thick cut New York strips, Ribeyes and Filets on black trays were lined out in parallel array across the case. But these ribeyes looked a little time worn; as if they had been sitting there awhile. They had the telltale patina of time on them: the fat was turning a deep yellow, even though the red portion had not begun browning.
As I turned it over in my mind, I asked Thomas about them. "These grass fed ribeyes—what can you tell me about them? How old are they?"
"Oh–those…they've faded a little it seems. I probably gotta throw them into the grinder. I put those in there yesterday afternoon." He looked down at them. "Not a very long time, yet. So they are probably going on two days. I'm kinda surprised at how they look."
"No. I wasn't clear on my question…I was wondering how old the cows were that they came from." I looked up from the case to across the counter, where he was standing. Our eyes met.
"Like—how old the cow was when it died?" He was puzzled. No one had ever asked that question before.
I nodded. Annie, my 14-year-old daughter sidekick on this shopping expedition gave me a horrified "oh no, please, Dad" look. She turned and conveniently stepped toward a nearby supermarket aisle where she pretended to shop. The connection between father and mortally embarrassed daughter evaporated in an instant. She had no idea who I was and paid no heed to any further interactions between Thomas and me. She'd seen this show before. Her mom is even worse than I.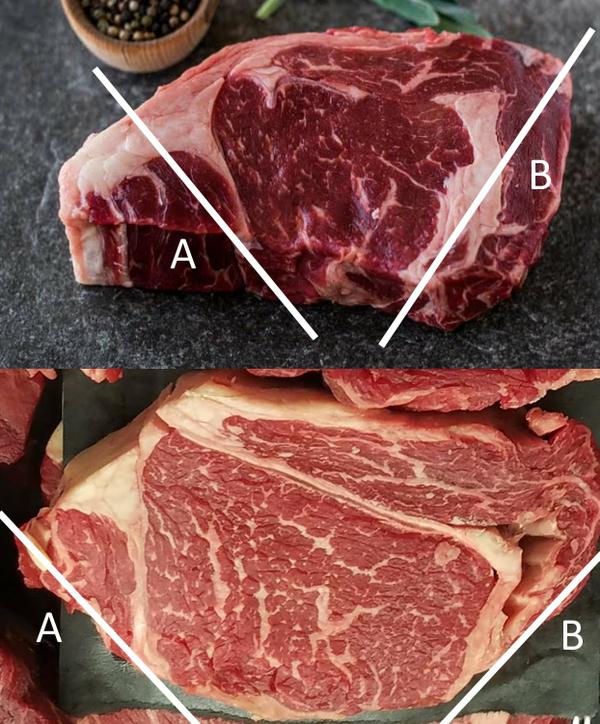 Wordlessly, Thomas turned around and disappeared into the cooler. I looked down at the steaks, looking at the evidence. The top end of each steak was missing. The tail end was there, but not the broad side of the steak that ran near the backbone. Somebody cut it off every steak. I was certain these were not young beeves. They were older. Most likely, much older. They were cull cows. Old cows, worn out, no longer productive. Sent to slaughter.
Another point of interest: there was no USDA Choice emblem by the beef. The other beef had a USDA marker by it. Could it be that these ribeyes could not qualify?
Thomas returned from the cooler. "All they have is a lot number on them. I don't know anything else. Why do you ask?"
"Because to my way of thinking, those steaks came from a cow that was somewhere between 8 to 12 years old."
Thomas nodded woodenly and smiled vacantly. Now, he was wishing I would go away, because he had no idea what I was talking about. Even though he was the authoritative point of contact for hundreds of people in search of the multitude of benefits associated with eating grass fed beef, he had not an ounce of the why or how in him about the story of this particular beef. In fact, he didn't even know (nor did he want to know) that he had been sold a bill of goods. All Thomas wanted to do was to check the box that said "we have grass fed beef in the case."
The idea was so elegant, I almost found myself wishing that I'd thought of it, just as most of us marvel at any well-crafted and perfectly engineered scam. But then, the word integrity slips in, sharply interrupting such thoughts. And the drawer slams shut, and you know full well that you can't open it for any practical use…unless if you cross the line, and decide a life of crime is for you.
But for you, dear reader, I'll open the drawer, and crack that case file called "Quick Cull Cow Cash." Here's the skinny:
Most ranchers have cows. They are the mothers that raise the babies that go to the feedlots upon weaning. Cows are the production unit on a ranch; the capital investment. To many ranchers, they are like a piece of equipment; like a tractor that you use to harvest crops. The IRS actually lets you depreciate cows like equipment or vehicles.
Convenient truism for the cow scammer: nearly all cows are likely grass fed. They never hit a feedlot during their calf production part of their life; that would be far too expensive. Instead, they are run on pastures or rangelands for all of their maternal life, and only eat grass and hay, maybe a little grain cube in the worst of winters. Technically, I guess you could call them grass fed beef. Average lifespan of a quality production cow here in the Western US is 8-12 years. Then, milk production starts to wane, and the calves don't grow as large. So ranchers send them to the sale barn, where they either go to a big kill facility (factory) that kills and processes 200-400 cows a day, or they get put in a feedlot to put some pounds on in fat before slaughter.
But not too many pounds, because that starts to cut into profit and the return on that feed investment.  It's because of the USDA grading system that will disqualify such carcasses for USDA Choice and Prime by identifying ossification (bone development) features that betray a cow's age. And the USDA says that old cows don't eat tender enough for Choice and Prime designations. That means that the fat fixing feedlot on said cow might make a steak look more edible in the case, but it will never have the Choice or Prime stamp of approval. That little emblem creates added value because people have come to trust that, even in the supermarket. And most restaurants wouldn't touch non-USDA Choice beef, at risk for giving a patron a tough chew.
So up until recently, these older cows would go to the low-value hamburger market.
That is unless you have discovered another marketing ploy that would cause a customer to buy that beef. Enter grass fed. With everyone from Alton Brown to Martha Stewart endorsing and cooking with grass fed, it is all the rage (after all, Dr. Oz proclaimed Alderspring's ribeye "Incredible!").  So Cassie Consumer (or Carl) comes up to Thomas at the meat case, and says "I'll take the grass fed." No questions asked. Box checked. Health benefits, they suppose, assured.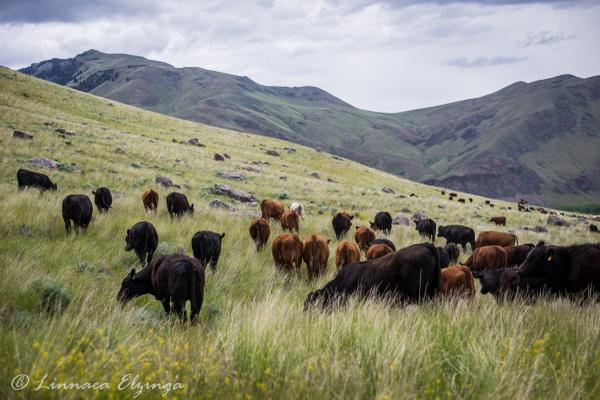 The other major problem there used to be with cull cows is that you can't easily case market a ribeye or NY strip that has a good chunk of the steak missing.  The USDA says that any cow over 30 months of age must have red meat removed close to the backbone, to prevent risk of consumer exposure to BSE, Bovine Spongiform Encephalopathy, more commonly known as Mad Cow Disease.  So chefs don't want these steaks. It doesn't look right. How can you plate a ribeye or NY that doesn't look right?
Easy peasey. It's an old cow, remember? Their loin muscles are huge. They grew in frame size all the way up to their fifth year. As a result, a cutter can still present a normal sized steak, even with a whole side missing. They have plenty to work with and can hand carve a big misshapen NY or ribeye into what looks like a young beef.
They don't look like the end is chopped off, unless if you have the little problem I have: I know too much. I knew at a glance that two critical flavor bearing muscle groups were suspiciously absent from that ribeye in the case: the Spinalis dorsi and the Multifidus dorsi. These two little near-vertebrae muscle strips complement the main mass in the ribeye steak, like icing on the cake: the Longissimus dorsi. Their presence really defines the ribeye. Otherwise, it's the same strip of leaner mass as the NY strip. Unfortunately, it is buyer beware in the meat case world. It's like the used car lot (Better check to make sure the car has reverse!).
So, our unfortunate Cassie or Carl just walked out of the store with a counterfeit ribeye from said grass fed cull cow. They are off to the next department; perhaps to purchase a nice Merlot to go with their captured cow fare. But do they know the other sordid details about cull cow? Not a chance. They even walk with a spring in their step, because they think grass fed means guilt free. No chemicals, right?
Wrong. These aren't organic grass fed ribeyes. They say all natural, but they, like nearly every cow in America, get up to 6 different formaldehyde and mercury bearing vaccine shots a year. There's vaccines ad-nauseum for bovine viral diarrhea, bovine respiratory disease, in utero calfhood vaccines for scours (calfhood diarrhea), and even systemic wormers.  Every summer, they are given a new organophosphate eartag (don't drop them in a stream; they kill fish) that permeate the cow. Every spring, most cows across America are treated with chemical back pour-ons for external and internal parasites- they actually permeate the system through the ribeye and New York muscles to kill parasites on the inside of the animal.  In the late spring cows are injected with hormone estrus synchronizers for simultaneous breeding.
Then there's the antibiotics.  I just bumped into a neighbor who proactively gave all of his cows an antibiotic shot just in case they would get sick for foot rot, pneumonia, and pinkeye. Not every rancher does this on an annual basis, but you'd be hard pressed to find a cow without a treatment record.
The fact of the matter is that these chemical residues (and at least their by-products if they break down in the body) are present somewhere in the cow. Remember how that fat had a deep yellow to it? It wasn't age in the counter that caused that. We've enjoyed older cows of our own (organic, and never treated with anything), and they had that telltale fat color that showed the presence of phytochemicals from years and years of eating grass. Those are good chemicals. The problem is that there is more in that fat than what meets the eye.
So it is with artificial treatment chemicals applied to them. They'll accumulate in the fat, muscle and bone tissues over time. What does that mean? You are what you eat, after all. Cow antibiotics are broad spectrum and are intense, approved for an animal with a short life span. Liver and kidney damage are not issues for an animal with a feedlot and slaughter date within a few months. Humans, unfortunately live quite a bit longer.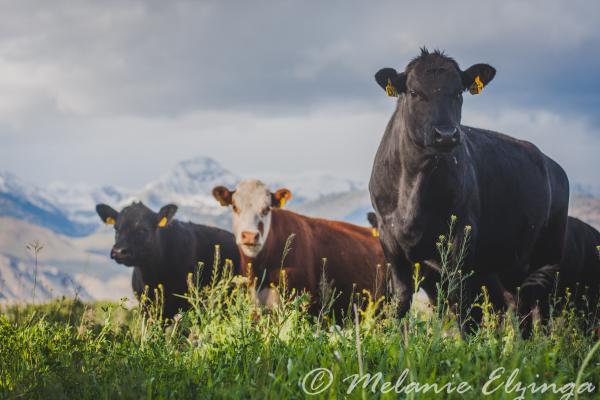 It means that the Elzingas don't and won't eat commercial cull cow (even if it is billed as grass fed). Ever. It's because we know too much. And now, ironically, these entrepreneurs are selling it at a premium. They are cutting a fat cow, so to speak. And the consumer is none the wiser. Even the meat cutter has no idea. The con is so elegantly perfect that it is even legal. There's no law about this because no-one in governance conceptualized that this could be a problem.  My guess is that this beef actually a health hindrance when a family consumes it, instead of the wellness boon expected when they ingest it.
Some producers have gone a step further. They go down to said sale barn or auction ring, and buy cull cows, animals they know nothing about as, put them on their grass until they are fat, and sell them as grass fed beef. They put signs up, hand out pamphlets, and write Facebook posts about their grass fed beef. They offer farm tours. They have no idea on the backstory of those animals…nor do they care. They turn their cheap cull cow purchase into a flood of greenbacks from the unsuspecting consumer who buys their grass fed quarter beef "direct from the farmer" for their table.
I could go on, but it gets tiring. I'm not a very good expose' writer, because it's a little too close to home, and anger starts surfacing. We will continue to run a zero-compromise outfit because we know our health depends on it, and we know that yours does too. And I'm probably preaching to the choir, because if you're reading this, you've already figured it out. You are one of Alderspring's partners. There is a difference in pastured protein, and you've arrived at it. Thanks for your critical thinking that brought you here.
Happy Trails.
Glenn, Caryl, Cowboys and Girls at Alderspring