It is 7 years ago, and it had been a long day on horseback. I was thankfully aboard smooth-gaited Missy, the Morgan mare. She would die rather than give up her trot, and even after 35 mountainous miles, she still swung her front feet out proudly in her smooth Morgan-gait way. A 14 year old Abby rode alongside me, aboard April, who we affectionately called Ape, for reasons you, dear reader will come to understand.
April and Missy grew up together, and they knew each other as horses often do—I think somewhat as we humans do each other. They understood their pasture mates' idiosyncrasies, both in strength and weaknesses. And I believe that they even understood us. Wizened Ape knew that I was responsible for the long day. I was the boss of this gather, and my optimism about what could be done in a day often led us to be still horseback in the wee hours of the morning lit only by bright Idaho starlight. I think I got that attitude from my Dad who often still says (although he is 90) that "half a day's work is twelve hours." It's probably why Ape reached over in the gathering darkness on the Hat Creek trail and sneakily and vengefully bit me in the upper leg, right through my thick leather batwing chaps that protect from nearly everything but horsebites.
She's bucked, bit, or kicked nearly all of us. She'll take a kid or adult, new to the idea of horseback riding, and try to unseat them under low hanging branches. But in what some would call inherent meanness is a stalwart heart that will stay on through the most brutal of days. Even when her rider is down on the ground, and passed out asleep on a short siesta weary from hours in the saddle, she'll still be nearby even without a tie or rein in hand, calmly grazing near her charge. That word sums her temperament up, I think. She views us as her charges, and not the reverse, and you had better mind her.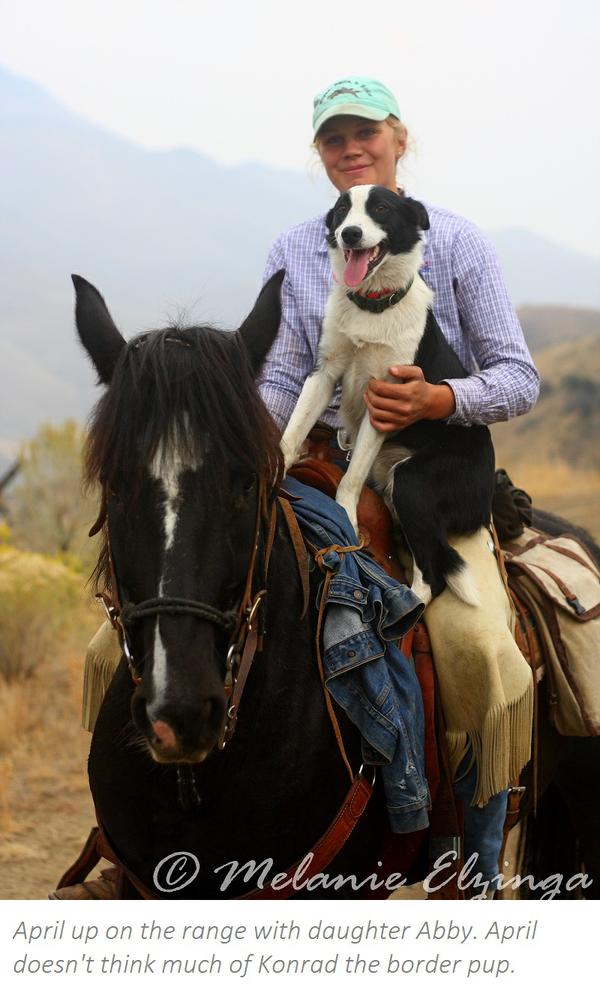 We saw that again this past week.
It's turned warm on the Ranch. Temps of the mid-nineties, pretty uncommon for the high Pahsimeroi keep us on our toes with irrigation. The spring water we lift out of the river that flows through the ranch gives us an unfair advantage; most producers of grass fed beef deal with a phenomenon known as the "summer slump," where grass production falls off due to doughty summer conditions. We just put more water to the ground, like you would to your lawn or garden. As a result, finishing of sweet protein doesn't take a dive in the summer growing season.
The heat was even more pronounced in the city of Salmon, where Caryl and I dropped off our two youngest and their horses at 4H horse camp for 4 days. Kids live in the barn with their horses, and learn about horsemanship, relationship with others, and themselves. Our youngest, Maddie, had coal-black April for her steed.
I wasn't going to put Maddie on April, originally. She was going to ride another old-timer in our herd, Shippy. But Shippy came up with just a slight hitch in her front leg, and I deemed her benched from horse camp. So April it was.
Maddie cried a little as she watched me unload the spunky mare. She's never been on her, and as I helped the teary-eyed 11 year old girl mount Ape, the mare did not disappoint. April pranced around the arena proudly, snorting and crow hopping as Maddie tried to stay in control. Melanie and Caryl rushed in with some reining tips to help her, and Maddie regained composure.
Now, two days later, Caryl and I are back ringside, and happily, we see that Maddie and Ape have reached a common ground: the girl turned out (as we suspected) to be as tenacious as the mare, and they have forged a mutual respect for each other.
It's all quite surprising, because April is as old as Alderspring–actually older–and old horses, like dogs, often don't take to well to new tricks. She is coming about 34 years old this year, and has longevity in her blood. She is what we call a Morab–a cross between ancient Arabian bloodlines and New England Morgan. Many horses in each of these breeds tend to be long-lived, and 30 year old horses are not uncommon. The horses most of us are familiar with are Thoroughbreds, who often live only into their 20s. April is not only living into her 30s, but she just got off the range to go to equine 4H with Maddie. In other words, she is working, harder than 99% of other horses in this day and age, with quite a few 20 mile mountain days under her belt in this summer alone.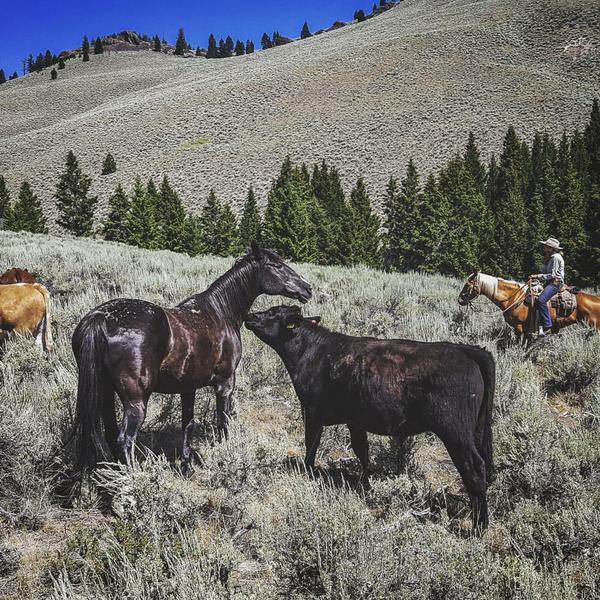 Over the years, April has given many new wannabe cowpokes a crash course in range riding, and left some of them airborne as she cut hard to the side on her own initiative to bring a wayward cow back to the herd, all the while nipping the bovine reprobate on the tailhead until they submitted to her authority.
One time, I was riding my buckskin, Ginger, on the narrow and dusty Pig Creek canyon trail, with Ape under new cowhand Josiah, coming along behind me. It must have been that April had enough grit and dust for the day, and she reached to take bit a piece out of Ginger's derriere.
My buckskin reacted quickly with a swift iron shoe to the mouth, and the fight was on. Josiah and I barely held on while the two mares proceeded to buck and kick on the narrow trail, wheeling around and fighting with each other in the desert heat. Both Josiah and I were yelling and pulling on reins and kicking them forward at the same time in hopes of disentangling them, mostly for entirely selfish reasons. I've been bucked off and deposited in the rocks of Pig Creek before, and 6 cracked ribs later, I didn't need that to reoccur.
As soon as it erupted, it stopped, and it was business as usual. It seemed Ape just needed a little diversion to forget about the dust and back of the herd feeling, and we moved on without incident.
We picked up the little black mare from a neighboring ranch back when we lived in the Lemhi Valley. She was part of a package deal with three other older horses. The neighbors were looking for some younger stock, and knew we might want older horses for the kids. I don't think they intended April as a kid's horse, but daughter Abby instantly fell hopelessly in love with the little spunky mare, who loved to run. In addition, she was pretty cool looking with her unusual honeycomb mosiac of white highlights across her back and her thick black mane and forelock.
I was a little nervous letting Abby ride April, until the day we moved cows across the big pasture on one of our leased places. My eyes drifted from the cows and I noticed Abby was nowhere to be seen. A little bit of parental panic ensued. I finally spotted her through the dust and summer heat shimmer about quarter mile back, still mounted, but holding position. I could see April digging the dirt, raising dust, pawing the ground hard in impatience to go. She'd hop around and spin, as Abby barely kept her under rein. Then, when a half mile or so was set between us, Abby let April have her head, and put her heels to her, and they were off at breakneck speed. Caught up to us it seemed the speed junkies, both girl and mare, were now satisfied.
I bumped into April's former owners, Lynn and Robin in the produce aisle at the grocery store a month or so after we acquired her. "How's that April doing?"
"Fine. Abby loves her." They looked at me quizzically.
"You have Abby riding her? We always thought that her attitude might be too much for her to be a kid's horse." They looked serious. My bad parent radar was on red alert. Caryl will tell you that I am not king of the subtle, but their body language looked like they thought I was crazy to let Abby have at her.
Robin broke the silence, speaking very deliberately. "Are you sure that Abby will be OK with her?"
Indeed, Abby did get bucked off a few times, but she got back on directly, especially since April held no malice, and was just grazing right next to Abby until she could get back on, a little bruised maybe, but shattered only in pride. We found that Ape would get sick of just riding around for our pleasure, and would readily shed a rider if bored. But given a job, she was cool hand Lucy all the way, nipping her bovine charges if any got out of line.
______________________________________
It's a lovely summer morning as I write this. I came back from the range around 12:30 this morning after spending all day moving gear to a new cow camp in the Big Hat country. In last night's the gathering darkness around 10 PM, I watched cowboys Josh, JR and Daniel bringing in the beeves into cow camp to their night ground. The cattle had trailed many miles from Moose Camp that day, and were stuffed full of all the wild grasses they could eat. They were ready to lay down for the night, ruminate (in the real sense of the word), and chew cud.
By lantern light, the boys began to pull their gear. Saddles came off, as did snaffle bits. They carefully inspected their mounts' backs for sores or nicks that needed care, and brushed the sweat off their horses with a gentle currycombing. I was starting to set up tents by headlamp light as Daniel led his mare to her night pasture. I felt her walk by, light footed, eager for grass. That one was always hard to see in the night. It was the coal black Ape, with another day on the range behind her. Daniel, with only this summer under his belt on the range may someday figure out that he was just along for the ride, and that Ape was actually in charge.
As I write this, a realization comes to my mind. Sure, we have a vision, a direction on Alderspring, one that continues to develop over time. But after 22 years with these animals on the landscape they live on, that vision is now more than ever in keeping with the lessons these creatures and the land itself have taught us. April and her contemporaries have made life on the ranch richer because we learn to see things through their eyes. And that makes this ranching a different exercise for us than so many others we see in the commodity cattle business. It's more than a profit and loss statement or a balance sheet– it's relationship. It's more than an exercise in scalable production; it's maintaining integrity of scale.
I'm hoping we can learn for many more years from the likes of April. And I'm hoping to bring you along for the ride as best I can, even if through only the virtual experience found in these pages. Since you are in a sense riding with us, I'll leave you with the motto that defined this year's 4H horse camp for Maddie, Annie and 30 other kids:
May the horse be with you.
We've learned a lot from them.
Happy Trails