Snow blanketed the high country last night. I woke up at daybreak this morning to see a mantle of white across all of the Hat Creek ranges. It was perfect that we brought the beeves back from the mountains on Saturday. It was time.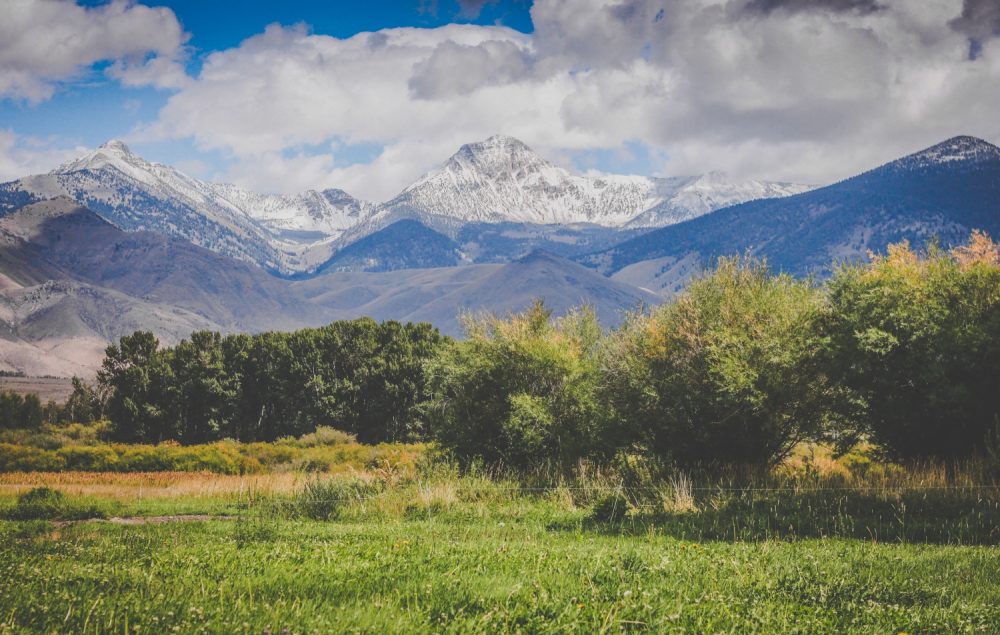 The cattle and horses would actually be fine continuing up there. The grasses would be reinvigorated with the fresh moisture—and their partly lignified late summer stems would soften, becoming instantly palatable once again. But I'm afraid our crew members would not as easily soften. Some individuals would fare OK, as everyone did while getting snowed on early in the season. But that was early in the year. They were still fresh. It was before the gritty and quite persistent dust of the long summer trail permeated their bones and their psyches.
It's hard to put a finger on what happens. I've seen it happen to me. There is a sort of switch, a tipping point that occurs. One day, you are running glass half full, and suddenly, you find yourself starting to run at a glass half empty, and the trials and adversity get under your skin like some sort of parasite and start niggling at you. I think the real challenge of the range and living on the edge has to do with ourselves and how we practice mindfulness.
Life on the range: long days, those unrelenting 12-16 hours in the saddle, hailstorms, the continuous busting through brush, rattlesnakes, ripping and rendering shirts and pants on thorny greasewood and branch stubs, white faced hornets, wrecks from falling horses, hot brain-boiling sun in cowboy hat, short 4-hour sleeps interrupted by restless cattle, horses or wild animals, soaked to the skin ice cold mountain rain, cougar tracks, lightning, downfall timber, nose filling volcanic ash dust, tree bruises on legs, cattle in brush over their heads, thrown horseshoes and now afoot for miles, recalcitrant steers, unexpectedly sore horses, snowstorms, steep unnerving mountainsides, lost cattle, fresh bear sign around camp and then a bear in camp, tree roots or rock under bedroll, slippery rain clay volcanic mud, no time to cook nice camp food and no showers for days. This is life as a herder. It gets to you. It's a never ending stream of adversity.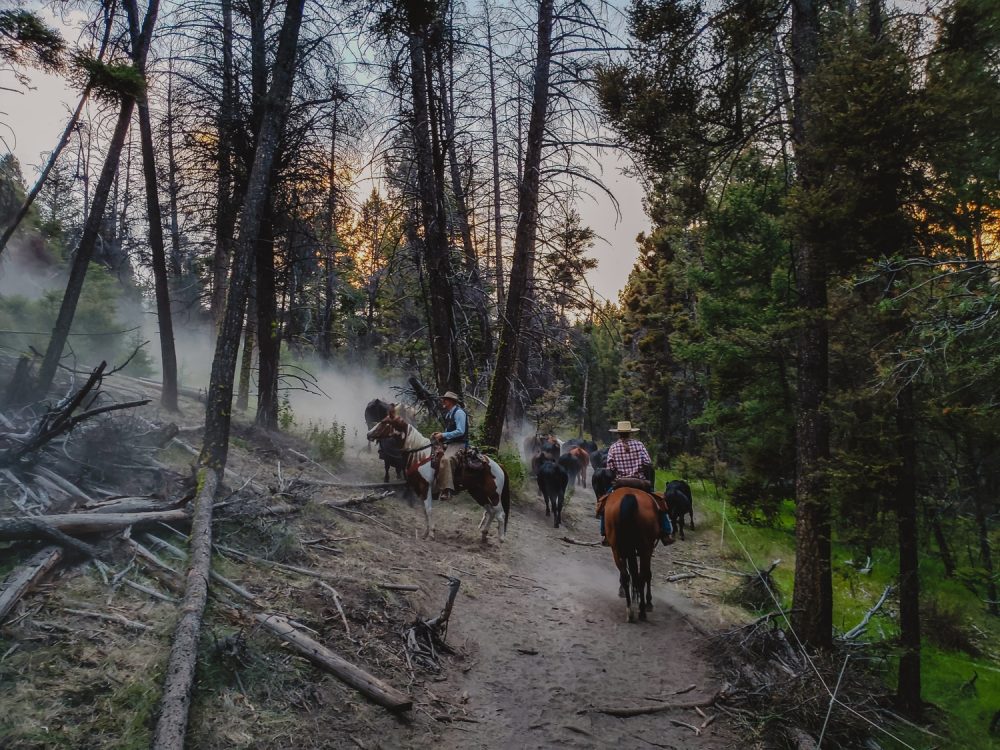 Daughter Melanie, a veteran crew boss, summed it up quite eloquently in a recent post on Instagram:
"The days up in cow camp can take a person from elation to despair in a matter of moments. Physical exhaustion is a given; we are generally in the saddle for fourteen hours a day. Range riders are subject to the heat of an oppressive high desert sun and to freezing rain accompanied by claps of thunder and occasional lightning strikes close enough to taste and feel. Many of us have had to walk miles afoot back to camp after a horse throws a shoe or comes up lame. Nights are short, and restless for those of us who worry about the cattle staying within the confines of two narrow strands of electrified poly wire. The animals always come first, and it's not uncommon for us to sit down for dinner long after darkness has settled over the desert, eating in silence by the light of a Coleman lantern before falling into bed.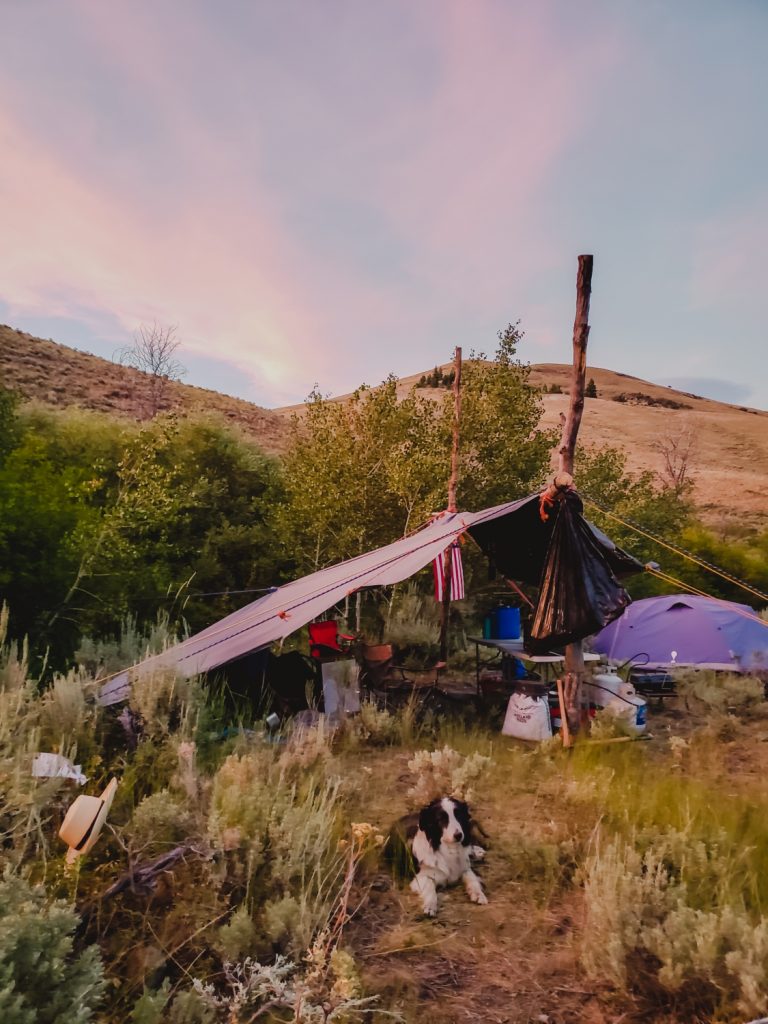 "But it's only in recent years that we've become aware of another type of fatigue: the mental sort. It's hard to explain why we've all snapped in one way or another at some point in the summer. Perhaps a combination of exhaustion, hunger, and the continuous stress of keeping tabs on all of the cattle eventually wears a person down.
"However, I think there is a bigger issue at play. In this modern world, we're continuously stimulated by consumable entertainment, generally on a screen. But out on the range, it is quiet and screens are rendered quite useless with no cell service. If we've done our job as herders right, the cattle will graze contentedly as a cohesive group in a single location for a few hours. The only sounds are an occasional muffled "hey cows" from a fellow crew member turning a few strays back to the herd and that of cattle grazing a diverse diet of native grasses and forbs. The long stretches of silence and boredom can wreak havoc on a busy mind and learning to control those racing thoughts is critical. The unspoken mental challenge of the range riding occupation is one we all share in varying degrees.
"Perhaps those quiet, long hours on the range are where the original cowboy poets and authors got their start."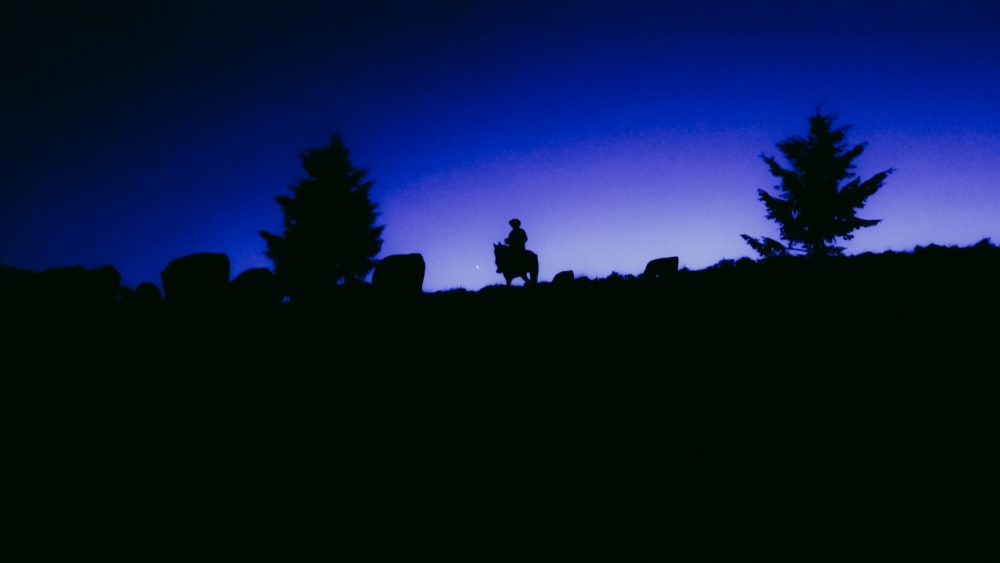 But there are those benefits, tangible and intangible. And it's why we do it. First, it's the cattle. They do well. Better than anywhere I can imagine. They are the picture of health. There are no flies, they eat more plant diversity than any other grass-fed cattle, and it is all wild plants, over 550 of them. Their hair is slick and smooth, and fairly glistens in the sun. At the end of the day, they are content and full and clean of manure or mud. They don't need wormed. Their feet are solid and always well-shaped from use (feedlot or confinement cattle sometimes need their feet trimmed and tails docked because of mud aggregation). They get to explore new country, following the color green as it moves up the mountain. They see, feel and hear what we do; it completes them. They live free, and in the wild, and that instinct, that destiny in their being is now realized in them. They get to walk in beauty.
And then, there are the plants and the wild animals, the ecosystem of the range. It responds with abandon to where we graze, and where we do not. We can craft regeneration wherever we ride, and it is because after living up there for years, we begin to understand the functionality of everything from creeks to the critters we share it all with. So we take the beeves to where it will benefit the grass. And we keep them from places the grass needs a rest from grazing. And so, everything from bluebunch wheatgrass to the lovely white-barked aspen tree responds, as do the animals that depend on them. Elk. Bighorn sheep. Beavers. And we get to witness it all, because we have had enough time to see the change.
And then there is us. We, like the beeves, walk in beauty. We connect with it and become part of it. It's a kaleidoscope of light, shadow and pastel colors that is palpable; the color flushes our being and creates and changes who we are and how we feel. There are times as the sun rises with morning dew or a rainbow follows an air cleansing rain that the sage and grasses and forbs are pungently fragrant. The brush is burnt sienna tinged with black; cleansed by rainwater and soft. And occasionally, I find myself lifting my hands in the beauty before me; it is soul reviving, refreshing.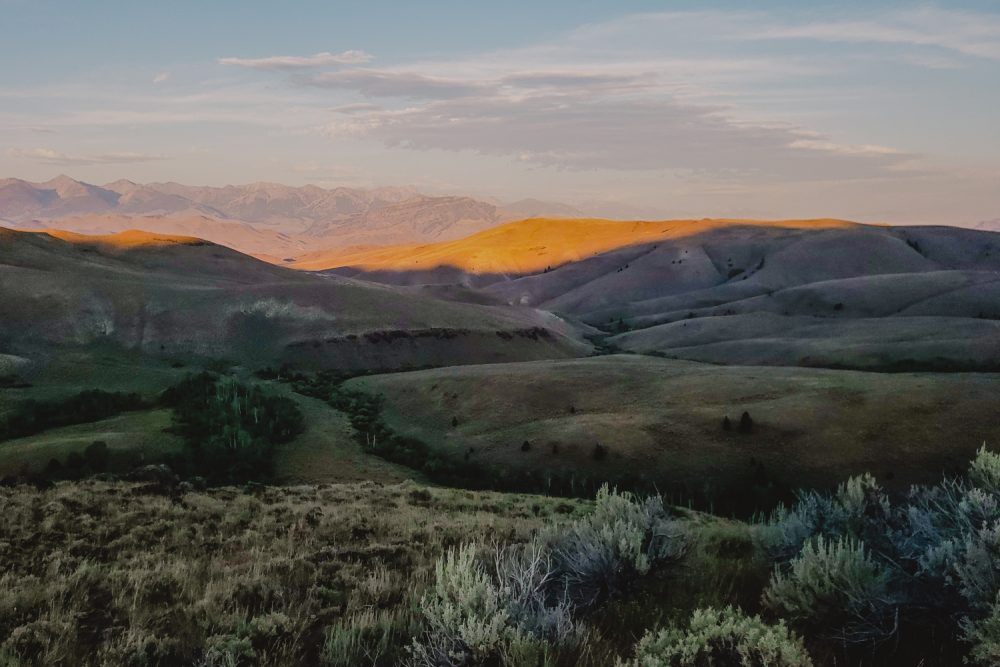 We drink as the beeves do, from living waters. We dip into vibrant, clear, clean springs, unfiltered (check for fingerling trout before you drink your bottle after dipping). And the water restores, refreshes, sustains like no other. We taste the plants and the grasses that the beeves do, dig roots as the Shoshoni did, and partake from the wild of currants, cherries, and berries (sometimes eating too much from the bitter chokecherry or Oregon grapes).
But there are the times when the burden, the mass of muck from adversity becomes too great. One such day happened to Jake last week. He had just finished a 12-day stint in the backcountry with the cattle (the record), had a day of rest, and was now was on his last 5 day stint. The heavens opened up, and it rained. Gray descended unrelentingly into the country, the mind. Cold fall rain it was; bone chilling, calorie burning, heart freezing. And when trying to keep cattle from mucking up a spring, he went in it instead, a sort of sacrifice.
Up to his waist he went in bottomless mud in the pouring rain. And the flood of a season long accumulation of adversity broke over him. And when he got back to his crew boss, Anthony, he said "I'm one wreck away from hanging it up here. I don't know what's wrong. I've just had enough."
"Just tell Glenn that I'm about ready to ride out. Or I'll hike out to highway 93." US 93, the two laner we call the Salmon River road was almost 20 miles away and about 3000 feet downhill.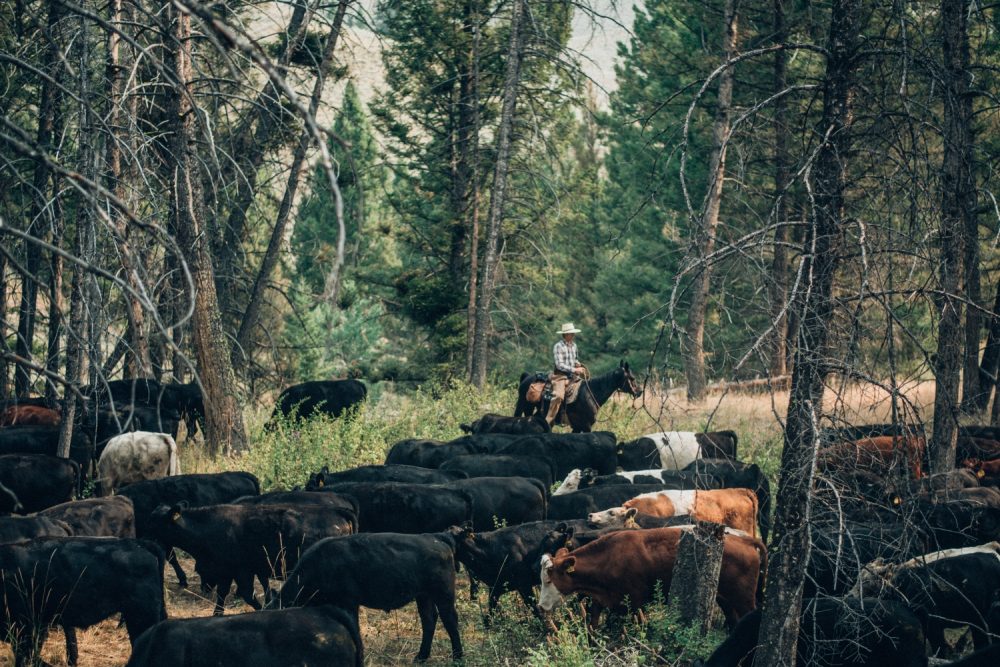 When that message came in over the satellite phone late on that rainy night back on the ranch, I was pretty taken aback. Jake had been indefatigable. After all, he just made the record with 12 days. I'd been with him on the range several times, and he seemed bulletproof. We've had young people up on the range with a past—issues from their upbringing or broken relationships that cracked. They would snap and cry, literally. I've had to haul them out of there. They "tapped out." But Jake had been a sort of rock, and came from a good home. I knew his parents. Rock solid.
He even ran out of food for 3 days, and took it in stride. He'd been bucked off badly, launched roughly into a pile of rocks by Sam, the spotted gelding, wrecking his shoulder. He was back to ride despite the pain on his next stint.
I talked to him about it when I came in to pull the last camp and get the cattle on the move for the long walk home. "So, Jake, dude, what in the heck happened to you? I never ever thought you were a quitter."
The rain had stopped, and blue sky dotted with scudding cottony clouds filled the Big Hat country to the horizons. Sun dappled the forest floor where we stood. Things were different than they were a day ago.
"I ain't no quitter, Glenn." He shook his head, and looked me in the eye. "I'm sorry I gave you that impression, but a quitter is one thing I'm not."
"Well then, what were you thinking?"
"I don't know. I just lost it. I just reached the end. It wasn't the rain, or the cattle running wild. I had just had it, and that spring—the mud, was just the final straw" He looked at the ground, and then back up at me. "It won't happen again, man. I'm sorry."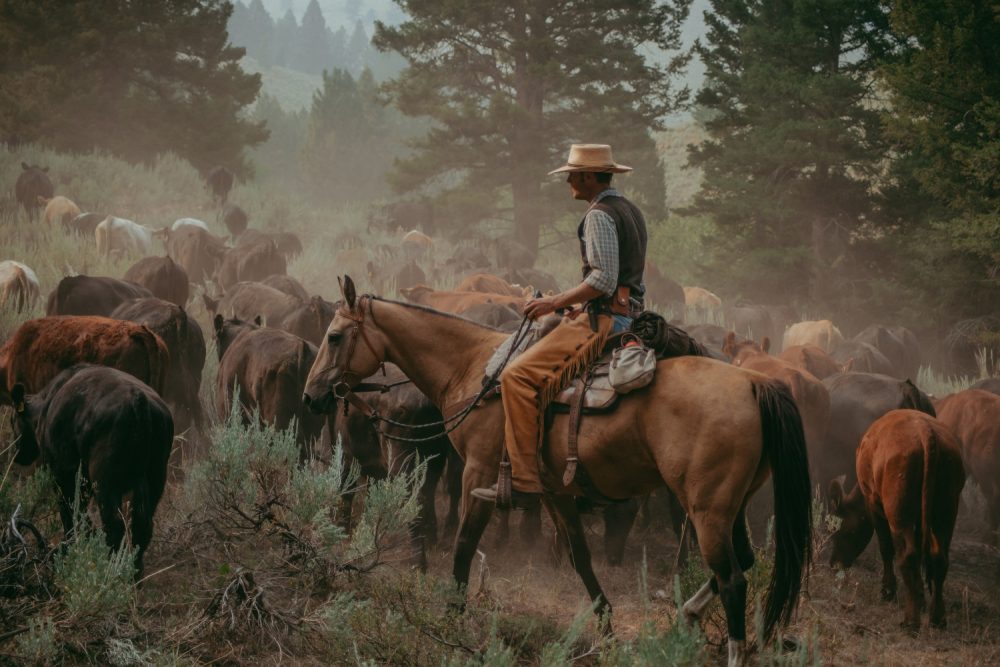 I wasn't mad at him. I've cracked. Melanie, who has been riding up there since she was 11, has cracked. It comes, quietly, stealthily stalking all of us unawares. The breaking point. Where even the most stalwart of us are undone by the wild. Yes, we get to walk and ride in beauty. And we may think there is no bottom to us. It's a delusion, a reverie broken by a tide of adversity that finds cracks and weak spots, driving a wedge into our very being.
And we unravel.
The snow is dumping about 9000 feet again as I write this. I can feel it coming. The days of grass and green are indeed numbered. Elk bugle in the bottoms. Geese fly over in practice. The cranes are dancing their final encore before the long wing to the southlands. The beeves gulp the tender lush grass at home now, safely storing up for winter.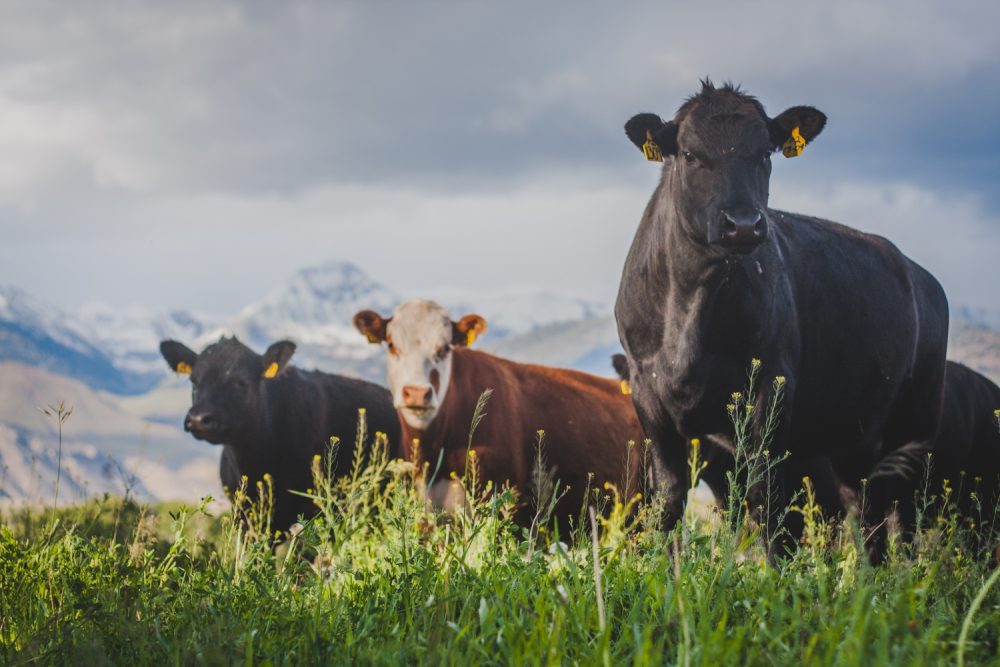 And we humans rest in those facts. And we hang up the duster, the rain slicker that bears the colors of tenacity for another year. And in only a few short weeks, we will laugh about the trials. Jake will marvel at the mud he found himself in. And we will remember instead the beauty, the beeves in their love for the wild, and know that we love it up there.
And then, in a few more weeks, we can't wait for spring, so we can once again be horseback, in the elements, in the wild.
There's a cowboy song called the "Night Rider's Lament" that our family band performs (The Bunkhouse Band- we're looking for a new name if you have a suggestion). It somehow seems appropriate as we pull off the range for another year. It answers the question of why, at least for a rider. There's more to it, for sure, for the wellness of cattle and the health of the land and wild critters. But when you ask a rider why they do it, they might say something like this. Here's the chorus:
Why do you ride for the money?
Why do you rope for short pay?
You ain't a getting' nowhere, and yer losin' your share.
You must be gone crazy out there.
But they've never seen the Northern Lights.
Never seen a hawk on the wing.
They've never seen spring hit the Great Divide,
And they've never heard 'ol camp cookie sing.
Thanks for being part of us, and for being our friends and partners, even riding with us, in a sense, and sharing our trials and triumphs.
Happy Trails.