There were now only three of us horseback on the darkening backroad. Linnaea had fallen behind and was scooped up by Caryl, piloting truck and trailer. The 7 year old was frozen and tired on her aging gray mare, who now happily had wheels under her. The little blonde haired girl in the truck was happy again, chattering with mom.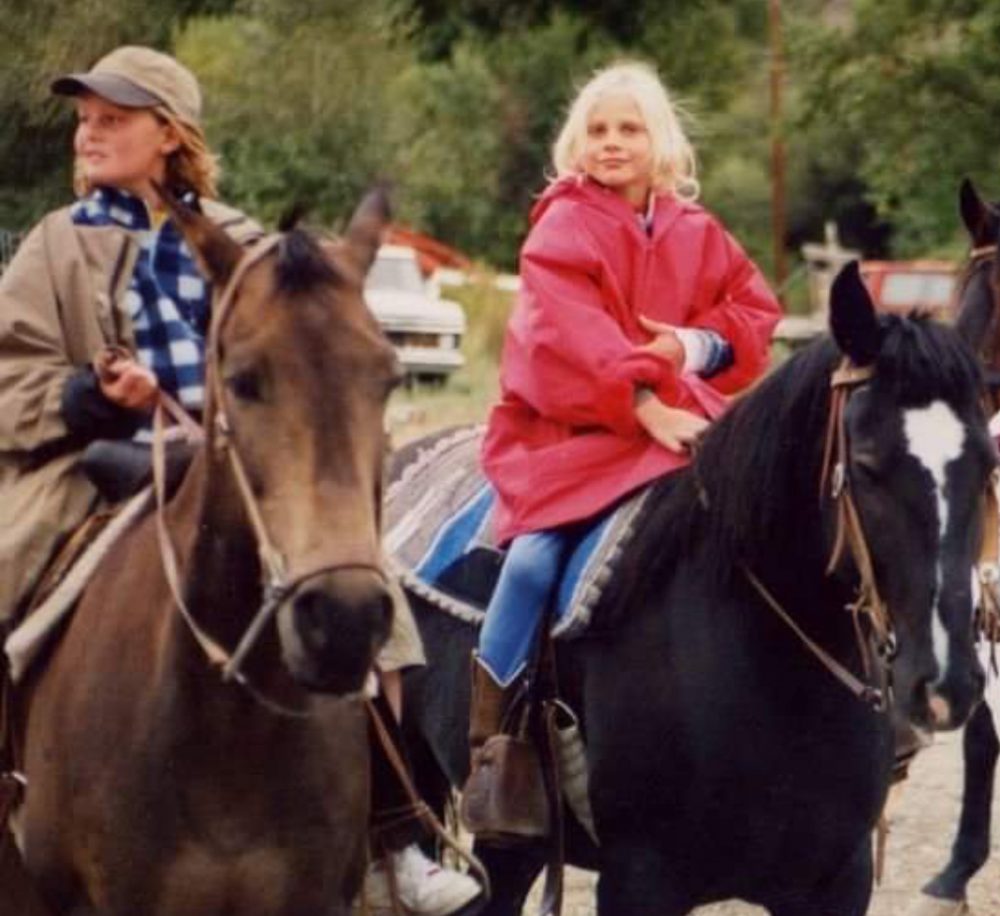 But I still had Melanie, age 11, and Abby, 9, with me astride our tiring horses. Winter was rearing up her head, and earlier in the day we had slogged through pretty substantial snow to herd our cattle out of the mountains. It was early November, and a chill wind was descending off the high divide. We had come out of the sagebrush and timber and it was now time to get them on the lush pasture that awaited them on lease ground down in the Lemhi Valley on the Fisher ranch.
I rode the flank, watching gates and keeping the 100 head directed toward our destination. Melanie rode the other flank, and Abby pulled the drag, cowboy terminology for bringing up the rear. Periodically, I could hear a small whimper emanating from the girls as the chill soaked into each of our bones.
Not far to go now. The cattle walked with their heads down. They, too, were bone tired from the grind. We'd covered nearly 12 miles already. Thankfully, the tough trail of rock and snow was behind them, and all we had was another mile or so of dirt track to get to where we could slip through the gate on to green pastures.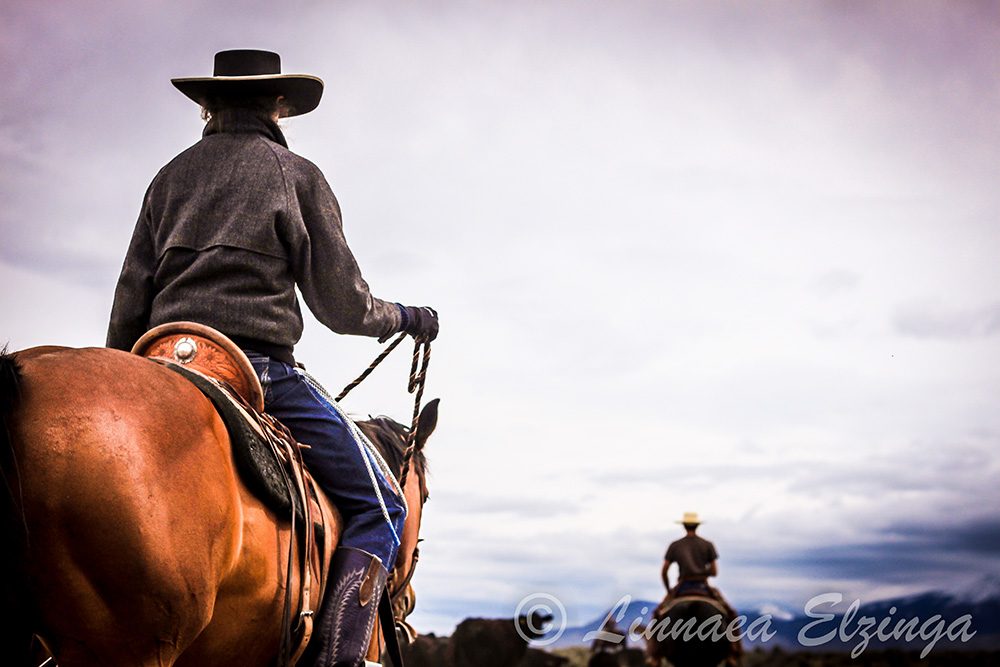 It was quiet, except for the occasional rapid water rush and continuing murmur of the river in the deep shadows of trees we rode along. It was the Lemhi, and the fall flow had picked up with the abatement of summer heat. Creeks came back to life, and fed it with cool waters once again, as fall reached its full manifestation in our mountain valley.
After a few more winding turns in the old road along the now-thick cottonwood forest, I saw the dim outline of a pickup truck pulled off in the murk of the half-foliated trees. As I picked my way through the brush along the trail, I bumped my mare into a trot, leaving my flank position. I figured the trees and thickets and the sound of the dark waters rushing by would keep my charges on track. As I approached, I could make out the shadowy figure of a man leaning against it.
"You guys are about outta daylight." It was Paul Fisher, the son of Paul senior, the owner of the ground we were heading for.
"Is this where we cross?" I spoke through the dark.
"Yep." Long pause. Paul was not the chit chatty sort.
"How's the bridge?"
"Not real good. There's some big holes in it." Pause. Rushing water sound. "Boards missing."
Now, dear reader, you have to realize something about cows. They don't have a penchant for bridges. Built by man, most of which have little understanding of bovine ways of thinking, they naturally assume that bridges are in no way ever to be trusted.
Cows like walking through the water, if given a chance. They'd rather swim than walk a bridge. Their minds reel with thoughts of inherent distrust in the structures of man.
And this Lemhi bridge was no small exception. I jumped off my mare and shuffled carefully across the bridge in the gathering darkness. Indeed, there were two or three cow foot sized holes in it. I could see the glow of white water beneath them about 12 feet away. As I surveyed the ancient decking, I paged through the history in my mind of times that bridge crossings didn't work out.
Snake River, southern Idaho; 1950s. Suspension bridge. Jerry Eastman, trail boss. Twelve hundred yearlings in cadence; bridge begins to rock and roll with their hoofbeats. 75 head get catapulted into the river. All survived.
Salmon River, North Fork Idaho. 1960s. Paul Fisher (Sr) and Rolley Adams. Two loads of cattle on stock trucks, too close together on the Bobcat Creek Bridge. Bridge collapses. Both trucks fall into the raging torrent. All cattle and both drivers survive. Trucks did not.
Not eager to add a page in the annals of bridge wrecks, I think things through.
And I come up with nothing.
Paul is waiting for me with my horse, and the cattle are edging their way toward their destination.
"I think they'll see the holes," says Paul.
"Let's try," says I.
And we do. I holler at the girls. "Push them up to the edge of the bridge, girls! I'll hold the right flank with Paul, here, and Melanie, you keep the left. Abby, work that drag!"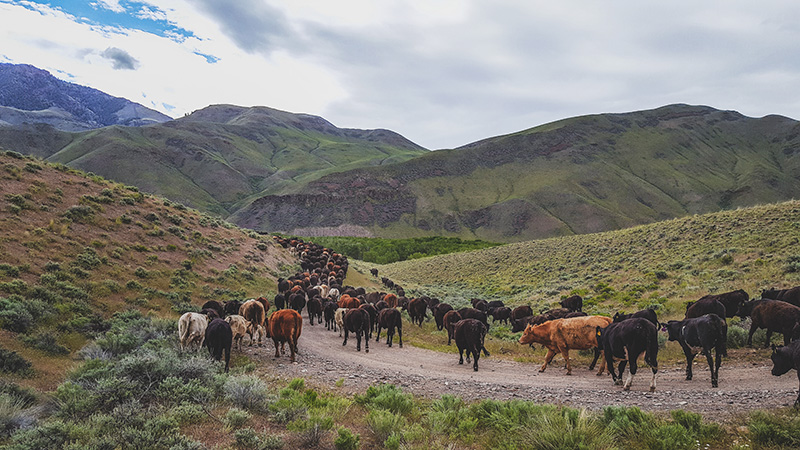 They were all shadows in the murk, now. And the cows reached the threshold of the bridge deck planking.
And they sniffed it.
It's something in the long line of human development and adaptation that we have lost. We just don't go around sniffing things. We don't smell danger. Humans just don't sniff the car that they are about to get in. Can you imagine? A friend picks you up for coffee, and you won't get in their car, because you sniffed it?
But cows can. They have an uncanny sense of smell, and can determine danger, or the lack of it. I've seen it with places in the mountains where cougars roam.
Cows won't go there. And then we find tracks. Duh.
Sometimes I wonder how homo sap survived.
Anyway, we pushed, rode, cajoled, conspired, convinced and contrived whatever we could that night to get those cows across. And finally, in the now pitch black of dark, one old girl picked her way, the echoing clump of her hooves resonating across the river bottom forest. And then another slowly edged her way through the broken wooden treadway. And slowly, we had them. The dam of cow inertia unleashed, and in witnessing not death of the pioneer traveler's passing, they gained the confidence to move forward.
Despite the smell.
But some never got over that smell of uncertainty and danger. And like some humans, these cows chose a different path. They slowly picked their way down the bank, into the swollen torrent of black waters. The chose the uncertain wet and slippery algaefied footing of the Lemhi River bottom, even on this cold night, but still followed.
And like the other pages in my bridge chapter, they all survived, no matter which way they chose.
And they put their heads down in lush green for many days to come.
The cattle had come from the mountains, and were home.
Happy Trails.
Glenn, Caryl, girls and cowhands from Alderspring.
For 26 years, handcrafting unparalleled flavor and wellness while regenerating wild landscapes. Wild Wellness Delivered.