Often the horses I work with teach me more than I do them. The difficult lessons of patience and humility are best learned through experience and training and riding horses is full of experiences both positive and negative. There is the elation when we are both on the same page, moving as the same unit, in time and balanced. And there is the sinking feeling in the pit of my stomach when I realize I have failed the horse in some way, whether that is because I was too much in a hurry or because I didn't present something in a way they could understand. Lessons are taught through success and failure alike in many aspects of life. Horses are no exception.
This past summer, we came to the realization that the number of horses we owned was simply not going to suffice for the range riding crew that was coming to ride the miles on the range with us. To prevent horses from becoming run down with the daily rigors of inherding, we try to rotate them on one day and off at least one day, sometimes two or three. And as things stood, there were not enough horses to facilitate that necessary rotation. Dad started making some phone calls, trying to track down horses we could lease for the summer.
He finally found them, after many conversations with outfitters and horse traders that all led to various dead ends. A crusty old gentleman named Frank down in southern Idaho leased half and quarter draft horses to dude ranches, summer camps, and outfitters every summer. After a lengthy phone call with my dad, he decided that we sounded trustworthy enough to be given a chance. He would pick out 12 head for us, he said. We could come down and look at them and then go from there.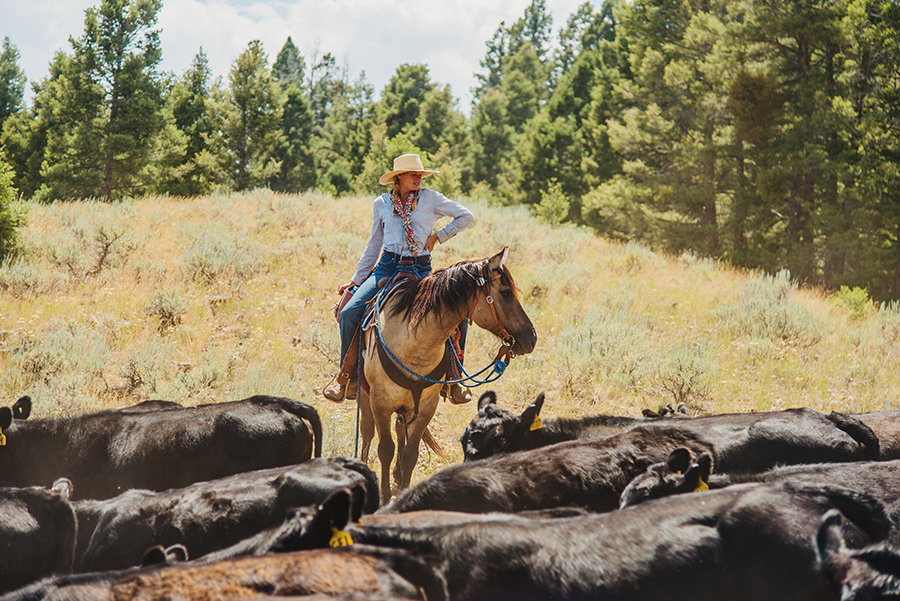 We made the drive down South, pulling the big gooseneck trailer behind the dually. Their place was set right in the middle of Idaho's industrial agriculture belt, a green plot of land amidst unbelievably uniform row crops and huge metal grain bins and processing plants. In pastures fenced off from the outside world by a few strands of barbwire were horses of all shapes, sizes, and colors. I was in heaven.
Frank and his wife Linda had been there for years, breeding and raising some of their horses themselves and tracking others down at auction. They had seen the land change around them as small farms were bought up by corporations and suburban and industrial sprawl encroached on their land. But they and their big raw-boned horses stood firm and resolute, unchanged in a changing world. They invited us in their rustic ranch home, decorated with hundreds of pictures of horses, past and present.
They talked to us for a while over cold bottles of water, wanting to make sure that we could be trusted. I can understand that. Had I poured my life into raising a string of horses, I wouldn't let just anyone load them up in a trailer and take them to the hills. Most of the folks that leased their horses had been doing so for years and requested the horses they wanted by name. We were honest with them when we told them about the rough country, the challenging nature of the job, the crew with little riding experience.
I guess we passed the test, because Frank eventually stood up and said in his gruff way: "Let's go take a look and we'll talk some more."
We hopped in the back of Frank's Dodge and began the drive from pasture to pasture. Linda sat in the back with Linnaea and I, telling us the story of the horses and their business of leasing them. She was a kind-faced woman who bore the grit of a life of hard work outside with an undeniable grace; the love for the horses and for the life she and Frank had built was clear as she spoke. She and Frank knew the horses individually (and there were over hundred) by name and history. In each pasture, they would tell us the story of every horse out there and how that horse would or would not work for our needs. Some of them were too old and some were just too big. But there were others that were just right: medium sized, stocky, and under ten years old.
Eventually we worked something out. We told them we had to have younger horses that could handle the challenge of the high country, but we didn't mind taking on those that were only green broke. This made Frank and Linda happy, because they had a lot of young green horses in need of miles that couldn't be sent to a summer camp or dude ranch where they might do something unpredictable and kill some inexperienced rider. Ultimately, they agreed to reduce the lease price a bit since the horses we were getting were at various stages of broke and dependable and we prepared ourselves for what might lie ahead in terms of getting the lease horses ready for the summer crew.
As it turned out, some of the lease horses were indeed pretty green. But only one really looked like trouble. The big gelding made an impression the second he came off the trailer, not just because of his huge stature and fancy grulla coloring. No, he commanded attention because of the way he held his head high, with his white-rimmed eyes surveying the new surroundings and his long forelock blowing in the gusts of a typical windy spring day in the Pahsimeroi Valley. There was only one individual in charge around here, and that was him.
I felt a knot form in my stomach. I was going to have to ride this horse first and quite a few times after that because otherwise he was going to kill someone else.
The day before I finally summoned the courage to saddle the troublesome grulla, Clint came to put shoes on the new string. Clint is not only a farrier; he's a hand. He has ridden many broncs, started a lot of colts, and day rides and picks up at rodeos when not too dang busy shoeing horses. Upon Clint's arrival, I tied the grulla high and tight in the barn and that gelding immediately got to work digging a hole to China with one big hoof. Clint shook his head.
"You got any hobbles?" he asked me, looking thoughtfully at the grulla horse. I nodded and grabbed some from the tack room, watching as Clint deftly hobbled the gelding above the fetlocks. Then we both got out of the way while the big guy began experimenting with his new situation. That horse didn't like the hobbles one bit. Clint just cracked a small grin as the war on the hobbles began and started to work on shoeing some of the other horses. In a minute he looked back at the grulla and then at me.
"Hey," he said. "Who's gotta get on that horse before you turn the cattle out?"
I tried to look self-assured and nonchalant at the same time. "That's me," I told him.
His eyes started to twinkle. "When you do get on 'im, could you have one of your sisters video you? I'd sure like to see what happens."
In the words of the great philosopher John Wayne, "Courage is being scared to death but saddling up anyway." The next day, I did just that with the grulla gelding. I'd like to say I just threw my saddle on, had Linnaea twist one of his ears to distract him for a minute while I swung aboard and then let 'er buck, but that's not exactly what happened. Sometimes slow is fast, especially when you aren't much for riding broncs. I saddled him in the small pen and let him loosen up with the saddle before I did anything else. He hogged around a little but seemed surprisingly okay with everything.
I think one of the biggest mistakes people make with horses is not giving them somewhere to go and a job to do as soon as they probably won't kill you. It seems like horses get bored or scared when there is nothing else to think about besides mindless endless circles in an arena or round pen. After a few laps trotting around the small pen, I took him out into a bigger pen. That all checked out fine, so I called Linnaea over.
"Let's take them outside," I said, gesturing to the mare she'd been working with, a mild-mannered dun named Janelle. She nodded, knowing just as well as I did that the fractious grulla would be better off with a destination outside the corral. So off we went, riding a big loop out in the sagebrush.
The grulla was predictably troubled at first. He bucked a bit when I kicked him up in a lope for the first time and totally freaked out if I asked him to head away from the other horses even by a few hundred yards. During that ride, I pulled out all the stops, wracking my brain to recall the little things my horsemanship instructors taught me at school and thinking back to previous horses I had worked with and what had helped them. During the several mile-long circle up the drainage behind the ranch, he slowly began to listen a bit. Instead of continually attempting to run back to the other horses, he would occasionally flick an ear back toward me and travel in a slightly straighter line. He began to respond to the reins a little more and pull on me a little less. I could tell he was starting to think, even if the shift was slight.
When I pulled the saddle off back at the ranch, his back was covered in sweat. The first of many wet saddle blankets needed to make him into a good citizen, I thought. His head had dropped a bit and his eye was ever so slightly softer. I made Linnaea hold him for a second while I took a photo, documenting not only a successful ride but also the evidence that I had overcome my at least my initial fear of him. I was exhausted, depleted of energy from thinking so hard and from continual readiness to react if he tried something. But we were both alive and learning from each other.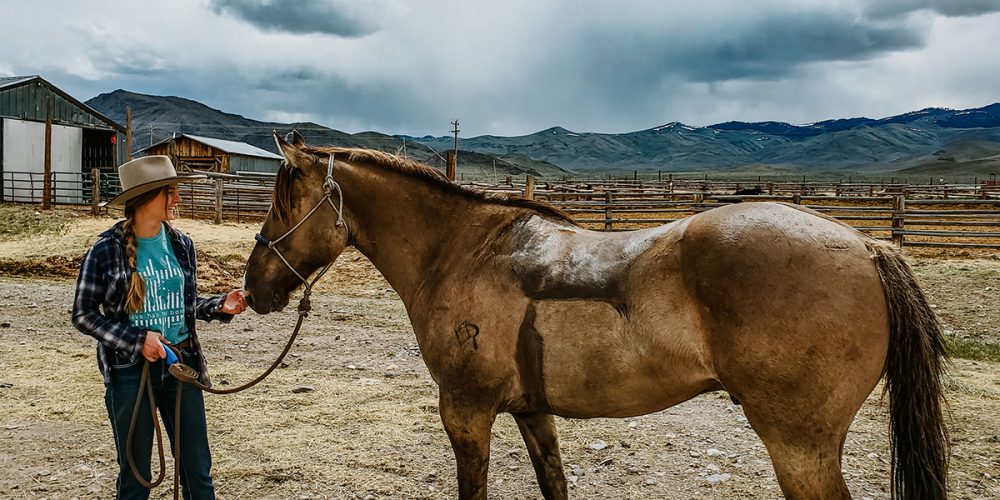 It was a couple weeks before I could continue work with him. There was a host of other tasks to be done to prepare for a summer on the range. Some of the lease horses only needed a few rides before they were ready for summer range riders, so my sisters and I got them legged up while working through horsemanship training with the crew. The cattle all needed to be branded and weighed. Camp had to be sorted and curated so we were ready for the first deployment. Tack had to be cleaned, repaired, and organized. I always forget how much there is to do before we (literally) all head for the hills.
It was several weeks later and we had the cattle turned out and the crews rotating in and out of camp on schedule. While the range riding system is never a well-oiled machine at that point in the summer, we were all doing it. It was time to take the grulla up to cow camp.
I had a plan that involved riding him non-stop for pretty much my entire stint. If he got too exhausted, I would switch to another horse. I didn't want to ride him into the ground to get through to him, but he needed to be tired to start thinking critically. I figured if he still had that arrogant look about him, he was good to go another day.
Just as I expected, he started out quite proud of himself and completely unwilling to consider that there might be another way to do things. Although he didn't try to kill me directly, he tuned me out. If he got too far from the other horses while herding, he would attempt to run back to them, even if that meant galloping breakneck down a sagebrush and rock littered hillside. More than a few times, I saw my life flash before my eyes, and I told myself that I would just ride another horse tomorrow that wasn't such a challenge.
Ultimately, I didn't ride another horse the next day. I rode the grulla again. And midway through that second day out, something shifted in him. The mindset change I noticed in him the first day I rode him several weeks before occurred again, and this time it was palpable. All morning we had been herding the cattle higher and higher, bound for a basin far above base camp. The gelding's neck was soaked in sweat and his sides heaved from the exertion. As the cattle crested the hill and meandered into the basin in search of the green grass that grew between sagebrush, I stepped off and loosened my cinch so he could catch his air. It was then that I could really appreciate the change in him. His head, once so high, now dropped below his withers. I stretched out a hand, expecting him to flinch away. Instead, he waited for my fingers to brush his forelock from eyes that had become soft and quiet, no white rimming the edges. I pulled my phone from my pocket and took a photo, sending it to my dad.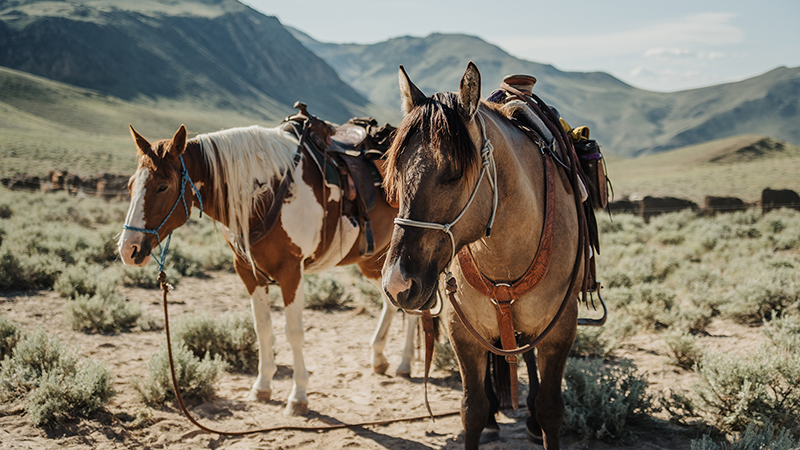 "He's a changed man," I typed. "I think he'll be just fine now."
And so he was. In fact, that big horse was more than just fine. A few more stints of hard miles in the rugged low country of the range and Linnaea and our other crew boss, Jeremiah, started riding him without issue, putting the additional miles on him needed to build a foundation of trust and responsiveness. Then more of the range riders followed suit, excited to ride a horse that had been so sketchy in the beginning. Occasionally the grulla would have a moment, as many young horses do. But overall, he was quiet and dependable, as rock solid on the inside as he looked on the outside. I never gave him a name, though some of the range riders called him "Mouse" as a joke. He just seemed like he was above the cheesy barn names we give most horses. Calling him simply "the grulla" seemed more appropriate.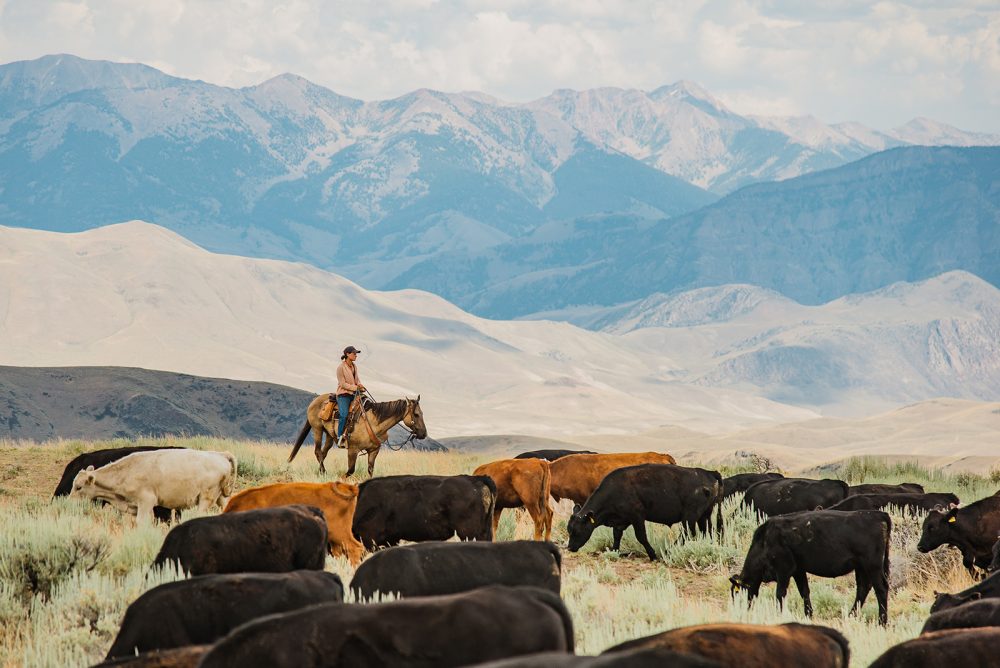 I miss that horse, now that he has gone back down South to his owners for the winter. He taught me about overcoming my fears and misgivings and that sometimes the best horses take a little extra time. He reminded me about second chances and that passing initial judgement is never a good idea. Maybe we will be able to name request him in a coming summer and he will return to the ranch just as full of fire and arrogant as ever until I can win him over again. But we know what he truly is below that prideful exterior and we will welcome him back to our string.
Happy trails.
-Melanie