Dear Friends and Partners
About midway across the span of Little Hat Ranch, along the north banks of the bubbling creek, steep and broken desert hills cascade down to the impenetrable willow thickened swamps inhabited by beaver. These abrupt foothills are cloaked with mountain big sage and greasewood, bluebunch wheatgrass and an occasional desert mountain mahogany. They are in fact brittle and inhospitable rocks with desert dirt—volcanic ash–thrown on them, and when the midsummer sun beats on them, they are a convection oven.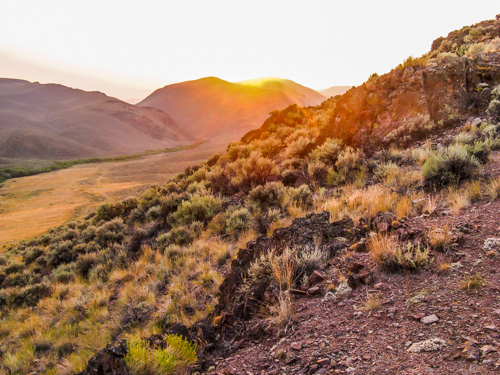 Only rattlesnakes and the occasional green lizard make their haunts there; magpies occasionally squawk warnings to the rare passerby.
But yesterday, I heeded not.
It was gold that beckoned me back to the foot of these brittle banks. And despite the oven blast heat rising off the gray rocks and the complete lack of wind, I had to make my pilgrimage.
I'll always come here, I think. And each summer for the past 15, I have. I've come with my hand out, waiting for that which nature might bring me. I never treated it like a commercial venture; instead, part of the pilgrimage is partaking in place.
I've returned for fruit; They were the currants. Wild currants like none other. Ribes aureum, they are called in the Latin; they are simply called the golden currant in English.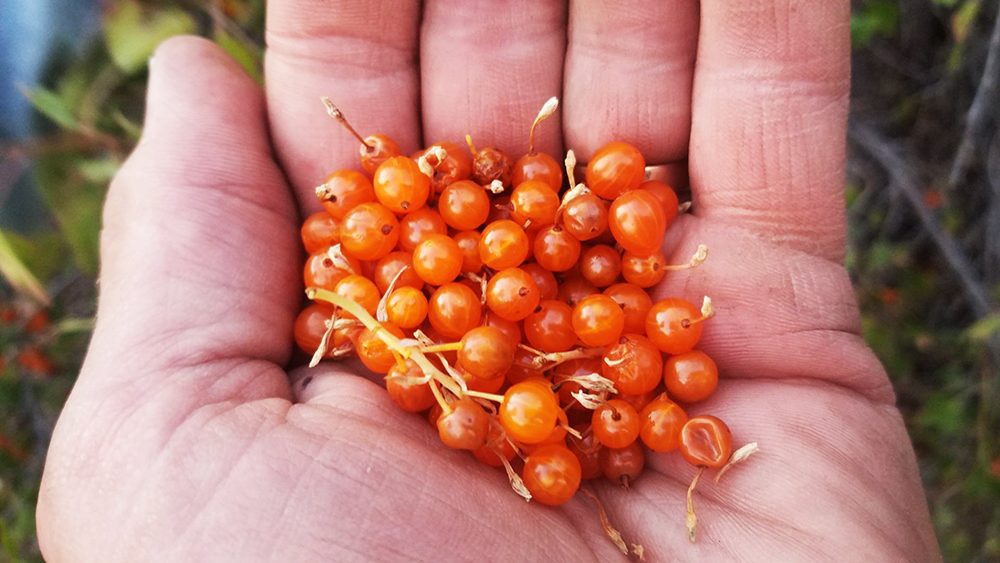 A very apt name.
The sweet and succulent fruit bushes grow wildly and haphazardly at the base of cliffs and rockslides. I wonder out loud where they could possibly find such moisture to make such a juice-filled fruit, as I clamber up the broken talus and scree to reach an especially abundantly fruited one.
Dust rises from my boots as I clatter up. It is desert, after all. The fruit on this one is resplendent, and I handily strip the easy pickings. In less than half a minute, I have a full hand. I take them all—stems included and in one quick mouth-fill, and they all go in my mouth.
My palate explodes with a flavor intensity not unlike ripe and sweet tangerines. Again, I am taken aback, and realize I had forgotten how delicious this fruit is.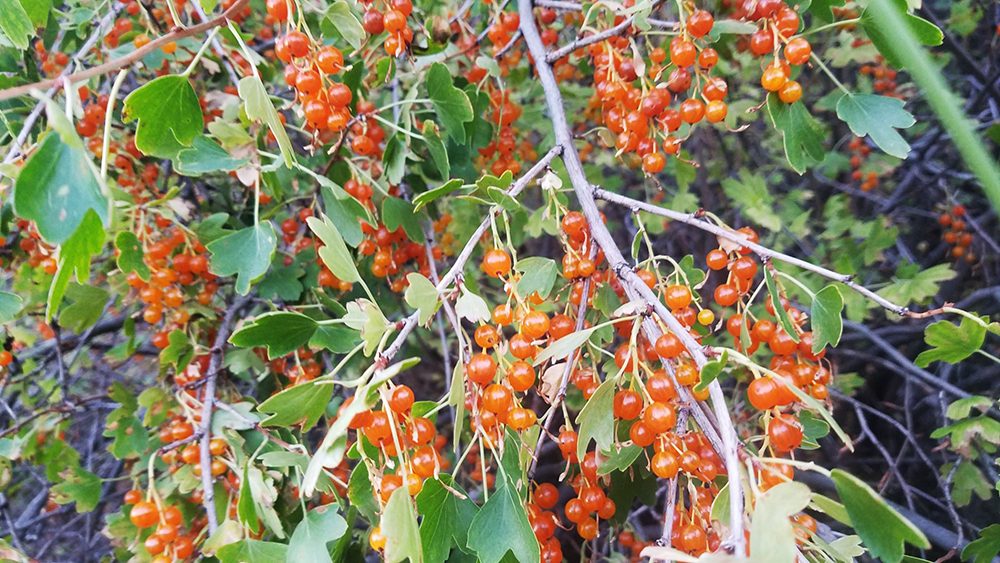 It is wild as fruit can be. These bushes, or their roots, could be hundreds or perhaps thousands of years old. I know that those here before me—the Bear Hat tribes of the Shoshoni—awaited eagerly for this best of berry.
And then there are the bears. They always jump the gun, eating fruit a week before it is perfectly ripe. I had been seeing their currant scats for 2 weeks now, and was always a little incensed that they couldn't just wait a little. But then, I realize that their scats were my first signal that something was up.
And so last week, I managed to stop along the creek while moving some cows in with Melanie late in the dusk under the cover of impending darkness. I knew they had to be there, because the bears had told me. And before I found my first berry, someone else was already making off with the loot.
Sage chickens. The largest native grouse species thrives on these, and I jumped dozens before getting to my claim on the larder. Golden currants unfortunately appear to be sensitive to heavy grazing use, and as a result, this sage hen food source is gone from so many creeks and seeps on desert ranges.
And then so are the sage chickens.
But on our range, those grouse are going crazy. I see many sage hens on Hat Creek, and I believe it's because of the regenerative effects we've had on creekside systems that we have preserved by carefully herding our beeves away from wet areas. We stopped grazing them. At all. And the fruit bushes thank us.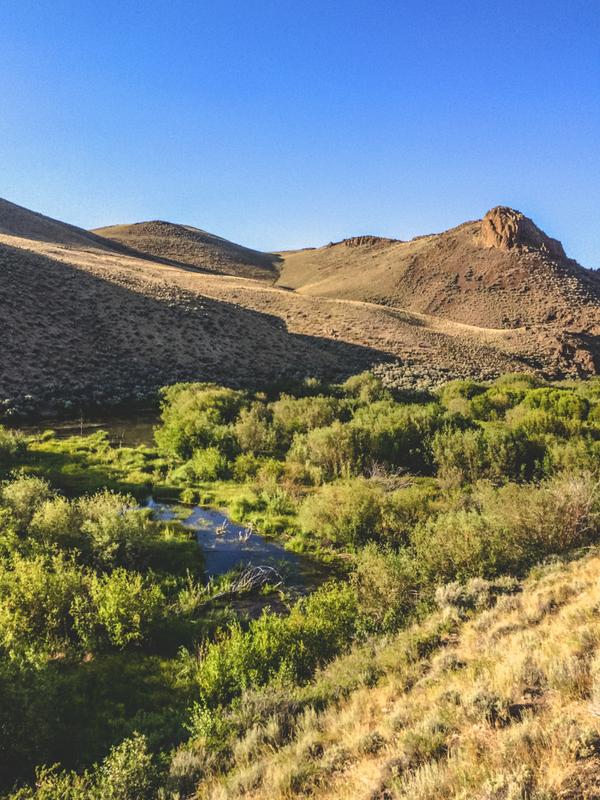 The fruit wasn't quite ready last week. I knew it would be this week though, so when I received a satellite phone text from Melanie that she, Ethan, Linnaea and Jake would be finished trailing their 300+ head of yearlings to their next graze, I headed up to get them and their horses out at our prearranged drop point.
I arrived at the ranch early. Little Hat Ranch is a remote inholding ranch, surrounded by hundreds of square miles of wilderness. The road in is poor condition (stay off it if it rains!), and there is no power or phone.
And there are no neighbors. Our only true neighbors are those wild animals we live and work with up there: bears, elk, mule deer, lions, badgers, wolves, bighorn sheep and pronghorn. The cabin is gone now, for nearly 80 years, and all that is left is our corrals.
And a two holer outhouse.
Which confuses me a little. Why two holes? Who else would be waiting outside ("I can't hold it any longer, Slim!") to make a tandem effort? But two holes it is. I guess a gent in these parts might think to make anything a hospitality opportunity come what may. You never know who might be coming down the trail a' horseback, after all.
Or maybe there was some sort of pioneer wisdom in rotating your own seat? I'll leave you with that.
I hear voices in the rustle of the willows up canyon. There is a trail, but it is a little brushy, alternating between desert dry cobble and beaver flooded muck. I make myself a fine seat on a flat rock after checking it for rattlers, and wait between a golden currant bush and a tall basin ryegrass.
I hear Ethan first: "Well, if were me, I'd be willing to trim back some of this brush to keep this trail open." I know what he is talking about. Horseback, it is a tough trail, especially when going down to the corrals. It's because the horses know that the end of the ride is near. They know the country better than we do, and even after not coming down this trail for 5 years, they remember that there is a waiting gooseneck stock trailer in just a half mile.
And that truck and trailer is their wheels to the deep green lush of home and their equine companions. Horses make special friends with each other, and develop bonds to other individuals. And they miss them when up on the range for weeks at a time.
But this causes a slight complication for rider of said horse. Horse will ignore that fact that rider might not like the snarl of willow or thorny rose in face as they bushwhack through the all and woody.
"Sorry about that. I didn't mean to let that branch slap you across the face." It's Jake, getting closer.
I could hear a slight ring. Loose shoe, I thought. They'll resonate when the nails get loose when foot strikes rock. It was Melanie's horse Sunny that spotted me first. She recognized me at once and Melanie followed her gaze and then jumped and gasped.
"Dad! You startled me!"
I grinned. "Just eatin' some fruit of the land, kid."
I couldn't blame her for being startled. Here she was, just done trailing cattle all day in big mountain country over almost 20 miles. And her knowing that seeing someone was not only improbable, it was flat impossible. After all, she had just come from cow camp in Moose Creek. No other humans for nearly 50 miles.
But here I was. She smiled when she got over it, and dismounted.
Her mare dove her head down into the lush grass along the beaver ponds. Melanie dove her hand into the gold that I had already found.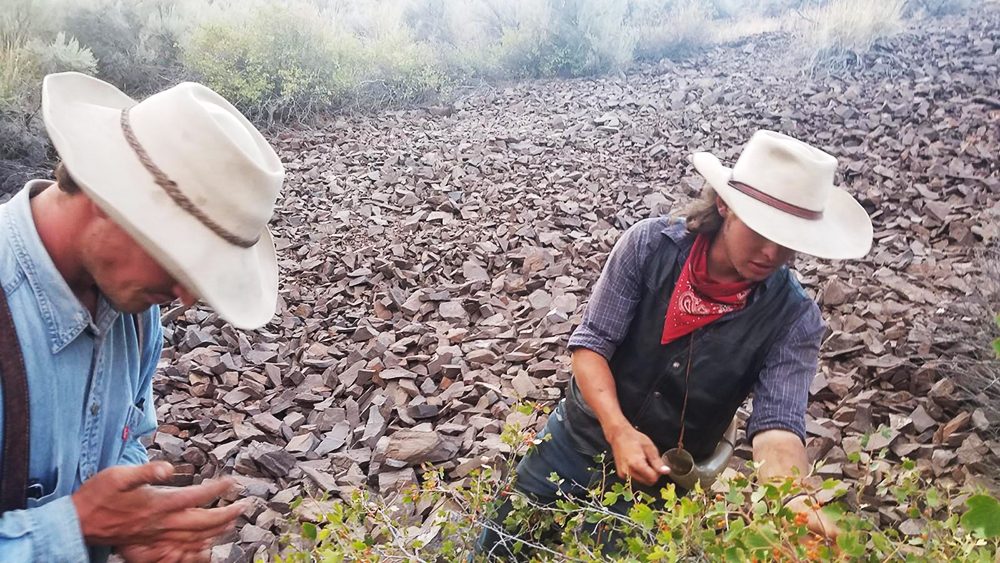 Jake, Ethan, and Linnaea soon rode up, with Clyde the exhausted border pup in tow. That poor dog had been herding cattle for 4 days without a break, and fell over asleep when he saw horses stopping. The 3 riders also dropped reins and dismounted, and began scooping the fruit into their mouths.
After sampling a few different bushes: "Check this one out. Totally different flavor. What do you got, Jake?"
Jake thrust a mouthful in to his trail dusted and crusted mug. His red bandanna around his neck was a tad faded now from volcanic ash impregnated into its fibers. "Oh my. It's blueberries."
I agreed, but I did have to close my eyes to feel, sense the flavor. Wild huckleberries, I thought.
"Try this one. Strawberries." Proclaimed Ethan.
Tangerine. Huckleberries. Strawberries. One species of currants.
There are wine tastings in places I've rarely been, and although I could enjoy that voyage into nuance of the grape, there was nothing I would trade for the flavors and the place where we experienced this wild exploration of flavor yesterday afternoon.
"These are the most incredible currants I have ever tried," proclaimed Jake.
And they are. On the soils of desert rock next to beaver dammed waters. On genetics that date to years not kept. They are truly wild foods in this world of loose lips citing wild in places far removed from primeval and pristine. For here was a place untrammeled by cultivars and cultivation, where mankind did not breed and rebreed to coax bigger and faster from already tired soils.
So, dear reader; grieve not for this world, this planet on which we live and what we no longer have. Instead, celebrate the fact that despite a world run amok with greed and exploitation we know two truths.
The first is that there are remnant palaces of the pristine left. All of Earth is not yet trammeled to the point of despair.
The second is that the design and force of nature is so very powerful, and if we are the practitioners of a good husbandry, she can regenerate herself.
Happy Trails.
I hope you find wild, even in what may be the most un-wild place.
Glenn, Caryl, Girls and Cowhands at Alderspring