From Spooks and Goblins to Sky Islands
In the deeply incised canyons and cliffs of the upper Hat Creek country was pasted a tiny ranch. It rested at the foot of one bottomless fold simply called South Gulch. I never figured out why it was named thus, for it was on the north side of Hat Creek which it was tributary to. But even on the old 1940s era USGS 15 minute quadrangle maps from a time before digital and data, when topographic contour lines were hand penned by white shirted office jockeys armed with dividers and engineering rulers, it was there, etched in perfect handwriting: South Gulch.
At the base of South Gulch, along an ephemeral spring-fed trickle that spilled over boulders and brush was perched a little log cabin in this place of remote Idaho. The cabin was unsurprisingly nestled to be part and parcel to the land it stood on; somehow, the structure settled and sank into a harmonious spot where it belonged, as if it had been placed there by God Himself.
Absent from the country (and still today as I pen this) were phone lines and power grids. The ranch was only accessible by a half-hour four wheel drive trip from pavement in the summer on a scratch of a rocky bone-rattling two track.
Inside the low cabin shack was a piano with a Mormon hymnbook on it, utilitarian horse and cowboy gear nailed to the walls, and black and white photographs of a colorful cowboy past. A white porcelain sink ran icy spring water from a gravity feed on the hill behind, and centered along the cabin wall was a lovely Majestic wood cook stove, from which came thickly formed sourdough hotcakes, with plentiful side meat and eggs from the hens that ran free outside.
At the rough wooden table dressed with red checked gingham cloth sat my newly minted bride, Caryl, next to me. We hungrily and joyfully surrendered our young and happy appetites into this, the best of mountain-air fare. There would be none of our usual coffee; most followers of Joseph Smith eschew it. Across from us were seated 80-years and some change Ed Corbett, and his recent bride, Lynn. I estimated that she was 30 years his junior, and one of her clear attributes of choice for old Ed to consider her for companionship was her purveyance of provisions. Lynn was an excellent gardener and cook. Her smooth skinned face and very-joyful disposition made an interesting contrast to Ed's calm countenance. And his facial features appeared as though it had taken on the look of the land on which he cowboyed; canyons and cuts dissected it.
His body was no different. He was a living bag of bones when I rode with him. He couldn't have weighed 110 pounds wet. His muscle tone reduced by age, he rode so efficiently with 75 years of saddle time behind him that muscle memory and reflex continued to carry him horseback well into his eighties.
After he passed, there were those who said that Ed Corbett rode a million miles in the saddle. When you break out the handy calculator and hammer out some figures, it turns out that this is impossible. Folklore, you say. But horses aren't starships, after all. All I know is that Ed rode heaps of miles. Genghis Khan and Marco Polo wouldn't have much to say in disagreement, I think, and would be bound to agree that in terms of total miles on horseback, Ed Corbett was even their senior.
Although I had seen Lynn on horseback donned with big floppy hat (with fresh wild flowers attached to the brim), she would stay back today. There was gardening to do, she said, and a homecoming feast to prepare for us when we returned. Ed, Caryl, and I would head off through the labyrinth of ravines and ridges to find cattle and move them to new pastures.
After placing extra sourdoughs in our saddlebags, we headed to the tack barn and captured three of the mustangy mounts for our ride into the breaks. We called them the breaks because we rode at the brink of where broad mountains cloaked with snow and timber tumbled and broke down precipitously nearly 6000 feet to the Salmon River. Dissected creeks and gulches corduroyed the landscape with countless tracks where water used to flow or still does.
Ed would ride Frog, his favorite small gelding. Frog was fairly unflappable; and I'd seen Ed standing, balanced on Frog's back, boots on saddle, wielding a running chainsaw, far up in the timber above the ranch.
"Gotta keep these low hanging branches clear from the trail," Ed's voice graveled. He sure could play that old piano down in his line shack of a cabin, but I would've hated to hear him sing. "Somebody might get brushed off."
He reached up with running Homelite saw, gunning it into a roar and blue smoke. Ed lopped until content, branches and sawdust scattering over Frog's head. Frog looked bored, and didn't even bother to look up.
He'd been here plenty of times before.
After gathering horses grazing out on the backcountry airstrip perched above the roar of Hat Creek, (there were some really large rocks on the short runway; I reminded myself never to fly into that place and take the bone crushing pickup truck ride instead), we handily saddled our mounts and headed off leaving that place named South Gulch on the topographic map.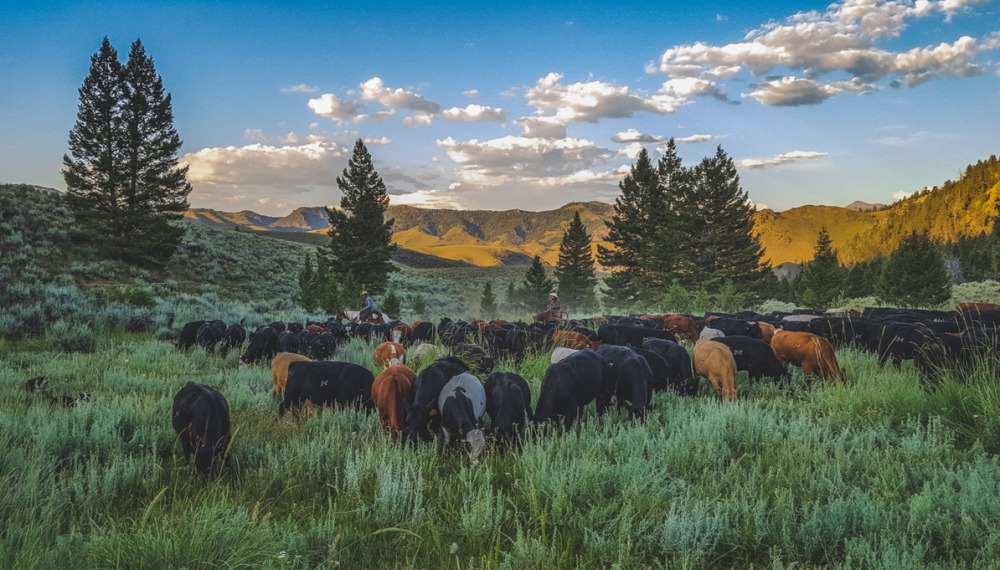 As a forester at the time, maps were much of my business. I spent hours looking at the old quadrangles issued by the US Government; there was no Google Earth or MapQuest in those days, let alone satellite imagery. All we had were tattered green and faded maps in the backs of our pockets, and a Silva Ranger Type 15 T compass around our neck (they still make them, and one is on my desk as I write this). The interesting thing was that most of Ed Corbett's 50,000 acres of range occupied a nameless green blank spot on the topo map.
It was unknown territory.
Certainly unknown to me. But as we set out, first into the bowel dark depths of South Gulch Canyon, Ed began to speak. And as he did, he showed me another map, one much more detailed than that of the Government's green maps. But it took days riding with him before I was finally allowed to enjoy the benefit of it.
You likely have figured out that the map was entirely in Ed's mind, and his years of living on the land brought names to features of it all, with meaning and memories attached to every name.
We picked our way up the narrow trail in the bottom of South Gulch. The canyon walls crowded in from the sides, squeezing out the light of the morning sun, and huge Douglas-fir trees staked claim to part of the trail. As we rode single file through chasm of tight volcanic ash cliffs, and Ed turned quietly around on Frog, and raspily whispered "These are the Devil's gates. I once made a deal with the Devil himself to always permit me passage."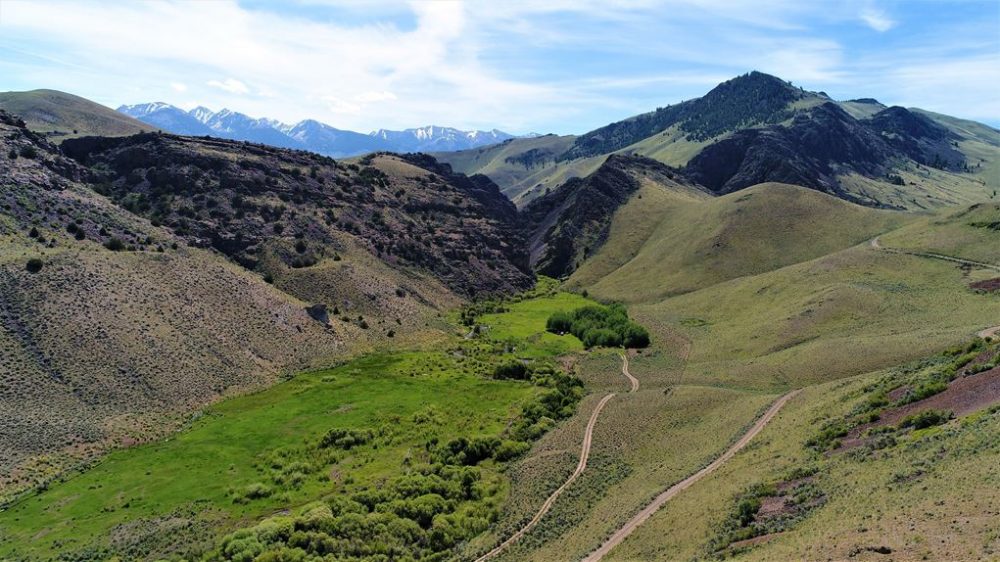 Caryl and I flashed a glance at each other, wondering, and looked back at Ed. But it was too late; he had already coaxed Frog up canyon, and we could no longer talk to him over the burble of the nearby creek.
And there were countless other places, as we picked small groups of cattle up, and took them to new graze in the maze of forests, meadows and mountain. He'd point to volcanic hoodoo rock formations as we rode higher: "Those are the Dutchman's Castles." Or gesture over to the wicked jumble of tumbledown rocks across the canyon wall we switchbacked up.
"Those are the Spooks and Goblins." And they looked it. Grotesque gargoyle like wind carved rocks could easily become any and all kind of ghost or hobgoblin, given the low light of a setting sun.
Each of these places had significance for Ed in the story of the land, but also in the locational sense. I heard him often tell Rex, his son-in-law and business partner, instructions about where a pod of cattle were that needed to be moved, or where the grass looked exceptionally good this year. Those whimsical names were bantered around in the business talk of running the ranch.
They had become both the story and locational map of a nameless, and faceless landscape. They told of a deep seated intimate relationship with the ground, grass and grazing.
And of an unquenchable love for the land.
It started raining. We were on a windswept ridge in open fir trees, and a breeze was cooking up from the west, and would bring with it even more rain, as evidenced by the curtain of drifting gray moving across the valley below. We all stopped our mounts to don rain slickers, the long waterproof oiled canvas overcoats that kept rider and saddle dry. They were tied behind the cantle, or raised rear end of our saddle seats, tightly rolled over our saddlebags.
I slipped mine on, despite the incessant flapping by the persistent breeze. Caryl nearly did the same, but her gray gelding evidently had one flap too many of the black ghost whipping in the sky above his head, and commenced to bucking.
Now Caryl has an incredibly good seat on horseback; she was practically born on the back of cayuse, and much of her early kid days were spent galloping wide open through thick forests bareback. But she was twisted awkwardly as she tried to capture the errant slicker blown by breeze, and never gained her proper seat.
And after a few bucks skyward, she now had slicker over her own head and her mount's. In another buck or two she was airborne and deposited roughly into a jag of thick sagebrush. She stood up, grabbed her gelding, and looked a little sheepish.
Ed's demeanor went from startled silence to all out laughter in a combination of the show and the relief that Caryl wasn't hurt. We were in the middle of nowhere, after all. And the last thing he wanted to do was kill us.
But I'll always remember where it happened: in "Honeymoon Meadows," Ed had called it, because of the lovelorn couple he once brought up there to help herd cattle across the deeply grassed vale. They were just married, were practically gushing with affection and pet names—and couldn't keep their hands off each other (it wasn't us, dear reader).
Sadly, Ed left us around 30 years ago. The South Gulch ranch is abandoned. All that remains is some falling down buildings (a new owner placed his own new cabin on the property away from the original ranch buildings). The cabin, left without care, rots and returns to the ground. The overgrown grade of the airstrip can still be seen; irrigation ditches run no water for horse pasture, and green meadows revert to sagebrush and cactus.
But memories run strong, as do the maps that Ed placed in my mind. And so, when I ride our range, and gaze across Hat Creek, the dividing line between our two grazing allotments, I can spy across the big valley of Hat Creek those broken crags and the very places that Ed named. They are etched permanently in the map of my mind, and he is attached to those memories.
I only wish that the inexorable tempo of time wouldn't fade them, but it does, little by little. Gray hair and wrinkles of my own appear on face and head; I wonder if the same features occur inside, making razor sharp recall become covered with a patina of slight gray.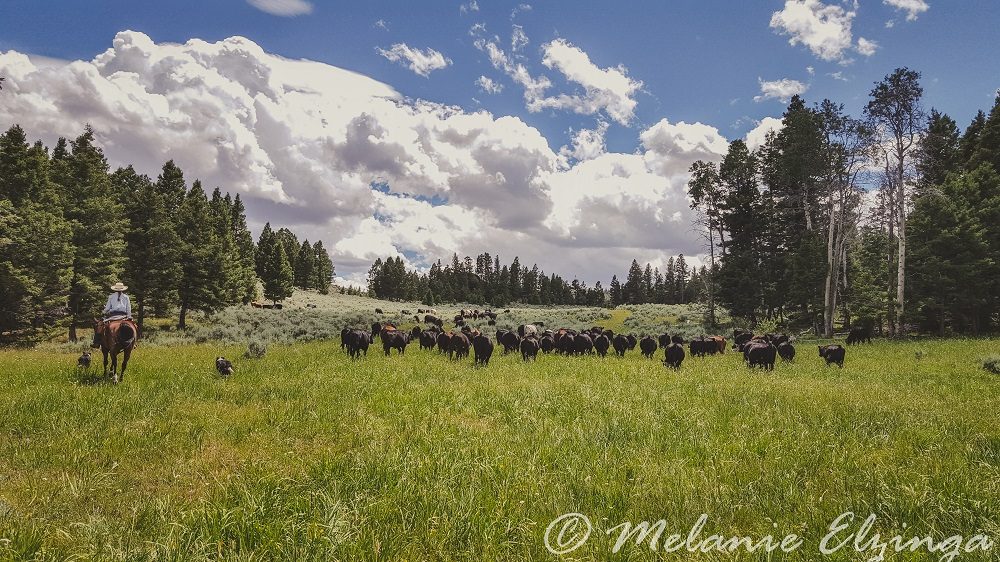 But there was an imbibing of sorts that went on as I rode with Ed. He dispensed many sorts of cowboy wisdom to those who experienced his love for landscape. And so, unknowingly at first, we have taken on many of Ed's traditions on our own range, and adopted them to be our own. Our 70 square miles of crag and canyon also had a nameless and featureless wilderness feel to it. But now, we live up there a good piece of every year, and like familiar friends, pieces and parts of the landscape earn nomenclature.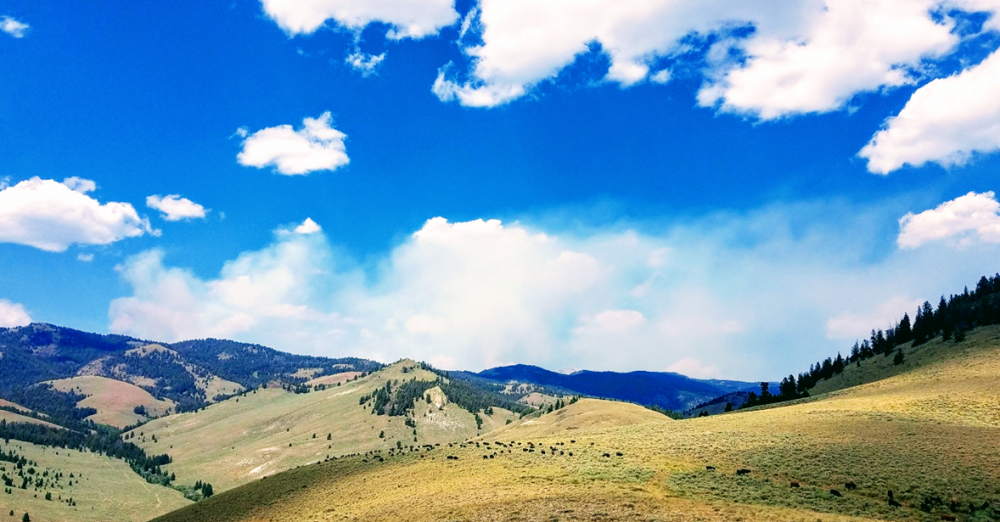 There's the Beaverhead, a peak so named for its bristly crew cut resemblance to the same. Little Hat Monkeyflower Springs, so named by Melanie and Abby when we'd stop parched and often drank our fill after a long day moving cows near the wild head of Little Hat Creek. Wild yellow and pink monkeyflowers bloomed along the crystalline course of coldwater flow as it met Little Hat Creek.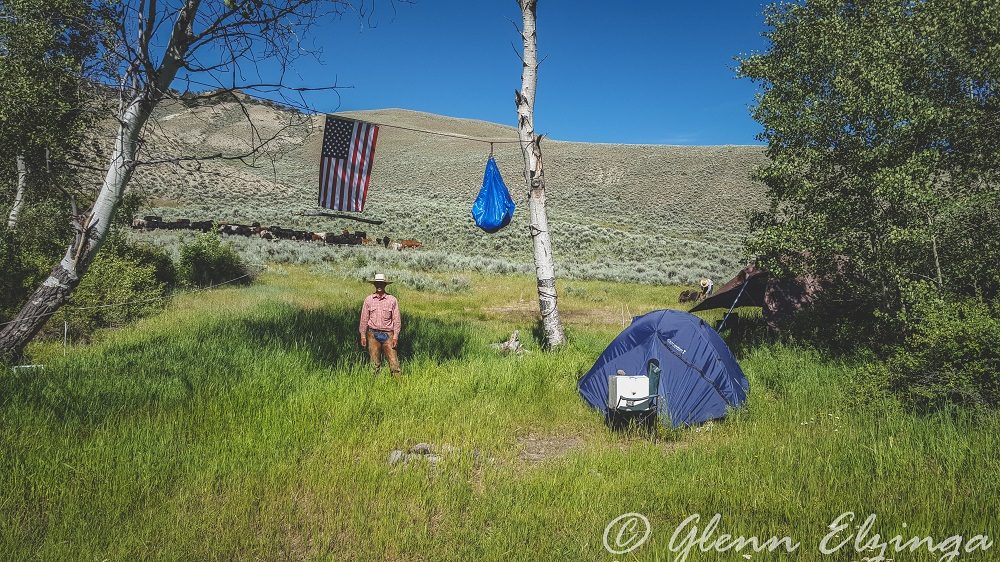 Then, there's the names of cow-camps we lived in. Like giving a new home a postal address, the crew all knows where on the sagebrush ocean these spots were: Mitten Camp, Skull Flats, Texarkana, and Narnia Camp. Named for features or a feel of a landscape near the camp, like a mitten-shaped volcanic rock formation that stands like a 10 foot tall sentinel nearby. And a skull dotted grassy meadow, where several cows met their end years before we showed up in Hat Creek. Their bleached bones still stand as a testament to their last breaths, probably from larkspur, the tall and lovely Delphinium flower. It is a native plant seductress to cattle that destroys them after several bites to her bidding (beeves left alone will die from this—it is one of the reasons we herd our cattle, and as a result, we have not experienced any mortalities now for 4 straight years on the range).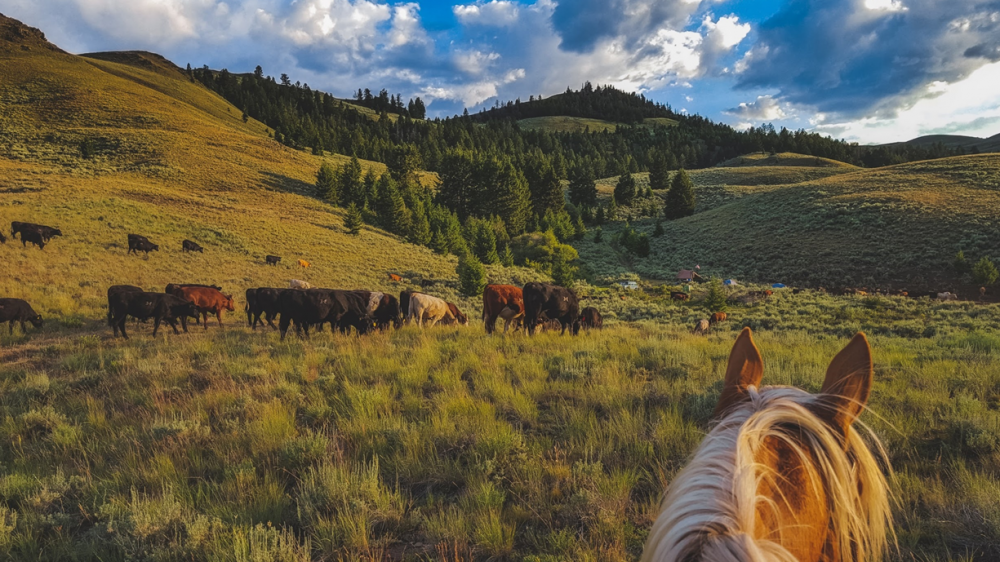 And then, there is the Crawler. It's a strange name for a bubbling and happy sounding creek that courses through willows and luxuriant grasses. But if you're thinking to extract recalcitrant cattle out of those thickets that minutes ago disappeared into the tangled and hopelessly impenetrable creek on horseback, it's next to impossible.
Instead, you have to crawl on your hands and knees through muck, down trees and rose-briars and cowdog them out one by one (I've even seen actual cowdogs quit this creek, and humans start barking like blue heelers in desperate attempts to get beeves extracted from the Crawler).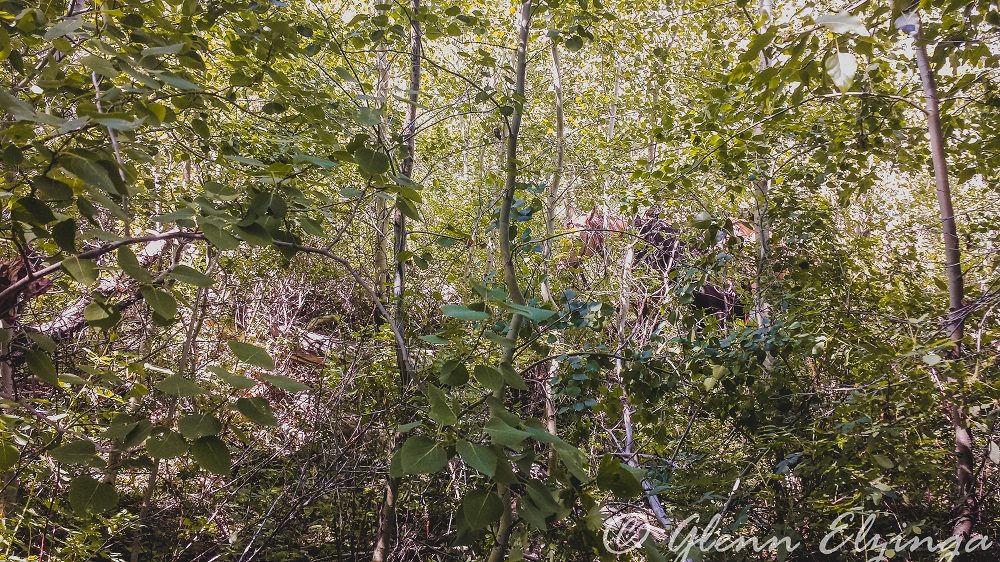 There has been tears of frustration spent because of the Crawler.
Although relationship to the likes of the Crawler is a little too intimate in a bad way, and carries with it a little touch of PTSD, most of these places become written endearingly on the map of mind and memory.
And when we return to the ranges of summer, it is like greeting an old friend. Certainly older than us, and occasionally not kind, but despite that, always a friend, at least in memory.
It is a friend you care for, and happily be the steward of. They become places of our hearts.
Happy Trails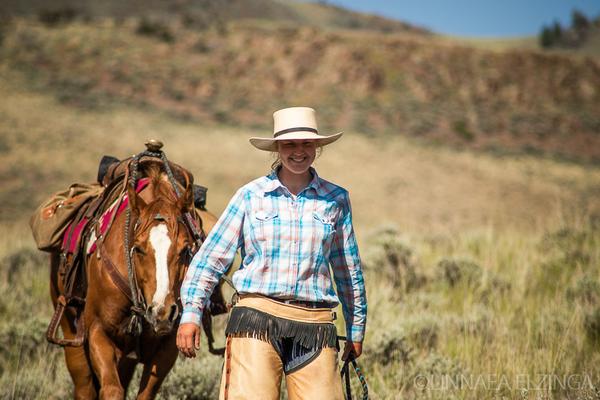 Glenn, Caryl, girls and cowhands from Alderspring.
For 26 years, handcrafting unparalleled flavor and wellness while regenerating wild landscapes. Wild Wellness Delivered.