The phone was ringing, irritating, as I was hands full, shoving more split wood in the Majestic cook stove in our tiny log home's kitchen in Freeman Creek. The hungry maw of that and the main woodburner were the only things that kept Caryl and I from absolutely freezing over this long and dark winter—not to mention the pipes that would have long ago been frozen solid had we actually shut the kitchen sink off (we kept it running at nearly full volume all winter, much to the consternation and confusion of house guests, especially when reacting to our near violent outbursts when they shut the water off as they helped with dishes). The spring that fed it, 300 feet up the mountainside above our home flowed warm, and never froze. But that pipeline, half buried in the ground, well, 40 degrees below zero had a way of penetrating and stopping even flowing water stone cold.
If it wasn't flowing fast enough.
It was early March, and the sun was finally now partly visible, tantalizing us, as it was just dancing through the latticework of tree foliage on the high ridge above us. It was enough to give us light, but not direct enough to give us warmth. In another month, the sun would rise above the treelined ridge, and the icebox canyon bottom we called home would quickly thaw, and the carpet of green would follow.
Over millennia, Freeman creek had carved a deep canyon in the abrupt uplift, the summits and rocky ramparts that formed the Continental Divide. Freeman peak itself towered above us, its precipitous façade culminating in a pointed summit at over ten thousand feet.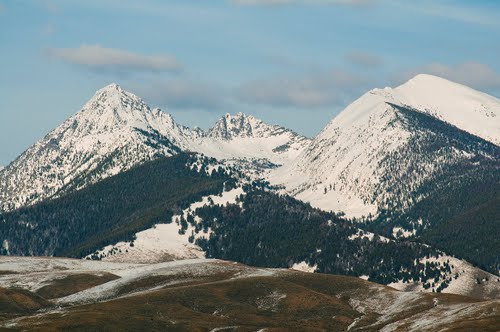 In the shadowed foot of this mountain was the Ellis Ranch, where we called our humble shack a home. It was the last, meaning the highest ranch on Freeman Creek. Jack Ellis, the current generation owner, let Caryl and I live there rent-free for 6 years after we first married, provided we helped out with a few odds and ends on the spread when he left; changing irrigation water, feeding critters, and checking on Jack and Diane's own log home, about a mile down the canyon. It was an idyllic life there, despite the 100-year old cabin's incessant problem with log chinking that refused to stay put. By winters end, we could squint through the log walls in some places and peer out.
That's all fine and good if you needed to jab a rifle or scattergun out for family protection, as in the days of the old West, but this was the 1980s.
Back to the phone: I latched the firebox door closed on Majestic, and ran for the phone, ringing on the wall. "Hello?"
Deep breathing was the only response on the other end. Unsettling? No. In fact, Caryl and I were used to it. The measured space between breaths was identifiable. And then, a gravely, slow and deliberate voice: "How…are…you?"
I grinned. "Great, Lloyd. How are you and Beva?"
And so our conversation began thus, as it usually had. It was Lloyd Clark, an older rancher friend of mine from the upper Lemhi Valley. Now in his 70s, Lloyd always spoke very deliberately and measured his speech on the phone. It was as if he was being charged by the word. And I could understand why. In this part of the country, the phone was a relatively new technology. I knew many folks who had just received one within the past 20 years. Some of them had just gotten wooden floors in the past 25 (they were dirt before that; in fact, I knew of some ranch homes that still had some outlying rooms with dirt floors). And before that, well, communication was limited to the postal service and Western Union. And in the latter, you paid by the word.
Lloyd went on to ask if I would be available to work this coming weekend for a few days. He was lambing, and with the re-arrival of bitter cold in the violent see-saw between spring and winter, he was in a jam; he had lambs hitting the ground, and he couldn't keep up.
That night, I gathered my cold-weather gear. It was wool and more wool that kept me alive and thriving despite the cold. It wasn't my idea. I had simply learned what worked from men who lived and worked out in the elements, day in day out. I shook out my heavy Malone wool pants, impenetrable to water, so tight was their weave. I added to the pile a couple lanolin-oily wool sweaters that smelled of sheep and even came complete with tiny sticks and pieces of plants in their imperfectly spun fiber. Finally, my leather pac boots lined with thick wool pile. It was the stuff of ancient warmth and survival in the furthest habitable North and South regions of the globe.
Caryl and I woke early the next morning, fired up the Majestic, and cooked breakfast in the still cold kitchen. Since it was March, I had stopped getting up in the middle of the night to stoke fires, and heave in more fuel, but it meant that the kitchen floor would get cold enough that if we spilled coffee on it, ice would form immediately (we didn't spill).
At first light, I fired up the hesitant Chevrolet pickup, and after it warmed up, I trundled the 60 miles up the Lemhi Valley to the Clark Ranch as the sun gilded the rosy white tops of the high Lemhi Range with solid gold.
Pulling into the lane along Tex Creek, a stiff wind had piled long snow drifts across the two track. Willows and birch in the creek bottom bent to the wind. I could tell where it was coming from: the wind was pouring down off of Railroad canyon, the lowest spot along the Continental Divide in this part of the valley. It was like a drain plug for the higher Big Hole Valley and Horse Prairie to the east in Montana. When those valleys filled up with heavy cold air, it spilled out through low spots in the Continental Divide.
Like a runaway train down Railroad Canyon.
As I punched through the drifts, driving my pickup broadside to the wind, my heater no longer kept up. I could feel fingers of bitter cold wafting into the cab, driven through the door and window jambs.
I turned up the heater.
Like Freeman Creek, the Clark Ranch, at 6600 feet, was the last ranch on the Tex Creek side of the broad Lemhi, meaning it was the highest altitude place of hardscrabble human occupation. Beyond it stretched a sagebrush plain that found its boundary in the Rocky Mountain uplift of unbroken forest, then higher into quartzite bare rock glaciated peaks that supported mountain goats making their living on disjunct plants from the arctic tundra. Other humans had tried and failed to live year round above Lloyd and Beva's place. Either they had found a place where somehow the wind and subzero bent around them, or they were too stubborn to give it up.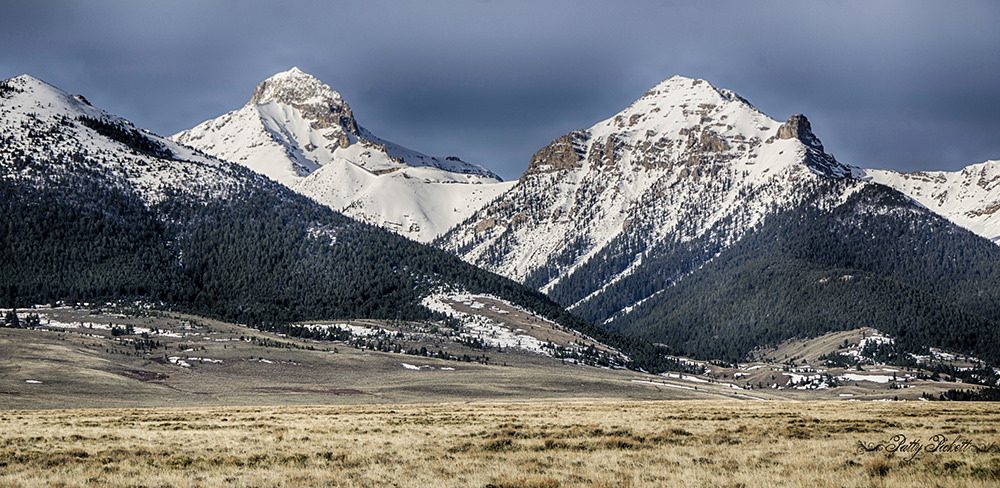 As I stepped out of the pickup in the barnyard, I knew for certain it was the latter, because if I had not held onto my door, the wind would have ripped it off the pickup. My impenetrable Malone pants were no longer so. My long-handles underneath leaked cold.
I headed for the sheep barn. Technically called the lambing shed, it was a typical long and low affair, about 100 feet long, made of rough cut lumber with a fiberglass roof to let a little ambient light in, when the sun provided it in the short days of winter. Windbreak fences made with cobbled together gray boards surrounded the corral, and nearly a hundred or so Dorset ewes with countless several day-old lambs bedded and romped out of the blast against the fence on clean straw.
Despite the wind, it was fairly quiet in the corral. Tranquil, I could say it was, in the shelter from the blast; the lambs were already playing, hopping around, short tails wagging. The peace was short-lived.
I twisted the latch to open the weathered small man door on the far end of the barn. As I creaked it open, I was met with the cacophony of probably 200 bleating sheep voices. Their voices almost drowned the sound of the rattling roof. A row of bare light bulbs along the ridge beam shed dim light. There was a veritable sea of wooly cream colored chaos stretching to the other end of the shed, and toward the end, in the middle of it, holding a tiny bleating lamb in his hands, was Lloyd Clark.
He was wearing his trademark beaten and battered denim jacket and Levis. Lloyd had years of some kind of combination of lanolin and axle grease deposited into the fiber of his denim coat that made it like oilskin. He and his coat were impervious to rain, snow and afterbirth. I watched him for a moment, and it struck me that he was a perfect fit in the landscape of lambs. Lloyd Clark had blended into the creatures he cared for.
He spotted me, giving me a nod from his furrowed, unshaven and broken toothed mug underneath a hammered and sweat-stained Stetson. Under the cowboy hat he was wearing some kind of ragged and torn wool ear covering headgear.
It was much warmer in the shed; 300 baa-ing sheep have a way of doing that. Most of the noisemakers were babies. Lloyd had a row of portable board panels that kind of puzzled together and contained a continuous sequence of mother and baby groups; a slow realization put together in my mind the need: in this chaos of baby sheep hitting the soft straw, it was nearly impossible for a lamb, once it got up, to find his or her mom, especially if her ewe vamoosed for fresh hay.
But it was warm in here, and with the new straw on the floor, clean and dry. Lloyd was working his way toward me, holding a dented gallon paint can with some sticks with curvy handles poking out of it. He handed it to me.
"Honey (he called everybody younger than he "Honey"), take this here and paint brand all them sets that are together in the pens. Then you and I together, can get 'em outside. And if you see any paired up outside the pens, mark them too. We gotta put more ewes about to lamb in them pens so we can keep track of who's who." He looked at me with a half grin on his face and a twinkle in his eye, hoping I got it.
I didn't.
"You know what I mean," he slowly spoke in his gravely drawl. (that's what Lloyd always said when he was wishing I would). "You see…, I'm on 72." He slowly grabbed the bucket out of my hands. I became aware of our disparate height, as he walked a few steps further along the edge of the shed; he was fully upright, and I was hunched nearly double with the low slung raftered ceiling. It had rusty roofing nails nicely poking out through the gray boards, and my wool cap would do little to keep them from poking holes in my noggin. He quickly dipped one of the sticks in the bucket, and made a mark that was an obvious "7" on the hips of both the ewe and two lambs suckling on her, and grabbed another of the metal sticks and pressed a "2" on all three, right beside the "7's." Paint branding, he called it.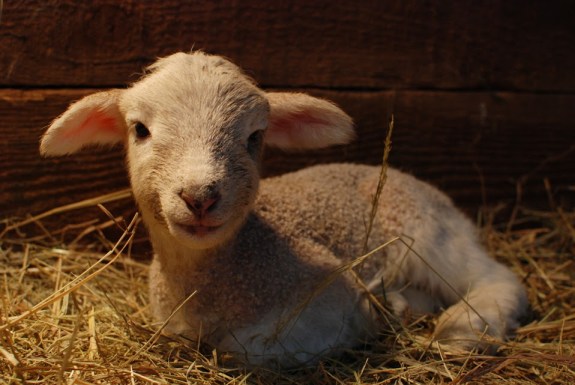 Seventy Two. I got it. Next one was 73. The paint would eventually wear off as spring came and they headed into the summer on the range behind his ranch, high in the mountains. But for now, if a lamb went down sick or just separated from mom, we would be able to match them back up.
So for the next several hours, it was making order out of chaos. And by lunchtime, it looked as if we had more numbered sheep than not in the shed, at least in the loose area. We hustled them out, picking up lambs in our arms as some of them straggled. And when we closed the door to the last one, Lloyd stopped in his tracks, and pulled a silver chain from his pocket, and presented a large pocket watch.
It was a juxtaposition, to say the least, to see silver and shine come out of jeans and jacket covered with sheep slime and no telling what else.
"Let's see what the cook's got for us." He looked over at me and winked.
It was almost always a hot meal for dinner at Lloyd and Beva's. Beva was a legendary cook, and pulled it all off on a wood fired range. Today, it was mashed potatoes and mutton, and creamed corn. It was a common meal on the Clark Ranch. Lloyd had a little butcher shed right on the ranch behind their 1900 era log home where he processed his own meat (in 1946, he actually moved the house himself from the nearby abandoned mining town of Gilmore to the ranch). And older non-producing ewes were common fare.
I'd never had mutton before my time with Lloyd and Beva; it took a bit to get used to. Flavors were fairly rangey; in fact, it was often stronger than the venison I had shot for our own table. Over time, Caryl and I got used to it; I think part of it was the never ending work, and the high altitude climate, whether it be sunshine or frigidity. It would hone our appetites to the point that we could adapt to anything.
It was my first time at lambing. I would help Lloyd other times, but already, the era of sheep and lamb on the American table was quickly fading. Imported lamb and wool from New Zealand and Australia was finding landfall in US stores, and it was far less expensive than that which was raised in America. Prices fell precipitously, and to add insult to injury, clothing manufacturers nearly categorically adopted the far cheaper petroleum generated fibers that created Polarfleece and Gore-tex.
The result was a complete collapse in US lamb production. The final nail in the coffin of US sheep production had been driven home.
Lloyd hung on to his flock for a few more years. What he didn't know was that if he had kept on, the reintroduction of Canadian wolves would have summarily ended his sheep business due to the large predator's insatiable appetite for lamb.
The wind is high in the Douglas-fir trees today; their luxurious green foliage sways in the wind with a backdrop of azure skies and cottony white cumulus clouds sliding by. I am aboard a tightly strung gelding named Sandy, walking quietly in the green and shaded understory. Spread out before me on the sun dappled forest floor is a cream colored sea of sheep.
They are the same sheep—the same lambs—that we watched being born that day in the shed, now as if it is a lifetime ago. Their paint brands have long worn or been shorn off, and they are faring well on the wild plant diversity of the high Lemhi.
Lloyd rides on the other side of the herd, on the right. On the left, is a Great Pyrenees Lloyd simply calls "White Dog." We are atop a foothill to the great Lemhi Mountain range called Leadore Hill, and are moving the sheep to a new spot on the hill, to new grass, new forbs for them to have their fill on.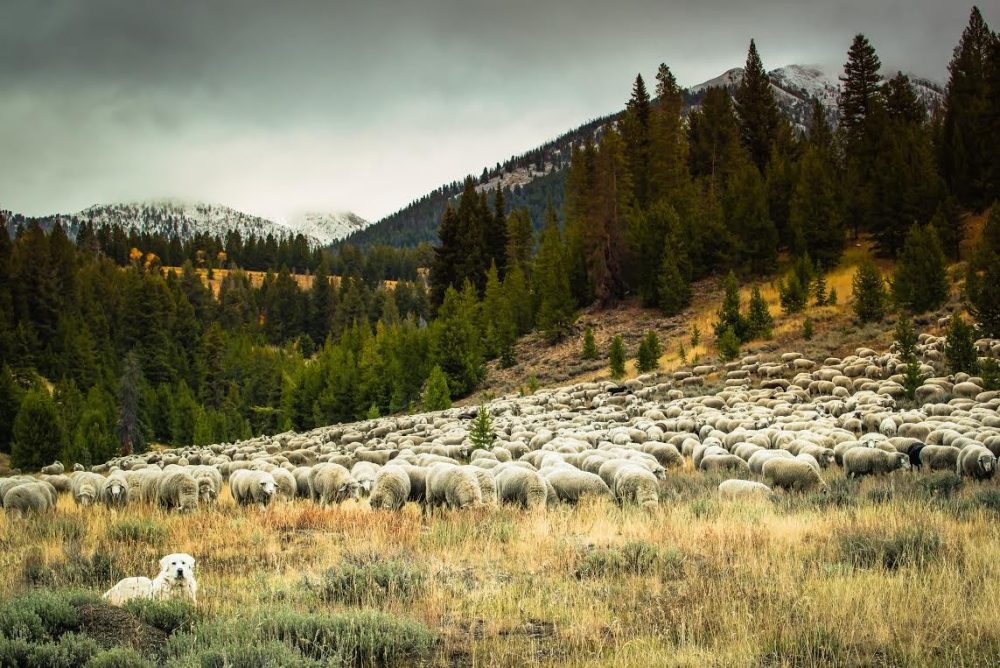 We are warm in our shirts, and have slickers tied to our saddle strings behind our cantles. It is a high summer day in July. The sheep are content, and seem to sense an apparent security in their numbers and in the presence of White Dog. She is a coyote deterrent; although the wild dogs have a great desire to eat sheep, White Dog has a great desire to eat them.
We come to an opening in the trees as we descend into a saddle, and the sheep cascade like foaming water over rocks; they part ways as liquid in a stream, and some sheep stop to graze in the eddies. The fluidity of their movements is mesmerizing. I am transfixed for a moment, but then, look beyond.
The Birch Creek Valley unrolls before me. I can see perhaps 90 miles to the southeast. Snow streaked mountains march outwards, fading into a purple haze on each side of the high valley. I see no sign of human habitation.
It is because there is no-one. Not another human for hundreds of square miles.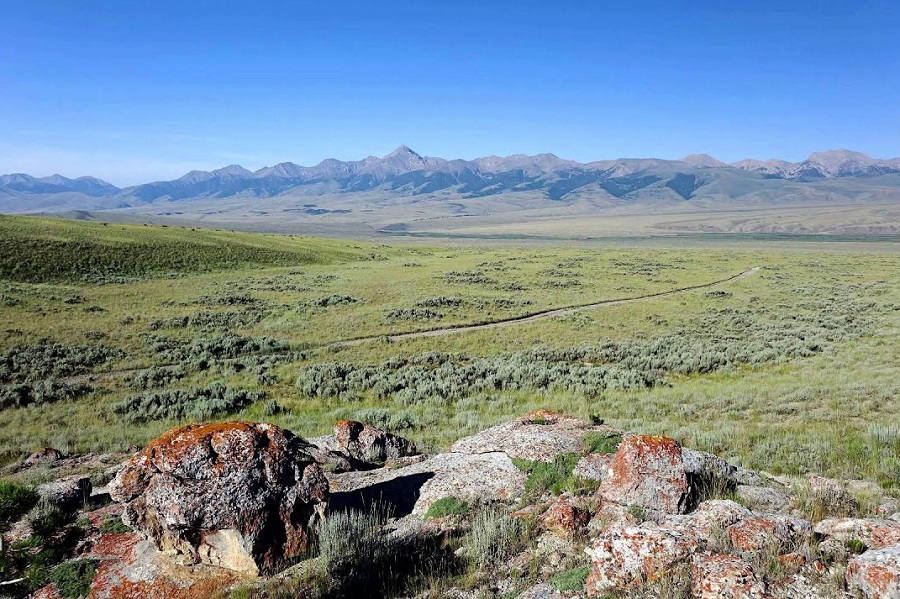 I feel small and insignificant in the scope of the vista, a visitor in a foreign and beautiful land. I look over at Lloyd, patiently watching, waiting for the sheep to pick their way over the rocks. He, although also seemingly insignificant as one person in a wide landscape, has long ago stopped being a visitor. He has become part of it. With the sheep, he lives and breathes with the land and is forged to it, heart and soul.
I hope someday I can be the same.
Happy Trails.
Glenn, Caryl, Cowgirls & Cowboys at Alderspring
For 26 years, Handcrafting unparalleled flavor and wellness while regenerating wild landscapes.
Wild Wellness Delivered.