Little Hat Monkeyflower Springs. It's what my two girls, my trail partners for today, called the secret place where ice cold clear water bubbled out of the steep mountainside the rugged trail traversed. In the heat of that July day, we slid off our sweaty mounts, and grabbed our cups and canteens from our saddlebags and drank from the ancient waters. A tiny pool with kaleidoscopic bottom gravels served as our dipping place. The source of the spring water is long ago snowmelt that feeds the groundwater in the volcanic minerals these mountains are made of. As the groundwater moves slowly downhill, it runs into underground rock ledges that force the water to the surface, forming springs like Monkeyflower, bright green spots of vibrant vegetation in the blue green expanse of sagebrush.
The horses were fine; they had just quenched their cravings at the Little Hat Creek crossing about a mile back. But above the crossing were the interconnected beaver ponds, like pearls on a string along Little Hat Creek, and my girls were well schooled in beaver fever—the dreaded Giardia caused scourge that occasionally tainted wilderness surface waters.
But we drank from Monkeyflower Spring right where it poured from the ground, cold and sweet. We wet our whistles and resupplied our canteens for the long ride out, looking forward to the coming cool of the early evening. We had about 250 Black Angus pairs placed high in the timber bounded meadows that defined the hills further in, and they were well-settled on good grass with nearby shade. We had started in the wee hours of morning gathering the pairs from the low country and trailed them 6 more miles uphill to the forests to get above the heat of the low desert. There, they would graze the green of high summer, and fill their bellies with wild grass goodness.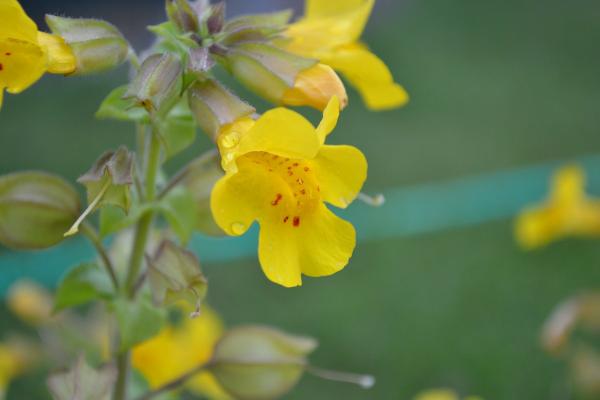 Now backtracking and heading back to the drop point where our stock trailer was parked, we were homeward bound. The horses we rode had been through this before; they waited patiently untied on the hill above, grateful for a break. Reins hung loosely from saddle horn. They grazed absentmindedly twitching at flies while standing their ground.
I mounted first, easily, from the steep uphill side. I swung my leg over and turned my ready-to-move-out mare toward the girls. It's just cowboy considerate to park your mount firmly while others saddle up; that way their horses don't move out impatiently to follow and all-ready moving horse before all riders are ready. It's especially important this steep walled country where a misstep by an unfocused horse only half mounted by a rider can unravel a pleasant day's ride in a hurry into a needless wreck. After being horseback in rough country for more than a few years, I had dined at that table quite enough, thank you very much.
Melanie got on first. She was 10 years old, and already had quite a few miles and long days on her saddle. Abby had logged nearly as many at 8. I had another hand, Tim, hired to ride, but he couldn't make it this summer day. We were shorthanded, as usual, but the girls teamed up well with the border collies, led by the fine bitch Arrow, and got the job done handily.
We climbed to Little Hat Pass. Thousands of cattle had gone this way over the past century; it was part of what was called the "Beef Road," and in the early part of the 20th century, each year, 5000 head of steers, guided by cowboys, would pick their way over the rocky trail through this pass on the way back from the high meadows and abundant grass nestled in the peaks of the Salmon River Range. They were on their way to the Salmon River, and eventually by railroad to stockyards in Omaha and Chicago. It was when nearly all beef was grass fed by definition; it was the true glory days of grass fed, when steakhouses in Chicago and New York plated finely grass cultured steaks instead of the flavorless fill that is presented today. Sadly, starting around 1950, feedlots trumpeted consistency and efficiency and in short order replaced the range fed paradigm. It marked the end of the road in some of the best…and worst beef ever raised.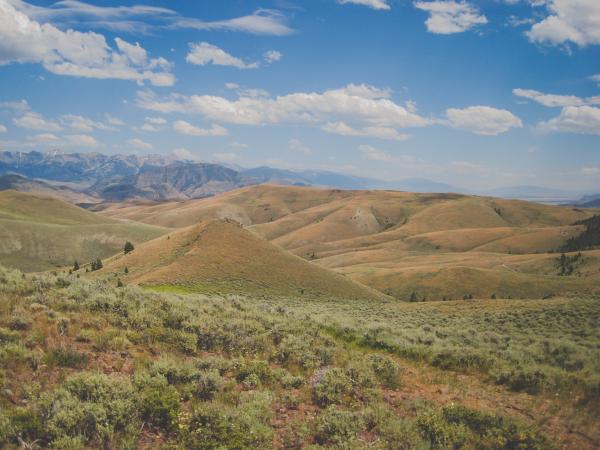 But it was just us now; all what was left of the cowboys and cows of old were the telltale terraced trails etched on the steep mountainsides that led up to the pass, placed there by tens of thousands of bovine hoofbeats and now maintained by elk. Now, all of the 70 square miles of mountain and canyon country was only Alderspring's summer range; we shared it with no other ranches. We stopped for a breather at the height of land. A hot wind blew up the canyon into our faces; the valley had filled up with warm air, and it was rising and pouring over the pass.
Melanie led the trot down off the gap. Then, she broke into a lope ahead of us, leaving a wispy cloud of dust to drift behind her as she headed down into the grassy hills that bordered Little Hat Creek. Abby took off after her sister, the mane and tail of her proud little black mare streaming in the wind behind her; it was an easy part of the ride out, and there were no cows to punch. As I watched them run across the broad mountainside in wild abandon, I reflected that if we accomplished nothing else in this ranching endeavor, those girls sure did know how to ride.
We had 7 miles to go yet, but the next 3 were in the broad rolling and tablelands that formed the midsection of the range. I touched my heels to my eager, pawing in the dirt buckskin to join them. The dusty trail wound down to Little Hat Creek, and then back up to Cherry Springs. As we skirted the gnarly, black bear tortured chokecherries trees that were the namesake of the little spring, something caught my eye as the trail wrapped around the next ridge. I pulled up my mare.
The girls pulled up and turned back when they saw me halted, gazing across the miles of country that spread before us. They followed my eye.
"What's up, Dad?" Melanie asked.
"Look out there." I pointed across the undulating expanse of broken sagebrush hills to the western horizon. "See those black specks?"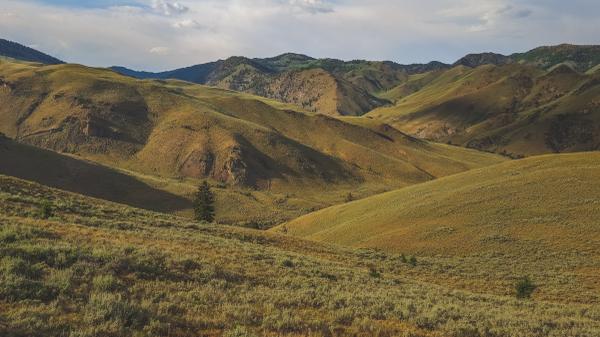 "What are they?" Abby inquired, in her best big girl voice, squinting into the afternoon sun.
"Are they moving?" I asked.
"Yep. They're moving." Melanie observed. "They gotta be cows," said my 10-year-old.
They're like 5 miles away. Do you think they're ours?"
"They have to be. There's no one else turned out here for miles." I said. I turned to face the girls, and looked across the sage green expanse, and the up and down of dry hills that were between us and the wayward cows. "You guys got any more lunch? Got enough water?" It was shaping up to be a long day.
"You don't want to go get them, do you?" Abby asked. I knew by the tone of her voice that she was desperately hoping I'd say no.
"If we don't get them now, we'll have to come all the way back up here tomorrow. And it will be another long day affair at best, 'cause I'm guessing they won't stay put. They'll get restless being apart from the herd, and we'll have to hunt them down. We just got to get them soon; otherwise, they could be anywhere within 200 square miles in just a week. And that becomes a needle in a haystack deal. Plus, wolves could just pick them off outside the main bunch like that." I looked at each girl in the eye. Eight and ten-year-old girl eyes under dust-caked cowboy hats looked a little wet, welling with disappointment. Their cheeks were streaked with trail dirt. I could tell they were tired. I looked down to eye cowboy's best friend: the border collies. They had already collapsed in the shade of our horses, panting.
I gave the kids time to mull it over. Silence reigned for several minutes. An occasional horsefly buzzed, and the continual swishing of horse tails lulled us to catatonic stupor under the sweat inducing sun as we considered possibilities. I squinted a sweat tinged eye back to the black dots on the horizon. Yep. They were moving. No telling where they could be by tomorrow. I found myself wishing I never spotted them; I was tired too.
After several more minutes, Melanie broke the spell as she turned her gelding off the trail into the way of the sun and moved out in the direction of the specks. Abby and I followed suit. We stepped silently off the worn trail and abandoned the way that led home.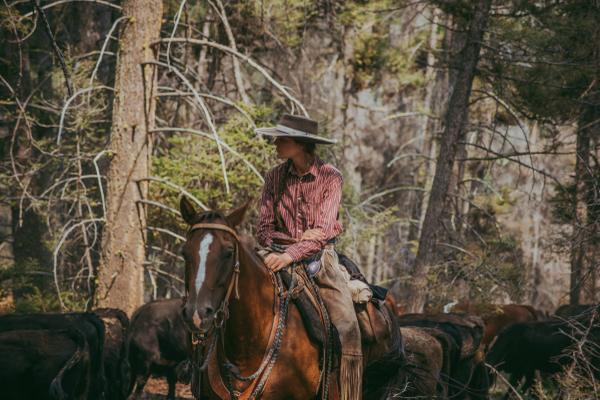 Cattle charges safely relocated with the main herd, we rode back through Cherry Springs in the pitch black that night. Owls hooted their echoed calls in the deep canyon bottoms; coyotes chorused on the ridgelines. Occasionally an elk or deer would erupt out of a night bed in the brush alongside of us. We talked little on the way back, except to check each other's well-being. The girls knew not to fall asleep too soundly on horseback; semi-consciousness was OK. I've often rested my own eyes in the dark if there wasn't heavy brush to duck through. We've all nearly drifted off in the cadence of being horseback after a long day. It's a rude awakening that awaits the full on sleeping cowpuncher as body contacts brush and rock; it's also a good way to clunk your head.
Our horses were born and broke on the range, thankfully, and didn't stumble over rock and ridge despite the dark. They knew better than we the rocky trail back to their waiting ride. One in the morning found us at the stock trailer. After loading the stock and pulling gear, girls passed into slumber instantly after I tucked them into the four-wheel drive for the bumpy hour long ride back to the ranch.
I let them sleep in the next day. And that day they became girls again, doing girl things, playing in the yard, riding bikes, trading jean for skirt, and messing with makeup.
As they are older now, one well married with a 1 year old, one about to graduate college, I sometimes wonder if they remember. And they do, at least in part. It will come in fits and starts, and most unexpectedly. It goes something like this: Abby may be sitting next to me at a family gathering and pours water from the ice water pitcher on the white tableclothed setting before us.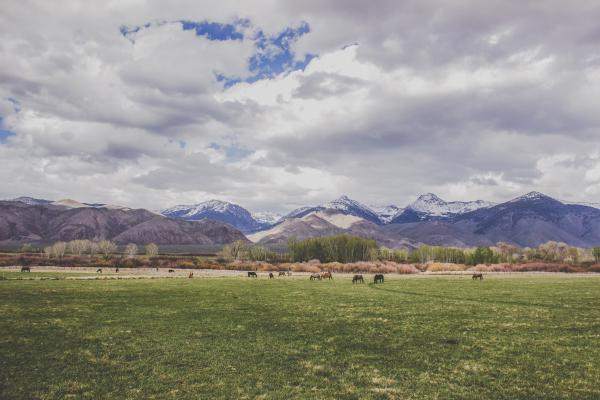 She gives me a subtle grin as she holds her freshly filled glass up. "I don't think this water will be nearly as good as that from Little Hat Monkeyflower. What do you think, Dad?"
And both of our mind's eyes fill again with the sensations of sight, sound, and scent that no painting, poem, or picture could ever capture. Like it or not, the range has been branded into our minds…and on our souls.
Thanks for coming with us. Happy Trails.
Glenn, Caryl, Girls and Cowboys on Alderspring.