"Have you been elk hunting?" The heavily accented man who spoke to me from across the crystal-clear pool yesterday displayed the telltale signs that he had been hunting for several days. His unshaven and dark complexion face that hung over his tired looking frame further betrayed the ache his body experienced from searching for the elusive ungulate. He looked around my age; mid-fifties or so, but seeing a near naked body covered by only swim shorts often gave misleading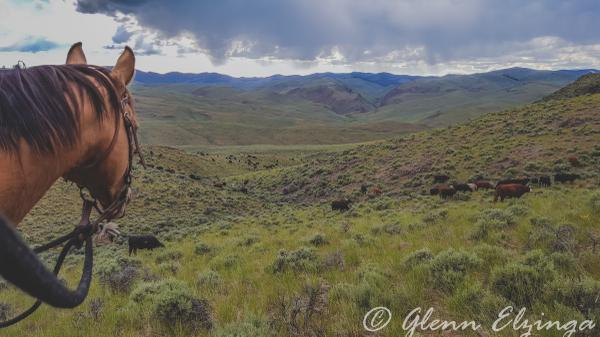 cues of a person's age. I had stopped trying to guess. Hot springs, it seemed, were a sort of great equalizer. Caryl and I were regular attendees. Where others undergo chiropractic and other manipulative therapies for the pains of age and the unrelenting push of gravity, we just visit a hot spring. Thankfully, there are many in the Central Idaho Mountains.
Today's soak was a little edgy at 108 degrees. The highly mineralized water that boiled up through the rock was just what I needed to loosen my occasionally traumatized lower back and ski-injured knees. I leaned back into the healing hot waters and felt the stiffness and pain melt away. I was oddly grateful for the fact that red-hot magma bubbled just 2000 feet beneath my feet. It was the source of the superheated water that back up through the volcanic gravels at my feet, and was directly connected, geologists claimed, to Yellowstone's Old Faithful geyser, over a 5 hour drive away.
"No. I haven't been hunting. Not this year, at least." I leaned back for a look at the azure skies above us. Cirrus clouds were creeping in. Perhaps this Indian Summer part of October would be short lived. "Did you do any good? Were you able to find one?"
"Not yet. I have been going up and down the faces of mountains for 6 days now."
"It can get pretty tough at this time of year." I looked across the pool at him. He looked tired, but his eyes were not yet there. He still was hoping; there was a glint of possibility in his eye. "You really have to find the herd. Elk are herd animals, and since you hunting in the time past the rut, you will not be able to bugle a bull in. It can be a needle in the haystack thing, and until you find the herd that could be anywhere over hundreds of square miles, you won't be able to get an elk." I pointed to the thin crescent moon in the sky above. "There's one advantage you have, though. You have no moon at night. They have to graze during the day, and you can find them moving."
"I only have one more day left." His eyes narrowed with an increase in intensity. "Otherwise, I go back to the Bay Area empty-handed." He came across the pool to me, hand extended, smiling. "I am Mohammed."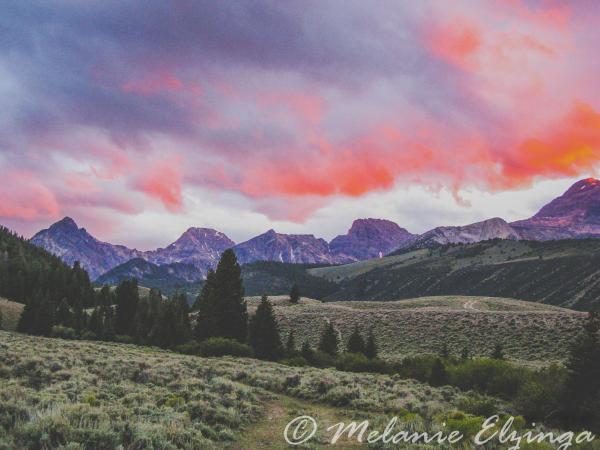 Mohammed and I talked about elk he had harvested up in the high Pahsimeroi Valley, the valley of Alderspring, in the past. He had been coming up here from the Bay Area of San Francisco for 15 years, on a yearly pilgrimage to hunt. As he spoke, I could tell that his was the voice of experience. I stopped trying to coach him to success, because it was obvious that he had found it on previous trips to our part of Idaho, and knew well the ways of wild elk in these rugged mountains. Instead, we shared the camaraderie of understanding of the ways of these wild animals and the habitat they roamed in. I told him of our ranch, Alderspring, and the many elk that migrate through it.
He went on: "I am not a trophy hunter. I come here, almost a thousand miles from home, in search of meat. I have killed many nice young bull elk for my table." He looked up to the mountains, wistfully. "I hope…in this one more day."
Here was a man that incurred a lot of expense for his yearly harvest of wild protein. He drove 2000 miles to harvest an elk; hunting tags were several hundred dollars for out-of-state permit holders. He camped, outfitted himself, and took time off work. By my reckoning, conservatively, Mohammed likely had around $25 a pound into the wild protein he acquired.
In our discussion over steaming water, the conversation drifted into Alderspring Ranch, and the wild bovine protein we raise. Mohammed asked about the pricing, and where many people stand in a state of sticker shock when they compare our beef to feedlot commodity beef, he nodded in agreement about how reasonable it was. He asked about the number of cattle we raise each year, with an understanding that our scale and efficiencies would never allow us to compete with the inexpensive protein produced in a feedlot.
We raise 400 head a year. Feedlots finish tens of thousands. Even commodity grass fed beef is starting to scale up to meet demand, tweaking the feedlot model and simply changing the feed rations. He took down our website name; it was obvious he thought Alderspring's beef would be an appropriate substitute for his wild game if he came up empty handed tomorrow.
As I headed home back down the Salmon River Canyon back to the Ranch, I thought about what it was about Mohammed that made him quickly make the connection between our beef and the elk he sought. At first, I thought it was economics.
If he actually penciled his elk hunting investment, our beef was a no brainer. He could even score free shipping to the Bay Area.
But it was more than that. I reflected on his tangible love for the Idaho landscape, and his understanding and respect for the life on it. The high Pahsimeroi is essentially a pristine wilderness of mountains covered in native grasses and sagebrush, and bisected by small creeks of clear water. There's little evidence of people and elk and other animals live there as they have for millennia. He was harvesting the goodness, the wildness of it, a superior clean protein to feed his family.
And that is why Mohammed got why we do what we do. He was a quick study on why Alderspring beef is different. To him, it was a wellness issue; eating our beef was akin to eating wild elk. Alderspring had as much common with a feedlot or farm-raised grass fed beef as a wild elk or moose would. The similarities were few. The differences were worth all of his time and money to invest in, because he was investing in wellness that he understood and appreciated.
And then, dear reader, and protein partner, I think of all of you. Mohammed obviously had done his homework in the harvest of his own wild protein. But clearly most of us don't have time to hunt or gather all of our own food given the situations we live in and other responsibilities most of us have. Gardens don't grow well in the winter here, and we seek organic produce elsewhere, things that we can't put in jars. We've found producers we trust for things we can't grow ourselves. Similarly, you have entrusted us for wild protein provision. Like Mohammed, you have figured it out.
We are always thankful for you. Your partnership allows us to practice regenerative restorative agriculture while providing you with what we believe is the most wild-like beef you can find. Thank you for your trust and partnership in a quest for wellness.
Glenn, Caryl, Girls and Cowboys at Alderspring